Last year TaylorMade introduced the world to the SIM driver. A driver that focused very much on clubhead aerodynamics to help deliver speed to golfers worldwide. SIM fairway woods brought back the famous V-Steel sole, while the SIM Max hybrid was good enough to be found in Dustin Johnson and Rory McIlroy bags. Today, we get our first look at the SIM2 lineup of woods and hybrids, and by the sounds of it, this isn't just a rehash of 2020.

SIM2, SIM2 Max, SIM2 MAX D Driver
Last year, the SIM drivers' main focus was the redesigned shape, with a concentrated effort on the Aerodynamic Asymmetric Sole and Inertia Generator. Thanks to that Inertia Generator, the sole looked slightly different from many drivers out on the market. Such a design's whole premise was to allow the clubhead to move faster and more effortless through the air while positioning more mass to the rear of the club to boost its MOI properties. For SIM2, TaylorMade is taking what it learned from the SIM and reconstructed the driver to add more stability while maintaining the speed and launch characteristics. Okay, we hear stuff like this every year, but how they are doing so is rather interesting.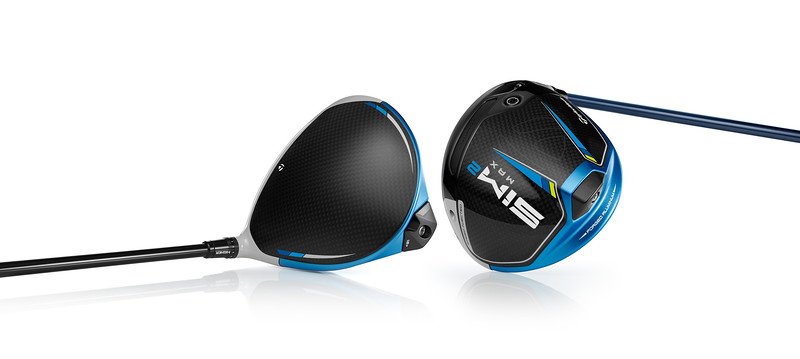 The position of mass plays such a massive role in how a driver performs these days. It affects launch angle, spin, forgiveness, and even ball speed. To assist with pushing the weight to the driver frame's edges, TaylorMade engineers developed a new design they call Forged Ring Construction. With high strength, lightweight precision-milled aluminum, this Forged Ring acts as the centerpiece for this new construction, as it ties in TaylorMade's four main components of technology that make the SIM2 a powerful yet forgiving option off the tee.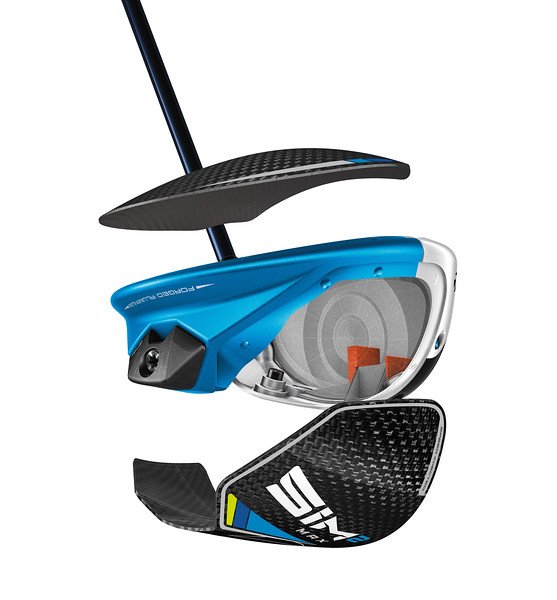 We've seen TaylorMade utilize a carbon crown for quite some time now, so it should be no surprise to see this material return in this location. Things have changed slightly on the sole, where a new high-strength, nine-layer carbon fiber sole stretches across the entire bottom of the club and helps shape the Inertia Generator. By expanding the carbon fiber's use on the sole, a significant amount of weight can be repositioned throughout the head. As you may have guessed, those savings are utilized as a weight found at the tail end of the Intertia Generator. All three of the SIM2 models will have this design, but the weights at the back end will vary by model. SIM2 will have a 16g weight, SIM2 Max's weight is 24g, while a 22g weight can be found in the SIM2 Max D.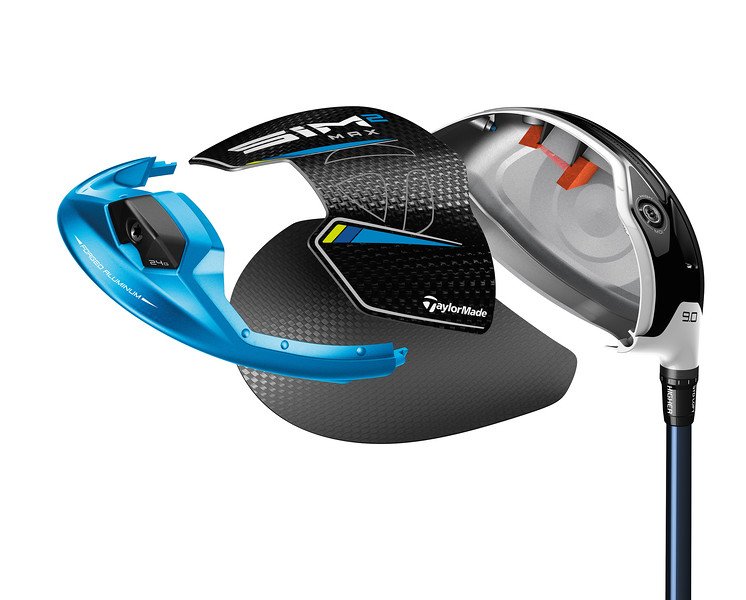 If you haven't caught on to this tidbit yet, between the aluminum Forged Ring Construction and the carbon fiber sole, the only titanium in these drivers is located on the face. TaylorMade uses a milled back face cup for the face, which they say has an intelligently optimized sweet spot. They have used CNC milling to create variable thickness in locations behind the face to give golfers a boost where they need it most. Many of those studies came from Twist Face's development, which remains in play throughout the SIM2 lineup. Also to note, the faces of all three SIM2 drivers are larger than their 2020 versions. SIM2 gets a 12% boost over SIM, SIM2 and SIM2 D are 5% larger than their previous models. Larger faces, more weight pushed back, these drivers are made to be forgiving.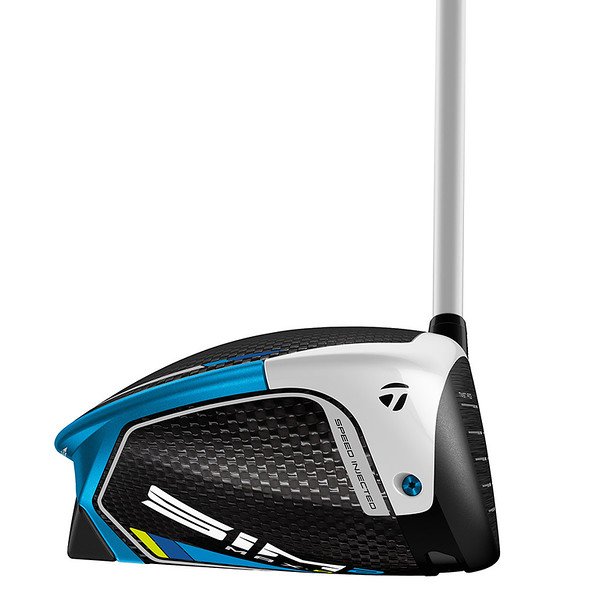 There is one more noticeable change on the SIM2 from the SIM and M5/M6 lineup, and that is the evolution of the Speed Injected face. For the last two years, TaylorMade has pushed the driver faces over the legal limit set by the USGA, only to bring them back down to conforming standards by injecting resin behind the face. That all used to be done via two ports on the front of the face. Now, TaylorMade has perfected their method by properly aligning this resin by only using a port to the face's side. That's right, no more screw holes on your driver face! We are told this improved method results in faster, more consistent speeds across the entire face.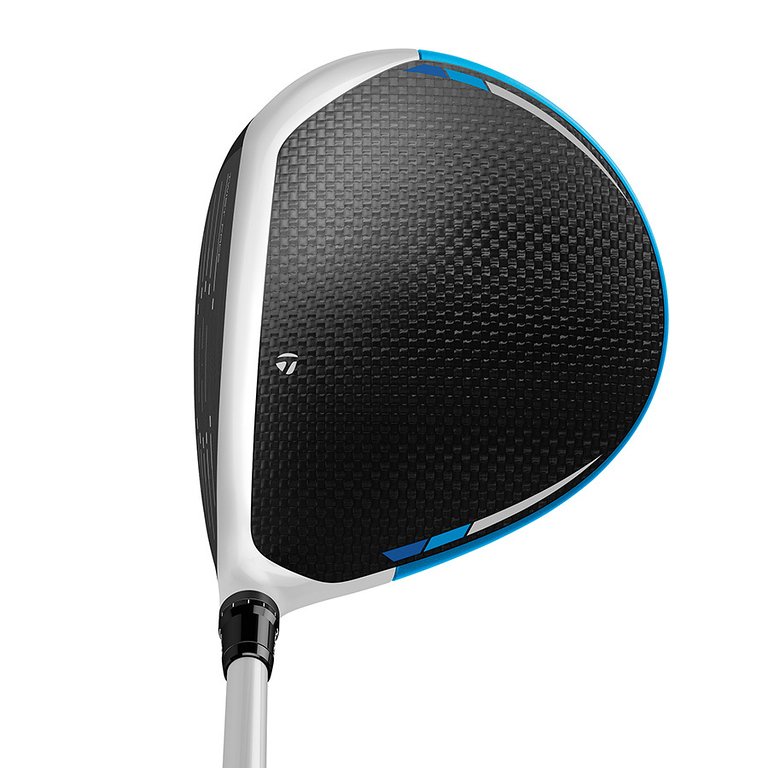 Players will also get the ability to customize their SIM2 drivers with the new MySIM2 program. Below is a list of options that you can expect to see if you choose to go down this path and truly make SIM2 your own.
Aluminum Ring: Color options include Red, Blue, Gold, Orange, Green, Silver, Black, and Light Blue.
Topline Paint Color –Chalk or matte black.
Crown Decals: Color options include Red, Blue, Gold, Orange, Green, Silver, Black, and Light Blue.
Sole Decals: Color options include Red, Blue, Gold, Orange, Green, Silver, Black, and Light Blue.
Face Pin–Color options include Red, Blue, Gold, Orange, Green, Silver, Black, and Light Blue.
SIM2 Details
Availability Preorder: January 19, 2021
Retail: February 19, 2021
MSRP $529.99
Lofts 8°, 9°, 10.5°
Shafts Mitsubishi Tensei AV Raw Blue 60
Project X HZRDUS Smoke RDX Black 70
Grip: Golf Pride Z Grip
SIM2 Max and Max D Details
Availability Preorder: January 19, 2021
Retail: February 19, 2021
MSRP $529.99
Lofts 9°, 10.5°, 12°
Shafts Max: Fujikura Ventus Blue, Mitsubishi Kuro Kage Silver
Max D: Fujikura Air Speeder 45
Grip: Golf Pride Z-Grip
SIM2 Fairways
Like the drivers, SIM2 Fairway Woods will come in three different models: SIM2 Titanium, SIM2 Max, and SIM2 Max D. All three of these models will feature the V Steel design, which made its long-awaited return with the 2020 Sim fairways. V Steel has long been proven to promote increased turf interaction from a whole host of lies.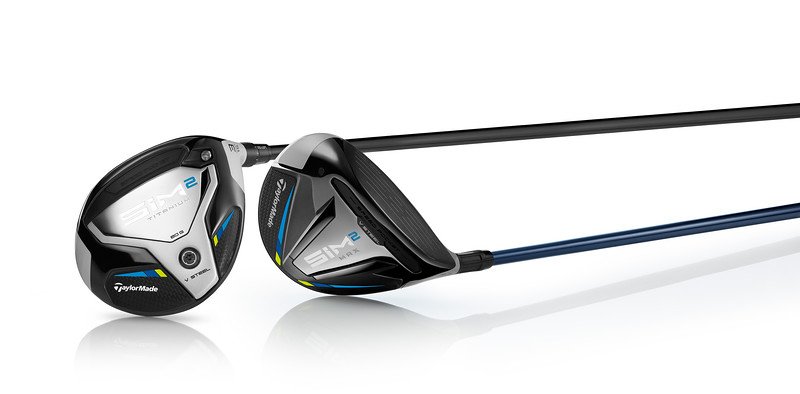 With the SIM2 Titanium, golfers can expect a smaller, pear-shaped head than what SIM offered last season. This year's model comes in a 170cc vs the 180cc it measured in at previously. This tour-inspired look boasts a lightweight carbon construction with a ZATECH Titanium face. In the sole, golfers will find an 80-gram steel sole weight, which helps create an ultra-low center of gravity and boosts MOI by 5%.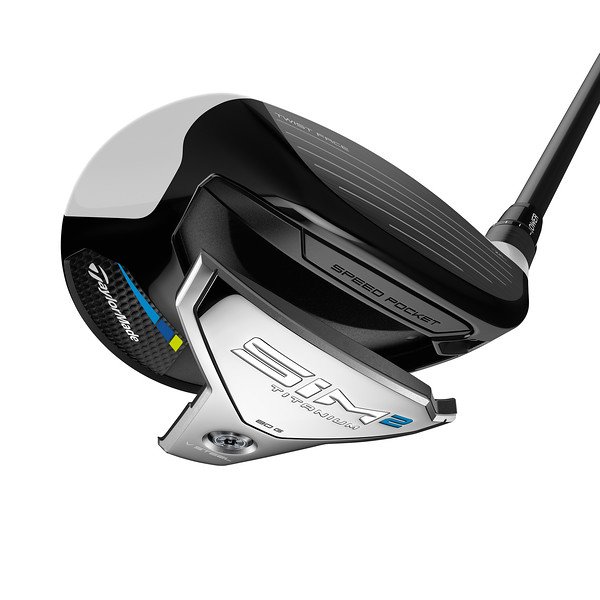 SIM2 Max and SIM2 Max D have taken the opposite tactics of the SIM2 Titanium. Instead of shrinking in size, the Max bulked up to 190cc, while the Max D checks in at 195cc. Neither feature titanium faces, but we could expect dependable ball speeds from the C300 steel faces. Both of these clubs also have strategically positioned weight to offer more forgiveness than the SIM2 Titanium.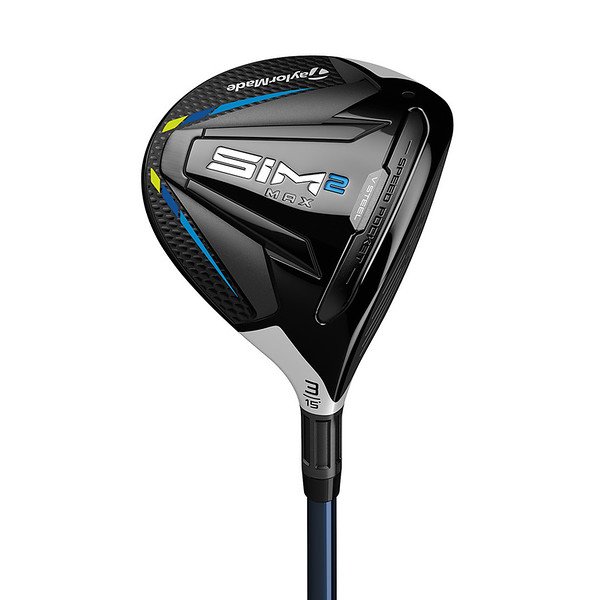 The Details
Availability Preorder: January 19, 2021
Retail: February 19, 2021
MSRP SIM2 Titanium $399.99
SIM2 Max $299.99
SIM2 Max D $299.99
Lofts SIM2 Titaium: 13.5°, 15°, 19°
SIM2 Max: 15°, 16.5°, 18°, 21°, 24°
SIM2 Max D: 16°, 19°, 22°
Shafts SIM2 Titaium: Mitsubishi Tensei AV Raw Blue 75
SIM2 Max: Fujukura Ventus Blue FW(5,6)
SIM2 Max D: Fujikura Air Speeder 45
Grip: Golf Pride Z Grip
Sim2 Rescue
Of all the clubs in the 2020 SIM lineup, perhaps the hybrids were the most surprising. So much so, that the SIM Max hybrid found its way onto the PGA Tour. I'm not sure anyone reading about those last January thought that would happen.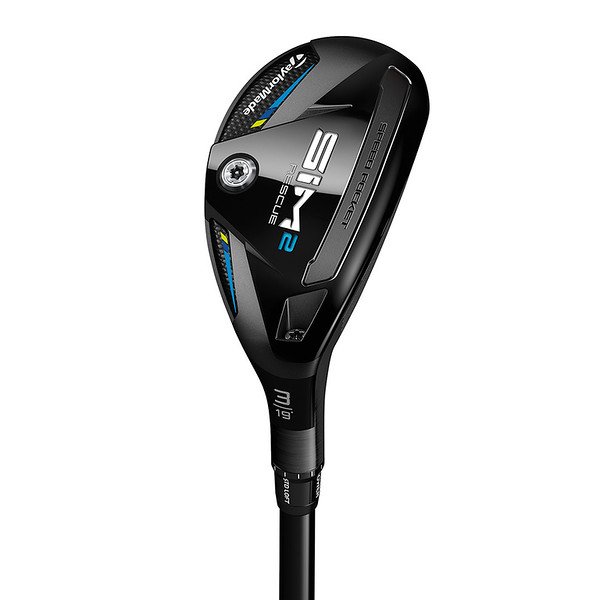 There will be two models once again this year, a SIM2 Rescue and the SIM2 Max Rescue. Dustin Johnson and Rory McIlroy both gave plenty of insight into the design of the SIM2 rescue, which is why it should be no surprise that it features a rather sleek looking design. It comes in more compact than the Max and will suit the player looking for more of an iron-type hybrid.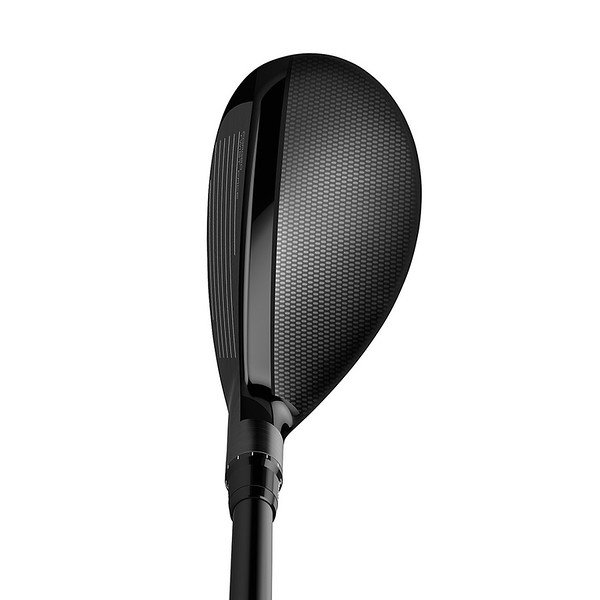 SIM2 Max was a real winner last year but got some tweaks of its own for 2021. Those include a new leading-edge design, sole geometry, and the CG location has been positioned so that it still carries with it a high amount of forgiveness. Whereas the SIM2 Rescue comes with an adjustable loft sleeve, the SIM2 Max is a bonded hybrid.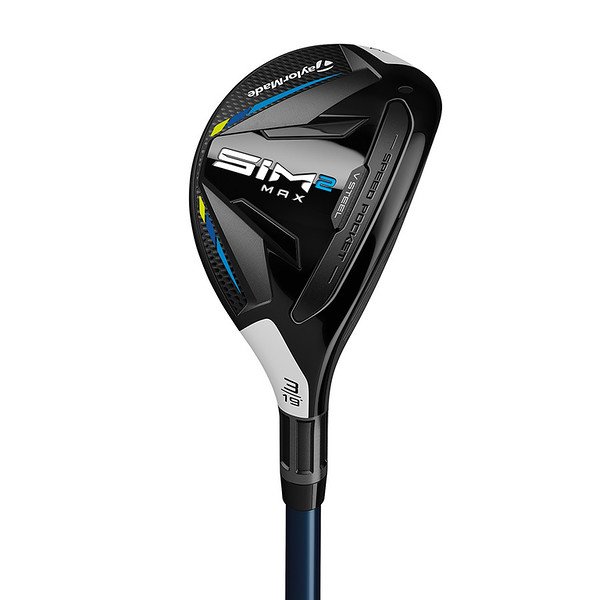 Two similarities between these clubs are that they both feature a C300 face, including Twist Face technology. Since they are rescue clubs, the V Steel sole's inclusion will likely become a favorite feature for those who give them a shot. Rescues are used from just about every lie one can find on the course; therefore, having a sole design that improves turf interaction can pay huge dividends.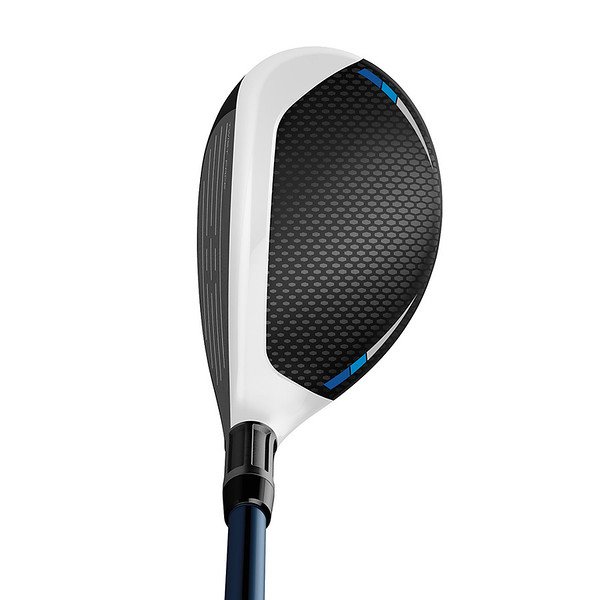 The Details
Availability Preorder: January 19, 2021
Retail: February 19, 2021
MSRP SIM2 Rescue $279.99
SIM2 Max Rescue $279.99
Lofts SIM2 Rescue: 17°, 19.5°, 22°
SIM2 Max Rescue: 19°, 22°, 25°, 28°, 31°
SIM2 Max Ladies: 22°, 25°, 28°, 31°
Shafts SIM2 Rescue: Mitsubishi Tensei AV Raw Blue HY
SIM2 Max: Fujukura Ventus Blue
SIM2 Max Ladies: Aldila NV Ladies
Grip: Golf Pride Z Grip and Lamkin Ladies Sonar Grip