The putter is always the primary focus in discussion when it comes to putting performance, and rightfully so, but what about the grip? If your hands aren't comfortable, then you will never truly be comfortable in the stroke. Tension matters, and it's for that reason we have seen putter grips in all shapes, sizes, textures, and weights.
While the focus on Flux as a company has been on their new design of putters, their "Gravity1" grip is something they are equally proud of and THP was able to get all color variations in for review.
What is the Gravity1 Putter Grip?
Flux describes the Gravity1 as, "135 grams of dynamic vulcanized rubber.  This is a counter weighted grip intended to keep wrists stiff and maximize control." A more in-depth description is that this is a counterbalance and no taper grip design in tune with the current popular trend of putter grips. Weighing in at 135g with the weight distributed evenly throughout, this is considerably heavier than most putter grips despite having a similar size to other designs. This is due to the use of such heavy duty "vulcanized" (a process for creating a much more durable, and in this case, dense rubber) rubber, and its balance makes for an ideal counterbalance design.
How does it Perform?
I have been a long-time believer in counterbalanced or back-weighted putters, and for me there is a true comfort and performance in the balance and stability that it provides. Because of that, I enjoyed the chance to try out the Gravity1 grip not only on the Flux Unity putter we reviewed, but on other non-Flux putters thanks to the variety of grips we received for review, which happen to be one of each color they offer (grey, white, and black). I typically play putters with head weights in the 365-375 gram weight range, so they are all perfect candidates for the 135 gram putter grip.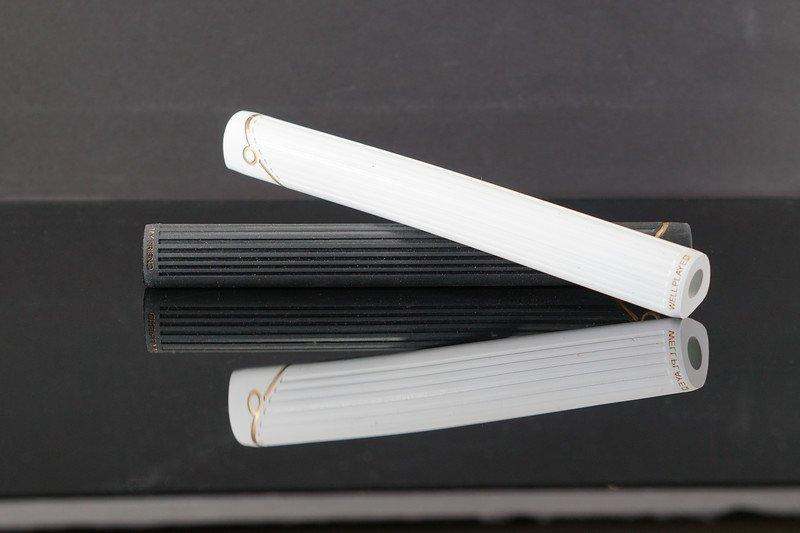 Both on the Flux Unity as well as a non-Flux putter (370g mallet design) allowed for a heavier overall putter weight and a shifting of the balance point up towards the hands to create the added stability you expect in a back-weighted design, but not so much that the feeling of the head was lost in the stroke. This allowed me to create a controlled, and repeatable putting stroke which is obviously the goal. That said, it is important to note that if you play a traditionally weighted putter head (less than 365 grams in my opinion) then there is a very real chance you will begin to lose the sensation of where it is in the stroke, so that is something to keep in mind.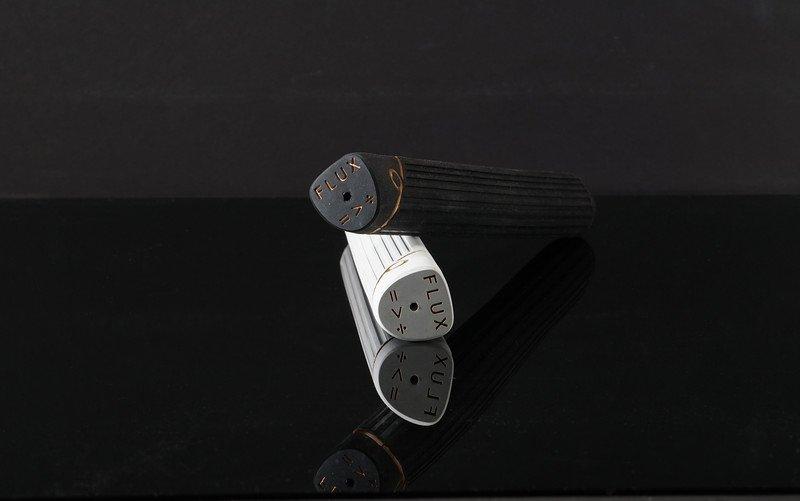 Beyond performance, Flux has designed a solid putter grip here. The shape is very much akin to the no-taper designs so many are enjoying now. With more width across the front paddle, there is ample space for the thumbs, and it has the added depth which allows it to sit comfortably in the fingers. Size wise, it's on par with a SuperStroke 2.0 which will undoubtedly make a lot of people happy. The grip also has a very cool vertical groove texture on the back which is different than anything I have seen on a putter grip before, but it is quite comfortable.
At $25.00 per grip, the Gravity1 checks a lot of boxes.  If you are looking for a no-taper counterbalance putter grip that will be durable and perform, it really should be on your short list to take a flier on.
More on the Gravity1 grips as well as the Flux putter designs can be found at their website, www.FluxGolf.com.