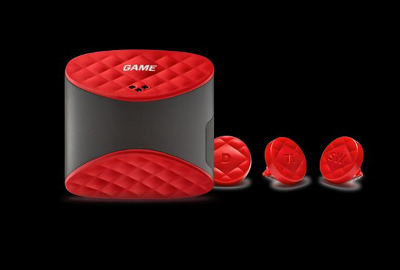 Game Golf is an exciting new product that combines the digital age with golf, one of the most traditional games in the sporting world. By allowing users to track every shot and interact in a social media environment, Game Golf seeks to quench a seemingly never-ending thirst for both information and computer-aided human interaction.
About Game Golf
PLAY
Playing golf should be exactly that—playing. With GAME GOLF, game tracking happens in the background, so you can focus on playing instead of note-taking. All you have to do is power up, put on the device, and play your game. Install the unique tags into each of your clubs and simply tag each club to the device before you take your shot. That's it. GAME GOLF logs what club you use and where on the course you use it. By combining these observations, your game is visualized like never before.
SEE
Golf is no longer just a memory and a scorecard. Now it's a living, breathing chronicle of your game. Everything you do on the course is recorded and presented in an all-in-one online system to help you better see, understand and show off your skills. With GAME GOLF, you don't just leave everything you've got on the course—it comes with you afterwards so you can see in detail how you did and where you can do better.
SHARE
Each and every game you play becomes a showcase you can share with anyone you choose. From that huge drive on hole 14 to your average stats over time, your golf game is no longer limited to the people you played with. Your progress and accomplishments can be shared with your friends and family—as well as a whole new community on the GAME platform—for fun, or for bragging rights.
COMPARE
If practice makes progress, informed practice makes perfect. Now, so much more than basic stats are recorded. Mathematical trends over time in all statistical areas are carefully calculated and presented in ways that can educate, not just illustrate. Your entire golf game is presented and analyzed so you can actually use the information to improve your play—from overall changes to precise adjustments.
Specifications
The Game Golf device is compatible with both Windows and MAC after downloading the appropriate software. Retail Price is $249.
Included with purchase:
GAME GOLF tracking device

18 tags for your clubs

USB cable

Protective pouch

iOS app available (no Android app at this time)
Description and Setup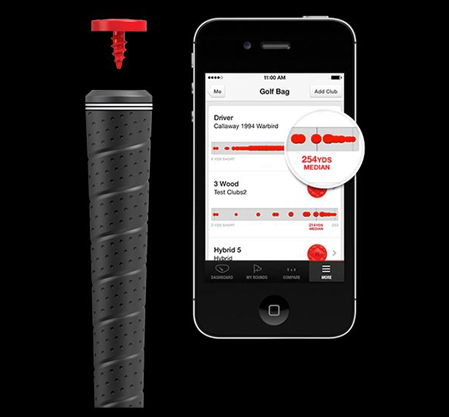 As noted above, the nuts and bolts of the Game Golf system are the tracking device and the tags that are inserted into each club.
Tracking Device
Roughly the size of a husky Tic-Tac box, the tracking device is lightweight and attaches to the user's belt loop. This device functions to store all the information that is recorded during a round of golf.
Tags
The tags (18 are included with purchase) are small disks with a screw-like end that insert into the hole at the butt-end of a golf grip. They are labeled to correspond to certain clubs (i.e. Dr, 4i, PW), with four additional 'wild card' tags that can be used however they are needed. Using the system showed the tags were not obtrusive during the golf swing.
Setting up the Game Golf system does take a little time, but is fairly simple. Accessing the company's website and navigating to the "Getting Started" page reveals an easy-to-follow set of directions that includes signing up for an account, downloading some software, picking which clubs the tags will correspond with, and charging the unit. Charging can take a couple hours and is accomplished via the included USB cable. Afterwards, the tags can be screwed into each club and the system is ready to take to the course.
Prior to use, it is worth taking the time to search Game Golf's course database to ensure your course of choice is available and mapped. If it isn't, there is an option to request mapping.
On-Course Use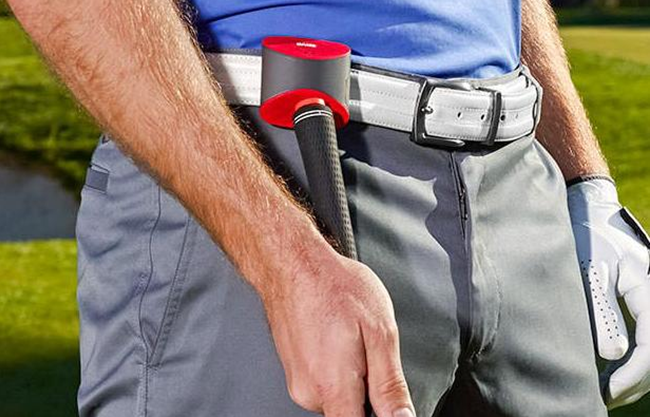 Though somewhat inconspicuous, there is a button at the top of the tracking device that will power on the unit when it is pushed. After a few moments of scanning a white light appears that signals the device is ready for use.
From here, using the Game Golf system is as easy as touching the tag on the butt-end of the grip to the lower portion of the tracking device. Once the device recognizes the tag, the unit vibrates and emits a very soft beep. Early concerns that the beep would be loud (and possibly embarrassing or distracting to others) were unfounded, as at times it is almost too low in volume to hear outdoors. At this point, using the system just becomes a matter of remembering to tag each shot taken during the round. It is easy to forget this very simple step, especially when first using the system, but forgetting to tag a shot isn't the end of the world, as it can be corrected via computer after the round is over. Still, using a standard scorecard is recommended for accurate scorekeeping.
Some situations on the golf course can present difficulties or confusion for the user, especially balls lost out of bounds or in hazards, or other types of penalty strokes. Again, the user interface on the Game Golf website does allow editing to the recorded round after the fact, during which penalties can be added or corrections can be made.
In use during a round, the Game Golf system was mostly seamless. Positioning of the tracking device is important, since a bad placement can make it somewhat obtrusive in certain address positions, but it is light enough in weight that it is mostly unnoticeable when placed in the right spot. Care should be taken not to bump the device, as it could potentially fall off a belt loop. Thought relatively secure, a future improvement could be something that absolutely will not fall off under any circumstance, as losing the tracking device would be a very costly problem.
Editing, Analyzing, and Sharing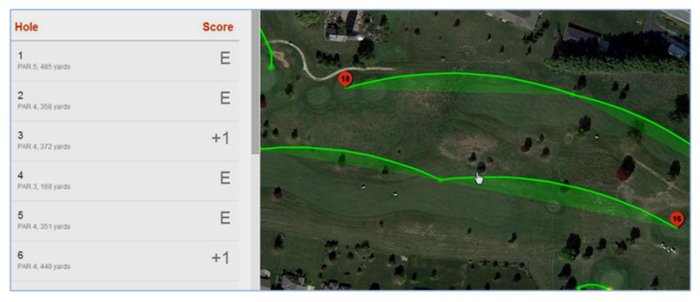 After the golf round is over, the data recorded by the Game Golf tracking device can be quickly uploaded to the website using the installed software and the included USB cable. At this point, the round can be looked at for accuracy and edited as needed. There are a number of different views available, but most are centered on a satellite image of the golf course with green lines indicating each individual shot taken. In addition, a small window details what club was used and how far the shot traveled.
Editing will almost certainly be necessary for every round played. As a first time user, the score recorded by the device was seven shots less than the actual score, mostly due to forgetfulness and the need to add penalties. Unfortunately, this process was a bit clunky, as the map created some lagginess and manual entry did take some time. In addition, it should be noted that shots close to the edge of the fairway or green can be incorrectly recorded, though this also can also be corrected. In all, the editing process was somewhat time consuming and took about 20 minutes to finish.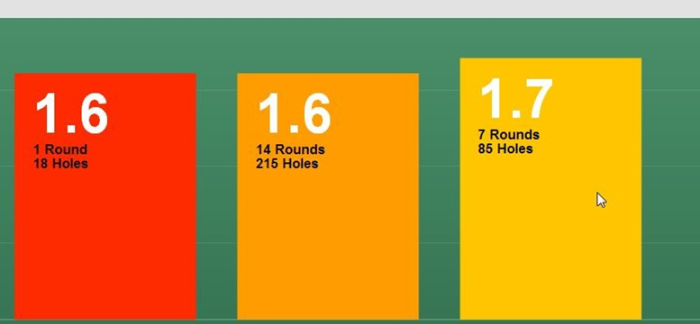 After editing, the scorecard can be 'signed', at which point it becomes unchangeable. From here, it is posted on the user's "page" for analysis or sharing. Stats tracked are the standard ones most know – GIR, FIR, putts, scrambling, and average drive for example. In addition, each club used is tracked for distance, giving a median, short, and long number for review. Game Golf also allows users to compare their stats with Graeme McDowell and Lee Westwood, though this is really just a novelty. In reality, the stat tracking is somewhat limited in scope at the moment, especially considering the potential presented with the hardware. Hopefully future enhancements to the software include more detailed statistics that can't easily be tracked on a scorecard.
Due to the social media feature, users can become followers of each other and view the rounds of other individuals. Also, the Game Golf account can be tied to both Twitter and Facebook for further social interaction. Unfortunately, there doesn't appear to be any sort of privacy control that has become expected on social media sites, and the ability to approve/deny followers isn't available. This is somewhat of a big hole in the system that hopefully is rectified sooner than later, as the ability to pick whom one shares or interacts with is an important part of the social media experience. For many, including the reviewer, the lack of this feature makes the system somewhat unattractive, even though it offers so much potential for both game improvement and enjoyment.
Final Thoughts
As a completely new technology, the Game Golf system has some rough edges that need smoothing out, but with continued massaging it has massive potential and could end up being something that changes the game for many amateurs. The ability to see a round of golf in retrospect offers so much in the way of aiding future course management strategy. In addition, stat tracking can immediately show a glaring weakness or even a club that may not be performing as well as it should, which could guide practice habits. The lack of online privacy is concerning and would ideally be addressed immediately, as many people will prefer to use the system purely for the analysis tools. The analysis tools, while fun and engaging, are somewhat sparse at the moment considering the number of different items that could potentially be tracked. In all, this is a system that could be amazing, but it still needs a little work to make it a rousing success. For more information, please head to Game Golf's website, www.gamegolf.com.