Maxfli is a name that most golfers are very familiar with. In fact, the company has been in the golf business for many decades. Some of you may also know that the Maxfli brand was purchased by Dick's Sporting Goods a couple of years ago. Recently, it seems that the company has been focused on reinventing the brand and shedding the budget-ball image that it has recently been associated with. For many years, Maxfli was a premium brand and it appears that they want to reclaim that status. Two balls in their 2012 collection, the U/4 and U/4X, are designed to compete with the performance of every other Tour ball on the market. Naturally, THP wanted to test them out and see how they stacked up. I've been using both golf balls for the last month or so and I'll be sharing my thoughts here.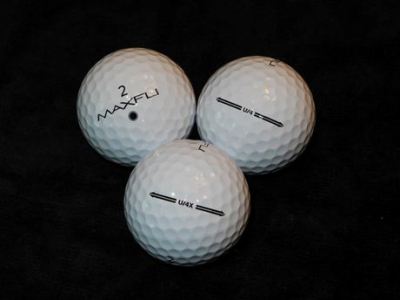 Here's an informative graphic from the Maxfli website that explains the characteristics of the U/4 and U/4X. The U/4 is represented by the gold line, and the U/4X by the silver one.

U/4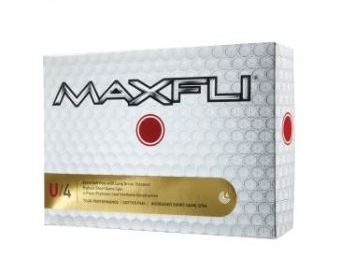 The U/4 is a four piece golf ball with a soft urethane cover. Of the two balls in the '4' series, this is considered to be the ball that spins a little bit more and launches a little higher.
According to Maxfli, these are the primary features of the U/4:
Highest short game spin

Extra soft feel and long driver distance

4- piece premium cast-urethane construction
I tested this ball extensively during rounds of golf and at my short game practice area, and also asked some playing partners to give me their thoughts on its performance. My opinion was that it felt sufficiently soft off the driver and irons and offered a pretty high ball flight with both types of clubs, but it flew especially high off the driver. I wouldn't characterize it as the softest Tour ball I've played, but it definitely seemed to be softer than the U/4x. I found there to be adequate spin with the U/4, much like I'd expect from any urethane ball in its class. I tested it against a few of the leading competitors in the industry and didn't see any major differences between any of them in terms of greenside spin. I had no durability issues during the testing process. The U/4 seemed to hold up about as well as I'd expect for a soft-covered ball. I didn't think it was the longest ball I've hit, but distance seemed to be close to what I am used to.
Some comments I received from two of my golfing partners were:
"I like that it doesn't spin as much as my normal ball. I was able to control it a little better on the greens."

"It seems to be as long as my normal ball off the tee, but feels a little softer."

"I'm hitting this ball higher off the driver, but distance is about the same."
U/4X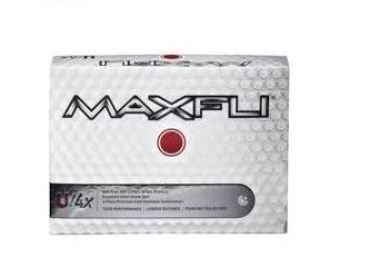 The U4/X, while still possessing a urethane cover, has less dimples and is designed to launch lower. This ball is said to spin a bit less than the U/4 and have a little firmer feel for more distance.
Maxfli advertises the U/4X as having:
Soft feel and long driver distance

Excellent short game spin

4- piece premium cast-urethane construction
This ball was tested in the same manner as the U/4 and I did notice some key differences. First of all, it really did feel firmer and had a much sharper sound at impact, especially with irons. I didn't feel like the ball flew substantially lower for me, but my perception was that it gave me a little less distance than the U/4. I didn't really notice a huge difference in greenside spin compared to the U/4 either. Lastly, the durability seemed to be pretty good for a urethane ball. Given the choice, I would choose the U/4 for my game over this all, but since we are all different, you may find different results.
Some comments I received from two of my golfing partners were:
"I am hitting this ball longer and straighter than my current ball." Note: I play regularly with this person and I was impressed with how well he drove the U/4X.

"It feels hard off my irons and putter, but I'm ok with that if I'm better off the tee with it."

"The greenside spin is ok, but my normal ball spins more."
Final Thoughts
In summary, I thought both of these golf balls were close in performance to other premium balls on the market. Their covers were soft enough to help generate some extra spin, which is typically what people are looking for in a golf ball from this class. I didn't find either to be particularly long for my game, but I didn't notice any large distance losses while using them. Each person that assisted me in the testing process seemed to agree with that assessment. There are a couple important things to note if you are interested in trying out the U/4 or U/4X. First of all, they are sold exclusively by Dick's Sporting Goods and Golf Galaxy . Also, these are considered top-of-line balls, and are priced as such. Both of them are currently priced at $39.99 per dozen. As a side note, there is a pretty wide variety of balls at different price points in the "U" series, so you may find something that fits your game or price needs a little better after some research. As always, thanks for reading.
Ryan H.