During the late summer months, Mizuno sent the internet into a frenzy over the look of their new MP-18 iron lineup, which entails three full iron sets, as well as another iteration of their FLI HI series. This ensemble of irons exhibits that classic, elegant aspect to them that seemed to attract the attention of golfers who prefer the cleaner and traditional look, specifically when comparing them to some of the flashier designs seen on the store shelves. In order to get a better understanding of the MP-18 release, time was spent with the more forgiving option within the MP-18 line, the MMC.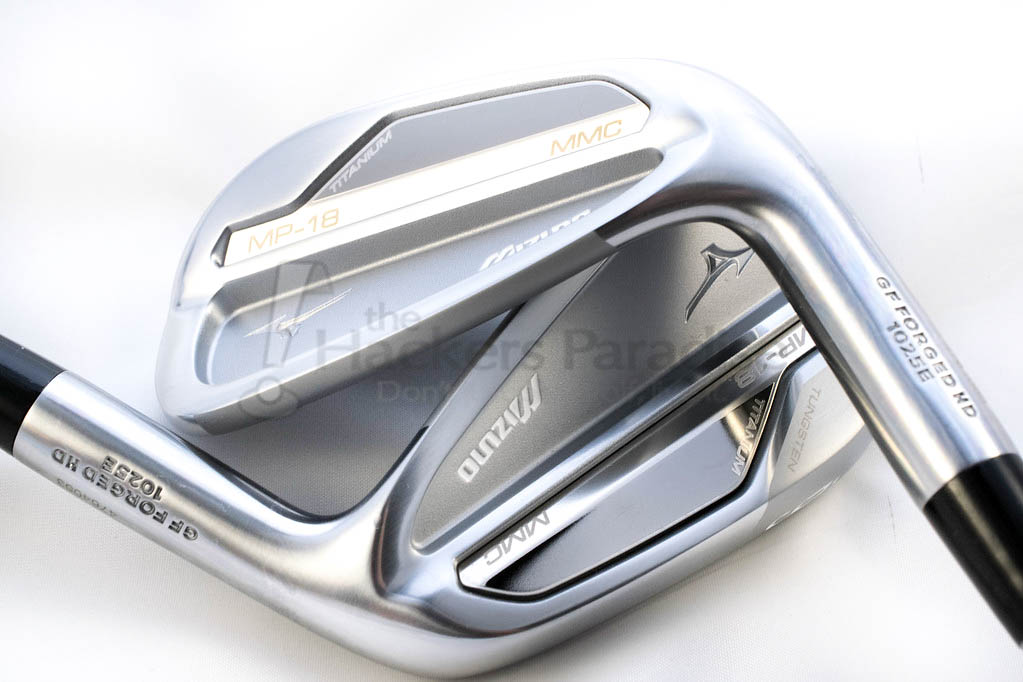 From Mizuno
The Multi Material Construction stems from a three-year project between our R&D team and our legendary forging house to address the demands of the modern player. The highly stable, forgiving multi-metal construction satisfies the needs of a large range of players. Through the strategic use of lightweight titanium and heavier tungsten parts sealed within its 1025E mild carbon steel head MP-18 MMC provides workability, control, piercing ball flight, and forgiveness while maintaining a similar 'tour-ready' profile and size to the MP-18 SC.
| | | | | | | | |
| --- | --- | --- | --- | --- | --- | --- | --- |
| Club | 4 | 5 | 6 | 7 | 8 | 9 | PW |
| Loft | 22° | 25° | 28° | 32° | 36° | 41° | 46° |
| Lie | 60° | 60.5° | 61° | 61.5° | 62° | 62.5° | 63° |
| Length | 38.25" | 37.75" | 37.25" | 36.75" | 36.25" | 35.75" | 35.5" |
| Off Set | 0.138" | 0.134" | 0.130" | 0.122" | 0.114" | 0.106" | 0.098" |
| Bounce | 2° | 2° | 3° | 3° | 4° | 5° | 6° |
| Dexterity | RH Only | RH Only | RH Only | RH Only | RH Only | RH Only | RH Only |
Composition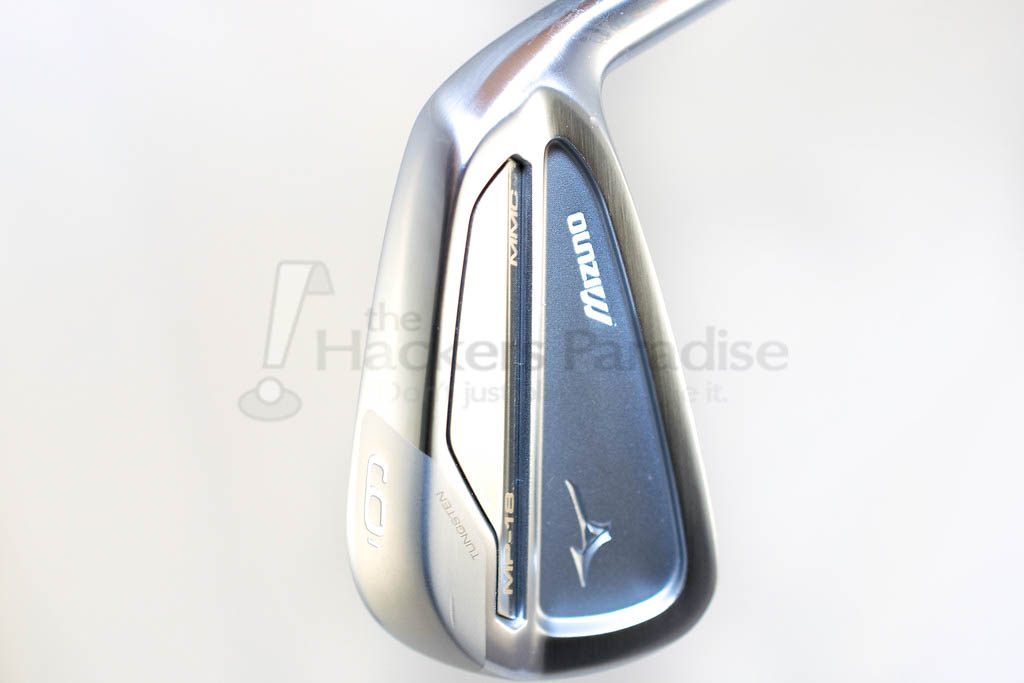 According to Mizuno, MMC stands for Multi-Material Construction, and those three letters let golfers know that these are not just your everyday players cavity irons. In order to perfect the engineering aspect, Mizuno embarked on a three-year endeavor to bring forth an iron that have the classic looks and feel, but with a bit of modern technology to help make this iron playable for a much wider audience. To properly dive into the tech aspects of the MP-18 MMC, let's first start off with the main material. In recent years, consumers have seen Mizuno incorporate Boron in their iron designs, and by doing so was able to thin out certain areas of the clubhead because of the stronger material used. However, the downside to that was it produced offerings that just didn't have that signature Mizuno feel. For the MP-18 release, Mizuno brings back 1025E, which has been used in many of the past MP iron offerings.
Looking at the soles of the clubs, one will notice that the 4-7 irons have a matte finish section out on the toe, which differs from the 8-PW. Visually this draws attention to the fact that there is tungsten present in this location, and for those who aren't sure about that, Mizuno has labeled that location as such. Design wise, the 20 grams of tungsten help move that center of gravity a bit more towards the middle of the clubhead, instead of being slightly heel side. Not only will that extra weight assist in the placement of the center of gravity, but it also helps the MMC in terms of launch and forgiveness, by pushing extra weight low and to the perimeter.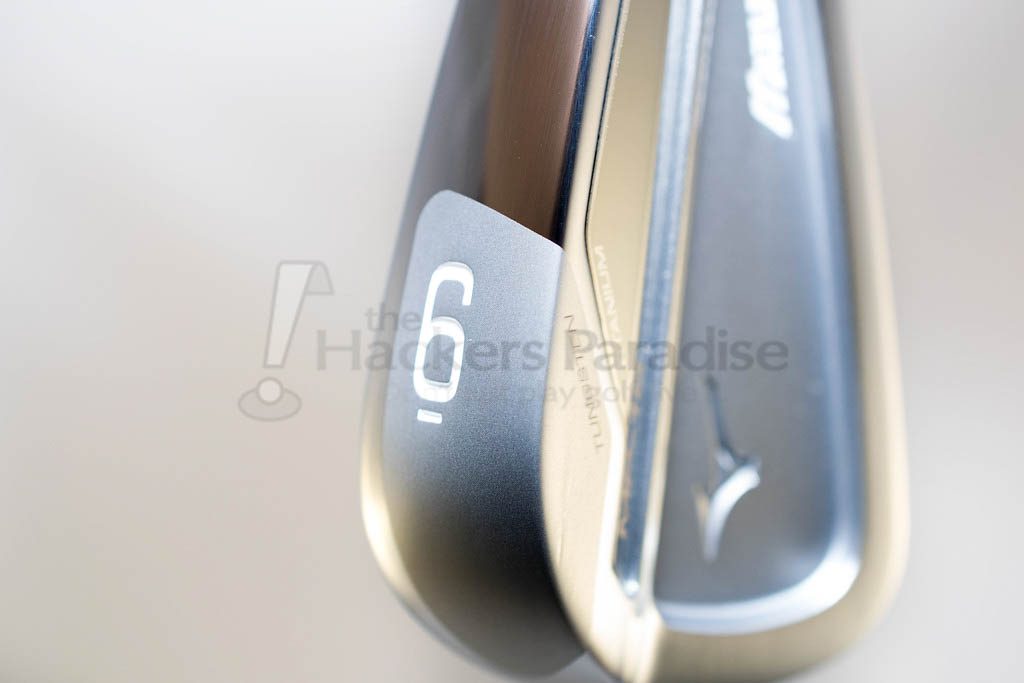 The final piece to the multi-material masterpiece is an 8-gram titanium insert which sits behind the center of the face and stretches towards the heel. Titanium is a material that many are quite familiar with due to its use in drivers. In terms of the MMC irons, it is used as a filler, thanks to the fact that titanium is lighter compared to steel. By carving out this section and filling it with a less dense insert, it allows for that discretionary weight to be pushed more to the edges, helping to squeeze that extra bit of forgiveness out of a profile that is more on the slender side.
Performance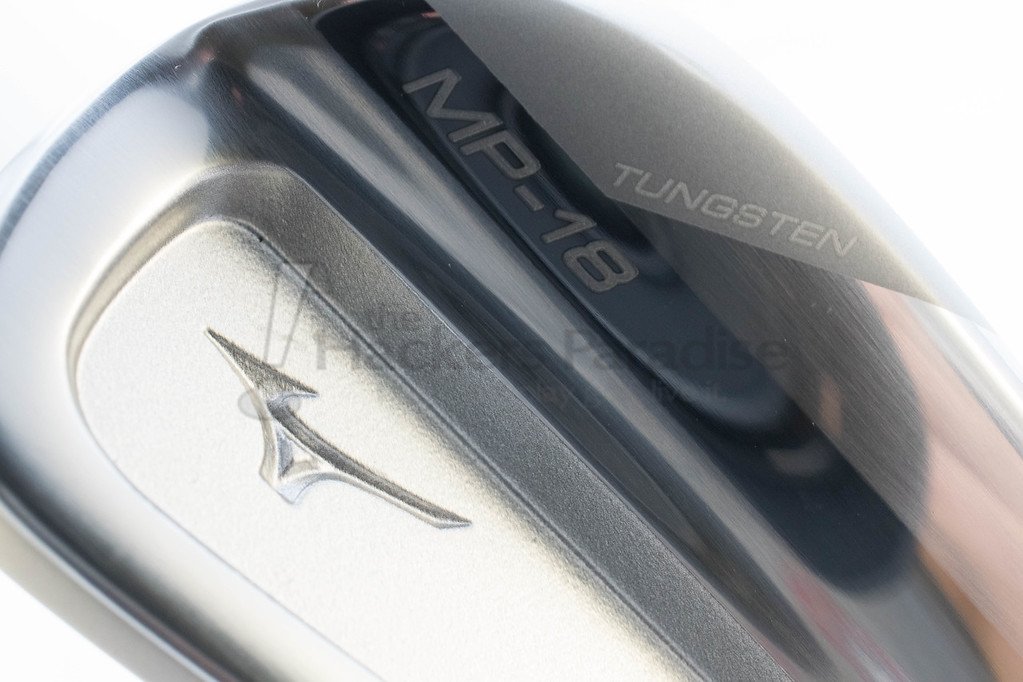 For some time now golfers have become familiar with the tagline "nothing feels like a Mizuno," and keeping that phrase in mind, perhaps the place to start with these members of the MP-18 line is in the area of feel. Obviously Mizuno has built up a strong reputation for producing forged clubs that carry with them a certain softness that many players crave. Historically, the MP range is not about finding a club that is going to deliver a boisterous sound followed by crazy distance, no, instead the MP line has been geared towards the lower handicap player, and those who place a bit more stock in consistency and feel. Anyone who takes a look at the entirety of the three full iron sets under the MP-18 moniker, will see that one iron certainly looks a bit different. With a classic blade in the MB, a stunning split cavity with the SC, comes the more technological looking MMC, with titanium badging and tungsten toe inserts. All of these irons go through Mizuno's grain flow forging process, however with some of the extra materials used in the MMC, there is a slight change in feel. While the MB and the SC carry with it that classic softness, the MMC feels a bit firmer, but yet still carrying with it a nice sensation at impact. In fact, if one were to go the route of a combo set, which the MP-18's set up for, that slight difference in feel would probably go unnoticed.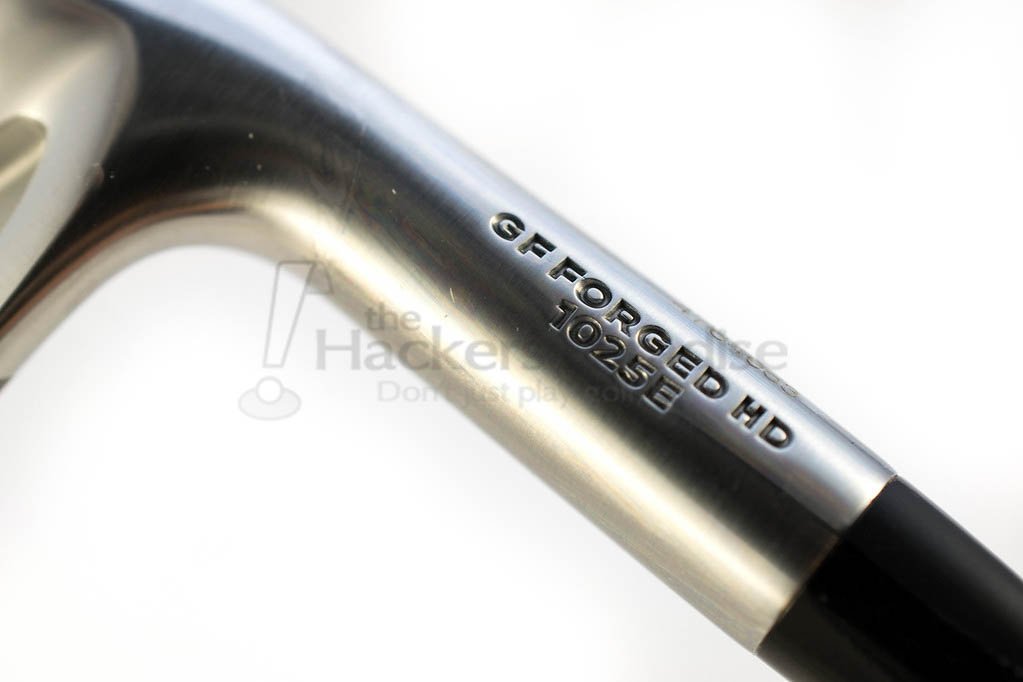 While feel is one area that can push a golfer over the edge when it comes time to make a purchase, most, if not all, of the other areas need to check out as well. With the MMC, most of those areas did in fact produce the kind of quality results that would be expected. Even though the MMC lofts are 2° stronger than the SC (in the 4 thru 8 irons), because of their profile, they would not be classified as a pure distance iron. However, throughout our testing, each club was able to achieve an acceptable carry yardage, but more than that, the consistent ball flight characteristics that accompanied those numbers. When looking at data gathered by Foresight, the MMC proved to spin more and achieve a higher ball flight than what was seen with the JPX 900 forged irons. As a result of the extra spin and peak height, shots should produce less runout on balls successfully landing on the green.
| | | | | | |
| --- | --- | --- | --- | --- | --- |
| | Launch | Spin | Peak Height | Descent Angle | Carry |
| MP-18 MMC 7 | 20.1° | 5149rpm | 30 yards | 47° | 155 |
| JPX 900 Forged 7 | 19.1° | 4559 rpm | 27 yards | 44.5° | 156 |
As mentioned above, the presence of tungsten and titanium are aimed to help make this iron a bit more playable compared to the other two full iron sets in the range. Being more of a slender profile, expectations for an uber-forgiving club should be tempered a bit. That's not to say that the MMC is not going to assist on misses, because it does that quite well on shots missed around the sweet spot. However, it's hard to recommend these irons to someone who is seeking them only for the forgiveness factor. In fact, for the player who wants a highly forgiving Mizuno iron, they shouldn't overlook the JPX 900 Hot Metal. But, for that golfer who is an above-average ball striker, the MMC iron will perform admirably. On the longer irons, the tungsten really shines on balls struck off center. With that 20 grams pushed low, it helps get the ball airborne to help maximize carry in some spots where a more bladed style club would struggle.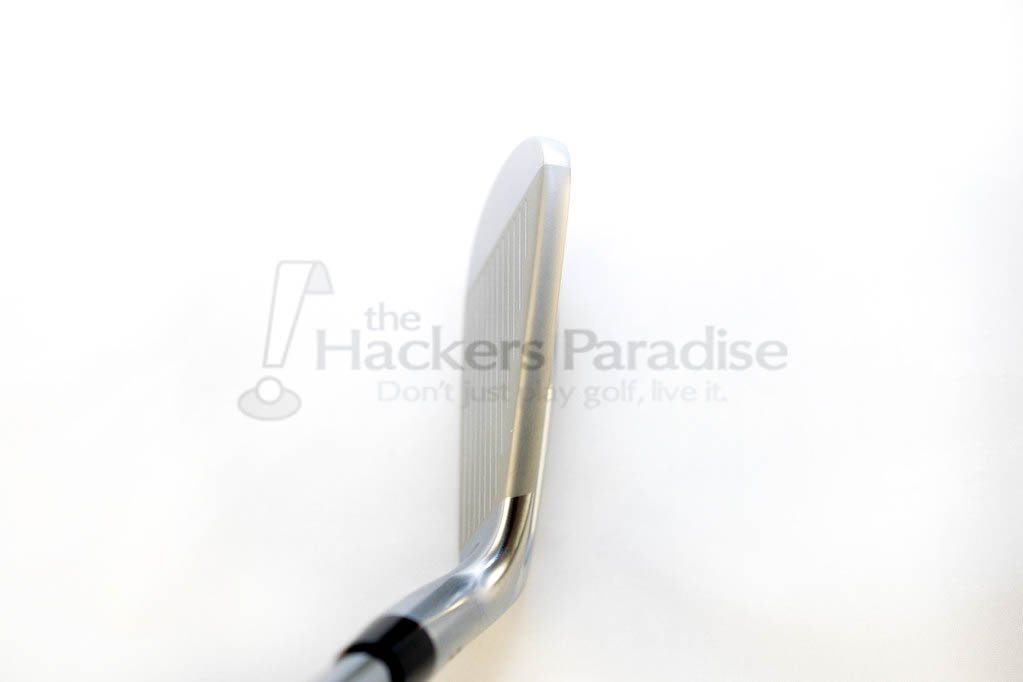 Long Iron Relief
As part of the test set reviewed, the 3 and 4 irons were replaced with the MP-18 FLI HI irons, paired with the same Nippon Modus 105 stiff shafts that were installed in the irons. These FLI HI irons are a unique part of the MP-18 offering as they are available from 2-6 irons, and they serve a specific purpose, which is to help bring an easier to launch iron into the fold without completely abandoning the finer looks of the remaining clubs in the set. While they do feature a bit of a fuller sole and a longer blade, the amount of offset present helps them blend perfectly into the MMC irons. If one couldn't tell that the MP-18 lineup was about giving consumers the ability to mix, match, and build their own custom dream set, then the inclusion of the FLI HI irons should help cement that belief.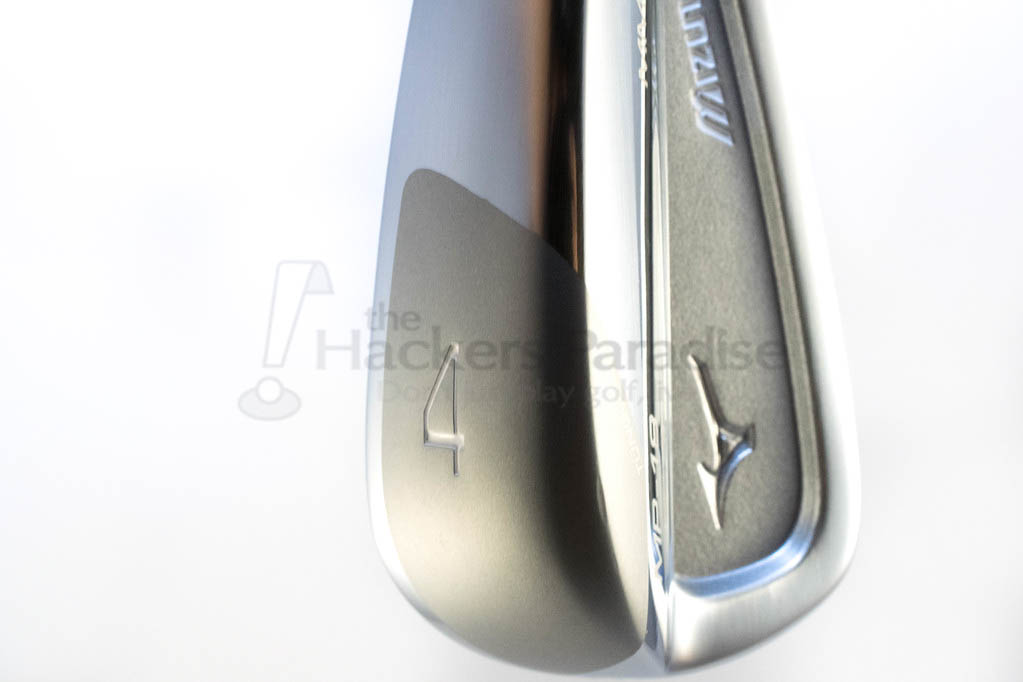 FLI HI irons are built a bit differently from the other MP-18 models, as these utilize a hollow body design. In a similar trait as the MMC, the FLI HI also have some tungsten present in the toe section of each club. By incorporating a longer blade, tungsten, and the hollow body construction, Mizuno is able to thin the face on these to help produce shots that will come off with more ball speed and higher launch, all while being a more forgiving option from the rest of the MP-18 series. Since the MMC FLI HI irons are only offered in five lofts, players will have the ability to add these where they see them as the most beneficial. For stronger players, the lower lofted options can become a driving iron of sorts, while the person who needs help with launch, but doesn't feel comfortable with hybrids, may opt for a club in that 4-6 range.
| | | | | | |
| --- | --- | --- | --- | --- | --- |
| Iron | 2 | 3 | 4 | 5 | 6 |
| Loft | 16.5° | 19° | 22° | 25° | 28° |
| Lie | 59° | 59.5° | 60° | 60.5° | 61° |
| Length | 39.25" | 38.75" | 38.25" | 37.75" | 37.25" |
| Off Set | 0.150" | 0.146" | 0.142" | 0.134" | 0.126" |
| Bounce | 0° | 0° | 0° | 1° | 2° |
| Dexterity | RH Only | RH Only | RH Only | RH Only | RH Only |
Having two of these in the bag during testing gave a small sample of what these clubs can do for an average swing speed player. In fact, the performance of these, specifically the 4 FLI HI, makes the idea of adding the next two higher lofted models a more attractive alternative. Having an iron that is built to help, but looks more the part of a players club, is a nice option to add to the mix. In terms of looks, because of how Mizuno rounded the topline, it appears to the eye to be a bit thinner than it actually is. In fact, the only real detractor in the aesthetics might be the fact that the back of the sole is visible at address, and while that look might be a bother to some, the results could sway their opinion.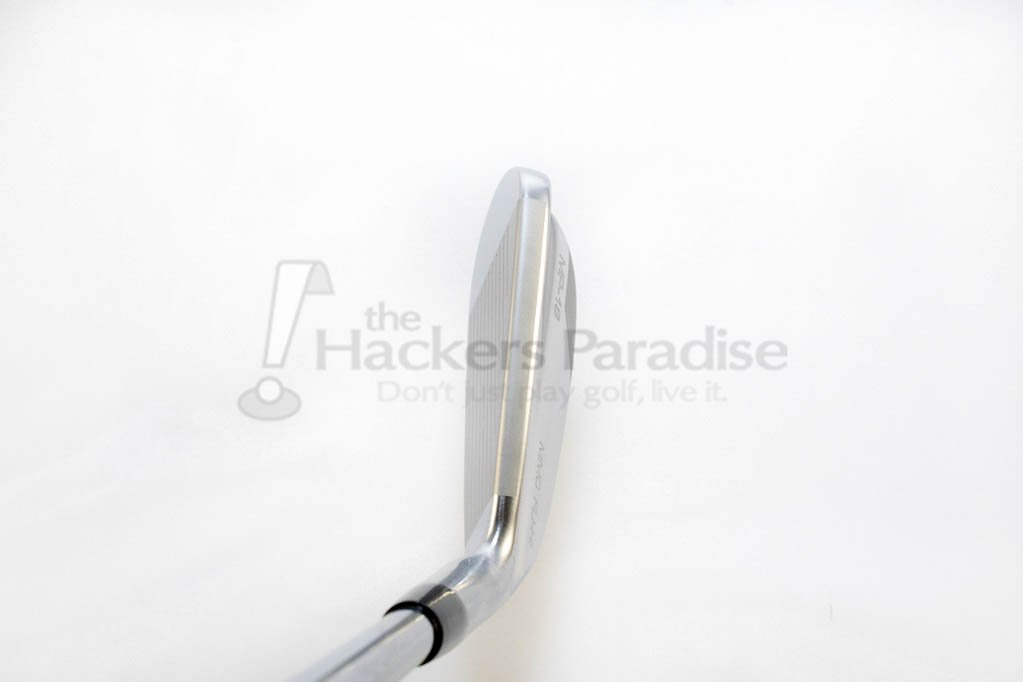 One of the top takeaways from playing the FLI HI is that the sound and audible feedback is more pronounced than the MMC irons, but not to the point where one would think they are playing a completely different set of sticks. Often times, hollow bodied irons carry with them a bit of a different sound, and it makes it difficult to tell exactly how well a shot was hit. With these, good shots are represented by a nice crack, while misses are met with a bit of a louder, sharper sound.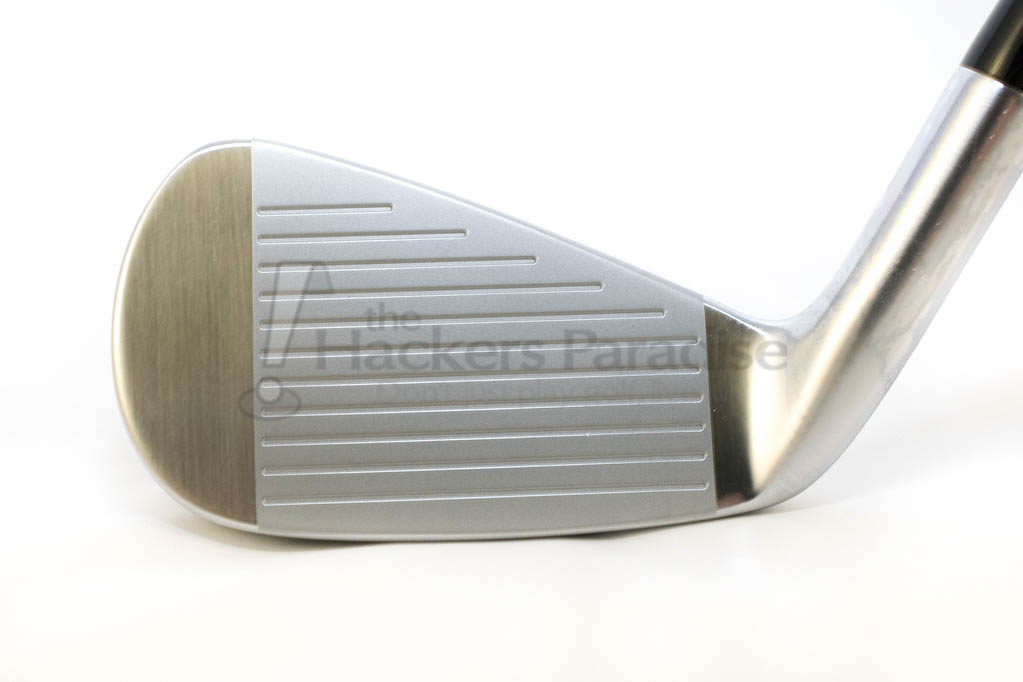 Conclusion
As one can tell, there is a lot to digest when it comes to the MP-18 release. Between the three full iron sets, and the addition of five FLI HI options, Mizuno has given players the opportunity to completely customize their iron set, and to help make the process even more fun, Mizuno has a wide variety of no upcharge shafts and grips. It is not completely unfathomable to see someone build a set and include at least one club from each piece of this family. In a way, the release of the MP-18 has brought Mizuno back to their roots, producing timeless looking irons with that reputable feel. Pricing for a full set of MP-18 MMC irons comes in at $1,049.99, which is $150 less than the cost of a full set of MB or SC irons. More information on the entire MP-18 lineup can be found at www.mizunousa.com.