Those that follow this website know that Mizuno has been in the golf ball market for years in Europe and Asia. At the 2019 PGA Merchandise Show, they announced that their latest golf ball, will be state side as well. Introducing the RB Tour and RB Tour X.
The new lineup is hitting stores on February 25th and below we will dive in a little deeper into the technology that makes them unique. Just a quick note, the lineup is already up on Budget Golf's website for pre-sale if you want to make sure you get a dozen to try out.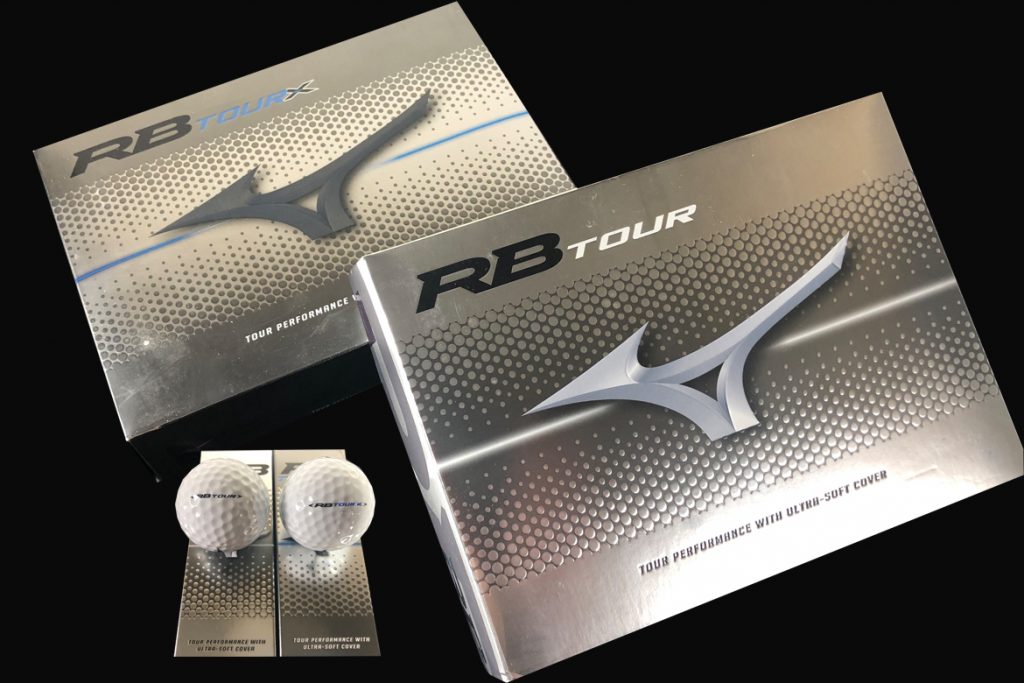 Both the RB Tour and RB Tour X are four-piece, urethane covered golf balls. What Mizuno says separates them from the rest is their dimple pattern, which is the result of wind-tunnel testing over the last dozen years.
"Mizuno has its own wind tunnel at the Mizuno Technics laboratory and a particular skill set in aerodynamics," said David Llewellyn, Director of Research and Development. "We've now built a reputation across Asia and Europe for producing a quality ball – working with tour winners, elite amateurs and emerging tour players. The RB TOUR takes us to the next level and we're excited to see where this takes us."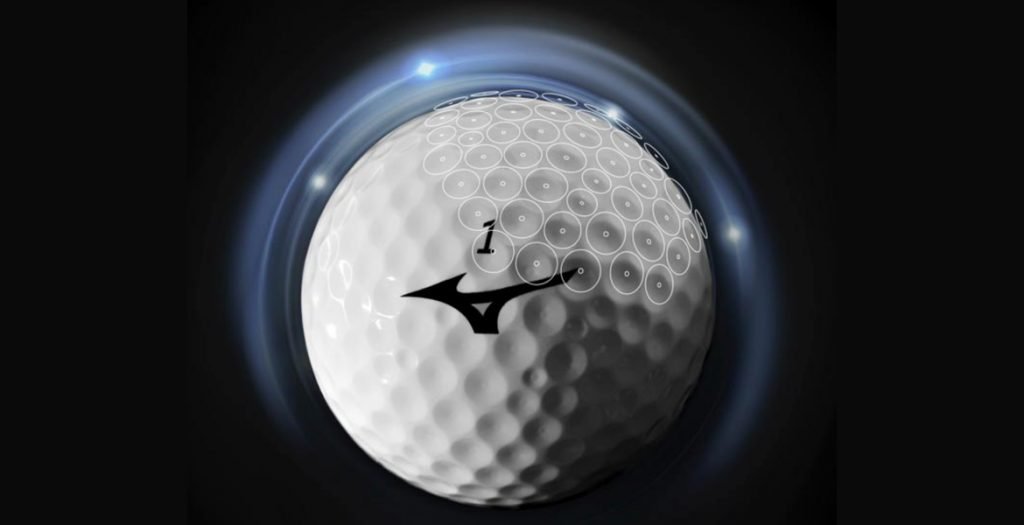 Let's Talk Cone
What? Yes, Cone, or C-Dimple as it is being referred to by Mizuno. The goal here is simple. Create more trigger points to keep air close the surface of the golf ball, reducing drag and making the trajectory stronger. To make it easier to understand, think more penetrating flight that is extremely controllable
What does this mean? In theory, more distance.
There are other golf balls with a dimple inside a dimple type design. Bridgestone had this in their Tour B330 lineup that was introduced back in 2012. To be clear, this has subtle differences than what other companies have offered.
RB Tour and RB Tour X
Yes, we get it, every ball lineup appears to have a regular and a X model and this one is no different. It does however make it easier to understand. The graphic below breaks down the differences in simple form and goes a step further to identify based on angle of attack. Are you a steep player with negative angle of attack? Go with the RB Tour. If you are fairly flat or hit up on the ball, the RB Tour X, might be perfect for you.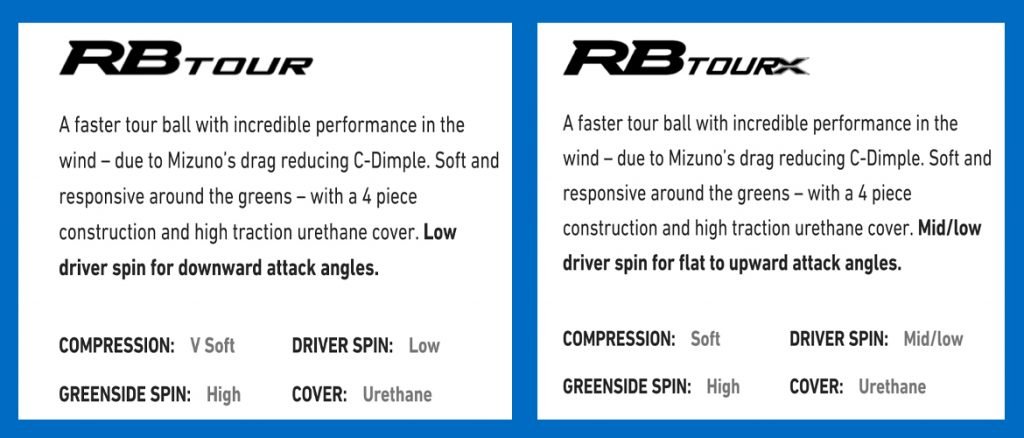 The Ingredients
As mentioned earlier on, both golf balls are four pieces, so let's break down each layer and how they will impact performance. Each ball starts with a polybutadiene rubber dual core interior. The word sounds scary hard to understand, but to make it easier, it is the same rubber used in other golf balls as well as tires. Polybutadiene is popular in these spaces because of its high resistance to wear. Mizuno has a graduated core that gets firmer as it moves to the outside. When the core of a golf ball is too soft, often times speed can slow, but having it gradually get firmer towards the outside, feel can remain soft and there is less sacrifice in speed.
Next is the mantle layer, which is right below the thin cover. The mantle is ionomer, (often referred to as surlyn) and is designed to keep speed up similar to the way the graduated core is. It can also add some friction between layers, on partial shots and finally helps with resilience.
The RB Tour and RB Tour X are then wrapped in a thin urethane cover which promotes high spin on partial shots around the green.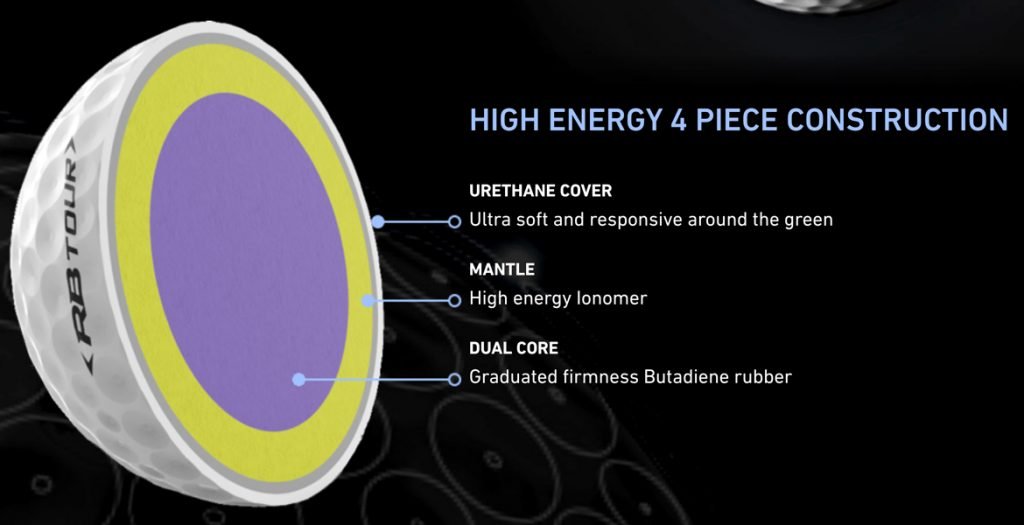 The Details
In Stores: February 25th, 2019
Cost: Roughly $43 per dozen
As mentioned earlier, you can pick up the new Mizuno golf balls at Budget Golf right now as part of their presale. There is a coupon for Budget on the right hand side of this website for 15% off. We cannot confirm if the coupon works for these items, but it might be worth a try here.