If you've read any of my past reviews on fairway woods you know how important they are to me. I am a firm believer that a good trusty 3 wood that gets the job done on multiple fronts is one of the most valuable clubs in my golf bag. The 3 wood is a game changer in many ways, if you think about it you can turn to it to do more than just bang 2nd shots on par 5s in an attempt to get an eagle putt. A good 3 wood should be versatile, it should be powerful and it should be forgiving. That's a tall task for any one club, but if it's going to find a spot in my bag then it simply has to be all 3 of those and more. Nike Golf sent over one of their new VR Pro Limited (LE) Edition 3 woods for a full review.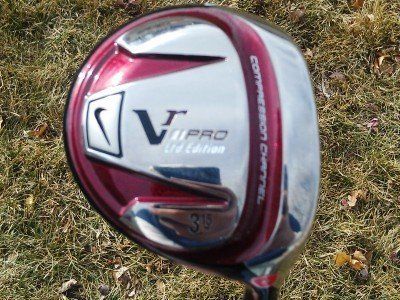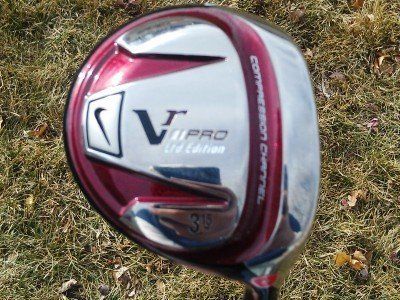 From Nike Golf:
Attack from anywhere:
Designed with our Tour players to provide top-level performance on every shot in the arsenal. From shot-shaping distance, green-seeking accuracy or consistent reliability, these are go-to clubs from the tee and the green.
Demand performance
Designed and played by the game's elite, with technology that's up to the task, these 3 and 5 woods combine distance, workability and consistency.
New MRC Diamana 'ahina
Incorporates Mitsubishi Ryon's signature multi-dimensional interlay technology (M.D.I.) to deliver a stiffer mid and tip section than its predecessor.
Looks:
If Nike Golf has figured anything out since they got into the golf equipment industry several years ago it is how to make a gorgeous looking club. Sure not everything they have put out has been quite this nice, but overall they are definitely one of the nicer looking clubs on the market. The VR Pro Ltd. Edition 3 wood is no different. The head is pear shaped that is black in color with no alignment markings or any graphics at all that you see from address. Just a nice clean club. Flipping it up and looking at the sole you see the very prominent compression channel with shiny chrome and some red accents in various areas. The big VR and Nike swoosh really complete what is a great looking club.
One more thing that I would like to tie into the looks of the club is this great head cover that Nike has decided to go with. Nike opted for one of the old school looking socks with a big and full pom pom in red and black and the sock itself is red, white and black. It looks really cool, and unlike some of the other old school sock covers of the sort, this one fits on the club nice and tight for an overall great head cover.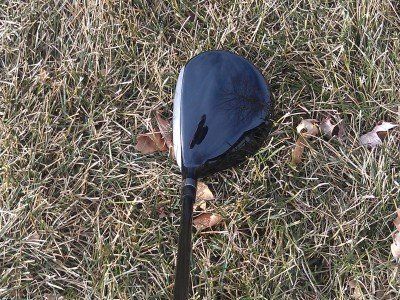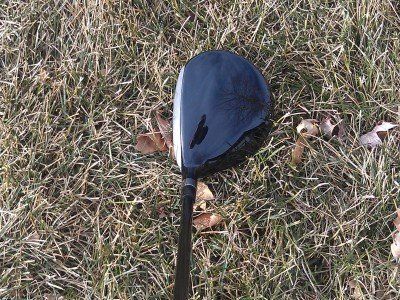 Performance:
I used the Nike VR Pro Ltd. Edition 3 wood for several range sessions and rounds of golf up to the very last day of our 2011 golf season in the Midwest. The day I took it out was pretty chilly and quite windy; a very typical late fall day indeed. Warming up on the range I grabbed this 3 wood and right back into that stiff breeze I started launching balls. I was immediately happy with the ball flight, very tight dispersion with a nice mid and boring trajectory. It only took me a couple seconds to determine that this 3 wood was not like every other 3 wood I have hit this year. First of all, before I go too far into the reasons why, let me point out perhaps one of the bigger differences I noticed right away. The depth of the face is definitely deeper than many of the 3 woods out there as it seems like everyone these days is putting out a shallow face fairway wood that is larger front to back. The VR Pro LE is a little deeper and it doesn't feel quite as big as those 3 woods because from front to back the club just feels more compact.
I know what a lot of people are saying right now, "Oh no, a deep face fairway wood, I'll never get it up in the air off the deck." Not the case at all in fact. I started out hitting balls off the deck the very first time I hit balls with this and I had zero issues getting the ball in the air right off the turf. Something else about this club that is different than many these days is that the face angle is +2 degrees open. I haven't always done real great with "Tour" drivers that come one or more degrees open but I really didn't have any negative impact on the direction of my ball. In fact I was quite impressed with just how easy it was to hit this club straight.
While I had no issues getting the ball airborne of the turf the area that the VR Pro LE 3 wood really excelled for me was off the tee. This thing reminded me of a little driver if you will, the setup off the tee was very confidence inspiring and I just knew I was going to hammer the ball straight to where I was aiming. Off the tee this 3 wood is without a doubt the longest 3 wood I have ever hit. The added distance of it changed how I play a couple of the holes around my home course that demand accuracy and distance control of the tee. I'm simply hitting the ball further than ever before with it so instead of having a hybrid or a 5 iron into the green I still can get down to the mid irons making scoring that much easier.
Forgiveness is decent, I think you could probably find a more forgiving 3 wood on the market but I will say that finding the center of this club face where all the power is at is a very easy task. As I mentioned earlier, the club head seems like it's a bit on the small side but actually comes in at 157CC which is right in line with other 3 woods on the market. While missing the sweet spot will cost you a little bit of distance and accuracy the whole point of the Nike Variable Compression Channel Technology is to deliver speed and forgiveness at more spots on the club face and I think it does just that quite well.
The shaft that comes standard is the Mitsubishi Diamana 'ahina. The model I tested had a stiff flex shaft that weighs 72.5 grams. I really liked the overall weight and feeling of balance this setup offers. The shaft felt plenty stout for me when I really wanted to go after shots and I found it delivers a nice consistent mid ball flight. Shot dispersion was amazingly tight for me, something that I've been known to struggle with from time to time.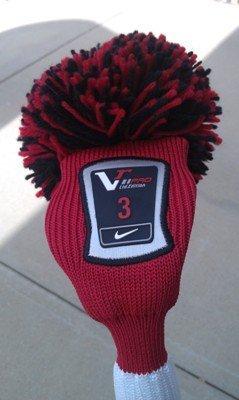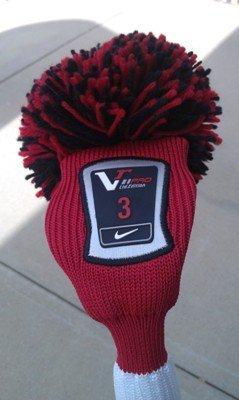 Overall:
I think finding the right 3 wood can be a stepping stone for my golf game. Having a 3 wood that I can trust to use for a wide variety of shots to help me either stay out of trouble on tight holes or attack the green on those par 5s is an element that I haven't always had. This club definitely gives me the ability to take my game to a new level. For many people their "go-to" club would be a putter or maybe a wedge, but a trusty 3 wood that performs every time I call on it is every bit as vital for me and my game. This club offers distance, it's easy to hit from multiple lies and it has just enough forgiveness when you need it. Every time I had this club in my hand I knew I was going to hit it good, and that kind of confidence is not easy to come by, but when you find it you have to embrace it for as long as you can. I truly think this 3 wood is the ultimate game changer for me, if you're in the market for a 3 wood do yourself a favor and demo this one. You'll immediately love the look and be happy to find out that the performance more than matches that look.