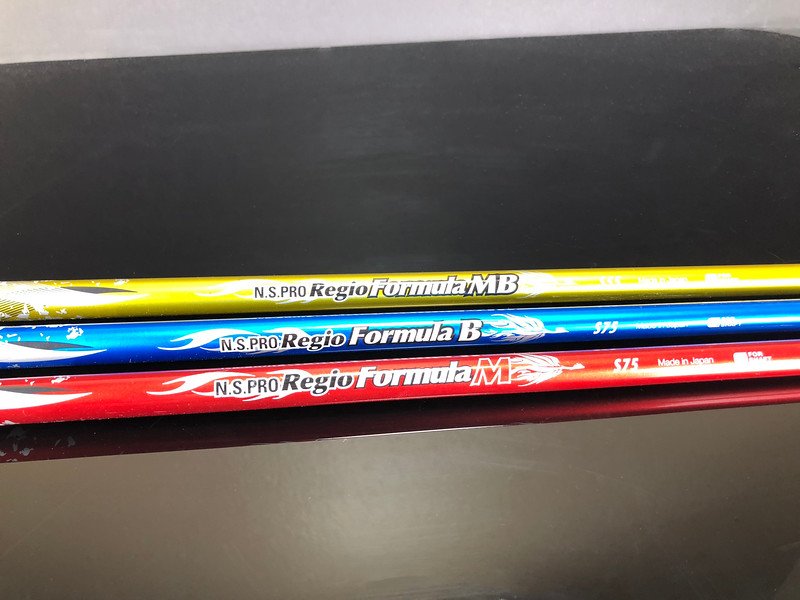 Nippon shafts are largely known for their presence in the iron shaft industry, owning more than one hundred and thirty worldwide tour victories with their modus3 product in play.  Alongside the Modus3, NS Pro, and Zelos lineup, they also offer three graphite shafts for woods and hybrids that own their own unique characteristics, while pairing directly with a modus3 counterpart.  This review will take an in depth look at the N.S. Pro Regio Formula MB graphite shaft, and provide some additional information on the other Regio options available to consumers.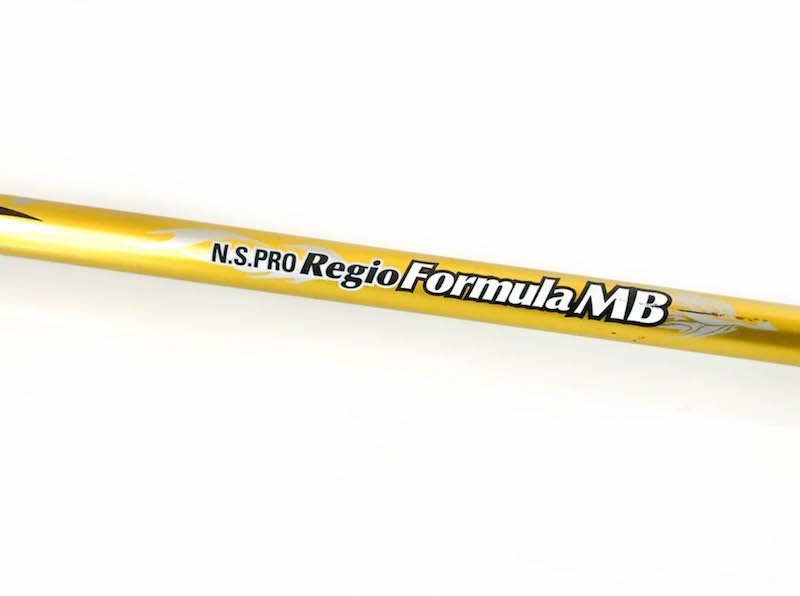 As mentioned above, the Regio lineup boasts three shafts that profile in specific ways to support the various golf swings we see.  We are fortunate that the knowledge experts at Nippon provided some depth on the three builds, and they are represented as follows;
Regio Blue: similar shaft bend to modus3 tour 120 — Firm tip, soft mid, soft grip
Regio Red: similar shaft bend to modus3 tour 130 – softer tip, firm mid, firm grip
Regio Yellow: similar shaft bend to modus3 tour 105 and 125 – firm tip, firm mid, mid to firm grip
As this review is going to focus solely on the Regio Yellow (Formula MB), here's some information on construction and materials from Nippon; Seven central layers of prepreg and an ultra-high-elasticity 80t sheet with high rebounding force produce high trajectory through strong release power. Shaft strength and acceleration feel are also enhanced by an ultra-high-elasticity 90t sheet in the grip area. To strengthen the impact feel, we also added a high-strength material from the space industry, called T1100G, to the tip end. This merging of various high-functionality materials robustly converts swing energy to maximum carry distance.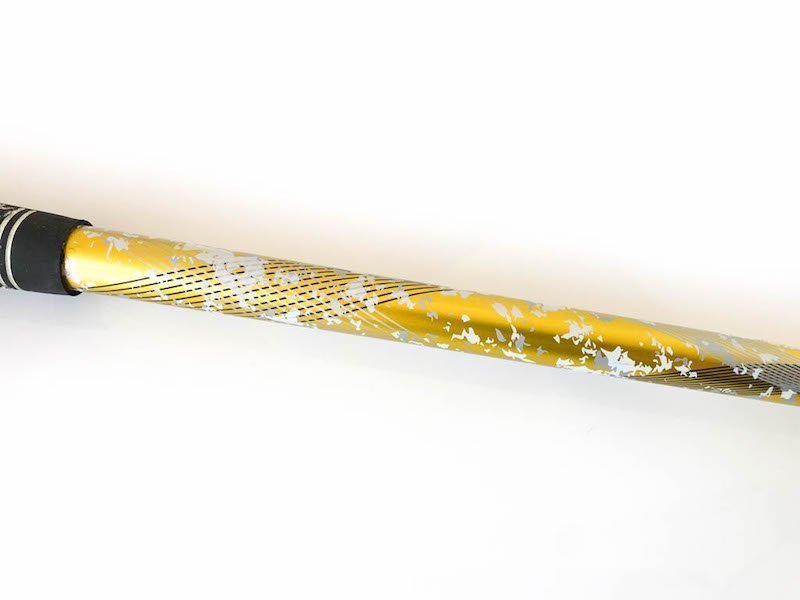 What a great way for consumers to get a starting point on the shafts, if they are familiar with the Nippon lineup or their present shaft flex profile.  It certainly provided some early context on what we would be expecting when taking Regio Formula MB onto the course, although I admittedly did not go to the golf course with previous knowledge on the shaft.  As shafts are often times best reviewed without preconceived notions on what they should do, it seemed appropriate to go blind for the first test drive.
What became immediately apparent about Regio Formula MB was a combination of low launch and low spin that probably rivals anything I have had the opportunity of putting numbers on previously.  As a higher spin player, who rarely ever effectively controls descent angle with a driver/shaft combination, it was very obvious early on that the flight was quite penetrating despite being in that 12+ range, and then falling forward for some bounce rather than plummeting in that forty+ degree descent range that all but guarantees little roll.  In order to capture that visually, we utilized the GC2 technology to provide some greater depth on what the ball was doing while in the air.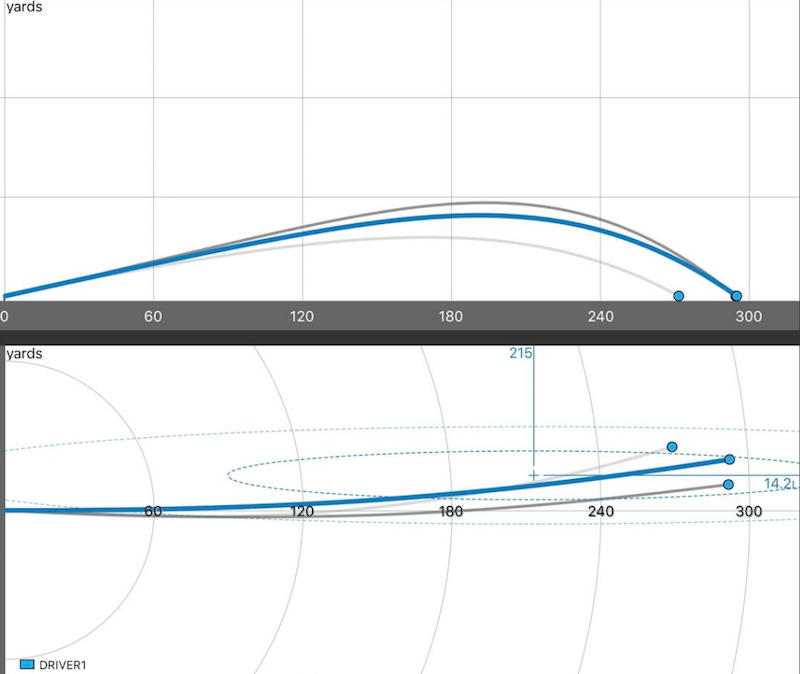 Where in many cases the flight from zero yards to peak height around 200-220 would see an upwards arc, it was actually quite straight with the Regio Formula MB.  This definitely helped continue the forward inertia of the ball, and produced descent angles of well below the target of forty degrees.  As you can see by the visual provided above, my personal tendency with Regio Yellow seems to be a small draw, although I was able to manipulate the head settings to get a slightly straighter flight pattern overall.  This was an interesting takeaway as well considering other shafts being used at the same time had various shapes rather than the slight draw.
Continuing with the extensive data available on the Foresight GC2, I was able to validate my visual beliefs with great descent, fairly consistent launch, low spin, and excellent carry totals.  At about 115-117mph with the driver, just under 170mph ball speed is much to be expected, with the carry distance rarely breaching 290.  These numbers, for lack of a better word, are exceptional for me.

While there has not been much discussion to this point regarding the flex, it is hardly a low point despite having a stiff tip/mid/grip section.  Provided for review was the 65x model and it flexes about on par with most grip stiff shafts I have had experiences with in the past, and certainly not on the 'harsh' side of the spectrum where even the most aggressive swings feel poorly.  Rather, great swings are well rewarded in vibrations into the hands, and even 85% swings do not feel underpowered for the profile.
The obvious takeaway here, based on the numbers provided and the on course experiences, is that Regio Formula MB is a viable low spin and low launch product from a company already well known for their exceptional products.  Fortunately, they have taken into consideration the various swing styles and boast a total of 24 flex and weight options between the blue, red, and yellow Regio products.  Surely with this depth of selection, golfers will be able to get a shaft into their woods and hybrids that work in tandem with their swing, similar to the experiences I have had with Regio yellow.  For additional information on Nippon Regio shafts, or any shaft available from the company, visit www.http://nipponshaft.com/.