Remember when our golf apparel consisted of 100% cotton shirts and bulky "wind proof" pull overs?  It seems hilariously awkward and odd to even think about now but it wasn't that long ago that the tech fabrics of today's apparel simply didn't exist.  I think of all the technological advances we've seen in the game of golf in the past few years and the one that we all are able to take the most advantage of is what they've done with the clothes we wear.  Sure they've made clubs that hit the ball longer and they've made balls that go further and spin more but every single golfer doesn't always gain an advantage.  Every single golfer does, however, reap the benefits from wearing shirts that are more comfortable, less restricting and all around more enjoyable to wear.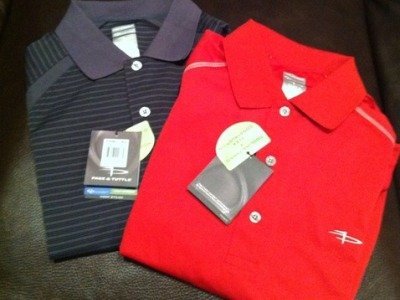 Page & Tuttle Company history
Page & Tuttle might not be a name that rings a bell with too many people.  However they're not a new company, far from it in fact.  Page & Tuttle has been in the apparel and specifically the golf shirt business since 1886 when founders Frank H. Page and Edward O. Tuttle partnered with George D. Munsing and started Northwestern Knitting Company.  The name would later be changed to Munsingwear and ultimately Page & Tuttle, Authentic American Golf Apparel.  Since the beginning, the company has always had innovation on their minds.  They have many industry first patents to their credit; they were also the first company to put a logo on their golf shirts.  That logo was a Penguin the left chest area.  By 1974 the company's "Grand Slam" shirt was the highest selling golf shirt in the world.  If you're like I was you're thinking…"oh yeah" right about now.  Pretty neat tidbit of information I think.
Page & Tuttle Today

In 2009, continuing the strong heritage of being at the forefront of technical evolution for performance golf apparel, the Page & Tuttle brand launches "Free Swing Inverse Technology", which allows the wearer of a Free Swing garment to swing a club without waistband or sleeve ride up or bunching at the shoulders. The construction of a Free Swing garments completely optimizes freedom of movement for a golfer's swing.
In 2011, Page & Tuttle introduces the Jeff Wright-designed "Cool Elite" fabric, which has embedded cooling minerals in its fibers. So when your body heats up, the fabric cools you down (up to 2-4 degrees Fahrenheit). Jeff continues to use many of the company's original patented designs as well, including "Free Swing" under-arm gussets and back panels on all "Cool Elite" and "Cool Swing" golf shirts.
THP Testing
Page & Tuttle sent over 2 of their 2012 golf shirts and 1 pull over jacket for testing.  Both polos  feature the new Cool Elite and Free Swing technologies.  For the testing process I did what I do with every single golf shirt I own.  I wore them a lot.  My golf shirts are worn almost every day whether it is for work, daily errands, taking the kids to a movie, you name it.  Just about every day of the week you can find me wearing a golf shirt and that's exactly what I did with these as well.  I did manage to get out and hit some golf balls on a couple occasions while wearing each of these shirts as well so the Free Swing technology was indeed tested.  One aspect that I was not able to take advantage of just yet was the Cool Elite feature.  This is part of these shirts that intrigues me quite a bit but because it's winter time I'm sorry to say I'll have to wait to see this part of these shirts in action.
Looks and Feel
The polos sent for testing consisted of an all red with white stitch trim and a dark gray and black stripe.  Both shirts feature the Free Swing technology so rather than having traditional sleeves these shirts have Page & Tuttle's patented Action Gusset.  The look is different than your everyday golf shirt and I really like the feel you get in the shoulder area while wearing them.  The action gusset design adds knit rib fabric under the arms of the shirt to allow more natural movement.  The look of the action gusset is something I'm not accustomed to but I don't think it will take much to warm up to.  The added comfort and freedom of movement offers advantages that will definitely help win me over on the looks of the way the sleeve is attached to the rest of the shirt.
The pullover jacket they sent over is a great looking all black with just a little bit of blue on the zippers and the logo.  I was immediately attracted to the look of the jacket and couldn't wait to find out how it felt on.  The first thing I noticed is how light it was, nothing irritates me more than a heavy and/or bulky feeling jacket when I'm trying to play golf and this thing is definitely far from that.  The same Free Swing technology is present in the jacket so any kind of restrictions or discomfort while swinging the golf club simply did not exist.  I have worn the jacket on multiple occasions and each time I've received compliments and inquiries about it.
Performance
As I mentioned earlier the part of these shirts that really has me intrigued is the Cool Elite technology, the minute I have an opportunity to play in some warm conditions I will report my findings on the THP forum right away.  I did however get to experience the advantages of Page & Tuttle's Free Swing technology and I have to say that I am quite impressed.  We've all played golf in a shirt that tugged at our body during the swing and it can be very distracting and glfers know distraction is the last thing we can deal with during our swing.  Everything about the shirts just felt extremely comfortable the entire time I wore them.
The shirts are made from 100% micro polyester material that feature double moisture wicking as well as anti-bacterial fabric treatments that inhibit the growth of odor causing bacteria.  Reading the technology packed into these shirts is quite astonishing.  I like having the piece of mind knowing that a lot of thought and technology went into making the shirt I have on.  I do have a minor concern with the collar on these polos so far.  I have a huge pet peeve when it comes to my collars staying flat on my golf shirts, I did experience a little roll on the end of my collars with both shirts.  This roll was nothing that is not to be expected from these types of collars (knit with a little spandex) I just wish there was something that could be done to prevent this.  This is definitely not a deal breaker, just a minor irritation as far as I'm concerned and hopefully the innovative minds at Page & Tuttle can come up with a way to keep this from happening in the future.
As I said the jacket also features the same Free Swing technology with the action gusset just like the shirts and the advantages are just the same.  What you get is a free flowing jacket that does not inhibit your golf swing in the least.  The times I hit balls with the jacket on I also happen to have the Page & Tuttle shirt underneath and I really felt as good as I have while playing golf with a jacket on.  The jacket is wind and water resistant as well so it will come in very handy for many of us as we start our 2012 golf season with some cooler and windy conditions.  While I mentioned how light the jacket felt it did not fall short when it comes to keeping you warm. Would I recommend wearing only this outside during a typical Midwest winter?  Probably not, but it does a great job of keeping you from getting cold without hindering your movement while you play golf.  The jacket tested is part of the new Spring '12 line and will be available within the next couple of weeks.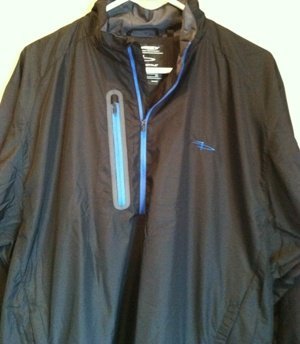 Conclusion
When the package first arrived for my review I was like many of you in thinking that Page & Tuttle was a new company.  I was thrilled to find out the deep history of the company and knowing that they're made right here in the U.S. definitely made me a fan right away.  The looks of the 3 items I received are very nice and it was great to see that the performance not only complimented the look but actually ended up overshadowing those looks in some aspects.  The golf apparel industry has advanced leap years beyond the old 100% cotton shirt days, the technology packed into the shirts available to us today helps keep us more comfortable than ever while playing the sport we love.
If you haven't tried a new golf shirt lately or even if you have I think it's time for you to give Page & Tuttle a look before purchasing your next golf apparel items.  For the first time ever you can now buy Page & Tuttle apparel directly from the company on their website, go to www.pageandtuttlegolf.com to shop now.  The shirts sell for $75 a piece with the jacket going for $70 and they seem to be your more typical 'American' fit so the sizing can run a tad big.  The prices may seem steep but when shopping around for apparel you'll find this is the going rate with a lot of companies.  Throw in the quality and technology you get with the Page & Tuttle shirts and I think they're priced very competitively.