There has been a trend lately with some brands going back in time and bringing successful products of yesteryear into the present. The most recent to venture into this realm is PING with the re-vamped L8 golf bag. Every golfer immediately recognizes the "Hoofer" name when the discussion turns to PING golf bags, but it could be argued that the L8 is really the one that started it all for them, as it was their first super-lightweight carry bag with retractable legs. As such, PING has now set forth to bring the legendary bag back to life and into the now.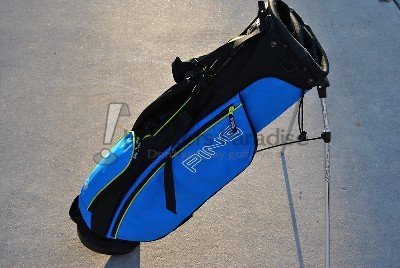 The PING L8 Carry Bag:
In 1988, the L8 was PING's first carry bag to offer retractable legs. Now it's back in a sleek new form so avid walkers can stay light on their feet. The four-way top features two full-length dividers. Our proprietary system of Enhanced Ergonomics offers a wider 24-inch leg span for added stability, dual sliding shoulder straps, a strap slider for a backpack fit, and a reinforced bracket with leg stop. Inside the customizable apparel pocket, one of three pockets, is a Hi-Viz Red key clip plus two interior mesh slip pockets for stowing cell phones and wallets. The L8 bag is made from rugged 600 denier polyester. The bag features a 4-way top with 2 full-length dividers
Approximately 4 lbs.
2 sliding shoulder pads with adjustable straps
Strap slider for backpack-style fit
3 pockets (apparel, ball, water bottle)
Wider 24-inch leg span
Apparel pocket customizable
Rugged 600 denier polyester
Hi-Viz Red interior key clip
2 interior mesh slip pockets
Available in: Black, White, Red/Charcoal/Black, and  Electric-Blue/Black/Leaderboard-Lime
Aesthetics/Design:
Despite setting out to "renew" the classic L8 stand bag ergonomically, the first thing noticed is that it is still remarkably simple and sturdy. All material on the bag is polyester and it is bonded together with the same heavy duty zippers and stitching that are expected from PING, which are reasons their bags are known to be so durable. From a pure looks standpoint, the color combination of the Electric-Blue, Black, and Leaderboard-Lime version which THP received for review truly makes it stand out as an incredibly clean looking bag that has the flash many desire without being over the top.
Featuring a 4-way top with two full length dividers and only three "storage" pockets in the bag, the overall footprint is remarkably compact. It must be remembered that this one is built for walking and as such, the limited storage is enough to carry just the essentials like balls/tees/etc in the two zipper pockets and a full-sized water-bottle in the elastic outer pocket. Two very well thought out features to maximize storage space are a hanging clip on the side zipper that is capable of holding keys and a smaller elastic pouch in the top of the same area to keep wallets, watches, and such from simply being loose in the bag. It is very clear that PING put much concise and focused thought into utilizing the minimal space to the best of their abilities.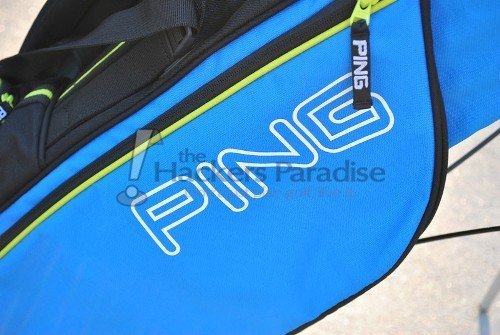 Performance:
It is important to remember that the L8 is a true lightweight bag intended for walking with no concerns about how it might ride in a cart. As such, the bag was carried over multiple rounds with a full 14-club setup in tow. Obviously, with a 4-way top, organization can be a bit of a trick at times, and combined with the two full-length dividers there were some issues with the grips of clubs sticking from time to time, but overall the club storage does the job well enough to keep any walker happy.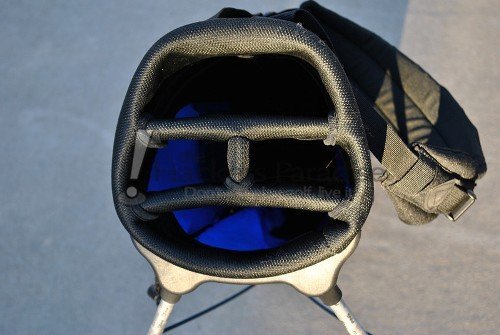 Two other important areas with any carry bag are always the overall weight distribution while carrying as well as the comfort level throughout the round. The L8 was surprisingly nice in both of these areas, as the "updated" backpack style sliding shoulder straps kept the weight even throughout the rounds after the initial adjustment for user fit. Additionally, because of the bags compact nature it was easy to put on and take off from shot-to-shot on the course, which helped keep the comfort level during and after the round quite nice.
Parting Thoughts:
While the L8 stand bag from PING most certainly will not be for everyone, nor does it offer the many bells and whistles that we often see in so many other bags, it does its intended job incredibly well. This one is built to be a simple and straight forward carry bag for those golfers who want to get out and walk the course in the same simple and straight forward manner. With a nice selection of color options and the same high-quality materials and build that golfers have come to expect out of PING, the "rejuvenation" of the L8 is clearly a successful one that will please a lot of walkers.
The PING L8 stand bag has an MSRP of 139.99 and more information about it can be found at www.ping.com.