Pinnacle golf balls have long been a very popular ball brand for millions of amateur golfers around the world. Owned and operated by Acushnet, the same parent company behind the ever popular Titleist golf balls, Pinnacle has continually offered a quality option for the player looking to spend less than it costs for a high performance golf ball. For 2016 they have brought two new models to the market with the Rush and Soft golf balls.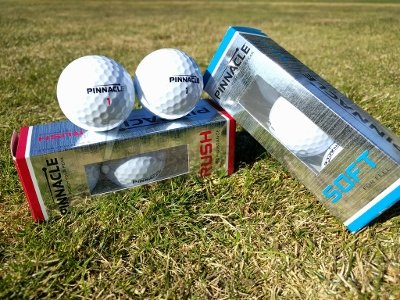 Information from Pinnacle:
Rush
The new Pinnacle Rush is designed with a proprietary high-energy core technology that produces fast ball speed for extraordinary distance on all full swing shots.
Rush uses an advanced icosahedral dimple design with 332 dimples to deliver a consistent, powerful ball flight, while its soft, durable ionomer cover provides great feel.
Soft
The new Pinnacle Soft is engineered with a high-energy, extremely low compression core – Pinnacle's lowest compression core ever – that delivers extremely soft feel along with low spin for long distance.
The proprietary core formulation combines with an incredibly soft ionomer cover to produce the softest-feeling Pinnacle ever made. Soft's advanced icosahedral dimple design with 332 dimples ensures an ideal, consistent flight.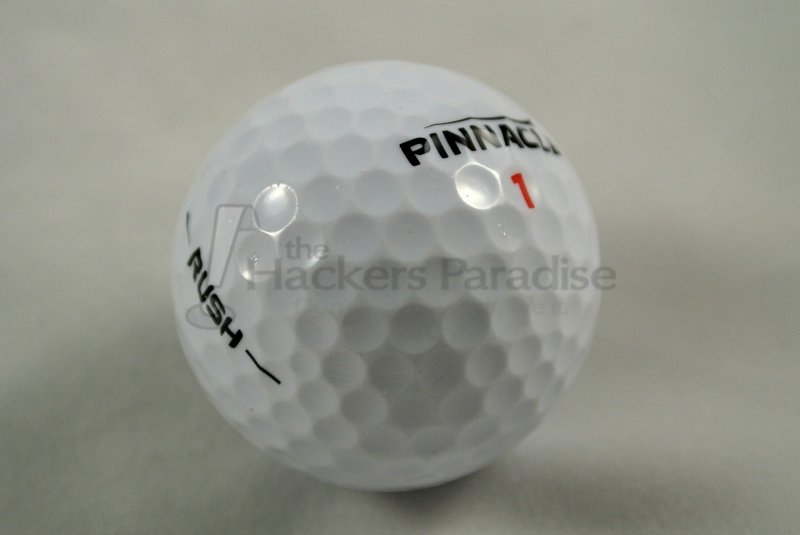 Similar to what tends to be the case with most golf ball releases, Pinnacle has produced two different lines here to help pinpoint the perfect ball for any given player. Those players who are looking for pure distance will probably enjoy what the Rush golf ball is all about. Rush's construction from the high energy core, to the ionomer cover, is focused on maximizing ball speed which of course leads to distance. The sound of the Rush off of just about every club was a distinguishable loud click. That click leads to the sensation that the Rush is a fairly firm golf ball, also one that is providing a little extra boost in yardage.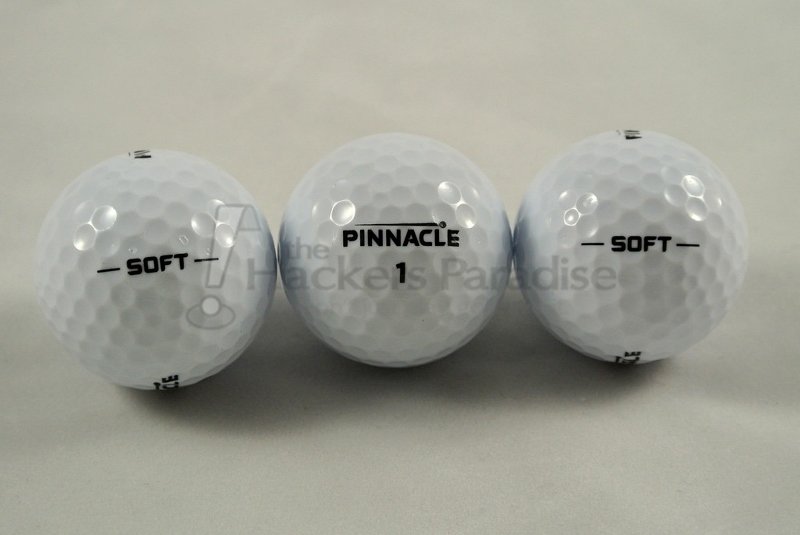 With the Rush being billed as the pure distance ball, the Soft is a more viable option for those players who tend to prefer a more muted sound coming from their golf ball. Carrying some similar characteristics and construction as its sibling offering, the Rush, there are indeed some structural differences. However, the most noticeable difference players will notice is the less pronounced click sound at contact. The ionomer cover will not provide enough short game spin to get this ball confused with golf balls that carry a tour urethane cover, however it does present a different feel than the Pinnacle Rush. In fact the cover used on the Soft is the softest cover that Pinnacle has ever utilized in the company's rich history.
Choosing a golf ball is a very personal choice. Without going through a ball fitting and getting an accurate idea of what the golf ball is doing for one's game, it comes down to a number of factors such as feel, perceived performance and price. Given the option of putting both of these offerings from Pinnacle in play, the biggest differential between the balls is going to be the sound. Rush and Soft both offer solid performance in terms of distance. After giving playing partners the opportunity to play with the latest from Pinnacle, more players chose Soft. The biggest reason cited for that choice was the perception that it had a better feel.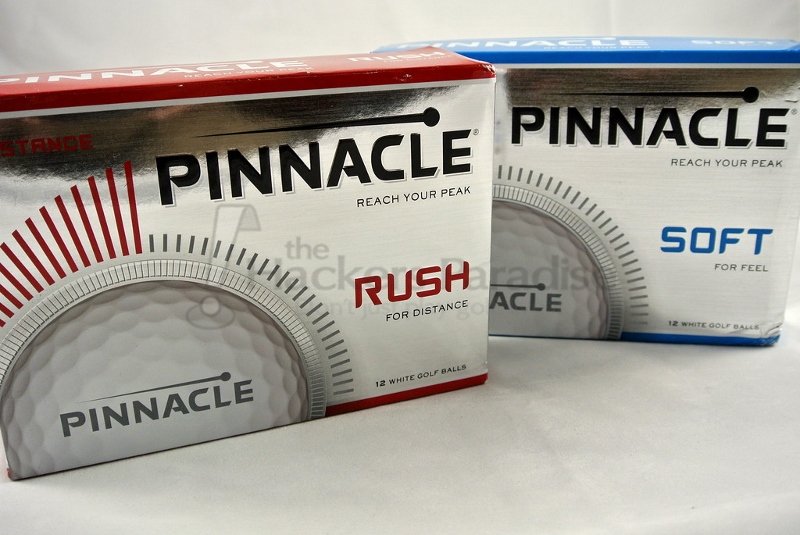 Let's face the facts, there are millions of golfers out there, and not all of them want to pay the price for a premium ball, or don't see the benefit to playing a golf ball that costs north of $40 for a dozen. That does not mean that there is not a golf ball out on the market that can assist in gaining distance or providing a soft feel around the greens. Priced at $15.99 a dozen for either model, the Pinnacle Rush and Pinnacle Soft are both viable options for that golfer. When looking for these on the store shelves, consumers will also have the option of playing the Rush in traditional white or optic yellow, while the Soft can purchased in optic pink, white with pink stampings, as well as the normal white. More information on both of these golf balls is available at www.pinnaclegolf.com.