Distance measuring devices have really changed the way golf is played. Instead of spending time looking for a yardage marker on the course, golfers can now look at their GPS unit or pull out a rangefinder to get the most accurate yardage for their next shot. Following up on the release of their V400 Rangefinder, Precision Pro gives us the Nexus Laser Rangefinder.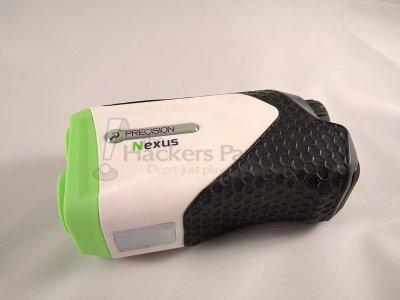 From Precision Pro
The Nexus Golf Laser Rangefinder eliminates the guesswork from your game and puts technology in the palm of your hand. Powerful 6X magnification ensures that your target is always in focus. Accuracy within one yard means you know your exact distance. The ability to measure up to 400 yards lends flexibility and control. The Precision Pro Nexus Laser Rangefinder gives you the tools you need to improve your course management, reduce your handicap, and save time. 
400 Yard Range

1/10 Yard Measurements

Accurate +/- 1 Yard

Advanced Target Lock Function

Scanning Function

6X Magnification

Tournament Legal

1 Year Warranty
 Features and Aesthetics
Pull the Precision Pro Nexus out of its included case and immediately consumers will notice just how comfortable this unit is to hold. The ergonomic design and subtle shaping of it just make it feel like a natural fit in the hand when lining it up to get a measurement for the next shot. The rubber honeycomb pattern provides golfers a non-slip comfort grip.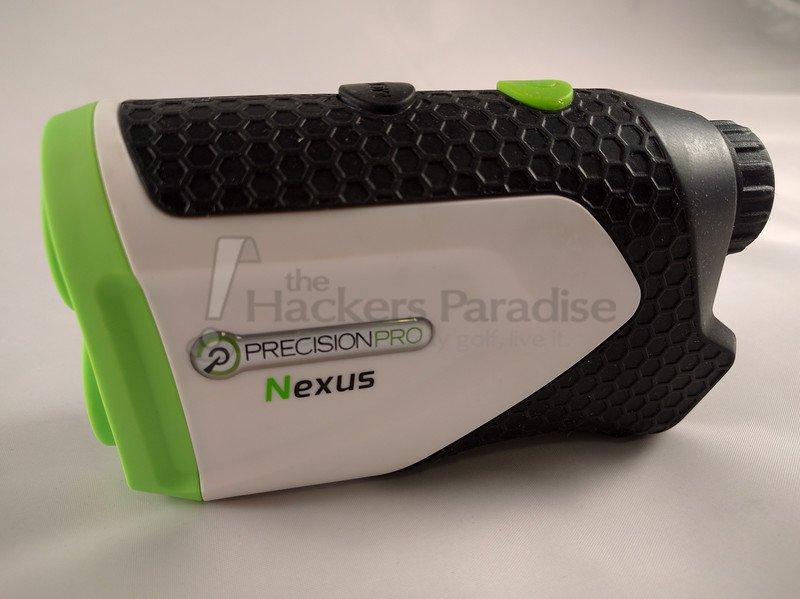 Zeroing in on the flag stick from distances over 150 yards is relatively simple thanks to the 6x magnification level that the Nexus is equipped with. When it comes to comparing rangefinders, this feature stacks up well with other rangefinders consumers will find in this same price range. While it's easy to think that the extra magnification level is not a necessity, it certainly makes locking in a target, whether it be a flag or hazard marker, just a little bit easier. The eye piece can also be adjusted to ensure that the target is in focus.
While the Nexus does not offer a mode offering slope readouts, it does have two modes: Target Lock and Dynamic Scanning Technology (DST).   Having those modes should be suitable to a majority of golfers. Target Lock Mode helps ensure that players receive the most accurate reading possible by filtering out background objects. When the target has been acquired an on-screen flag stick icon flashes on and off. Opposite of target lock mode is what Precision Pro refers to as Dynamic Scanning Technology, or DST. When using the Nexus in this configuration, golfers can quickly scan from target to target and get a fast and reliable reading.
Amongst the other features included with the Nexus Rangefinder is a personal favorite, the fact that when you look to get a distance, on the screen a battery level indicator will be present. Precision Pro did not include a rechargeable battery in this rangefinder, however it runs off of a CR2 battery that one could pick up easily. The battery indicator is a really strong feature that could get over looked, until that moment comes when a golfer looks to get a distance only to find that their rangefinder battery is drained without any notice.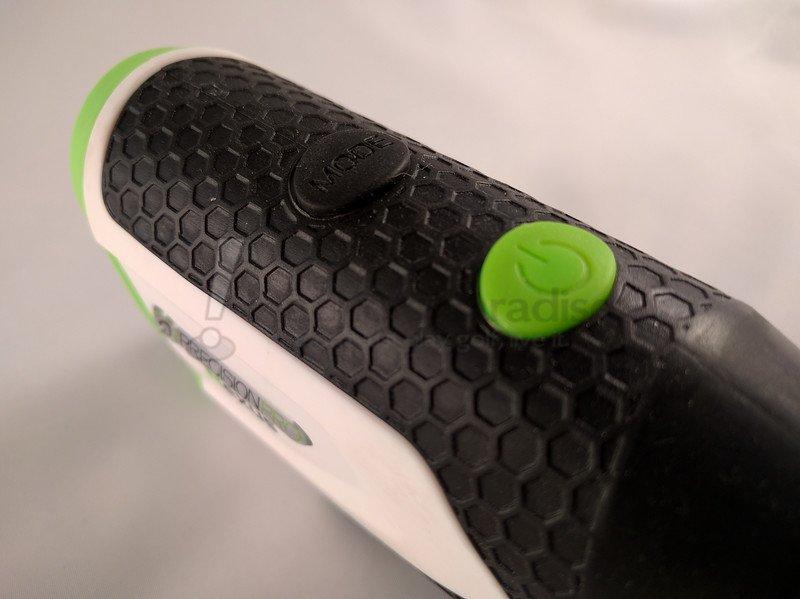 Performance
The Nexus Rangefinder was tested over numerous rounds of golf utilizing both scan modes afforded by the unit. While in DST mode, results displayed on the screen in a timelier manner. However, the downside to using this mode was what one would expect, when trying to lock in on a flag a steady hand was needed or else the readout seemed to jump from the flag reading to something in the background.
The mode of choice was to have Target Lock turned on. While the readouts were not as speedy as they were under DST mode, they were still available without much delay. Comparing side by side with a couple of different rangefinders, the speed on the distance readouts was not the quickest in the batch however, by no means should it be referred to as slow. As previously mentioned when using Target Lock mode, once the target is picked up, the flag notification icon begins to flash. The best results were found when releasing the button for a brief second after the icon flashes, and then pressing it down once more. Once pressed back down, the yardage readout appears almost instantly.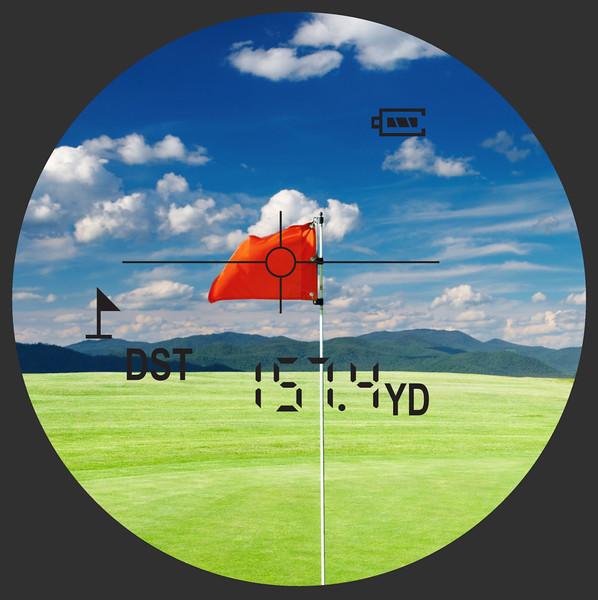 Speaking of yardage readouts, this unit is rated to be accurate up to a yard. That's extremely impressive for a rangefinder that is not going to break the bank. On top of it being precise to within a yard, the yardage display reads up to a tenth of a yard. Receiving yardages that read to the tenth of a yard might seem like overkill, but for a golfer who wants the most precise distances it should be welcome. The accuracy claims also stood up to some of the leading rangefinders on the market.
Also included in the box with the Nexus was a nice carrying case. A provided carabineer clip allows the most convenient way to attach it to the bag, as it can be clipped on to the towel loop. The case offers good protection, and is sealed with a magnetic enclosure.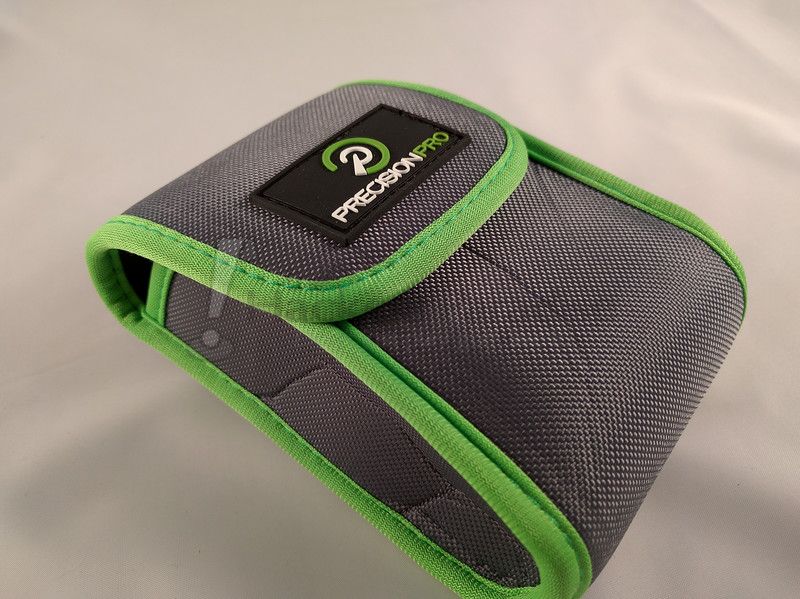 Picking out a rangefinder these days is a lot like picking out a car. There are models with extra features that a golfer may or may not use, and there are some that have elements that each player will enjoy. The Nexus Laser Rangefinder is the latter, as it offers no wild spectrum of features, but instead does well at the options that it offers. Between the comfortable grip, strong magnification, and accurate readouts, it's hard to look at this unit as just a budget offering. Instead it's a rangefinder that can help golfers enjoy the game more, and potentially lead to better scores. The Nexus can be purchased for $199 from Precision Pro at www.precisionprogolf.com.