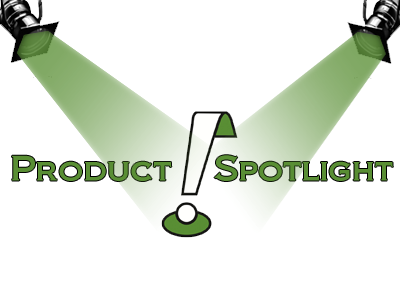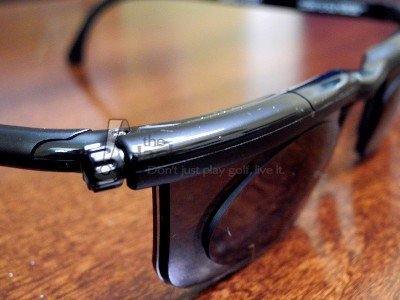 Adlens Sundials offer an interesting way to solve vision related problems on the golf course or during any outdoor endeavor. Through adjustable lens technology, they allow users to quickly dial in what they need to see, whether it is near or far all while providing UVA and UVB protections.
Sundials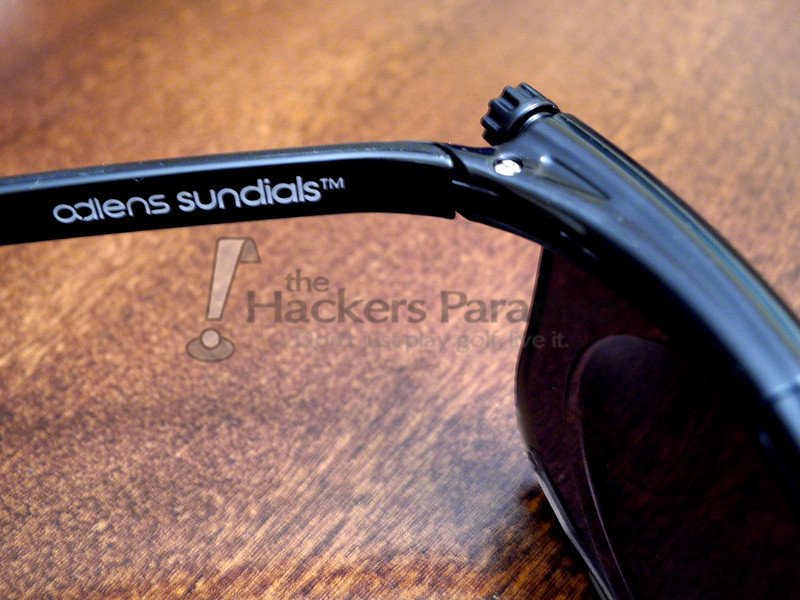 Adlens is the global leader in variable focus eyewear: an innovation in optics that mimics the adjustable power of the human eye.
Adlens Sundials uses Alvarez lens technology, a continuously adjustable solution for over 90% of eyeglass and contact lens wearers. Each lens can be adjusted independently for near, distance and intermediate vision.
For centuries the power of lenses have been static, this is how we have had to learn to see the world. Vision is, however, dynamic, ever-changing throughout our life. This is why Adlens® has developed variable focus eyewear, a new category of vision correction that closely models the eye's natural dynamic behaviour, enabling better vision quality and control.
Features
UVA & UVB protection
Continuously adjustable from far to near
Easily change the glasses to match your needs for a variety of outdoor activities
Corrects over 90% of spherical errors (-6D to +3D spherical)*
Award winning Alvarez Lens technology
Two- wave shaped polycarbonate plates slide across one another to the change the power of the lens
Four color options available
$69
Alvarez Lens Technology
Each lens comprises two wave-shaped polycarbonate plates that are able to glide across one another. The power of each lens can be varied by moving the plates relative to one another, as shown in the diagram.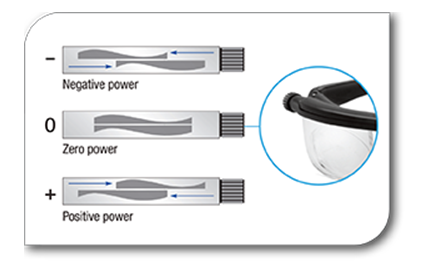 As indicated above, Sundials use two independent dials to move two different plates, which allow them to address all sorts of different sight conditions. Seeing truly is believing, as they corrected nearsightedness quite easily with a few turns. However, the narrow area of sight correction due to the smaller oval corrective area (see pictures above and below) doesn't exactly lend itself to activities that require a great deal of hand eye coordination. In a sense, they create a tunnel vision effect for seeing things far away. However, those players that are looking for a quick remedy for reading a scorecard may find them quite useful.
The glasses are quite lightweight, which does make them easy to stow away for use in a pinch, but at the same time makes them appear that they will require care to avoid any damage. Luckily, they come in their own plastic carrying case that is easy to tuck into a golf bag.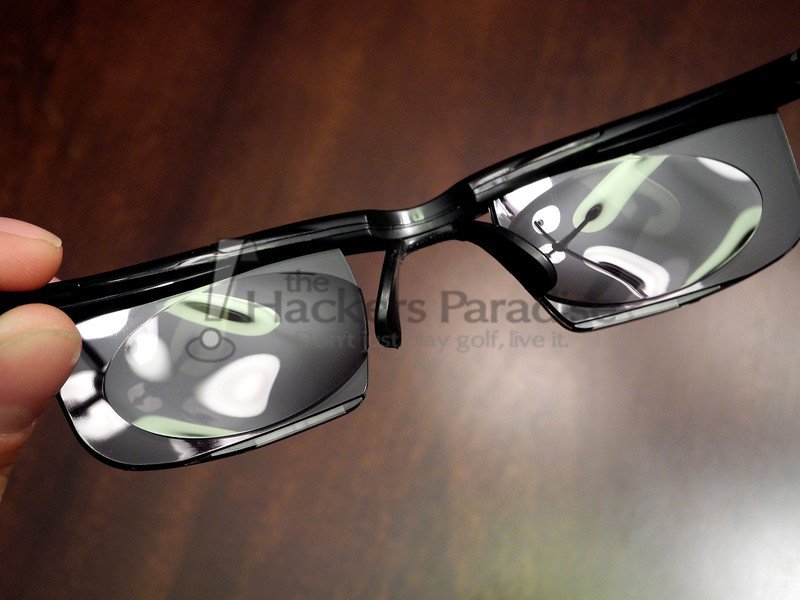 While Sundials are certainly convenient, they do lack a bit in the style department, especially when considering the peculiar looking adjustable lens plates. However, Adlens advertises them more for situations where they are needed in hurry rather than extended wear. Regardless, they are lightweight and reasonably comfortable, even with large head sizes.
Adlens Sundials retail for $69 and more information can be found at www.adlens.com.