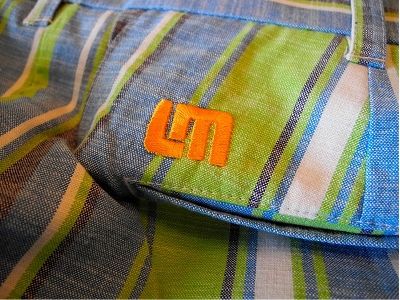 Billing themselves as the "most recognizable golf brand in the world", Loudmouth Golf strikes a chord visually unlike any other apparel company. Though reactions to their clothing vary from intrigue to repulsion to good old-fashioned love, there are almost always reactions, and not every brand can say that. In recent years, the company has moved beyond just clothing and into accessories, luggage, and even grips, offering consumers the ability to "stand out, smile and have fun".
 About Loudmouth Golf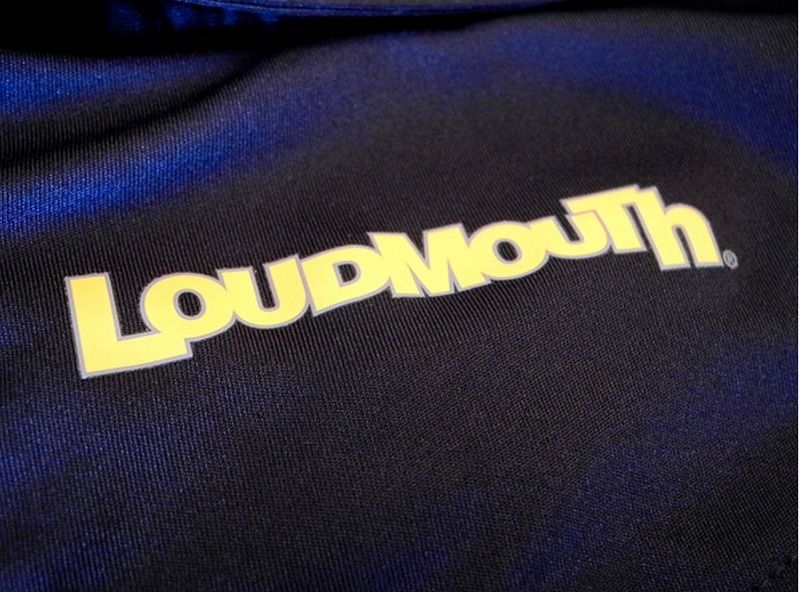 It all started in 2000 when founder Woody! decided to make his golf outings convivial occasions and produced a pair of powder blue pants with Bugs Bunny on them. It wasn't long before this tongue-and-cheek fashion statement took on a life of its own, and he realized there was a hidden desire on the golf course… to play LOUD! With a team of business partners, the brand has grown internationally from the United States to Canada, Asia, Europe and Australia.
Loudmouth is worn by many athletes including two-time major winning golfer, John Daly, 28th world-ranked professional golfer, Pornaong Phatlum, 5th world-ranked darts player, Peter 'Snakebite' Wright, the USA men's beach volleyball team in the 2012 London Olympics; and the Norwegian men's curling team in the 2010 Vancouver Olympics & 2014 Sochi Olympics.
Nassau Shorts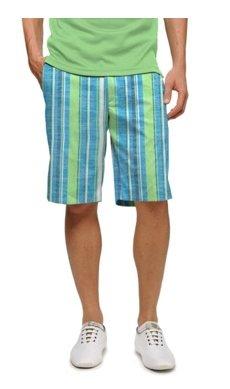 Loudmouth Golf shorts are fun! Our lightweight yarn-dyed fabric gives you comfort and style like no other golf short. This fabric is finely woven, giving you a linen-like feel and texture. These shorts perfect for a round of golf and a night on the town.
98.5% cotton, 1.5% spandex.  A woven-blend fabric that offers breathable comfort and
flexibility
Belt loop waist
 2 buttons, tabbed front closure with zip fly
 2 front pockets, 2 back pockets
 LM logo embroidery detail above back left pocket
 Bright, colorful, and fun!
$85.00
The Nassau shorts, though easily spotted from a distance, have one of the more conservative patterns that Loudmouth offers. The vertical stripes are primarily light blue, light green, and white, with darker blue accent stripes. A number of solid color tops worked with the color combination, including navy blue, sky blue, light green, and white. It's a great pattern for the person looking to wear something amusing without completely sticking out in a crowd.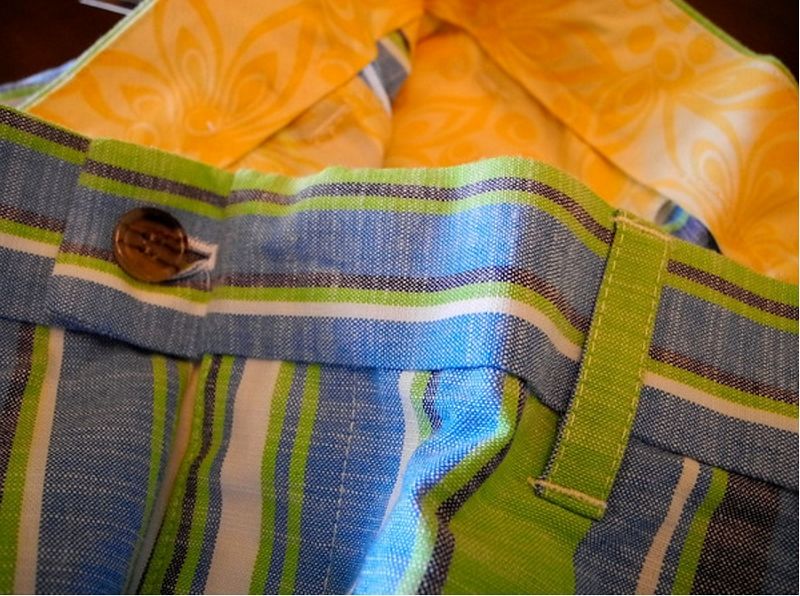 Loudmouth describes the Nassau's material as almost linen-like, which is an accurate depiction of how it feels in hand. Unlike some cotton shorts that are on the heavier side in weight and thickness, the Nassau shorts should feel comparatively airy and comfortable for golfers in most climates. Though there is a small amount of spandex blended with the cotton, it wasn't noticeable in hand or when worn.
The Nassau shorts sit perfectly above the knee and the waist fits true to size.  They are available in sizes ranging from 30 to 44 waist.
Fancy Miami Slice Shirt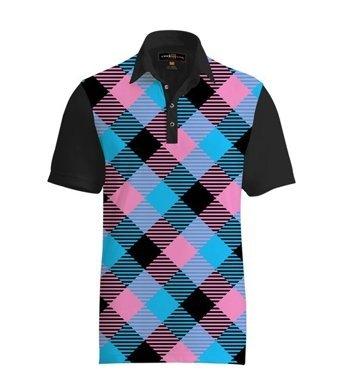 Loudmouth Golf's spectacular Fancy polo shirts are the perfect complement to solid pants of any color. They also look great with your favorite jeans! Slim, athletic fit.
4-way stretch Poly micro pique
Wrinkle free
Loudmouth stamp on back yoke
Three-button placket
Self-collar
$79.50
The diagonal pattern of the pink, periwinkle, and black Miami Slice is fittingly loud (Loudmouth – get it?), but somehow still manages to be more than just outlandish. Not everybody will be able to pull off the look, but if we look at it in the context of the brand, where patterns resembling green grass and rubber duckies are common, it becomes a bit more subdued. The Loudmouth logo sits proudly in between the shoulders. This pattern will match best with solid bottoms, including any of the colors in the pattern or possibly white.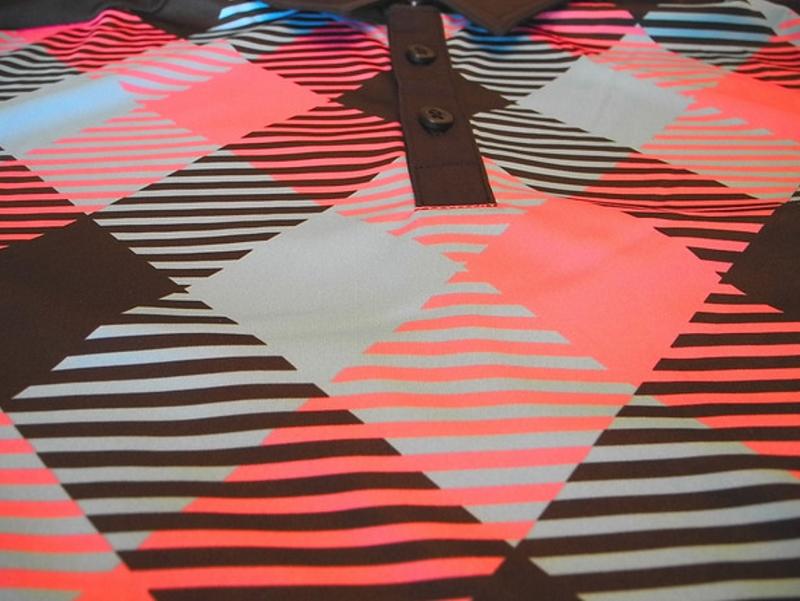 The Miami Slice's fabric has a typical moisture-wicking golf apparel feel in hand, though it falls short of having the very-stretchy spandex feel that we see in many shirts. It's supple enough to hug the body, but maintains a little more tautness compared to some. The collar is soft and unstructured, but appeared to hold up well to laundering, with no creasing or bacon-collar observed.
Loudmouth describes the fit as 'slim and athletic' and advises that those in between sizes should order the larger option. Taking that a bit further, anybody that likes a form fitting look can order their normal size, but those that want to conceal or make room for a belly should definitely order the next size up. The length is advertised as standard, but it's just a shade on the long side, meaning that it wasn't the best shirt for wearing un-tucked. It wasn't necessarily bad, but certainly longer than some others. Of course, this means it's great for tucking and stays in place well. The sleeves are standard length and didn't uncomfortably hug the biceps like some athletic cuts can (note: the shirt was ordered a size larger than normal as advised).
The Miami Slice is available up to size 2XL.
Final Thoughts
Some readers may not realize that Loudmouth offers not only the over-the-top patterns they made their name on, but also a number that are more-subdued, including solid colors for matching. The two options sampled by THP both appeared to come exactly as advertised as far as sizing went, were solidly constructed, and they laundered well. They are priced similar to most high-end golf apparel brands, and like most companies, Loudmouth offers regular sales. Loudmouth offers free returns within 45 days. More information on Loudmouth Golf and a full display of their current catalog can be found on their website, www.loudmouthgolf.com.