Back in 2015, Dean Snell decided it was time to launch his own brand and the Snell Golf Company became a brand. Having spent close to 30 years in golf ball research and development with dozens and dozens of patents, Dean is considered one of the authorities in the ball segment of the industry and his story on getting into the game is rather interesting. Rather than tell you about it, here is the THP TV interview with him explaining it, complete with clotheslines.
Fast forward to today, and the Snell Golf Company has shown continued success and popularity, especially at the core golfer level, like those on THP reading more about equipment than your average weekend golfer. We wanted to get more information on the brand, the growth and what the future may hold for the young company, so we sat down with Dean Snell to get some questions answered.
THP: What is it like going from creating for some of the largest companies in the world to putting your name on a brand and running with it?
Dean Snell: It has been fun and a great learning experience. We had many discussions about what to name the company. We felt that if we came up with another name, then the conversations would have to be about that name, plus the credibility and experience I have in developing balls for the best players in the world. So by naming it Snell Golf, it would tie into the name of the designer of some of the best balls in the world over the past 2.5 decades. And would also tie into the face of the brand. Developing products are very similar, just on a smaller scale. Fortunately, I have been in the industry for 28 years, and have a lot of connections to equipment, processing, testing, and materials. So that definitely helps in getting things made to spec and tested.
THP: With the online world being what it is, and core golfers discussing things like market share now, how can a brand that lives through smaller marketing and word of mouth make waves in the industry?
Dean Snell: The online golf ball, direct to consumer model is not new, but not really tapped into. There are quite a few small companies that sell balls online. But where we think we can be different is bringing all the experience of working and developing the best golf balls for the best players in the world. We have experience in all phases of processing and quality control and completely understand what the differences are between the tour player in average golfer. We do not ever have plans to be number one in the world, but what we do have plans for is to continue to bring new innovations and products to market that can help the average player who actually buys the golf balls. If we can give the best performance but make it affordable to everyone, that's a win for all. The market share numbers that are reported are completely skewed and in my opinion not accurate to reality. They use specific on course and off course places, and do not include larger companies and mass merchants, where several dozens are balls are sold and never counted in these numbers, so if you compete in the on off course area, you will have numbers shown, if you don't, you wont.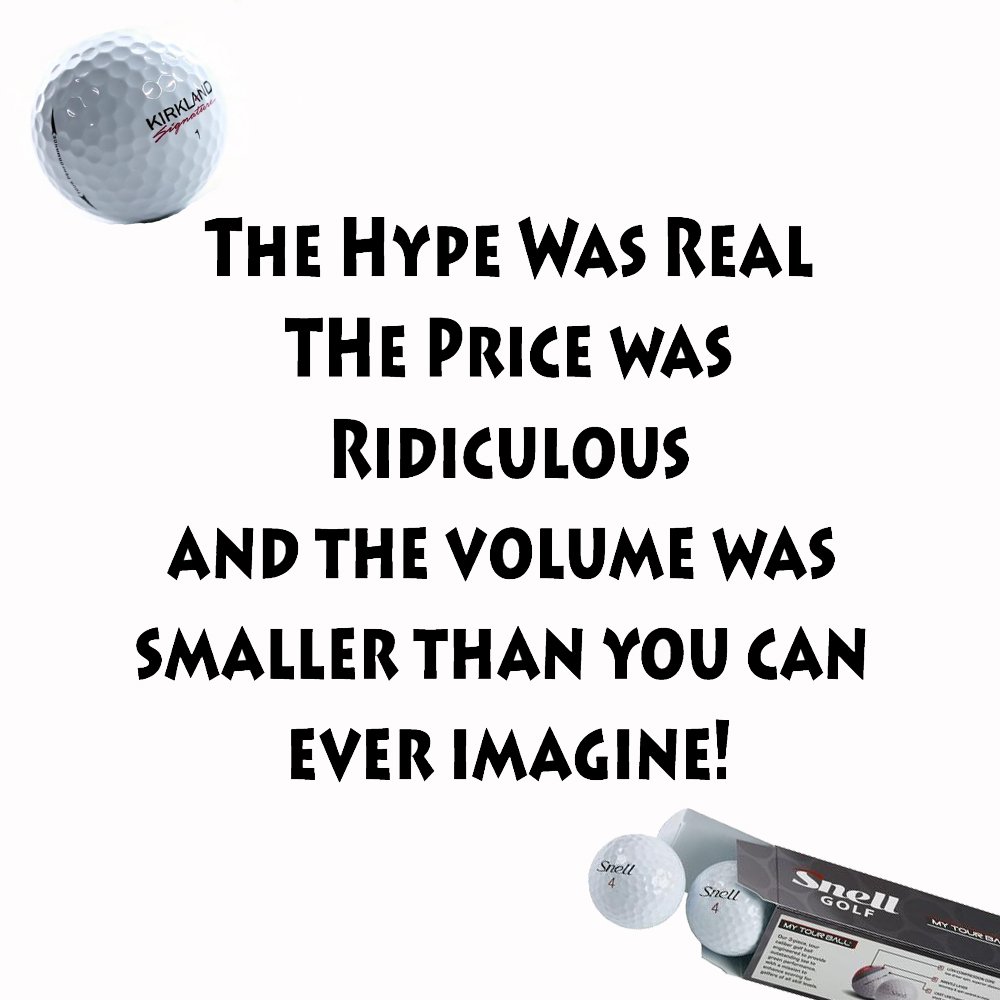 THP: At the core golfer level, fitting, premium shafts and more are all considered to eek out more distance and better consistency. Why do you feel the golf ball gets sometimes overlooked when in fact it might have the biggest impact?
Dean Snell: The golf ball counts on every shot. No other club does. Players spend lots of time and money on the range hitting balls and fitting clubs, but the ball is never tested to find the right one. Probably one of the biggest mistakes, you can go and spend hours fitting a driver to gain 3 to 4 yards.. but what happens when you have a wedge and have to finish the hole with a ball that has limited performance, or not right for you. Your stuck and have to play 2, 3, 4 or more shots to finish the hole.. but congrats on the driver that went 3 yards longer. Take the time to test balls from 100 yards and in, it is where they are different and find the one you like and prefer. You might possibly gain some spin, stop closer to the hole and lower your scores.
THP: Costco brought a ball to market that had many golfers jumping on the low price for a urethane covered golf ball, but at that price point it seemed unsustainable long term, can you explain the point of entry to golf balls in the market and why many believe the quality and price of the Snell MTB is considered a sweet spot?
Dean Snell: I know many details of the Costco thing and have said all along that this is a case of the bark being way bigger than the bite… The hype was real, the price was ridiculous, and the volume was smaller than you can ever imagine, reason why they are sold out in a few minutes. I think you will see this go away for good real soon… hint hint…. The cost to make a cast urethane ball is very expensive. You have to do a lot of research and processing studies, and the material is 4X the cost of others used in golf balls. So to make a multi-layered balls with cast urethane, and to use the best processes and quality control, it cost money… Our cost to make the MTB (My Tour Ball) and the cost for other companies to make similar balls using the same cast urethane technology are similar and do not vary much. The added expenses that larger companies have (salaries, marketing, Ad/PR, Tour players, TV, etc. are very expensive and add to the cost of the ball, so this increases the cost for them. We eliminate those, so we pass this cost savings back to the consumer. Remember, we sell our value packs of 6 dozen balls with free shipping within the US at $26.33 per dozen, in some cases just about half of the larger companies tour balls. The performance is there, the quality is there, and the affordability is there for everyone to try and hopefully improve their game.
THP: THPers got a chance to meet you and your team at a THP Event earlier this year and learn a little bit about the man behind the brand. They all came away wiser about choosing golf balls, but obviously not all golfers could be there. If you had a chance to tell all golfers, one thing about why and how they should choose their golf ball, what would you say?
Dean Snell: Golf ball fitting is a very simple process. Today, most golf balls all go about the same distance off the tee. We all make them low spin, fast speed, and higher launch for added distance… However, they are much different from 100 yards and in. I suggest players take a sleeve of 2pc (GET SUM) and sleeve of tour balls (MTB) out on course. Start at 100 yards and hit multiple shots at 100, 70, 50, 30 yards… hit some chips and putts comparing both models. Do this for 3 to 4 holes on course where you can see the performance on greens and around the greens and somewhere in the test you will say, I like the way it feels soft, feels firm, pitches hi or low, checks or releases. Whatever it is you end up liking in performance will show in this short game testing. If you cannot tell any differences in this testing, then buy the cheapest one because your game is not at that level yet. Trust the balls will all be similar off the tee, but they are truly different around the green and if you play another brand, you can do the same test with their respective 2-pc and tour balls. If you are an accomplished players, take 2 to 3 different brands of tour balls out there and do the test… We hope you will do this one, because you will see how well MTB performs, then realize there is a huge savings for your pocket.
THP: Based on our research, Snell has impacted a lot of golfers in 2017 and continues to increase sales with each passing month. What does the future hold that might continue this trend.

Dean Snell: We have continued to grow and to be honest, much faster than expected. Last year we grew almost 400 percent in sales… 400 percent…a 10 percent increase is great but we were 400 percent. This year we are way ahead of last years pace, so the word is spreading. We continue to make new products and prototypes for the future. We are on our last iteration (hopefully) of new products so we will have new and exciting things coming soon. I do not have a 10 year plan for the company. Today my entire family works with me every day and I love it. We are having fun, and to me that's what it is all about. Hopefully we will continue to grow and can bring outstanding performance and affordable pricing to everyone.
What do you think about the answers from Dean Snell? Have thoughts or opinions? Join us in the THP Forum where golfers are debating and discussing this interview right now.