When I was asked if I was available to review the new XCG5 driver from Tour Edge I was extremely excited. It definitely wasn't because of the hype, marketing and buzz I had been hearing like it often is when big OEMs release a new driver. It was because of the fact that in the past I have been guilty of always overlooking a lot of the products Tour Edge puts out. I wasn't going to be able to overlook the XCG5 though because as part of my duties as an equipment tester I would have to get to know as much about this club as possible so that I could formulate an opinion to be able to write this review. Without giving you too much info too early I will say that this experience has made me regret not getting to know more about Tour Edge products before now.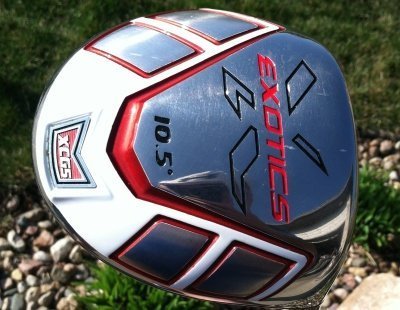 Tour Edge has packed a ton of technology into the XCG5 driver, check it out.
Features an all-new Beta titanium crown for advanced performance and sound

Six-point perimeter weighting system features six weight pads that position weight perfectly in the club head

12% larger face features Boomerang face technology that launches the ball at impact

 Available in three industry-leading shaft models: Graphite Design Tour AD, Fujikura Blur and Aldila RIP
Truly unique, the XCG5 features Tour Edge's one-of-a-kind, combo-brazing to join the titanium face and body to an ultra-thin beta titanium crown. In fact, no other driver sold in the United States uses brazing. It's too expensive and time consuming. Instead, most companies weld face plates to the body. This method doesn't allow for full face flexion and maximum forgiveness like brazing.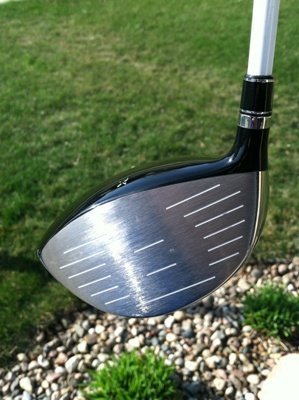 THP Testing
Due to some gorgeous late winter/early spring weather here in the Midwest I was able to get out on the driving range and golf course immediately with the XCG5. While I appreciate launch monitor numbers I firmly believe the best way to really find out how a club performs is to get it outside and see for yourself. All of my testing was done in pretty decent conditions, we did have a few wet days in there where I lost some roll out and we also had a few windy days in there as well but overall the weather has been gorgeous and I was out as often as possible hitting the XCG5.
Looks, Feel and Sound
As with many of the Tour Edge offerings the XCG5 is definitely a pretty nice looking driver. First thing that caught my eye was the white grip coupled up with the white Graphite Design Tour AD shaft that came in the driver I tested. The crown of the driver has a nice high gloss black finish and the shape is pretty close to your traditional pear shaped driver heads. Also on the crown is the Tour Edge logo serving as an alignment aid that completes a nice look from address. Flipping to the sole of the club shows mostly a chrome finish with some red and white thrown in as well. Overall I like the contrast from white shaft to black head from address, nothing too distracting or obnoxious and it has a good shape so I'd definitely say the looks of the XCG5 are a winner.
The first thing that you'll notice when talking about feel is the light weight of the XCG5. The model I tested is a "Super Ultra Light" 271 grams total. Everything from the sub 26 gram Winn Lite Exotics grip to the 40 gram shaft screams light weight fast driver. The interesting thing about the weight of the shaft and grip is that I could still feel the club head weight quite nicely with my swing which I like a lot. I know we're heading down a lighter/faster path with drivers right now but I just hate when everything feels so light that you lose track of where the club head is during your swing but that didn't happen for me with the XCG5. The feel of the club at impact was something that I liked just fine but it definitely did not feel real hot or overly solid like some of the newer drivers I have tested recently. I would say the XCG5 driver feels smooth and that feel was consistent throughout my testing.
Sound….well depending on who you're talking to you'll likely hear everything from it's a great sounding club to people claiming it sounds horrible so I won't attempt so say if it's a good or bad sound but I will say it is loud. It's probably louder than any driver I've tested in my time here as a THP but again that's not necessarily a bad thing by any means.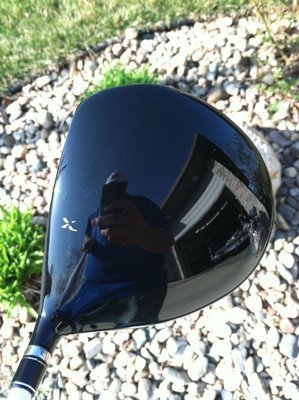 Performance
When I test the performance of a driver there are several factors to keep in mind. But honestly I'm mainly looking very closely at two things in general. Distance and accuracy. I always try my best to weigh both categories the exact same. The Tour Edge Exotics XCG5 had a big sticker on the face of the club as it arrived, and it claimed to be the lighter, faster and longer. My testing revealed that it wasn't in fact longer for me but what I did find was that it was pretty accurate and easy to hit.
So while I'm saying that I didn't hit it longer, I'm not saying it's a short club by any means either. I hit it an average of around 250 yards and most of my shots ended up grouped pretty close together which told me the consistency is definitely there. I will also say that if I needed to hit a straight ball I could easily scale back my swing a bit and hit it pretty well dead straight just about every time. Those who have played much golf with me know that dead straight isn't always something that can be used to describe the shots I hit so this is definitely saying a lot about this driver.
I found the super ultra light club and regular flex shaft coupled with the 10.5 degree head to deliver way too much spin resulting in some extremely high shots being hit. I think getting this club in the slightly heavier ultra light version with a RIP shaft in a stiff flex and 9.5 degrees of loft would help me stretch it out to gain a few more yards for sure.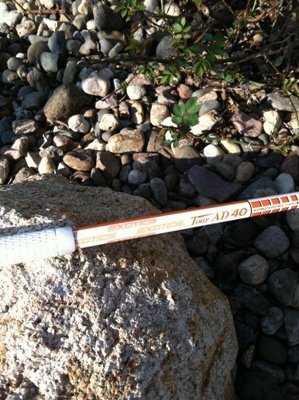 Overall
The first thing I want to touch on before I get to my overall thoughts is how great I think it is that Tour Edge offers 3 very unique shaft offerings for this driver. What they're doing here is basically offering just about every golfer out there something they'll be able to count on in a shaft that they'll love. The XCG5 is available with the super ultra light Graphite Design Tour AD in an amazing 5 different shaft flexes ranging from L clear up to X. Another option is an ultra light Exotics Fujikura Blur 50 in L, A, R and S flex and lastly you can get the driver with an Aldila RIP 60 Sigma in R, S and X flex. Tour Edge also offers a 10.5 in Super Ultra Light and Ultra Light in left handed as well. To have all of these options speaks volumes of the type of club and the type of OEM Tour Edge is. I applaud them for this move.
So overall I came away quite impressed with the options available, I liked the looks and the feel and I am a big fan of the accuracy of the XCG5. While I didn't necessarily find the driver to help me reach new lengths on the course that doesn't mean that with all the options available to me there's not that possibility. I found the driver to be very dependable while delivering a nice smooth feel. I can't complain about any of that in the least. I think there are a lot of golfers like me who haven't given Tour Edge the close look they deserve when we're out shopping for new clubs, I know they have a specification available to fit almost any golfer with their XCG5, now I hope people get out and try it for themselves. The Tour Edge Exotics XCG5 is available now for a price of right around $330.  You can find this club at online retailers such as Blind9Golf.