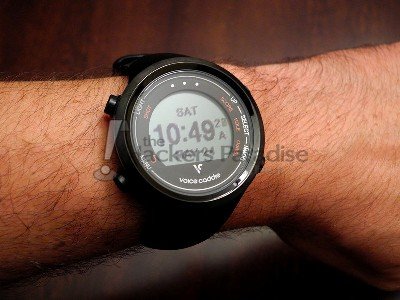 Multipurpose watches are quickly gaining popularity with sports enthusiasts for a number of different uses. Many of our readers will instantly think about the recent increase in GPS watches for the golf course, but they are also being used for tracking fitness activities like walking, running, and biking. The Voice Caddie T1 Hybrid Golf Watch looks to combine both of those uses into a single product.
Features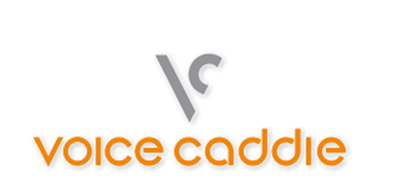 With a comfortable UI and easy navigation, the Voice Caddie T1 provides both GPS information for 30,000 courses and a tempo feature for a consistent swing. The Voice Caddie T1 provides the distance to the front, center, and back of the green and holds a digital scorecard so you can keep track of your play.
Accurate Distance Guidance
With GPS technology and the T1?s easy-to-navigate UI, you can now see the distance to the front, center, and back of the green with just one glance.
Automatic Course and Hole Recognition
In Play Golf Mode, the Voice Caddie T1 automatically recognizes the course and hole you are on so that you can focus on your game.
Shot Distance Measurement
The Voice Caddie T1 has a shot distance measurement feature so that you can see how far you've hit. The more you know, the better you play.
Steady Swing Tempo
The perfect swing is about rhythm. The Voice Caddie T1 recognizes every address and reports back to you after your shot. The T1 will show you your back to downswing ratio so that you can build a better swing.
Digital Scorecard
The Voice Caddie T1 includes a digital scorecard so you don't have to fumble for pencil and paper at every hole. Input your score and the T1 will automatically save it in your history.
Golf History
The Voice Caddie T1 stores the date, course name, and score for every round you play so that you can keep an eye on your history and improvement.
A Hybrid Watch
The Voice Caddie T1 is a ?tness watch too. It uses GPS to track your speed, distance, and calories burned for your walk, run, or cycle. Want to know how far you've walked while playing golf? The T1 can tell you that, too.
Specifications
Black/White options available.

8 hours of battery life in GPS mode. 6 weeks in watch mode.

Capacity for 40,000 courses and upgrades are free.

Front/Center/Back distance readings. No hazards.

Weight 62g.

$189
Description and Setup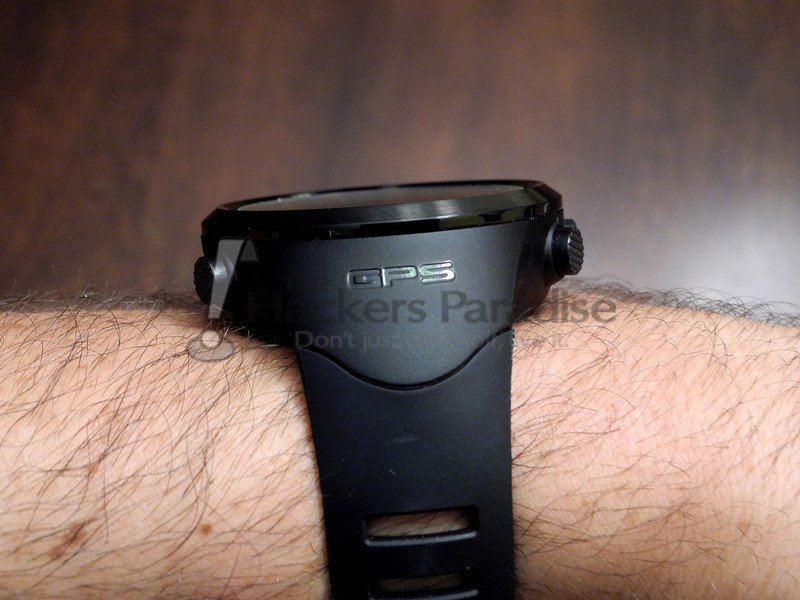 Available in both black and white, the T1 watch is on the large side, with a round face and big, easy-to-find buttons on both sides. The face is labeled well, making finding the right button an easy task. Though quite large in circumference, height, and thickness of the strap, the T1 remains relatively light at just over two ounces in weight. Extended use showed that the added size didn't negatively influence the golf swing, even when compared to some slightly smaller and more streamlined watches. Still, future versions would certainly be improved if they offered a little less bulk, especially if Voice Caddie is hoping to grab customers that may be leery of wearing a watch on the golf course. As noted, the larger buttons were easy to find, but this does come at the expense of them being a little more difficult to depress.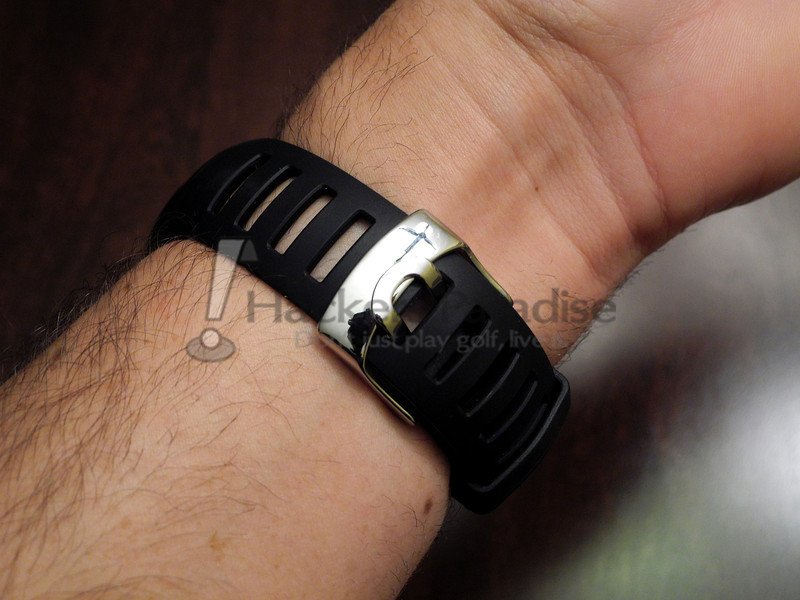 Setup consisted only of charging the unit, which is accomplished via a clip-on charger that plugs into any standard USB port. The charger itself is a bit larger than some others on the market, but clips on easily and is still compact enough to toss in an overnight bag if needed. After taking a little over two hours for a full charge, the watch was ready for use. All courses are preloaded into the device and there are no subscription fees, though course updates and additions can be loaded into it if needed.
Included in the packaging is an instruction booklet that is worth reading, since the watch offers so many different functions. Though most of the features are intuitive enough to figure out on one's own, some others are discovered best by taking the time to learn about the device before using it.
Performance
As noted, setup of the T1 watch was a painless ordeal, as was using it for the first time on the golf course. With an automatic course recognition feature, the unit does the work for the user by determining the course being played.
Testing took place over multiple rounds of golf, during which hole markers, another GPS watch and a laser rangefinder were used to gauge accuracy of the unit. No discrepancies were noted during testing, which is obviously the most important performance attribute when discussing GPS units. Though the generally large size of the watch is somewhat unattractive, the benefit there was that the screen was easy to read, even with smaller characters that are used for information such as the hole number, shot distance, and the hole's par.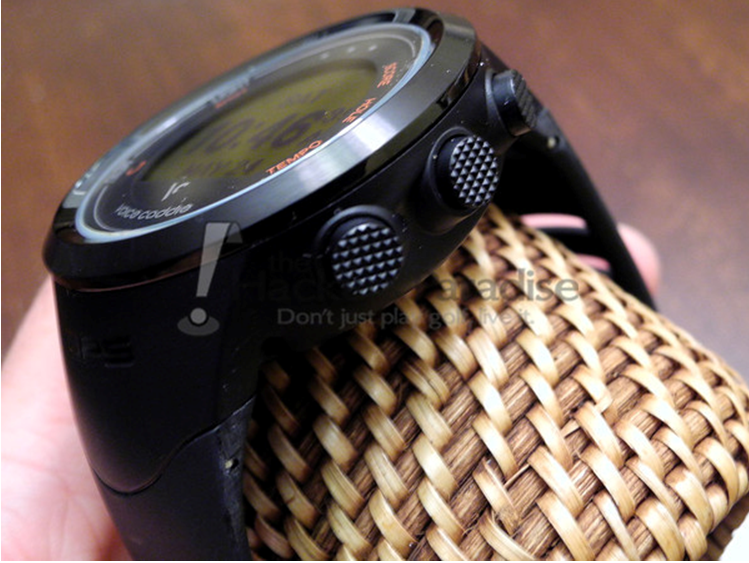 The auto-advance feature was also relatively seamless, with the T1 changing holes when it recognized a tee box. Manual hole advancement was easy to figure out, but a bit more cumbersome that seen with some competitors. Rather than being a one-button task, it took two presses. While this wasn't extremely difficult, it still wasn't quite as convenient as it could be. In the GPS watch arena, convenience is a major selling point, so a future improvement would be making as many tasks as possible a single button push away. The shot distance feature was standard of most GPS watches, but in ways better than others because it displayed the back/center/front distances simultaneously with the distance of the shot being tracked.
The scorecard feature will be appreciated by many, though in practice its convenience wasn't much better than using a scorecard. It only offers the ability to track strokes taken (as opposed to number of putts, fairways hit, etc) and takes a number of button presses to accomplish, making it less attractive than anticipated.
Battery life seemed to match what Voice Caddie advertised, with the T1 easily making it through a relatively quick 36 holes played in just over six hours. However, there are other watches on the market that offer as much as double the battery capacity, so ideally this will be on the upgrade list going forward as well.
The glaring feature missing from the T1 is distance to hazards and layup points. While simplicity is often valued with a GPS watch, the inclusion of hazards is essentially a must-have at this point. Simplicity is certainly not lost by marking hazards, and with a watch that offers so much, it seemed odd that a vital piece of information like this was missing.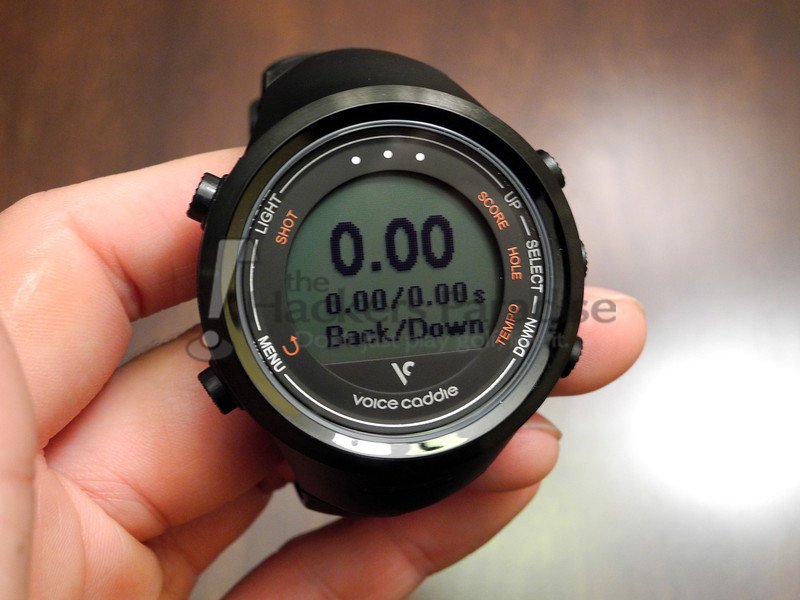 The swing tempo feature is a tool that some may find useful, however its use on the course is somewhat debatable as it adds more thought than some may want to put into each swing while playing. It is probably a feature best used on the practice tee and could certainly assist those working on tempo.
As mentioned, the T1 does offer some non-golf features as well, notably the ability to track distance, speed, and calories burned while walking, running, or biking. Those consumers looking to avoid buying two rather costly items to satisfy both their fitness tracking and golf needs will enjoy this quite a bit, even if the tracking is somewhat limited in scope (compared to a dedicated fitness tracking unit or phone app for example). Still, the ability to wear the watch does make it quite convenient for these activities.
Final Thoughts
Though it offers a number of features that will be valued by many, the Voice Caddie T1 has some room for improvement before it becomes a leader in the GPS watch category. Some of the features offered are done very well, especially the shot distance tracking, and it is priced competitively, but the lack of hazard distances, a shorter battery life, and larger size leaves us wanting just a little more. More information on the Voice Caddie T1 Hybrid Golf Watch can be found on the Voice Caddie website at www.voicecaddie.com.