Wrapping up 2016 THP Holiday Cheer, the week long giveaway with new prizes every day, gave us lots of fun. Today we are kicking off a new campaign we call "Tis the Season" and it is a chance to give back and win some incredible stuff for doing so. Before we go on, I want to say that every dollar raised in this week long program will go to charity and THP will match a portion of the raised proceeds.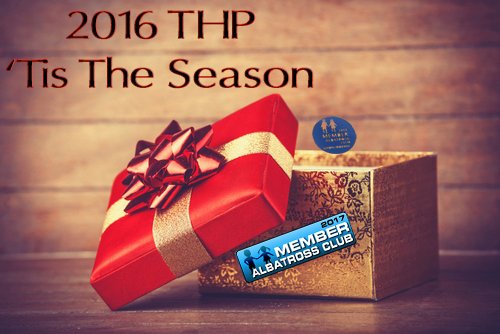 What is this About?
The 2016 Albatross Club wraps up in a few days and the 2017 club is already under way. As we move into the 2017 year on THP, there will be some pretty amazing things coming down the pipeline for members of the club and we hope nobody is left out that wants to be a part of it. This is where you come in. Here is your chance to kickstart on the giving and help a fellow THPer out and take a shot at winning one of EIGHT incredible prizes.
Similar to the THP Grab Bag we did last year where you took a chance at greatness, this is what will be taking place here. Your job will be to pay it forward for one THPer that does not have a 2017 Albatross Club membership and when you do, you will be entered into the drawing for some killer prizes and know that 100% of your spend will go to charity (the 2016 Albatross Club charity).
The Prizes
1. A 2017 THP Golden Ticket – Auto entry into any THP Event you want to go to, that is not named The Grandaddy
2. Limited Edition THP Luggage – From the Cleveland/Srixon Collection – A weekender bag and Laptop case
3. Tiger Woods Bridgestone Media Kit – Signed Tiger Woods package along with 6 dozen Tour B Bridgestone Golf Balls
4. Bridgestone JGR Irons – Full set of Brand new JGR hybrid irons
5. Cleveland RTX-3 wedges – 2 brand new Cleveland wedges from their new line
6. Ben Hogan PTx Irons – Full set of irons from Ben Hogan
7. New Driver Shaft
8. Mystery Box – Fun items from around THP HQ
Click here to be taken to the THP Forum Thread with all of the details on how to enter to win one of these great prizes.