Here at THP we have said it thousands of times, technology is rapidly changing the game beyond the actual clubs we put into our hands. In my classroom I am constantly reminding my students that one of the most powerful and versatile tools which they possess to help aid their learning experience is often in their back pockets, their phones. The advent of the "smartphone" has revolutionized the world we live in, some ways good, and some not so much, but I like to focus on the former over the latter.
Where is he going with this? Well, if all other aspects of our day to day are being streamlined and automated by our smartphones, then why should golf be any different? Within these devices lays an efficient and effective GPS system and it is because of that companies like GolfLogix are developing golf GPS apps that are making standalone GPS measuring devices a thing of the past.

The GolfLogix app has been around for quite a while and is one of, if not the, most popular of the golf GPS apps on the market. It is available in both iOS and Android, but for this review I worked with the app on my iPhone Max XS. Install and setup is a breeze as you would expect any app would be nowadays. The thing to note with GolfLogix though is that while it is a "free" app to use the basic GPS service, there are also levels of memberships available (Premium, Putt-Breaks, or Plus) which unlock additional features like green reading, club tracking, etc. Though some may take issue with the subscription upgrade format, it is not at all uncommon when it comes to traditional golf GPS devices. Prices range from $4.99/mo or $29.99 annually for Premium or Putt Breaks, to $9.99/mo or $49.99 annually for full Plus membership. More information on each of these options can be found on Golf Logix website.  For this review THP had full access to the Plush membership.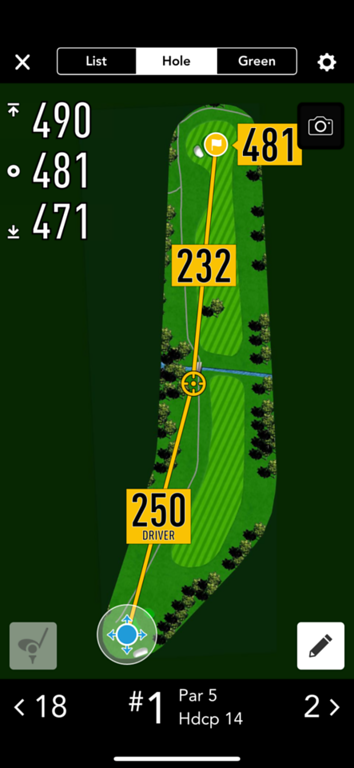 Coming into the review I expected the app to be fairly easy to use, but what I got was a much higher level of intuitiveness than I anticipated. If you can use the phone you are installing the app onto even halfway decently, I am confident you can use the GolfLogix app with ease. The app boots quickly, is easy to navigate, and general settings and round setup are as instinctive as I hoped they would be. When starting a round the app actually downloads the necessary data to minimize data use on the course, nice to see and this was a big thing on my "watch list" entering the review. On top of the nominal data pull, the battery life, even on days where I played multiple rounds with the app, was excellent.  Though, it is worth noting I did review the app on a new phone.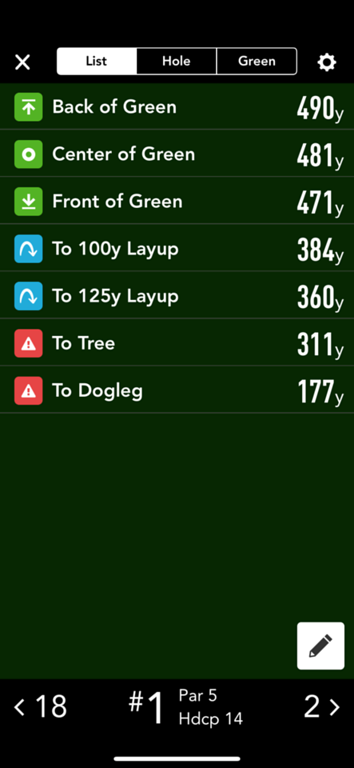 On the course you also have the option of using the overhead GPS imaging, or the "illustrated" images which are more artistic (read: cartoon like) in their display of the course. I actually was happy to see this option because it seems all of the overhead mapping of my home courses was done in the fall/winter and I'd rather look at bright green colors than the browned out alternative. In play, the app did exactly what it claimed and transferred between measurement data to scorecard seamlessly while also making hole advancement second nature.
The distances on the app were also tested against my trusty GPS watch and showed to be spot on with those numbers. Add into the mix that with the ability to place the pin on the screen where it correlates in real life gave me distances within 1-2 yards of my laser distances. The app updates distances fairly quickly with only a slight catchup needed at times when playing via golf cart. Additionally, a cool feature is that the angle will rotate with you depending on what direction you are facing at the time to give you an accurate visual and confidence that the front/middle/back numbers you are getting are from your current location every single time.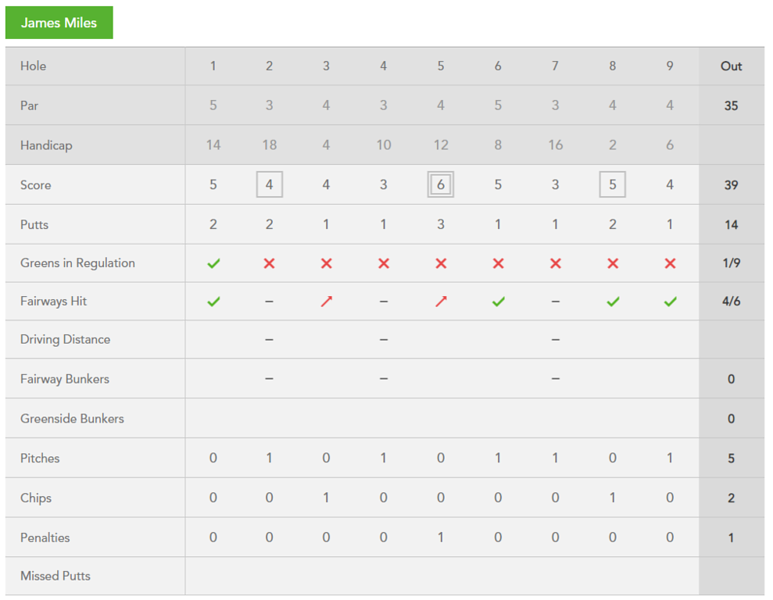 With its most recent update, GolfLogix is pushing what they are calling "Putt Breaks". The concept is based around the fact that PGA and LPGA players have access to detailed green reading books everywhere they play, so GolfLogix decided amateurs should have access to the same type of information. Using their "advanced 3D mapping technology" they have currently scanned over 9,000 of the 35,000+ courses available on the app and that number will continue to increase. I was lucky enough that my two home courses had been recently added to that database and I got to use the feature a lot. While I know slowing down the game is the fear for some with this aspect, I think like anything in the game it will only effect pace as much as the user lets it. For me, it had no tangible bearing on my pace of play because I just glanced at it while waiting my turn to putt.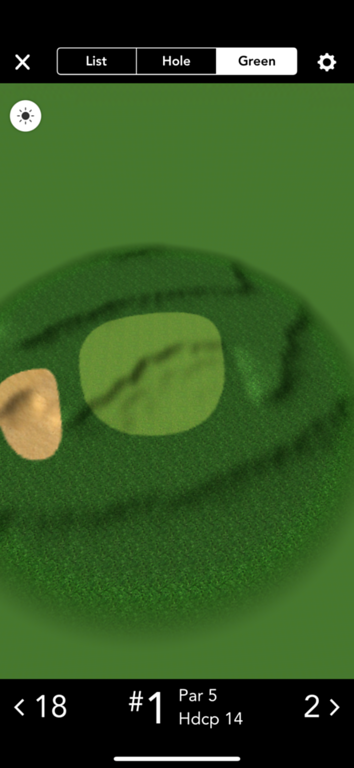 That said, I think that it could be much more of a teaching/learning tool than something you necessarily have to use every round. In fact, as a high school golf coach, I found it extremely useful in getting the green reading concept through some of my more analytical golfers heads. The reason it works is because the detail on the greens shocked me, because I used it on courses I have played hundreds of rounds on I could tell that it was showing even the tricky nuances of our green complexes that only local knowledge would otherwise see. Is it something I would use every single round? Probably not, but on courses myself or my athletes had no knowledge of it could make a great practice tool.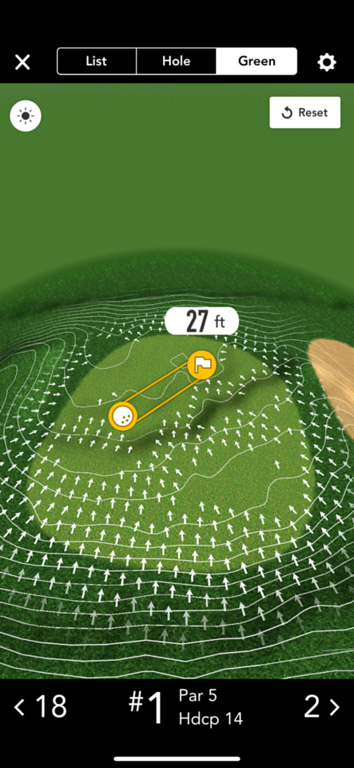 The app also features a pretty detailed club/distance tracking feature that I admittedly didn't get a whole lot of time with because there was so much to cover in this review. However, in the time I did spend with it, it was easy to understand and use with the only hassle being the same as most external tracking devices in that it isn't fully automated. But, if you put rounds in with the measurements being as accurate as they are, it could make the club recommendation feature quite useful. The most underappreciated part of the app though is the stat and score recording. The versatility and ease of it all with so many additional categories you can add to your scorecard make it a data trackers dream and after your sample size increases enough there is ample opportunity to look back and take stock in your games strengths and weaknesses.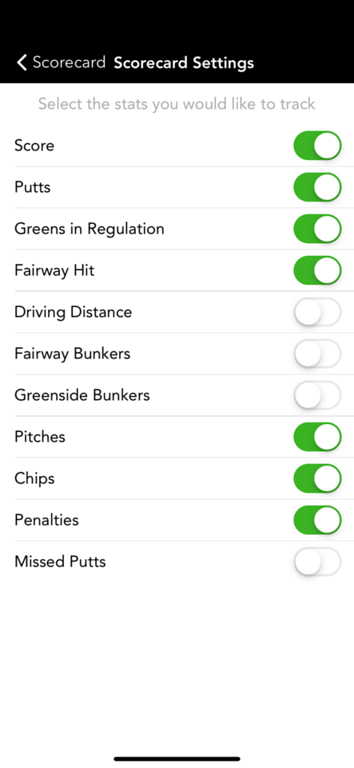 At the end of the review period, I walked away from my time with GolfLogix impressed overall with both the ease of use and more importantly the accuracy of the app. It makes perfect sense in today's day and age with everyone carrying their phones with them at all times to take advantage of the technology and push its capabilities to the limits. Then, when we integrate things like smart watches, this may in fact be the final nail in the coffin of the standalone GPS device. Regardless of all that however, the GolfLogix app is effective and worth a look at least in its free format, it is something I plan on continuing to use in my play, which says everything.
More information on the app and all that it offers can be seen at www.GolfLogix.com.