In a Masters that was filled with thoughts on the rules of golf, at the end of the day, Adam Scott won his 1st major championship in a tremendous way to kick off the 2013 major season.  It took a playoff with Angel Cabrera, but Scott, the first Aussie to win the green jacket, played beautiful golf for 4 rounds throughout the tournament.  Sadly, it will not be the entire story from the 2013 Masters. Between the youngest player in Masters history, Tianland Guan, being penalized for slow play, and the Tiger Woods "fiasco", this is one tournament with shared headlines.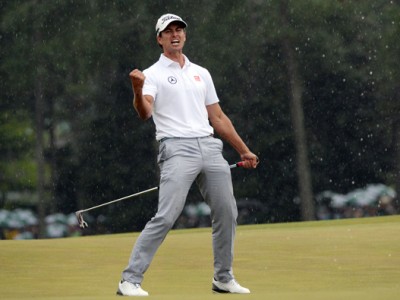 For those that missed the "drop heard round the world", Tiger Woods was penalized on Saturday Morning before his round for an action deemed inappropriate that took place on Friday. Outcries from "he should be DQ'd" to "he is Tiger Woods, and they did not see it, so he should get nothing" were the talk of the golf world during the early part of the weekend that saw Tiger go from being right in the thick of things to struggling a bit with the putter on the weekend rounds.
Sunday saw Jason Day, Adam Scott, Angel Cabrera, Brandt Snedeker and quite a few others (including Woods) make a run for the title, and when it came to the back nine it was still a tournament that could be had by any number of players. Day, Scott and Cabrera were all with in one stroke of each other heading into the final hole, and when the dust settled, there was a playoff between Cabrera and Scott.
The raining was coming down, the drama was unfolding before our eyes and on the 2nd hole of the playoff (hole 10), both men were on the green with good looks at birdie. Cabrera putt first and missed by what looked to be less than an inch and when the big Aussie stood over the putt, he took one deep breath and then drained the birdie putt to win the 2013 Masters.
Two courageous champions going head to head to win the historic title. Will this propel Adam Scott into the dominant player many have expected him to be? Let us know your thoughts on it below.