Today, Callaway Golf is announcing their latest premium iron offering, utilizing the resurrected Big Bertha name. They offer technology not seen in Callaway irons up to this point and will be available in stores October 17, 2014.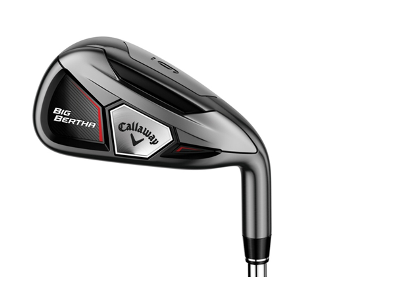 As the first Cup Face set of irons on the market (according to Callaway),  the 2014 Big Bertha set claims to offer up to two clubs more distance. Some may recognize the term 'Cup Face' technology from recent Callaway hybrid and metalwood offerings. It's a popular and established way of designing clubs that is especially helpful at maintaining ball speeds across the face. Since there are no welded areas on the back of the face, the flexibility of the face can controlled better from heel to toe, aiding both forgivingness and distance. The downside to the technology, and a reason for its relative scarcity in the US market, is said to be cost. However, we've seen a resurgence of it in the recent past from a variety of companies.
Features & Benefits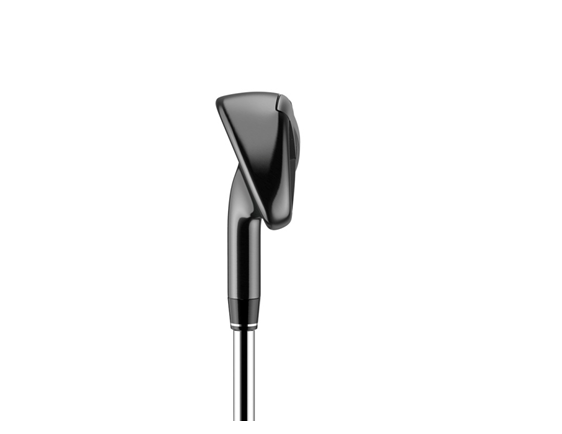 Unprecedented Distance from a 360° Face Cup
360 Face Cup Technology
 This is the key feature that gives golfers "up to 2 clubs longer" distance. It's the same Cup Face Technology we put in fairway woods and it produces HIGHER BALL SPEED (in caps) all across the face. When you hit the ball on the sweet spot, it's faster. And when you don't hit it on the sweet spot, it's STILL faster.    
Internal Standing Wave for Maximum Distance
The Internal Standing Wave allows us to make the CG low and forgiving, and by doing this we can deliver the full package of high MOI for maximum forgiveness along with high ball speed. It's designed to help shots launch higher and go farther.  
More Flexible Face
A more flexible face helps the ball jump off the club with serious ball speed behind it, and adds forgiveness too.
Advanced, Appealing Look from our Best Technology  
The sole designs are wider in the longer irons to give you confidence and smaller in the shorter irons that are typically easier to hit. We've included our best technologies in these irons, including a Hollow Body Construction.
Shaft Offerings and MSRP
Shafts
True Temper Speed Steep 80

UST Recoil Graphite Shaft
MSRP
$999 (steel), $1,199 (graphite), $1,299 (combo)
Availability: 3-PW, AW, SW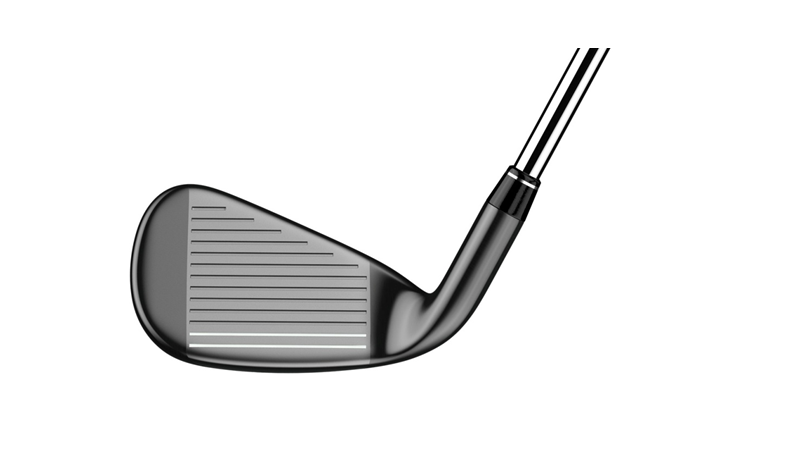 Regarding the inspiration for the new Big Bertha irons, Dr. Alan Hocknell says, "We were asked to produce a breakthrough iron and we went looking at the way we constructed irons in the past… but taking that to the next level in a single-piece cast iron wasn't enough. We looked at the work we had done at making face cups, particularly face cups for fairway woods and hybrids. So the question was, could we take that technique and apply it to an iron, and the answer is yes."
Distance claims have become almost background noise at this point, but Callaway believes that the unique build of the Big Berthas will deliver on their claims. Hocknell says, "We are seeing gains of ball speed at the center of the face in a 4 iron of around three miles per hour over irons of a prior generation, a recent prior generation, and an average ball speed gain around the face of 2.5mph. Some people have claims of high ball speed, but the technology is really just related to the long irons. This cup face goes the entire way through the set. This claim of up to two clubs longer has been validated by robot testing – basically, the 6 iron of this set versus a 4 iron of the RAZR X HL set."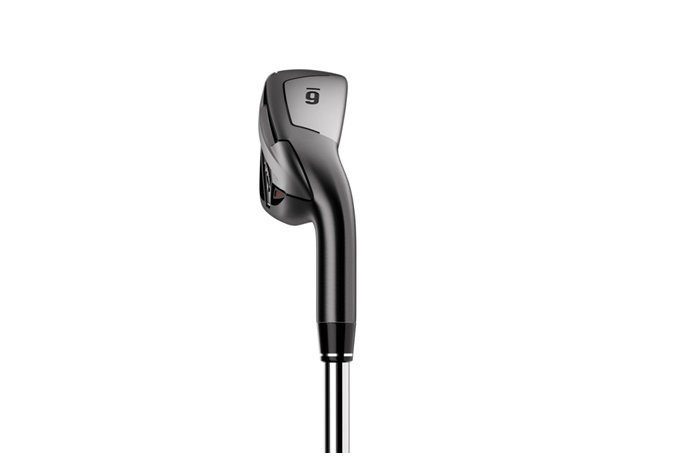 Due to a progressive sole width, comparable offset values (for a game improvement iron), and a face that isn't overly oversized, Hocknell states that, "We think we'll attract a broad range of player abilities."
Thanks to the standing wave technology (also taken from the metalwoods) that helps manipulate trajectory, Callaway hasn't had to, "produce unusual lofts to create the distance effects that this iron has," according to Hocknell.
Have you seen or hit the new Big Bertha irons? If so, stop by the THP Forum and share your thoughts with thousands of other golfers.