Callaway Golf apparel is a bit of an interesting thing with the company's continued diversification via acquisitions of brands like Travis Mathew. Rather than seeing the classic Chev logo be implemented into what Travis Mathew does however, Callaway apparel stands on it's own with the iconic symbol.
I was able to get several pieces from the new "Weather Series" to see just what changes have been made and if the apparel lives up to the logo on it.
Quick Take
The line represents a continued evolution of Callaway apparel. The fits have improved, but are still on the roomier side with somewhat generous cuts. However, the quality, design, and materials have all been taken up to a new level that will leave those who enjoy the fit very satisfied and wanting more.
The Pieces
Apparel reviews are hard because my take and preference isn't going to be the same as someone bigger or smaller than I am. With that in mind, I'm going to break this down piece by piece from design as well as just how they fit and wear.
Men's StormGuard Waterproof Jacket
Price – $190.00
Colors – Peacoat, Caviar, Infinity
Materials – 90% Polyester, 10% Elastane
The undoubted ­Rockstar of the "Weather Series" pieces sent in for review, in my opinion. This thing is truly waterproof as I put that to the test in some of this dreary fall rain we have been seeing. More than that though, for me it was the shining example of blending fit with function as it tapers quite well while still allowing as much swing movement as one could hope for wearing rain gear.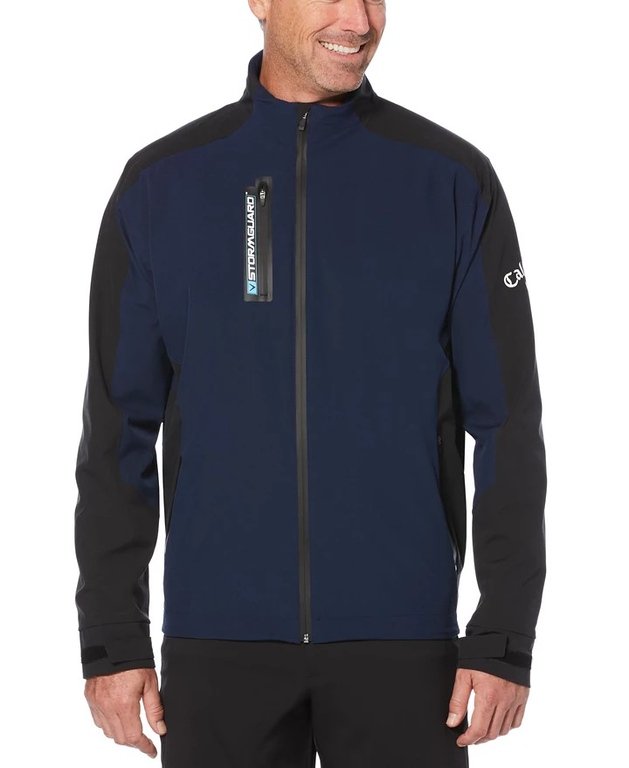 The mock neck cut keeps rain from working down one's neck, and the design of the cuffs is both adjustable and functional for also keeping moisture out in an area some rain gear struggles. Aesthetically, I got the "Peacoat" which is navy and black, it's a good look, though I think the chest zipper could have gone without the giant "StormGuard" lettering. Overall though, it's high quality befitting of the $190.00 price point.  It offers solid materials, great stitching, and heavy-duty zippers. This one really is a standout.
Men's SwingTech Outlast Midlayer 1/4 Zip
Price – $75.00
Colors – Peacoat, Lychee, Surf the Web, Bright White
Materials – 60% polu, 30% outlast and 10% elastane
Fans of lightweight 1/4 zips which serve not only as cover on a cool or breezy day but also a potential layering piece in even colder conditions will like a lot about the Outlast Midlayer. With five different color options, there is literally something that will blend for everyone. As a stand alone, the Outlast is on the roomier size with minimal taper to the overall core of the piece. Additionally, the sleeves are not as 'snug' as one might expect from a layering piece. For me, I like the additional room in the forearms, but it might surprise some. This is a perfect pullover for a breezy day and is actually a continued evolution of what has been one of the bright spots for the Callaway apparel line for some time.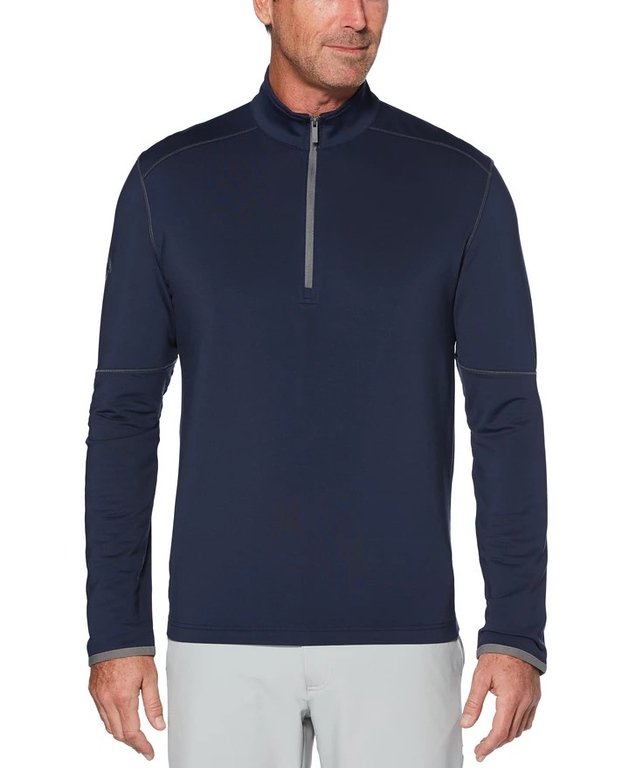 Men's Midweight 1/4 Zip Ottoman Pullover
Price – $85.00
Colors – Deep Dive, Peacoat, Infinity, Caviar
Materials – 100% Polyester
The only piece which I received that's got some sort of a pattern to it. This is very much your standard 1/4 zip design weighting wise. It works on a cooler day and it is intended to be very much wearable on and off the course. For me the pattern is a bit unique, but much of the indifference there could be in the Deep Dive colorway I had in hand which is more of a blue-green color, looking at some of the other colors, the angular ribbed pattern of the chest and shoulders pops perhaps a little cleaner.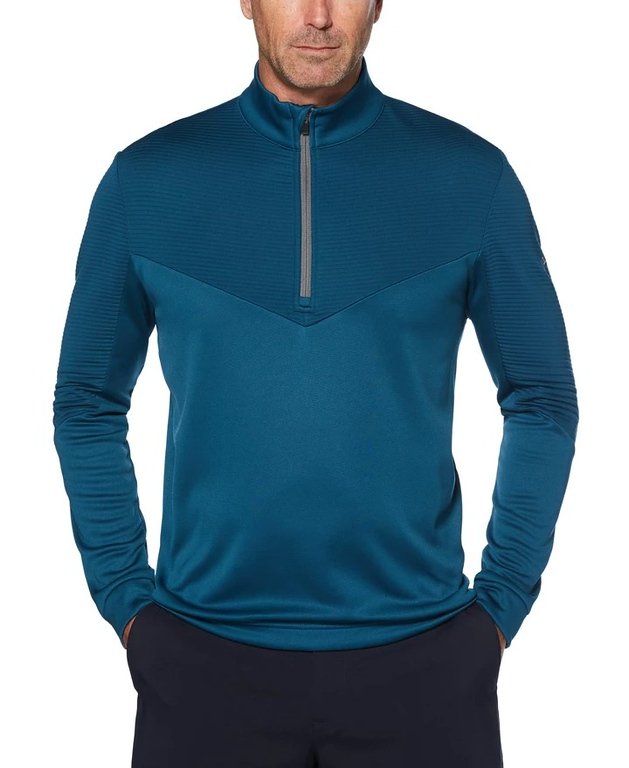 Cut wise, this one has a decent amount of room in it. The core has a very straight taper to it which is definitely going to appeal to those who like to avoid a more euro cut. Even then, I think it will be in the wheelhouse for a lot of people as it sits well into the waist as well as through the arms and to the wrists. Again, the standout is the material which is very good, and the zipper should last the length of the garment itself.
Men's High Gauge Fleece Full Zip Vest
Price – $75.00
Colors – Caviar, Peacoat, Infinity
Materials – 90% Polyester, 10% Elastane
I have never, ever, ever, been a fan of golf vests. Mainly because many tend to be a bit 'poofy' (technical term) and patterned while looking at times more like life preservers than anything else. That, or the material is so light it makes the piece seem pointless. The High Gauge vest though is none of those things. Instead, it's simple, it's clean, and the weight is perfect for a general outer layer over a polo when the weather is just cool enough.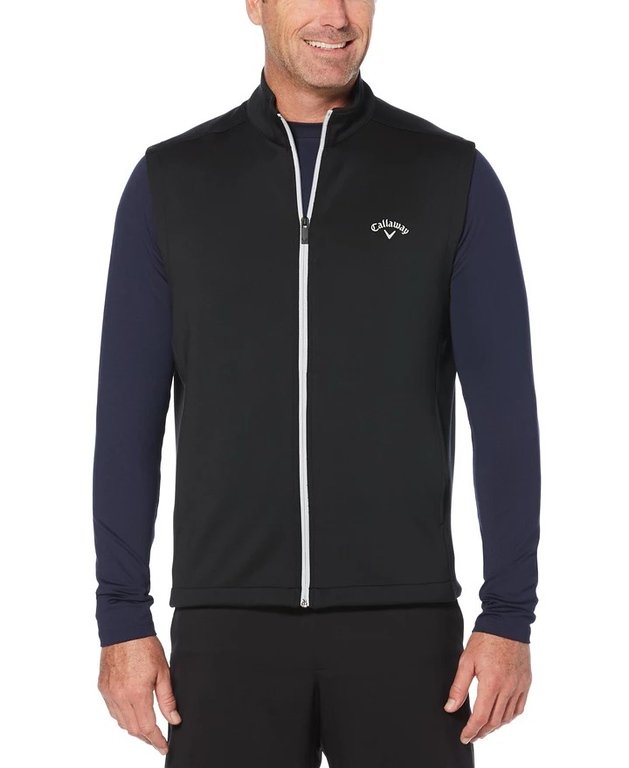 Bigger than anything else, the cut of this one stood out, it provides truly full range of motion which was something I never thought about being a benefit to a vest. The material and stitching seem quite durable and the zipper is definitely built to last. It's funny that something so simple as a vest could impress, but it might actually fit better for me than any of the other pieces. This one is well done, oh, and two of the colors are also available in Big & Tall.
The Details
Availability: Now
Price: Varies – Listed in Article
Line: Callaway "Weather Series"