Fashion and golf definitely go hand-in-hand for many, and there are more apparel companies than ever out there trying to make their mark, one is Chase54. If ever there was an example of a company that has committed to evolving and improving, this is a great example of such a company. Over the years, this reviewer has found the brand to be hit and miss quality wise, but Chase54 recently sent THP pieces from their newer lines and after getting them in hand it is clear that there has been a definitive improvement in that regard.

About Chase54:
CHASE54 is golf apparel designed to push the limits of what's considered possible. In fit. In feel. In fashion and performance. Our garments are made to shatter your expectations of what golf clothing can be, both on and off the course.
As golfers and people, we believe that perfection might always be just beyond our reach, but that doesn't mean we shouldn't aim to achieve it. With over 30 years of manufacturing experience under our belt, we strive for unprecedented excellence in each and every piece of clothing we make. This passion and dedication can be found in every precise stitch and unique feature of each and every garment. From integrating the greatest fabrics and latest technologies, to designing the most striking styles and original looks, we push closer to perfection with each piece of golf wear we create. 
So go ahead. Set your goals high. In golf and in life, chase 54. We'll be right there with you.
Summit Shorts
DRYFUZE™ is our answer to moisture wicking
Mechanical stretch for some mobility
Waistband gripper tape
Deep pockets to keep things from falling out
10″ inseam
Imported
$80.00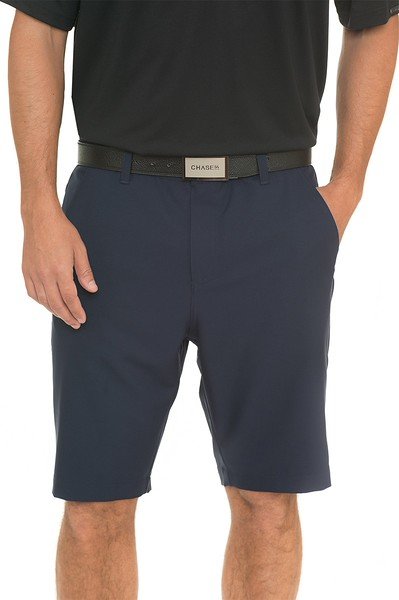 THP received the Summit golf shorts for a closer look and in many ways they are your typical golf shorts. Admittedly, the inseam coming in at 10" is a little bit shorter than this reviewer prefers as the shorts sat above the knee when worn, but it's a length that many still prefer. The material itself is Chase54's "DryFuze" fabric which is a breathable and moisture wicking design. The shorts really were quite comfortable, it is worth noting that the material does have a bit of a sheen to it which opinions may vary on. The waist size was true to what is declared by the company, and the use of gripper tape inside the waistband should be mandatory for all golf shorts in the opinion of this reviewer as it really did eliminate the untucking shirt issue. The two biggest things though, is that the stitching is much heavier than seen in the past from the company and it is great to see them going with deeper pockets which helps to keep from losing things when getting into and out of a cart.
JT Shirt
DRYFUZE™ is our answer to moisture wicking
No-curl collar points
Heathered stripe with mesh for a nice texture
Seams are reinforced with topstitching
Imported
$72.00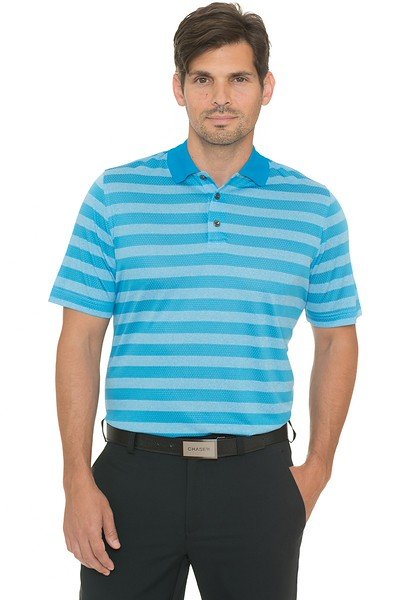 Chase54 offers a lot of different shirt designs and many of them are nick-named after athletes or celebrities, one of those which THP received is the JT. The shirt pattern is a pretty standard alternating horizontal stripe design and Chase54 offers it in two different colors, black/grey and what they call French Blue (which THP received). This shirt, like the shorts, is made up of their "DryFuze" material but is super lightweight here making it evident full emphasis is on the breathability of the design. Fit wise it really is similar to a lot of other lightweight technical materials, it is a very "standard" cut with plenty of room across the chest and mid-section. The simple 3-button placket and smaller shaped collar keeps it on the "sporty" side of things, this lends to it working mostly on the course compared to some of the other more dressy designs.
Rendezvous Shirt
DRYFUZE™ poly spandex bar code stripe is soft and moisture wicking
Stretch for full mobility
Seams are reinforced with top-stitching
Extended placket with piping
Removable collar stay to keep collar points down
True fit
Imported
$74.95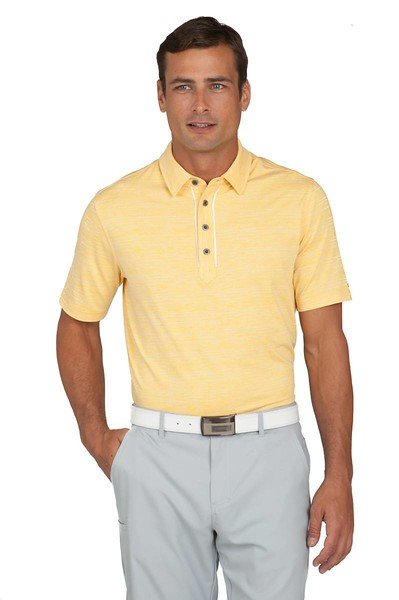 The Rendezvous is the clothing article which stole the show in what THP was sent, it is also a prime example of how the quality has really evolved for Chase54 as time has gone on. The design is offered in three different color-combinations, "BlueJay", "Spiced Coral", and "Corn" (which THP received) and has a nice heathered stripe type look. While this is also a poly blend "DryFuze" material, it is much more plush/dense than the JT, in a good way. This one screams quality and class as the 4-button placket and much thicker/larger collar really looks good on the course as well as in the workplace.  It is quite versatile. The Thing to remember is that while it's a heavier feeling overall it still breathes just fine in a variety of temperatures. Fit wise, it is also a very "American" style cut with room through the chest, waist, and arms. This is honestly quite a standout in the different offerings that Chase54 has.
Parting Thoughts:
It is clear that Chase54 is not only attempting to carve out a small corner of the market for themselves by improving the quality of their offerings and honestly that is nicer to see than simply trying to add flash. The brand itself has a little bit of everything, from the eclectic to the versatile and the ability to cover that range is always nice to see. While the prices are on the high side at first glance, they're right in range with the majority of mid to high-end golf apparel. It will definitely be interesting to keep an eye on the brand as time goes on.
More information on company and their apparel offerings can be found on their website, www.Chase54.com.