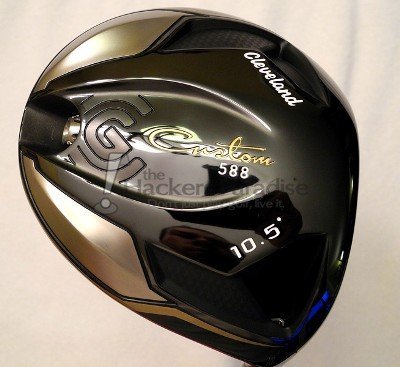 2014 appears to be signaling a fresh look at driver design from Cleveland Golf. Though some hints of past and popular technologies remain, the company's new 588 Custom driver exemplifies a slight changing of the guard. Cleveland is saying this is the most complete driver they've made, and through adjustability and improved forgiveness, their longest.
588 Custom Driver
Based on exhaustive testing and tour validation, the Cleveland® 588® Custom™ Driver has a 460cc titanium head that offers the greatest combination of distance, forgiveness and accuracy in any driver Cleveland® Golf has ever made. An adjustable hosel offers 12 different settings to precisely tune loft, lie and face angle – loft and lie have a total range of 3°, while face angle has a total range of 4.5°. The back of the sole has an adjustable weight screw to optimize swingweight (standard weight is 3 grams). Advanced wall construction allows more weight to be positioned lower in the club head for a higher, more penetrating ball flight. Enhanced variable face thickness technology creates the hottest flight on center strikes and even faster ball speed on off-center hits for maximum forgiveness. A premium Matrix® OZIK 6Q3™ shaft promotes a mid-launch and provides an all-around combination of speed and stability with solid feel at impact.
Specs
| | | | | | |
| --- | --- | --- | --- | --- | --- |
| LOFT | HEAD SIZE | LENGTH | SWING WEIGHT | LIE | WEIGHT |
| 9.0° | 460cc | 45.50″ | D5 | 60.0° | 305g |
| 10.5° | 460cc | 45.50″ | D5 | 60.0° | 305g |
Both models available in RH/LH

Stock shaft – Matrix OZIK 6Q3 "Red Tie" at 58g in stiff flex

Available Feb 7, 2014

$349.99
Key Technology
Precision Adjustability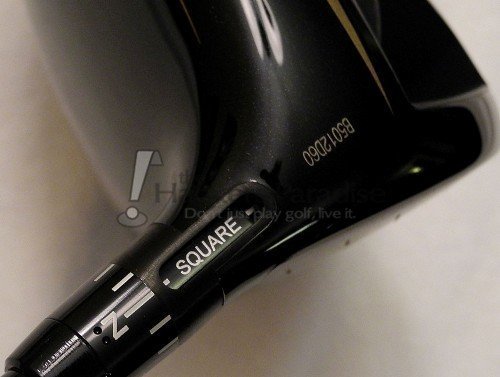 Like the XL Custom before it, the 588 Custom offers a wide range of adjustments through a 12-way hosel adapter. This enables the user to alter loft, face, and lie angle. Adjustments are made with the customary torque wrench, with the adapter's position nicely displayed by way of a small window on the hosel. It should be noted that the 588 Custom weighs in at a total weight of 305g, which is quite light considering the adjustable features if offers.
Adjustable Weight Screw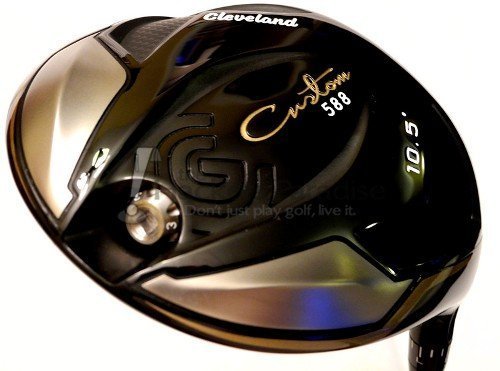 In addition to hosel adjustments, the 588 Custom features an interchangeable weight screw that is positioned at the very back of the driver. The standard version is 3g, with both 7g and 11g weights also available. The weight screw allows the user to "optimize swingweight" according to Cleveland. This is important for a couple reasons. First of all, users can install a variety of shafts of different weights and lengths and keep a constant balance via weight screw changes. Secondly, users can dial in their preferred 'feel' quickly. In addition to all that, THP found that installing heavier weights helped increase launch angles.
Enhanced Variable Face Thickness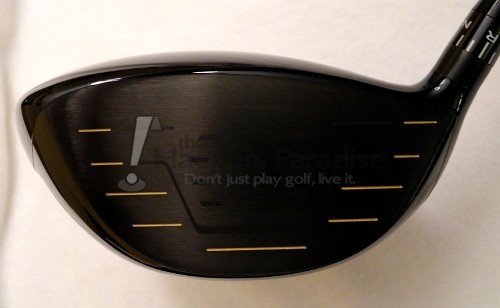 According to Cleveland, their enhanced variable face thickness technology "creates the hottest flight on center strikes and even faster ball speed on off-center hits for maximum forgiveness."
VFT is a tried and true way for companies to improve performance on off center shots. In addition to improvements in this area, the face of the 588 Custom is a bit different than what we saw from the different offerings in the Classic series. Gone is the extremely deep face and its place is something a little shallower and wider. That should equal better performance for misses towards the heel or toe. While the Classic was quite forgiving for a deep-faced driver, the 588 Custom is designed to be the most forgiving 'players' driver Cleveland has introduced in some time.
Aesthetics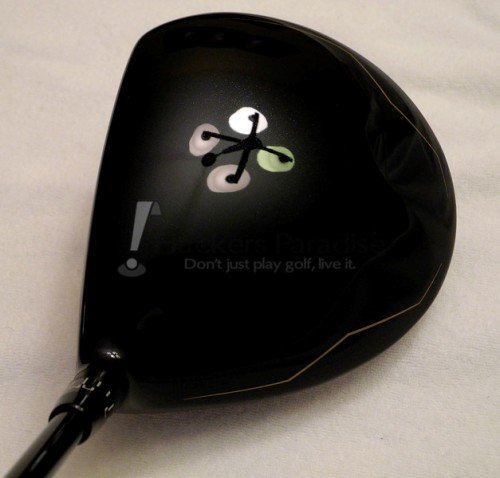 With its black, gold, and silver color scheme, the 588 Custom has a decidedly regal appearance. There certainly isn't any question that it serves as Cleveland's 'premium' driver offering after a close look. The Matrix 6Q3 also shares a similarly colored paint job, providing good continuity from top to bottom.
Again, comparisons to the Classic drivers of the last two years are somewhat difficult to come by. The 588 Custom has a much more aerodynamic appearance, both when looking at the face of the driver and from the profile view. The departure is a breath of fresh air from Cleveland.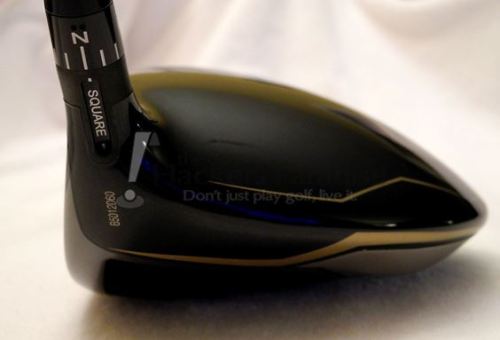 At 45.5° inches in the stock configuration, the 588 Custom feels nicely balanced, though as noted earlier, that can be altered to the individuals preference, as can face angle.  Those who love the sound and feel of the original Classic will be happy to hear that the 588 is remarkably similar, even with the different shape and design. This is a good thing as far as we're concerned, as the muted 'crack' produced at impact really is unique and pleasing to the ears.
The Matrix 6Q3, weighing 58g in stiff flex, is designed to offer mid launch and spin. The shaft was designed for use with the head, and as such is a bit lighter than the aftermarket version.  It felt true to flex, sufficiently stable for normal swings, and seemed to deliver a mid-trajectory ball flight.
Performance
The 588 Custom was tested both outdoors and indoors using a Vector X launch monitor and Srixon Z-Star golf ball. The driver was tested in its stock configuration with the 6Q3 stiff flex shaft.
Trajectory, Distance and Adjustments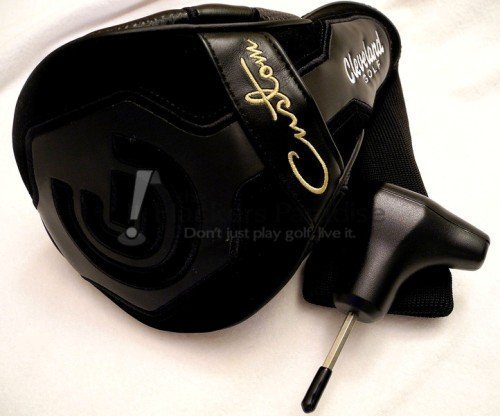 While lacking the massive deep face of the Classic series, the Custom still appears to produce lower spin rates, and many stronger swingers should enjoy what it offers with the right shaft. We'll stop short of saying that it is an extremely low-spin head, but it is definitely on the lower end of the spectrum, and as a result produced a mid trajectory ball flight for this tester. The wide range of loft adjustments alone produced around 3° difference in launch angles, and with two differently lofted heads available it should be quite simple for most players to dial it in with the help of a fitter. In addition, the aforementioned weight screw could be used for some further tweaking if needed
With ball speeds very much in-line with other current drivers recently tested, the potential for distance is certainly high because of the ability to fine tune the 588 Custom to an individual's needs.
Forgiveness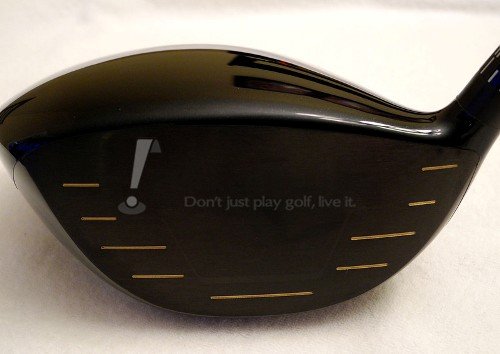 As mentioned earlier, changes to both the variable face thickness and head shape have combined to make the 588 Custom more forgiving on off center hits. This tester's high-toe miss produced surprisingly good results, with negligible losses in ball speed and carry numbers that were very similar to center strikes. In addition, the curvature of the face assisted in bringing the ball back towards center. It appears the Custom was able to retain the vertical forgiveness that the Classic series was known for, with better performance across the face.
Final Thoughts
Though a departure in many ways from the Classic series, the 588 Custom has managed to take what we loved about its predecessors and add improvements. This is a driver that a wide range of skill levels should enjoy due to its lower spin rates, increased forgiveness, effective adjustability and a more conventional shape. As always, THP recommends that consumers take the time to get fit before purchasing, so look for the Cleveland fitting cart at your local retailer. Further testing will be done on the 588 Custom in the coming months, so stay tuned to the THP Forum. More information is also available at www.clevelandgolf.com.