New companies entering the distance measuring device world seems to be a weekly occurrence. Those doing it with a proprietary device that isn't just a knock off with a logo stamped on it is not. Enter Cobalt, a brand new company and their Cobalt Q6 is unlike anything else on the market today.
Before diving into the tech and the company, it would be hard to not touch on the first thing that pops into frame when looking at the Cobalt Q6 and that is the raised dial (SmartSwitch). As seen in the quick GIF below, it stands out and is rather unique compared to everything else on the market.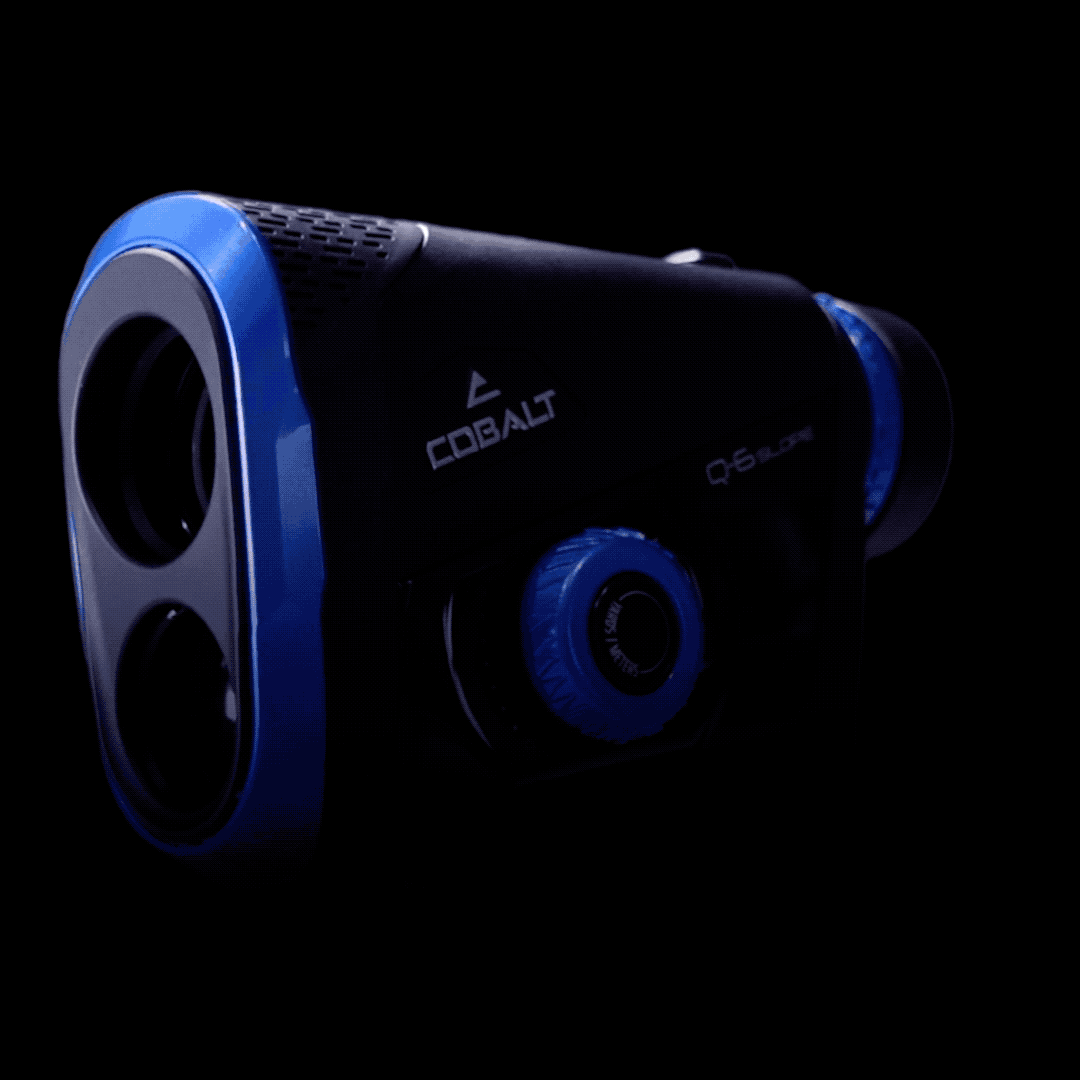 The SmartSwitch is in place for quick access to alter slope on and off, change the brightness of the viewfinder and even change from yards to meters and vice versa. No more having to jump into a menu that you don't really know how to get to, or have a single button that is supposed to do everything. Each item is labeled and with either the flick of a switch, the turn of a dial, or the press of a button, it all changes and is all in one easy to find location.
With that out of the way, just who exactly is Cobalt? This is a brand new company that will live in the direct to consumer space. Their goal is simple, to make the best quality laser on the market…period. They are not new to the space however, with over 25 years designing, manufacturing and bringing to market distance measuring devices.
At the end of the day, you want your laser, GPS or any device really, to do one thing and one thing well. Get distance. And this does it. In fact, it does it incredibly fast with a speed that rivals any we have tested. The dial might win the award for getting settings right, but the speed and accuracy of the Cobalt Q6 is what makes it worth talking about. Well that, and a company that stands behind their products.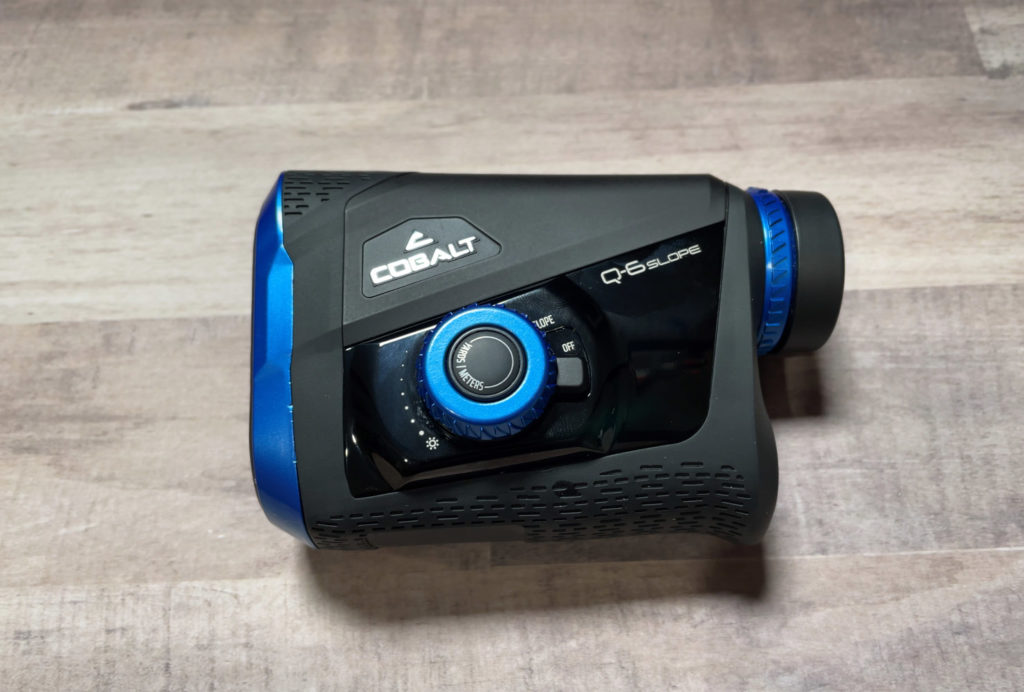 Anytime the discussion around electronics and golf comes up, the question must be asked about build quality and how long it can be expected to function as your main device. Some companies are offering some high level customer service now such as batteries for life and multiple year warranty on defects. Cobalt is taking that up a bit and the Q6 will come with a lifetime warranty. When questioned on it, the answer was pretty straight forward, "We stand behind the products we design, manufacture and sell". That sounds great, but as with any start up, one will question longevity and whether the brand will be around long enough to support any claims. In this instance, I think they are onto something here though, and the Cobalt Q6 does so many things incredibly well.
The features rival anything you would expect from your premium product.
PinSense for better auto locking on flags
Waterproofing for those days with bad elements
Red Display has 9 settings of brightness
The feature list is nearly endless
When viewing the Cobalt Q6 feature list, there are so many that increase this and add that, much of which doesn't matter in words, as long as it works. And it does, quickly and accurately with some of the brightest optics we have ever tried, and a casing that is not done in plastic, but rather a magnesium chassis with aluminum exterior.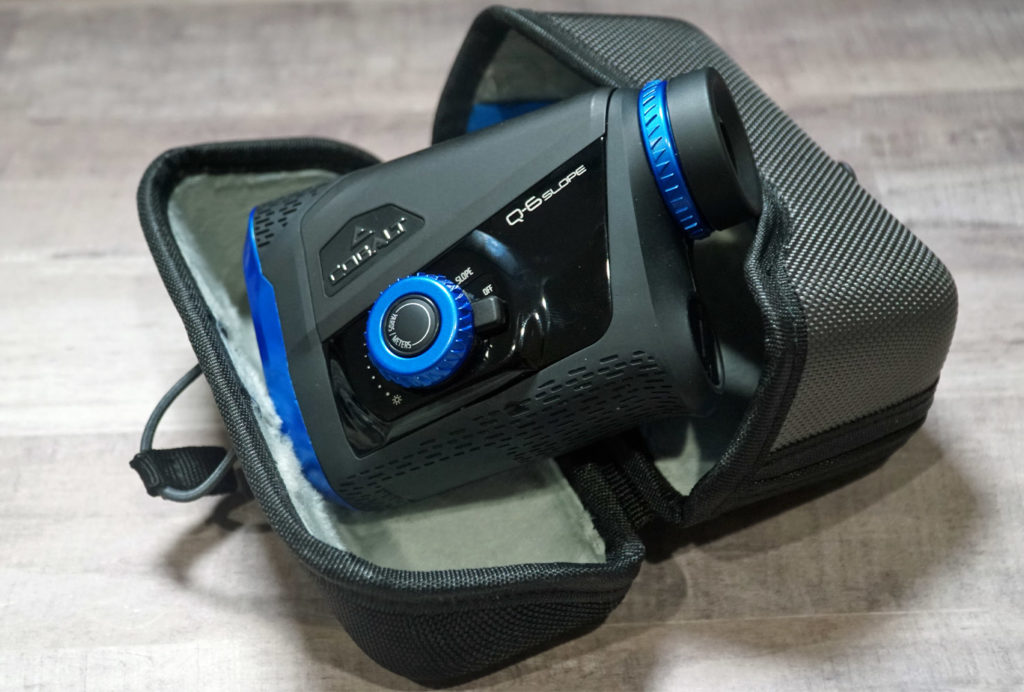 We could talk for a while about the number of areas they took big box brands (you know which one we are speaking of) and made an improvement on it. The one question we asked where something felt missing was the magnet to hold it on the cart. It doesn't have one, but honestly it wasn't missed. In fact, after our last rangefinder fell off the cart after going over a bump, we didn't even notice whether or not the Cobalt Q6 had one or not, because it was going untested (shame on us).
It's not perfect though. For a company that spent this much time and energy into making a top notch distance measuring device, they seemed to completely forget about the case. It comes with one, and the best we could say about it is "it's fine". The bag ring is heavy duty and the interior is lined with soft material. Yet there is no closure other than the elastic band. No zipper or no magnet, so we wish they created something a little more desirable there.
That not withstanding, the Cobalt Q6 is as good as any laser rangefinder we have tried to date. Speed. Clarity. Accuracy. Well built. Oh yeah and it has a lifetime warranty on top of it. Their website goes live today and orders will begin shipping on March 1st.
The Details
Cost: $420 with Slope and $370 without Slope
Shipping on March 1st, 2021