Cobra AMP Fairway Wood Review
Buzz. It's what every company craves for their product or products. Good buzz is best but sometimes bad buzz is OK as well because let's face it, no buzz means apathy which is death for a company. In the golf world, buzz used to be primarily generated by a new or modified technology but now it can be generated by a new or different color. Enter the AMP line from Cobra Golf. After releasing a white driver of their own last year, Cobra decided to up the ante and go with a not so subtle color for its line of 2012 clubs that's now synonymous with a certain orange-clad golfer. Cobra sent the AMP fairway wood to THP for some testing and yours truly had the pleasure of putting it through its paces. So was this orange hype or orange crush? Check it out.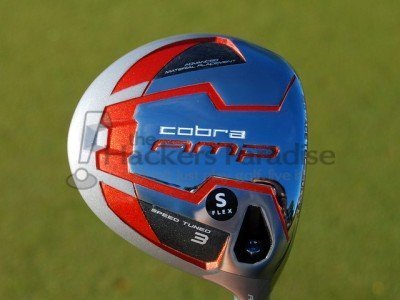 From the Company
Advanced Material Placement allows for thin walls to save weight and redistribute 15g of mass deep and back in the clubhead to maximize distance
Adjustable Flight Technology has 3 simple face-angle settings (open, neutral, closed) to optimize distance and accuracy E9 Face Technology with Dual Roll means a 30% larger sweet zone for distance and accuracy
17-4 Steel body with 465 Maraging Steel Face Insert
Look
Love it or hate it, orange is the hot new color in golf for 2012 and like white was last year, it's a polarizing color. The AMP fairway wood certainly has it but it's not everywhere on the club. Aside from the grip, orange is mainly used to accent the look of the club and I actually like it. The orange grip stands out yet somehow blends well with the dark gray Aldila RIP Speed Tuned shaft. The shaft transitions into the adjustable hosel seamlessly and turns into the light gray crown without so much as an afterthought. Turn the club over and this is where new and old come together. The light gray of the crown is on the sole too but meets a traditional chrome finish accented by, you guessed it, orange lines with some black paneling. It's a modern look with classic twists which, while polarizing, certainly looks different without being garish.

Technology
The technology of the AMP fairway borrows from previous Cobra lines (E9 face technology) and also incorporates a new approach to bulge and roll design. The Advanced Material Placement (AMP) concept allowed Cobra's designers to thin the walls of the club and move that weight to the back of the club. Why is this important? The mass now in the back of the club allows the ball to get up in the air quicker while the thinner walls of the club allow for a faster ball speed. When this is paired with the E9 face technology which gives you hotter ball speed with more forgiveness across more of the clubface you're looking at a hot little number. You can actually see the E9 technology on the clubface and if you were to connect the dots so to speak and color in that area you'd see that it takes up almost all of the clubface. Throw in the final tuning of the club found in the Adjustable Flight Technology (AFT) and now that hot ball has a direction to go in!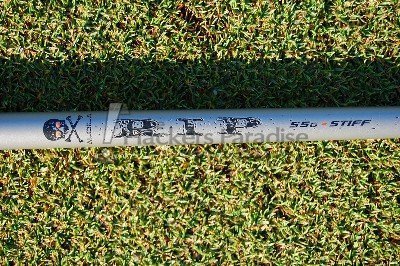 Testing
The AMP fairway wood that Cobra sent for testing was a 15* 3W with a 55g S flex shaft and a Lamkin R.E.L 3Gen grip.
When I first started swinging the AMP fairway wood I noticed right away that it was a really light club that lets you feel just enough of the clubhead throughout your swing. My first concern was that the club would race ahead of me causing a bad hook and yet I did not have that issue at all. The 55g shaft is specifically tuned for swing speeds in the range of 95-110mph and my swing speed tops out at 105 so this shaft was definitely in my 'range.' Although that is the case, I felt like I wasn't getting enough flex or snap from the shaft.
Ball striking with the AMP fairway wood gives you an interesting mix of 'heavy hotness.' Don't worry I'll explain that! You definitely feel a little hotness from the E9 Face Technology at work across the clubface yet the ball doesn't seem to jump of the clubface like I thought it would and at times felt a little heavy, almost like the ball was sitting on the clubface a split second to long. This isn't the longest fairway wood I've tested but it was one of the easier ones to swing which was a nice comfort level to have. The ball flight I was experiencing was on the higher side and while not the longest in terms of distance it was pretty accurate with a decent shot dispersion. Basically this club was very predictable in terms of distance, direction, and landing area which if you can find in a club right away is a very good thing.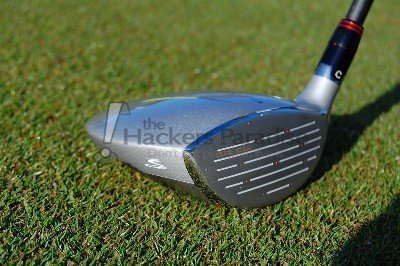 That being said, I was really impressed with the forgiveness of the AMP fairway wood. Even on extreme toe hits, which are my worst and most consistent miss, I didn't notice extraordinary distance loss or twisting of the club. Off the tee this is a nice alternative for those days where your driver isn't performing well and given the forgiveness and ease of swinging this club I can see this being a worthwhile option off the tee. I also didn't have any issues with hitting this off the deck either. While the face is a little on the taller side I had no issues with turf interaction and the club remained very stable through impact.
Adjusting the face angle of the AMP fairway is easy as bursting an orange. A couple turns of the screw and you can adjust away! I think having 3 options of adjustability is fine however adjusting 2* either way may be too extreme for those who may only need a degree to rip shots with this club. With the weight of the club I felt that the neutral setting worked best for my swing but it's nice to know that the adjustability option is there if needed.
The only thing I can say that I didn't like about the club was the grip. I felt that the grip was on the slick side and didn't have a good tacky feeling to it for my taste. I could see this being an issue for those golfers in warm and/or humid climates so it may be something worth noting when you go to hit this club.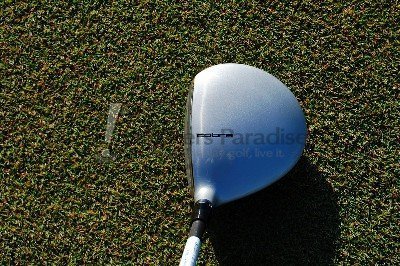 Overall
Cobra Golf hasn't always been first to the party but when they arrive they arrive with a splash. The technology that they've put into this club works in the package it comes in and works well. Orange or not, this club needs to be hit by someone looking for a fairway wood in 2012. The Cobra AMP fairway wood retails for $199 . Click on over to www.cobragolf.com for more information on this club and the technology found in the AMP line. You can also find this club at online retailers like THP approved Blind9Golf. It's solid, works, and gets the job done. Isn't that what we want in a golf club?
T. Hanks