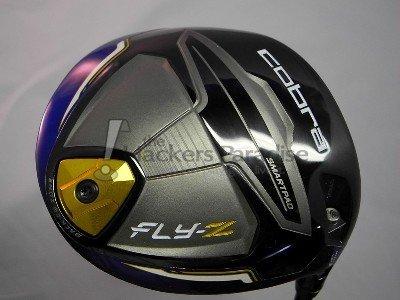 With slight tweaks to weight distribution that are designed to increase both distance and forgiveness, the Fly Z driver takes up where last year's Bio Cell left off. While the instantly recognizable colors remain, they've introduced an interesting way of taking weight from the face with their new Speed Channel technology and have positioned a large, changeable weight on the rear of the sole.
Information and Key Technology from Cobra
The Fly-Z Driver is engineered to deliver the ultimate blend of maximum distance and increased forgiveness. The low, back CG Zone Weighting delivers low spin, mid-high launch and fast ball speeds across the face. The E9 Zone Face structure and Crown Zone Weighting combine to create a large amount of discretionary weight in an all titanium driver. The weight saved is strategically positioned low and back in the head where the back zone weight is located. The MyFly8 technology allows golfers to choose from eight simple adjustable loft/trajectory settings (9.0-12.0) to maximize distance and manage trajectory, while SmartPad delivers a square face at address regardless of loft setting. 460cc Head.
Forged E9 Zone Face
It's not only about shaving weight.
It's about where you put it. COBRA R&D optimized three key weight zones that make all the difference when you're going for distance.
Crown Zone
A crown that really turns heads.
If you want extreme distance, you have to be willing to make a few sacrifices. For us, that meant repositioning weight. We removed weight from the crown to reposition it low and back in the head for a low, deep CG that delivers extreme forgiveness on off-center hits and excellent distance across the entire face.
Back CG Zone
We went backwards to push golf forward.
We took all that discretionary weight and placed it in a uniquely engineered sole weight that maximizes a low CG position and high MOI to deliver incredible distance with forgiveness across the face – making it our longest, most forgiving driver yet.
Specifications
| | | | | | |
| --- | --- | --- | --- | --- | --- |
| Loft/Trajectory | Length | Swing Weight | Volume | Flex | RH/LH |
| 9° – 12° (3 Draw Settings) | 45.50" | D3-D4 | 460cc | Lite-X | RH/LH |
Grip – Lamkin REL 360
Colors – Blue, White, Black, Red, Orange, Green
$329
Shaft – Matrix VLCT SP – 53g(L), 58g (R), 60g (S), 63g (X)
Aesthetics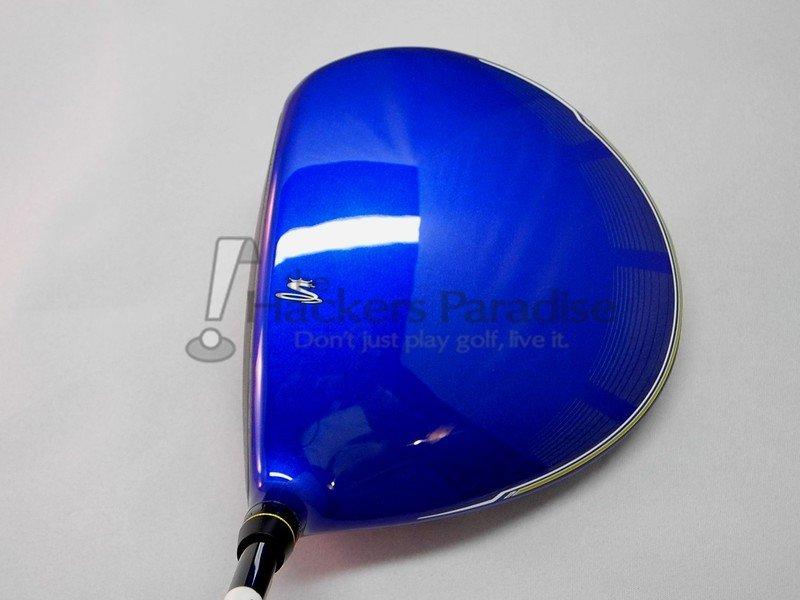 It's difficult not to bring last year's Bio Cell driver to mind when seeing the Fly Z for the first time, though admittedly much of that is related to the continuation of the bold color options Cobra is offering. The glossy blue finish sampled was exactly what we've come to expect from the company and will make the driver an instant conversation piece.
A closer glance shows a head that appears elongated from front to back, a face that is more almond-shaped, and less stockiness in the driver's profile. This of course ignores the glaring change to the face that Cobra is calling "Speed Channel", a bored out channel that surrounds the entirety of the face and is designed to increase ball speed and forgiveness. Still though, the first thing we see with the Fly Z is it's color and contrasting black face, which does at least leave the suggestion that it is very similar to the Bio Cell before it.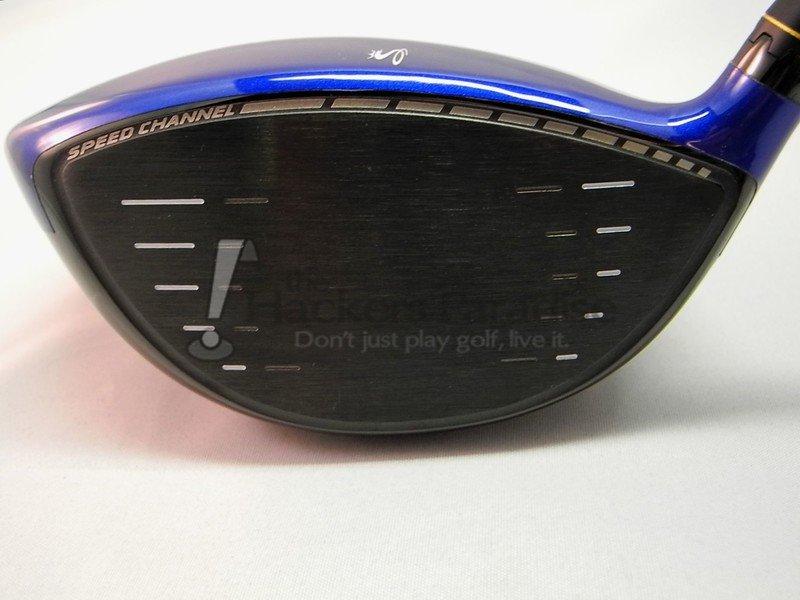 The sole reveals the large Back CG Zone weight situated at the rear of the driver. Consistent with the color accents on the crown and shaft, it's a mustard yellow that just doesn't do much for the eyes. The purpose of the weight is take the handful of grams that Cobra was able to carve out of the face and crown and position it towards the rear of the club, thereby increasing ball height and forgiveness. The weight sits in a static position (unlike in the Fly Z+ where it is moveable), but there are a variety of different weights that can be inserted here (available for purchase separately), making swing weight adjustments very simple.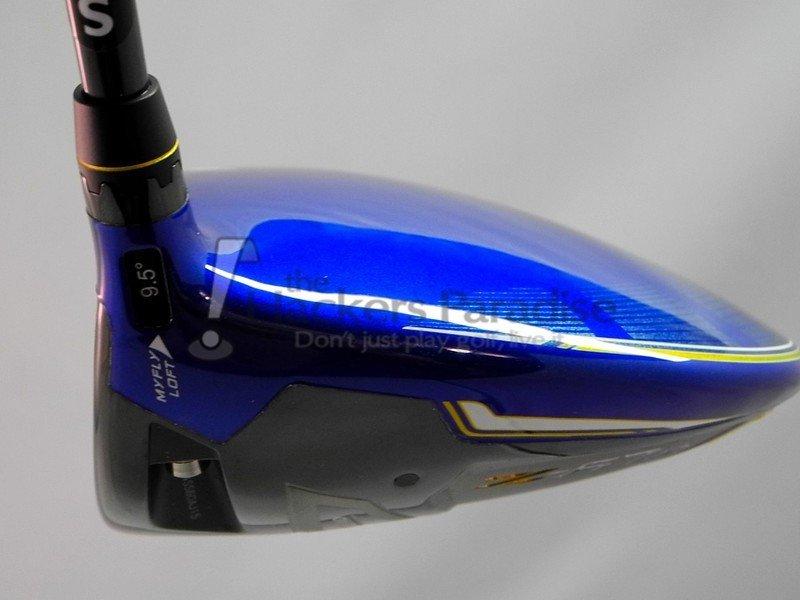 Two features have carried over from the original AMP Cell driver, the Smart Pad sole and MyFly loft adjustment and its small viewing window on the hosel. The Smart Pad does seem to work as advertised (as it did in previous models); with loft adjustments not impacting the way the driver's face angle appears at address.
Impact produced a sound that was again reminiscent of the Bio Cell. If you've hit it, you should be familiar with the muted thwack that is void of hollowness or metallic tones. It's a non-descript sound that isn't really memorable, but at the same time steers well clear of being offensive.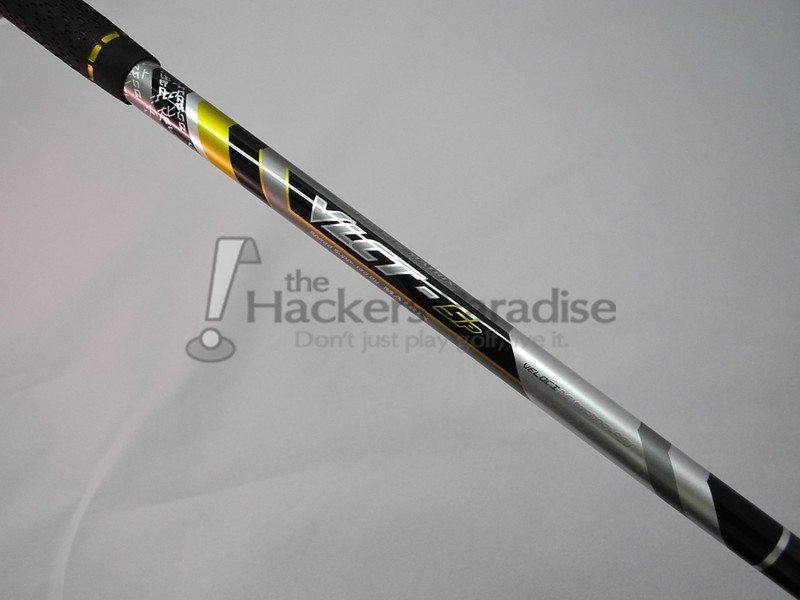 The Matrix VLCT SP shaft (formerly known as Velox) is an interesting choice. It's designed to offer slightly different performance for varying swing speeds, with the lighter flexes having a softer tip section and vise versa as the shafts get stiffer. Either way, it's going to encourage a higher ball flight. It's also built with a higher balance point, which helps control swing weights with larger, heavier driver heads and longer shaft lengths. Most amateur swing speeds will find the VLCT useable, though it may end up feeling too soft at the upper end of the spectrum. At 96mph and with the S flex, it held up just fine, though the flex in the lower end of the shaft was noticeable both when waggling and swinging it.
Performance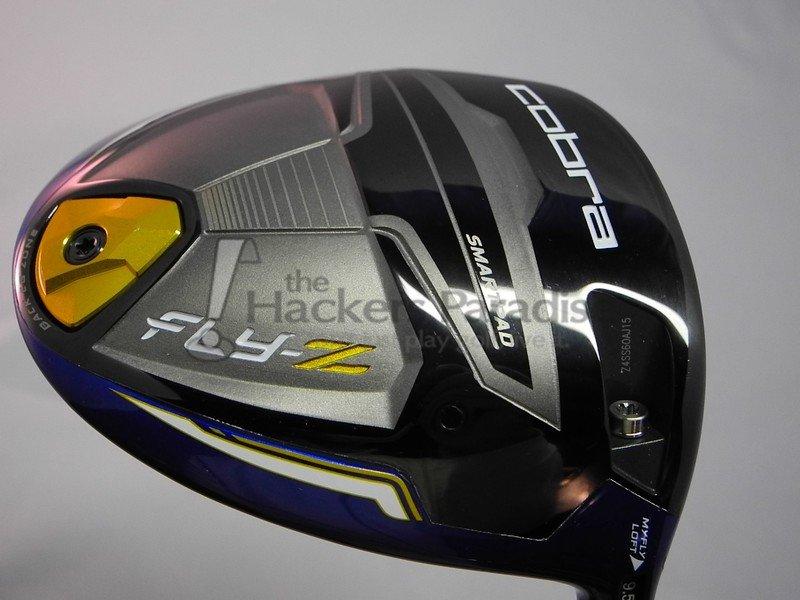 The Fly Z driver was tested with the stock VLCT SP shaft in stiff flex.
Unlike the previously reviewed Fly Z XL, the Fly Z is made to fit a larger number of player types. With its adjustable loft capabilities and a decent number of custom options available, many players will be able to find a setup that works for them.
In general, the Fly Z seemed to be a higher launching driver (16° at 9.5° of loft) and moderate spin rates (low 3000's) for a 96mph swing speed. Though spin rates will vary based on the person swinging the golf club, compared to some other drivers it certainly didn't seem to present itself as a 'low-spin' driver. Trajectory was unquestionably high at around 33 yards peak height thanks to the launch conditions noted above. Interestingly, changes to the MyFly8 adapter didn't seem to change the launch angle produced at impact as much as it did spin rates. Higher loft settings seemed to launch in the same window, but spin rates did increase, as did ball height.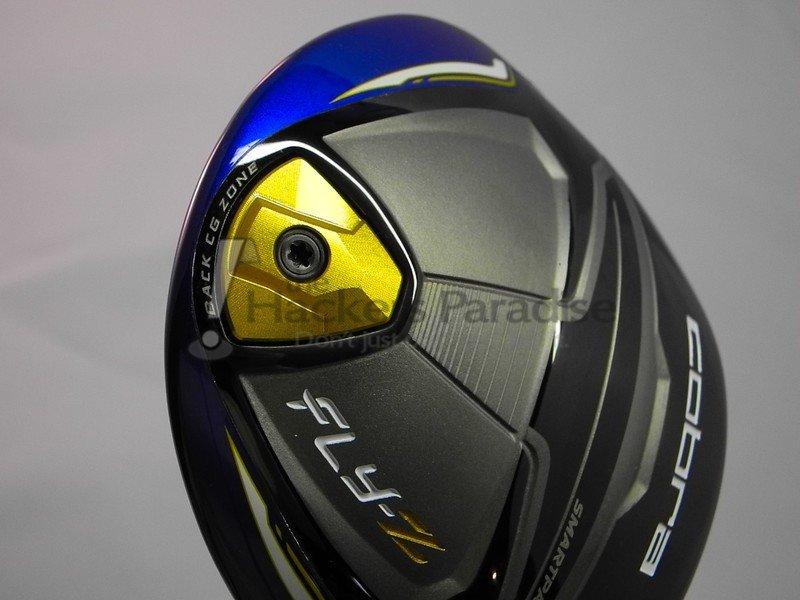 Though not to the extremes we saw with the Fly Z XL, the Fly Z did seem to have a bit of a draw bias that could be enhanced even more under some settings.
Compared to the Fly Z XL, the Fly Z provided about 5 yards more carry thanks to the 2mph more ball speed it produced (in the same loft setting). This was certainly welcome, though the high trajectory did limit roll-out. While not the 'longest' driver tested recently for the reviewer, it competed very well. Either way, this is often very fitting dependent. Off center hits were handled just as one would expect with a game improvement type driver, with around 4mph ball speed and 10-12 yards of carry distance loss noted on all but extreme misses. This planted the Fly Z well in the typical range that one would expect, but it wasn't noticeably better than the Bio Cell before it.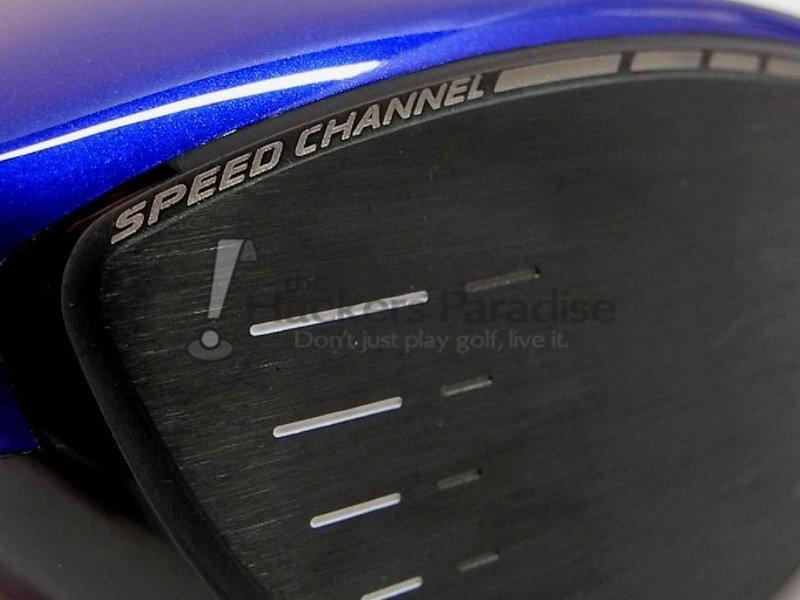 On that note, the Fly Z did seem to offer what we'd consider a similar experience to the Bio Cell in many ways. Some of that is certainly is related to the aesthetic similarities noted above, but the combination of good distance, good forgiveness, and a higher ball flight seemed to further that feeling. There are a number of things that differentiate the two when one looks closely, but it appears Cobra took all the good things about their previous driver and attempted to slightly improve on them. Those that have been fans of the last two generations of Cobra drivers will find plenty to enjoy with the Fly Z, though whether there will be a need to pursue an upgrade is less certain.
More information on the Fly Z, including a list of custom options, is available at Cobra's website, www.cobragolf.com.