We get the opportunity to review a lot of distance measuring devices at THP. From lasers to GPS watches and everything in between. At the current rate of release, there appears to be a new laser coming out every few months that falls into the bargain category, and they are definitely not all created equally.
Our first goal when testing out a device like this is the one thing that is most important to the golfer, accuracy. From there speed, features, build quality, battery life, etc all come into play. When Gogogo Sport reached out regarding this laser rangefinder I was a bit skeptical. Coming in at under $100 for non-slope and and under $120 for a slope model with a toggle switch was a bold challenge.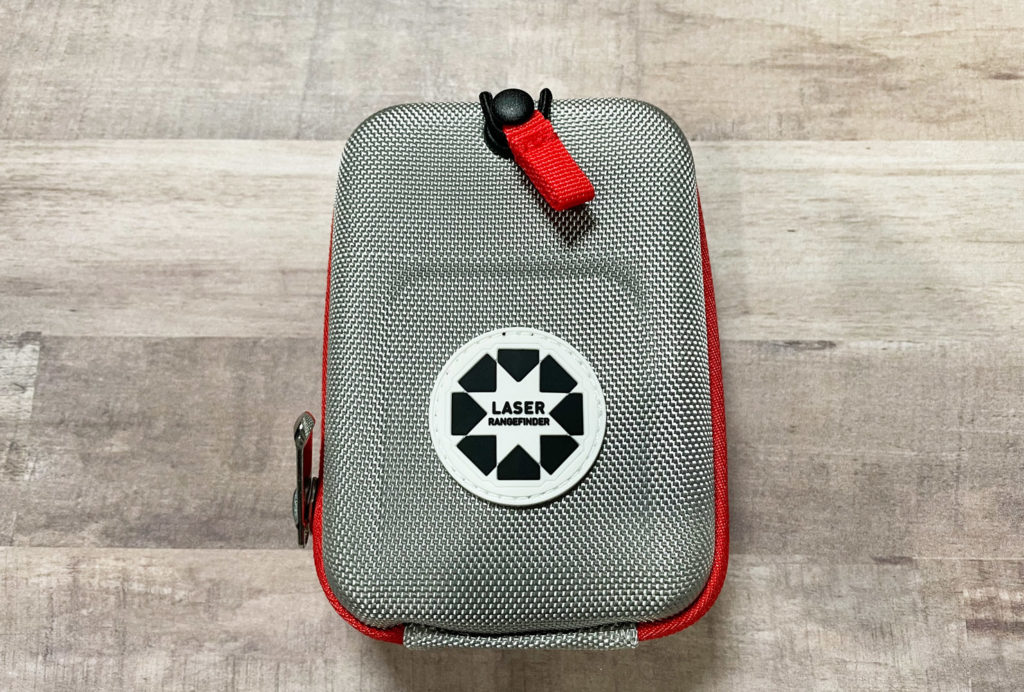 First Impressions
The Gogogo Sport VPro GS24 Rangefinder comes in a pretty standard brown box. Upon opening it, you see the case, which immediately gives the impression of the Bushnell models with the silver thread weave type of case with red highlights. A simple patch is on the backside that says Laser Rangefinder.
Unzipping the case gives you a very no frills appearance. Plastic exterior in white with black accents with a soft feel type of touch to it to prevent slipping. Two buttons are featured on the top, one for power and shooting, and the other for different modes. This model features Slope, so there is a small toggle switch on the side to turn it on and off so that it can be used in tournament play.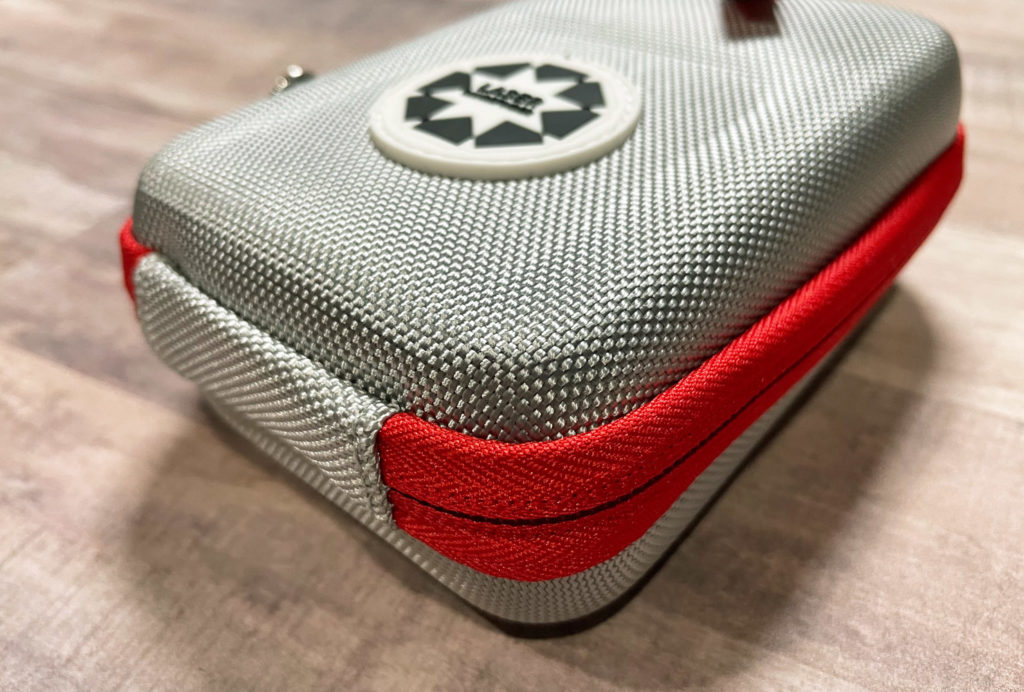 Using the Device
The golf tech space can bring high end and innovative features, and many times that comes with a price tag to match. The Gogogo Sport VPro GS24 laser does not. With that said, it's functional and before moving on to the highlights, a couple of things to note.
In the hand it is quite comfortable. Not too large where you are fumbling to use with a single hand and not too small where you might struggle to lock on a target. The buttons are easy to get to without needing to put it down and seeing what you are pressing or the need to use another hand, as everything falls into a pretty natural spot. The viewfinder is clear, bright and features the text in black exactly where you would expect.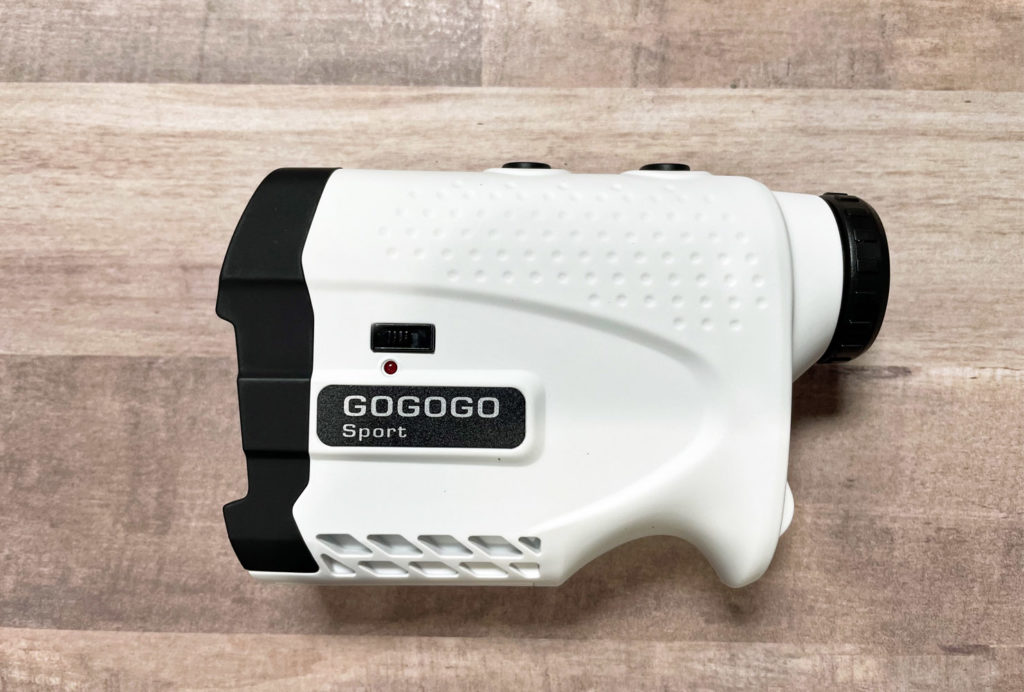 Locking on the pin was relatively easy. During testing, it didn't seem any harder to read the pins from some pretty deep distances and the Gogogo Sport VPro GS24 can be used from upwards of 650 yards. We tested the distances against a Bushnell Tour V5 and they were either spot on or with in a single yard every time during multiple rounds out on the course. Turning the Slope feature on, we expected to find some discrepancies in the data, but those too were with in a yard of the Bushnell with each press of the button. Once you lock onto your target, like many devices, you get a subtle vibration to let you know you nailed it.
The Speed is somewhere within range that is acceptable for a device coming in at a price level that is arguably the least expensive on the market with features that match. At the time of this writing it is $89 or $109 (there is an Amazon Coupon on the page here) saving an additional $10 off the normal price. This is not an affiliate program and we have no affiliation with the company or Amazon for this device. It is not the fastest laser we have tested, but acceptable given the price point and accuracy.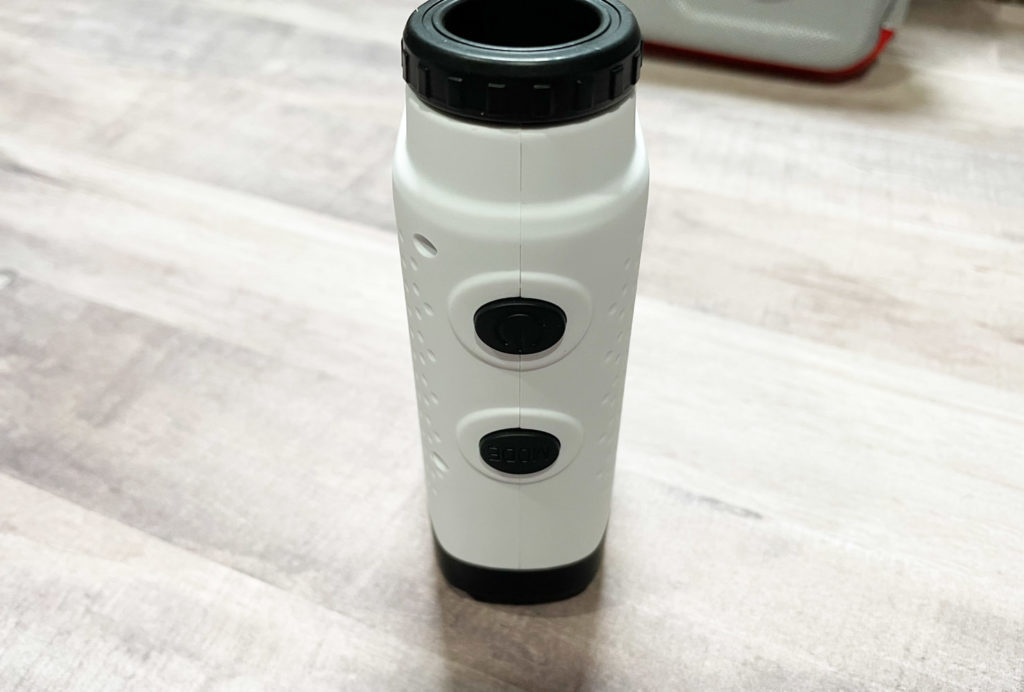 Battery Life and Build Quality
The batteries are not supplied with the Gogogo Sport VPro GS24, which given the price point makes a bit of sense. With that said, it uses AAA rather than the more obscure sizes some devices use. We have used the device for multiple rounds and countless practice sessions on the same original two batteries we put in and are still going strong.
The build quality is better than expected. This little device has been dropped, fallen out of a golf cart, etc and doesn't even show a scratch. Is there a level of service questioned at this price point? Probably. I would venture a guess that it is disposable rather than repairable device, but so far we have not had a single issue, and frankly, the company backs it with a 1 year warranty with going so far as to completely replacing the device if there is a manufacturing issue.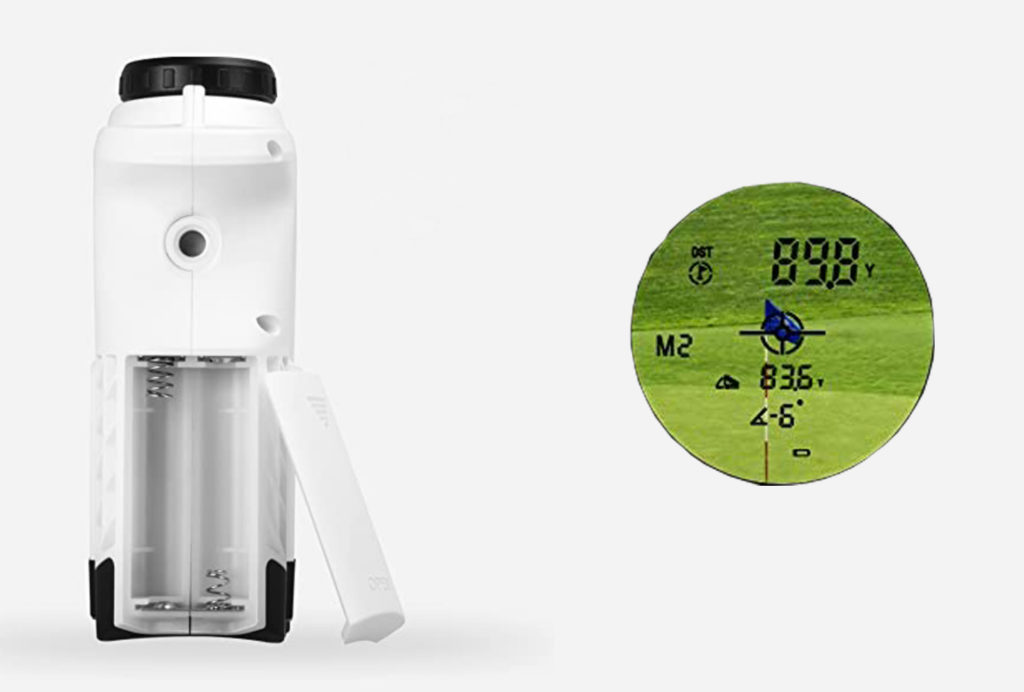 Final Take
In the bargain laser rangefinder market there are a lot of choices, and the Gogogo Sport VPro GS24 doesn't necessarily stand out from the crowd in tech specs. Yet the price stands alone as one of the least expensive we have encountered for a device that works pretty darn well. If you are on a limited budget and looking for something that you can have quickly (Amazon Prime), this might be a solid option.
For more information you can check out their website here. You can also find it for sale on Amazon and currently it does have the coupon to save an additional $10.