The forgiving wedge design is one that seems to ebb and flow throughout the golf market, and right now we are most certainly seeing an uptick in interest for them. Because of that, when THP got the chance to work with KZG's Super Sole wedges, I was excited to see how their wide sole creation stood up to the rest.
Quick Take
Point and swing. The Super Sole wedges from KZG are right in line with similar options on the marketplace, and that is a good thing. Super wide soles with lower bounce ratings make for wedges that make the game easier for the golfer who needs it. No tricks here, set up to your target, and swing.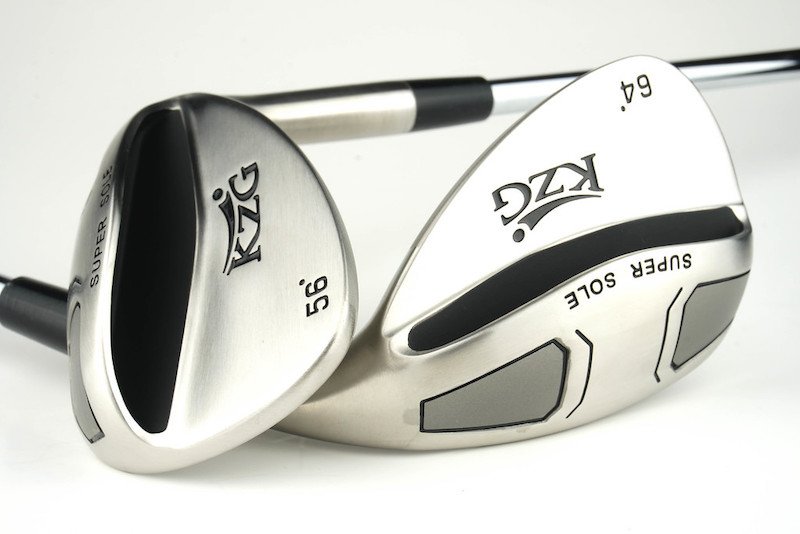 Who are KZG?
I realize that KZG is a brand name that not everyone is likely to have heard about, so with that in mind, a little background on them is definitely worthwhile. Many probably don't realize that KZG as a company has been around since the early 1990's, and prior to becoming "KZG", owned the technology of and were heavily involved in the production of one of the most popular clubs of all time, the Orlimar Tri-Metal.
As time went, company president and CEO Jennifer King established KZG to fill a niche she believed was absent in the golf market, high end manufacturing and designs with the critical emphasis being on proper fitting. Because of this mission statement, KZG has remained a bit of an under the radar anomaly with a following that is as devout as any other OEM out there, the issue is if you don't get fit, you aren't going to get access. Now, that isn't me portraying that as a bad thing, it is at the foundation of what the company stands for and they will not bend on that, which frankly, I respect.
With a network of fitters across the nation, the opportunity for most of the heavily populated golfing regions of the United States can find a fitting/performance center. Are they accessible for everyone? Not at the moment, but they do have ambitions of continuing to expand their network and thus availability.
KZG Super Sole Wedges
What is the old saying? Beauty is in the eye of the beholder? Well, I would like to add that the definition of beauty isn't always aesthetic. The growing trend of companies offering a super wide sole higher lofted wedge design fits right in with that, they're not going to win many beauty pageants, but if you struggle with your wedges greenside or from the sand and rough, then this is a design you should take note of.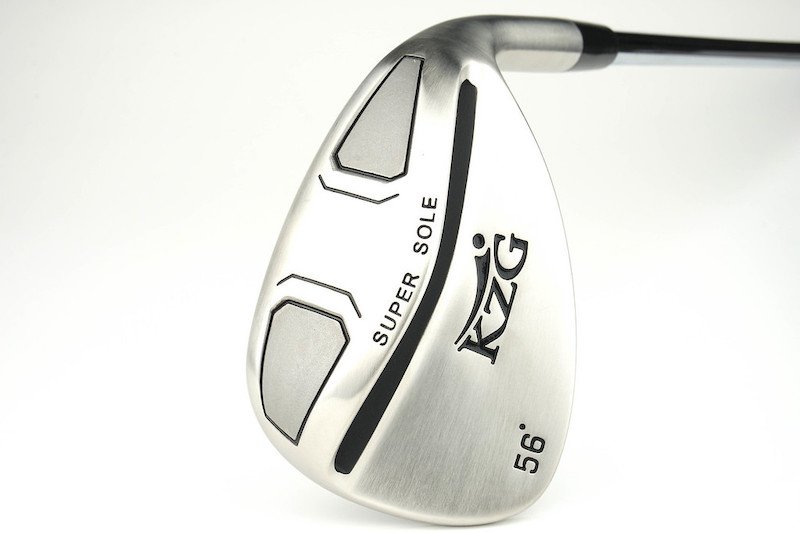 Right away, yes, the KZG Super Sole design looks reminiscent of designs from two of the major OEM's out on the market right now. But seriously, what do you want a club like this to look like? The design itself necessitates a specific look. The wide sole paired with massive undercut and a face you feel like you could flip pancakes on con only be dallied up so much. So instead of focusing on what this design looks like, if that is your thing right now, why not focus on why every company doesn't offer something like these?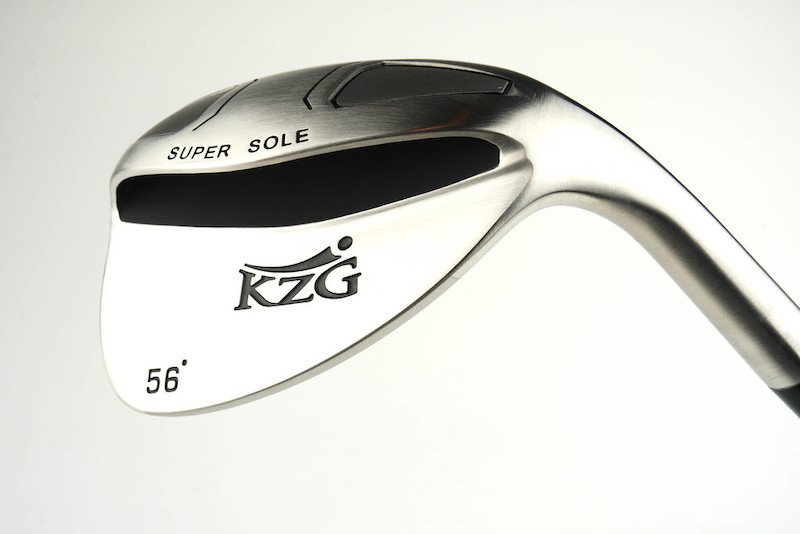 The Super Sole wedges come in four loft options (56°, 58°, 60°. And 64°) of which I was able to work with the 56° and 64° for this review. Coming off of a review with a similarly designed wedge I had a hunch of what to expect, and that held true throughout, which I mean as a compliment. The Super Sole wedges are made of 304 Stainless and feature a simple satin finish that is as straight forward as the performance of the wedge design itself. The wedges have 4.5° of bounce on the sole which seems low at first but given the overall width of the sole being so much more than a typical wedge it plays much different than the number would indicate.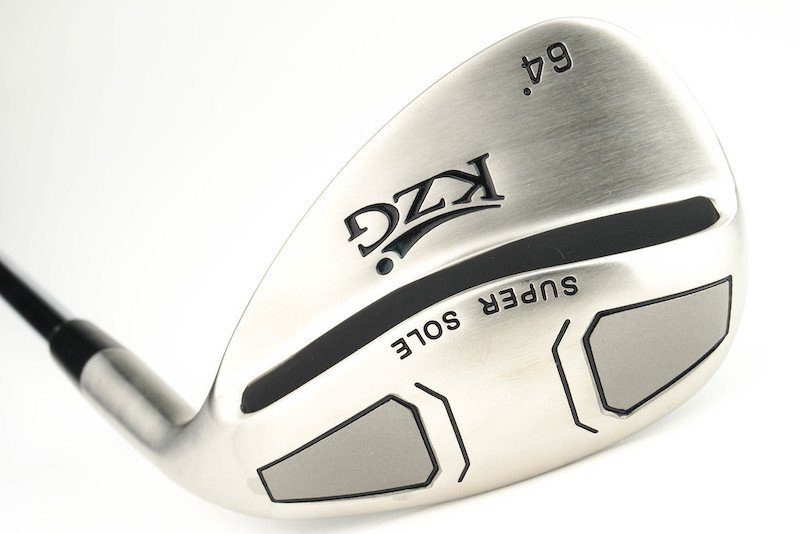 When you sit the Super Sole wedge behind the ball the first thought is likely to be that if you miss this massive face then maybe you should take up another pastime. Seems harsh, but the face on these is gargantuan and it features a heavily rounded leading edge that intends to help sliding right under the ball, not something great ball-strikers may want in a wedge, but something that frankly a whole lot more golfers than will ever admit it could benefit from. The massive surface area is meant to inspire confidence in those who need it, and I believe KZG checked that box well, although looking down at the 64° did at one point make me fear for my face a little bit with all of that loft.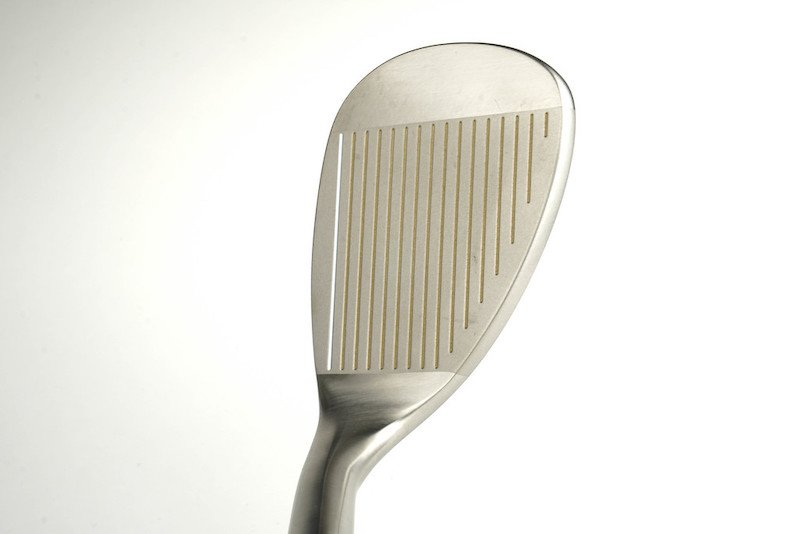 For performance, it's simple, they work. I could sit here and spew to you a ton of numbers and data that I saw during this review, but I really don't think it is needed. They launch high and quickly, and because of that the spin doesn't have to be overwhelmingly high, though in this case it was quite good. I worked the pair of wedges from the sand, greenside, thick rough, fairway, and a plethora of other lies which they responded to incredibly well, if the person swinging the club would get out of the way. What I mean by that is I am a player who loves to manipulate his wedges, but here that isn't part of the design, nor is it needed. These are built to glide through whatever lie you throw at them and to do so in a square setup where no extra thoughts are needed to the brain, which is 100% what wedges like these should do.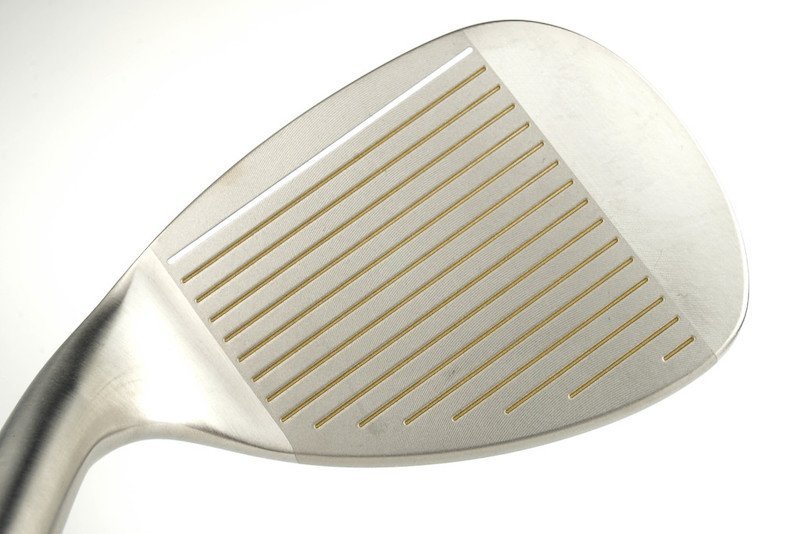 No, the Super Sole design won't be for everyone. No, the feel isn't super soft or muted. No, they're not the most elegant things out there. However, they do what they intend, and they are also still part of KZG's fitting emphasis which means even in a design based on simplicity, the company wants to make sure you are getting the best setup for you. To do that as well as to find out the price point, you have to go to one of the fitters in their network, and kudos to KZG for sticking to the base tenet that they were built on.
For more on KZG golf be sure to check out their website (www.KZG.com) and hop onto The Hackers Paradise forum for conversation with golfers just like you.