While some may not recognize the KZG name immediately, rest assured it is one built on the premise of quality designs made with the best materials. So, when I found out that THP would be getting a closer look at one of their iron sets, and I would be the one working with them, I was more than just excited.
Enter the KZG Tri-Tour irons. Let's get after it.
Quick Take
Bold looks that dare to be different, just like the brand behind them. The KZG Tri-Tour irons take the trend of weights in irons to a more efficient and effective level. Combined with a profile that marries forgiveness with visual sleekness, these are fully forged cavity back irons built to perform.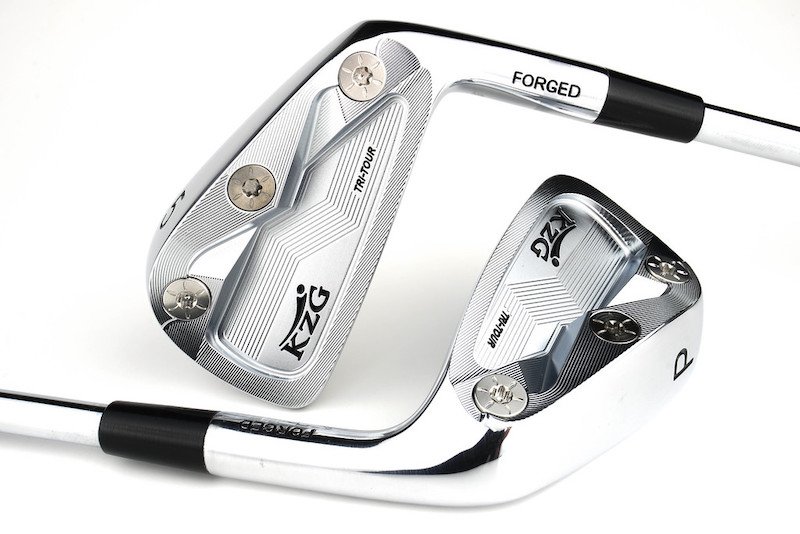 Who is KZG?
I realize that KZG is a brand name that not everyone is likely to have heard about, so with that in mind, a little background on them is definitely worthwhile. Many probably don't realize that KZG as a company has been around since the early 1990's, and prior to becoming "KZG" were owned the technology of and were heavily involved in the production of one of the most popular clubs of all time, the Orlimar Tri-Metal.
As time went, company president and CEO Jennifer King established KZG to fill a niche she believed was absent in the golf market, high end manufacturing and designs with the critical emphasis being on proper fitting. Because of this mission statement, KZG has remained a bit of an under the radar anomaly with a following that is as devout as any other OEM out there, the issue is if you don't get fit, you aren't going to get access. Now, that isn't me portray that as a bad thing, it is at the foundation of what the company stands for and they will not bend on that, which frankly, I respect.
With a network of fitters across the nation, the opportunity for most of the heavily populated golfing regions of the United States can find a fitting/performance center. Are they accessible for everyone? Not at the moment, but they do have ambitions of continuing to expand their network and thus availability.
The KZG Tri-Tour Irons
With very little knowledge of KZG Golf other than the cult-classic ZO Blades that the company once produced and caught on in the internet golfing market like wildfire, my baseline expectations upon finding out I would be working with a set of their irons were unknown. The Tri-Tour irons might be the perfect set for KZG to have sent in, however. Featuring a high-level triple forging, looks that will turn heads (one way or another), and genuine weight adjustability in the heads as opposed to just putting them there for looks like some companies, they offer a lot to the eyes and the mind.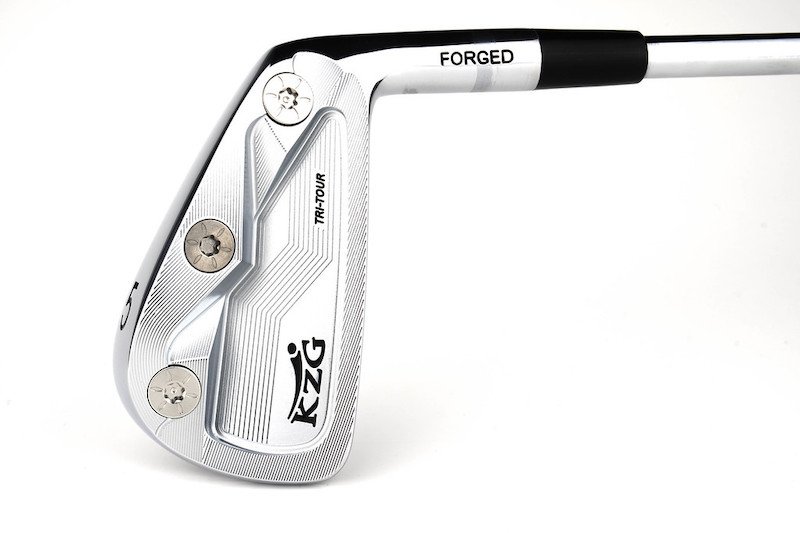 The company calls then a "midsize cavity back head" but really, they're a visual and profile anomaly to me. I have worked with a lot of iron sets over the years, and these may blend players and forgiving profile traits as well as anything I've seen. Heel to toe the length of the blades are on the longer side inspiring more confidence of forgiveness behind the ball. Likewise, the sole has more width than you would typically find in a lot of forged cavity back designs. Those things in mind, the offset is also kept low and likewise the topline is going to be much smaller than many would anticipate. It's a profile that offers increased playability (for a forged CB iron) while keeping a look that most low handicappers would never kick out of bed.
Working with Weight
Obviously, by taking a single look at the Tri-Tour irons you know exactly where the tech story is. Featuring three adjustable weights in the rear of each club in the set, the idea for KZG was to amplify the fitting potential to play to an even broader audience than a typical forged cavity back. Yes, other clubs out there have weights in similar locations, and they claim fine tuning is capable via those weights, but these are easily removeable by anyone with a club wrench. While weight setup is going to be decided at a fitting for the Tri-Tour irons, THP was able to get an assortment of the weights in hand to tinker around with during the review.
The weights are designed to offer perhaps more versatility to weight options than one may initially expect. Yes, with different options (we got in extra 1.5g, 3g, and 7g weights) the swing weight is easily adjusted for simple fitting. But, with the placement of the weights, KZG claims you can also set the club for more forgiveness (heavy in the outside ports), fade (heavy in the toe), or draw (heavy in the heel), additionally in standard setup the heads are set at 3g/9g/3g with the biggest mass behind the sweet spot.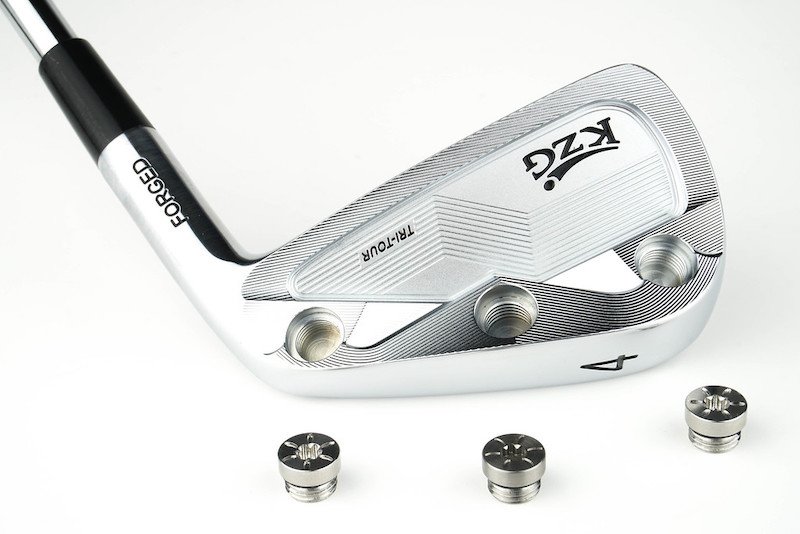 During the review I did adjust the weights into various configurations to see if there was truly a tangible effect on the ball flight. Now, as is always the case, I tested the clubs on the Foresight GC2 launch monitor, however, I found testing these aspects increasingly difficult from a data perspective as far as setting up a consistent comparison with my swing. With that in mind, rather than displaying potentially skewed data I'd much rather discuss the changes.
As previously mentioned, the movement and adjustment of weights actually installed in the heads can have a dynamic impact on swing weight if not properly monitored, a big reason that I am a fan of KZG's fitting philosophy here. During the review I tried various irons in the three different configurations outside of standard in the 4i, 7i, and PW. Most noticeable was the impact of going heavy/light/heavy in the 4i as it really did seem to increase both the stability of what for me is always a demanding club in the set as well as the general ease of launch. Additionally, placing the weights heel or toe biased did somewhat impact the amount of movement I seemed to get, though for me the Tri-Tour were already a super easy set to turn over. One big thing I do want to get into a bit is that the feel was not sacrificed when the weights were altered/adjusted which was a pleasant surprise.
Unique Performance with Unique Experience
The KZG Tri-Tour irons were eye openers for me during this review, not because they are revolutionary from a tech or story point of view, but because they are so unique in both performance as well as experience. The profile is enjoyable to look at, and though aesthetically the heavy milling and hard angles may not appeal to "traditionalist" eyes, they rival any "modern" CB design I have ever had in hand. More than all of that though, the sound and feel is, in a word, addicting.
At impact there is no clickiness, so if your appeal is more in that sharper range, you may not enjoy what you get, but, in my experience the vast majority of praise for forged cavity back irons comes when there is a muted/plush feedback at impact that these most certainly possess. It should also be no surprise that given the design type and profile, there is also ample feedback when it comes to misses.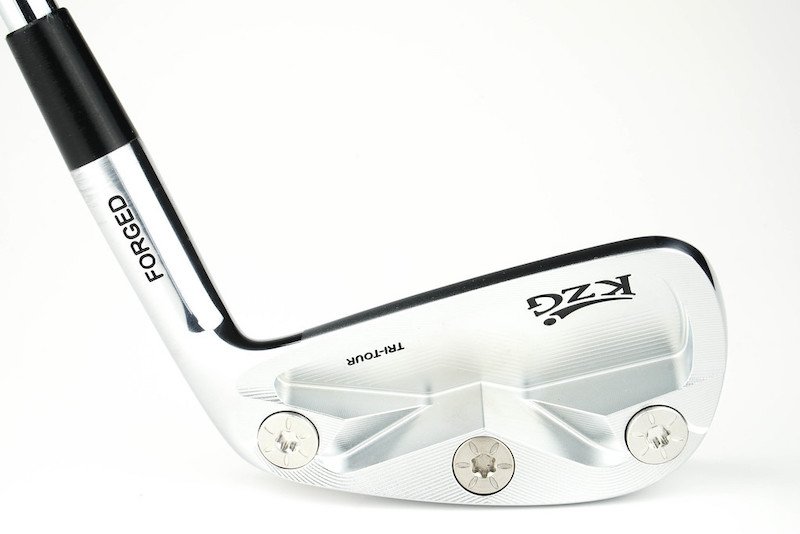 As is custom in my reviews, I utilized the Foresight GC2 launch monitor during the process to get a more data driven feedback to supplement what I believed I was seeing with my eyes. Given that the KZG Tri-Tour Irons do have less aggressive lofts (PW plays off 45°, 7i off 33°, 4i off 23°) and were paired with KBS Tour shafts, I anticipated, and achieved in all clubs except the 4i, peak heights that cleared that 30 yard mark. Additionally, spin numbers were in a much more traditional realm with the 6i for example, coming in at 5,874 RPM which for my swing is typically on the high end of things. In terms of distance though, I saw a 9i that averaged out (carry) playing 156 yards which isn't as long as some sets out there, but these to me definitely aren't trying to be distance irons, they're built for consistency and accuracy.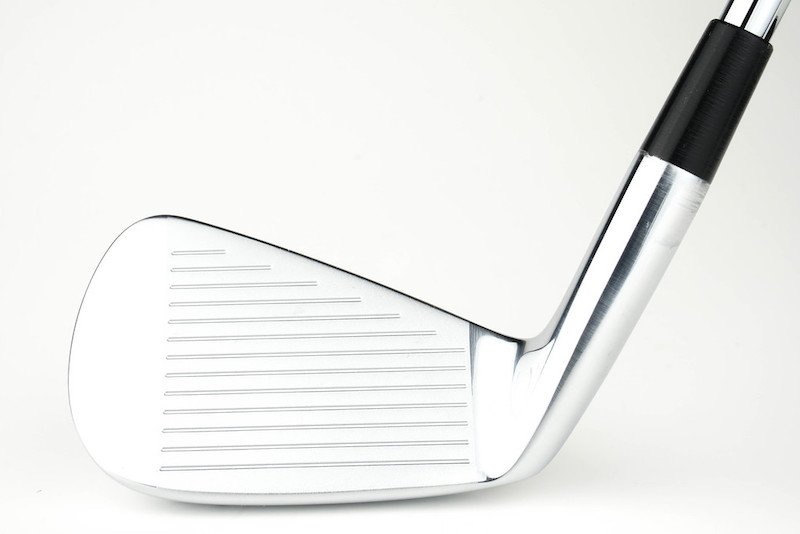 On that thought point, the Tri-Tour flat out impressed me with their playability. Typically, in a forged CB that gives me this type of feel/sound feedback there is a notable demand level as well. Here though, that previously mentioned heel to toe blade length and wider sole let me to get away with more than I probably should have. The sole interaction held up well given I was testing during a period of significant rainfall here in Oklahoma and I was still able to be pretty aggressive in the conditions.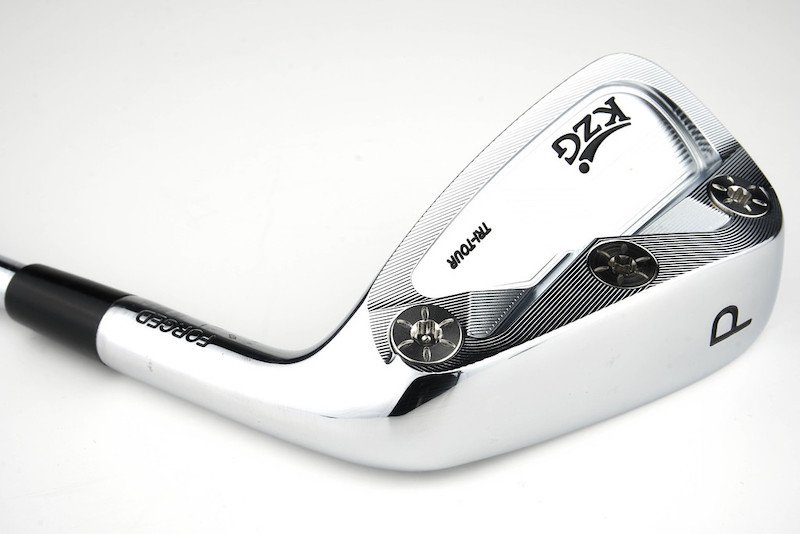 I definitely think that KZG has something fun and different in the Tri-Tour irons. They're not the most forgiving, but they don't pretend to be. Likewise, they're not the longest, but they also aren't trying to be that. Instead, they are a heavily adjustable iron head and that makes them a perfect fit (pun intended) with a company like KZG where they don't release pricing to the public for an effort to get golfers to go get fit by one of their authorized locations. It is clearly a bold and different track than the majority of the industry, but given KZG's history, they embrace being unique, and you have to respect that.
For more on KZG golf be sure to check out their website (www.KZG.com) and hop onto The Hackers Paradise forum for conversation with golfers just like you.