Earlier this year we told you about Nippon Shaft expanding their graphite shaft lineup with the debut of the N.S. Pro Regio Formula MB+. Well, we have now had the new release in hand and have been able to put it through its paces.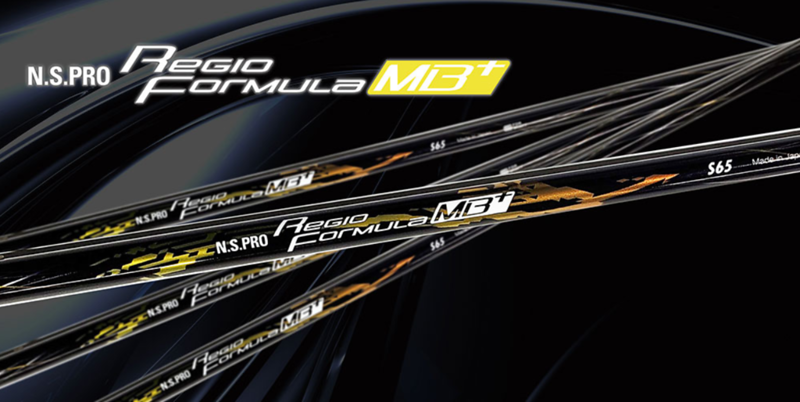 Want to know more? Read on.
Quick Take
Fans of the Nippon feel and precision in their irons will most certainly find a feeling of familiarity, but in graphite. Golfers will get the same quality and performance they expect from Nippon. Bottom line, comfortable performance that will both surprise and enamor those familiar with the companies MODUS3 iron shafts.
Nippon N.S. Pro Regio Formula MB+
The new Nippon Regio Formula MB+ shaft builds on company's previous releases, specifically the Formula MB which THP's own Dan Edwards reviewed here.
So, what has changed? Well, the previous MB had a profile which was firm in the butt, mid, and tip and of the shaft, this time with the MB+ they have tweaked that profile with a slightly stiffer tip and mid-section, and slightly softer under the grip. Along with the profile shift, where the MB used T1100 in the tip section, the MB+ now has it along the entire length of the shaft, this is a vary big deal as T1100 is not a cheap material.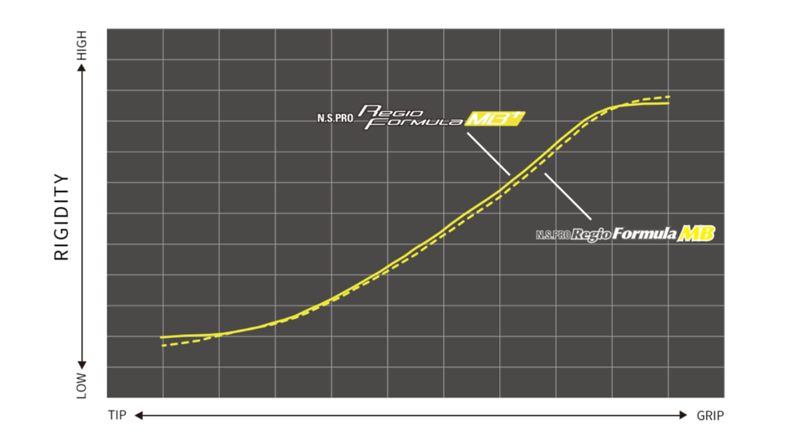 Though you might not be familiar with the fact that Nippon makes graphite shafts, let it be clear that their materials and design standards are as good as anyone in the industry, while also keeping the super high tolerances that they are known for front and center. So, how does it perform?
Through the Paces
I worked with the Nippon Regio Formula MB+ in 65X for this review, and it is worth noting that testing was done in a Cobra Radspeed 9.5° driver head. I will also state, that in the case of this one, thanks to some seriously crazy weather, work was done indoors using a Foresight GC2 launch monitor.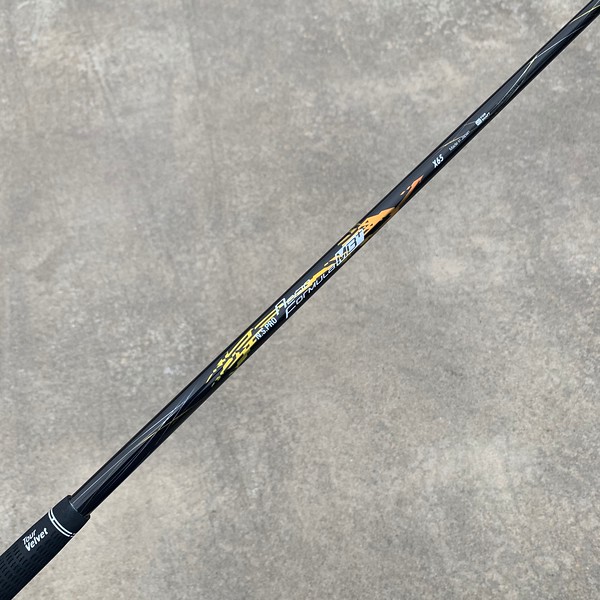 One thing that stood out when we first found out about the MB+ was the aesthetics of the design. This is a sleek and clean gloss black shaft which has an eye-catching splash of yellow/gold accents around the logo and with small swirls of gold along the length of the shaft. Kudos to Nippon here as the graphics and accent colors are such that they can be installed logo down and keep the clean look from address that many seek.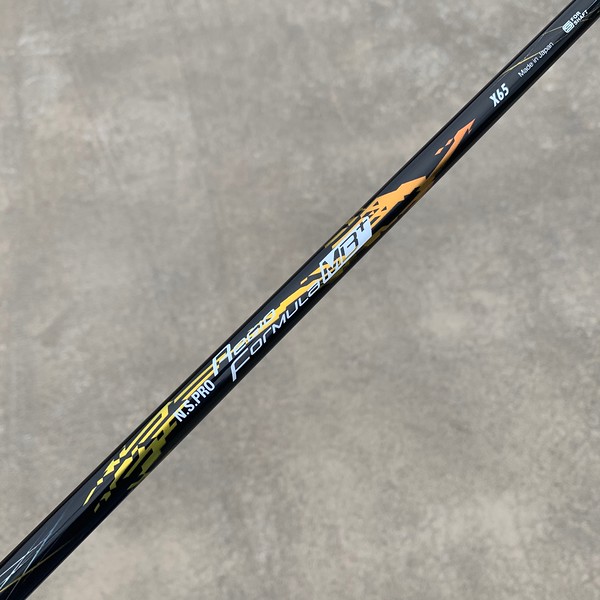 Now, this one feels good, really good. If you have played Nippon's MODUS3 105 or 125 profiles, then you know what the feel of this one is like. There is a connection and fluidity through the swing that is just so controlled and predictable that it drew an audible reaction from me in the first few swings. The company talks about it being a match for those who like the 105/125 iron shaft profiles, and the things I saw fit that extremely well.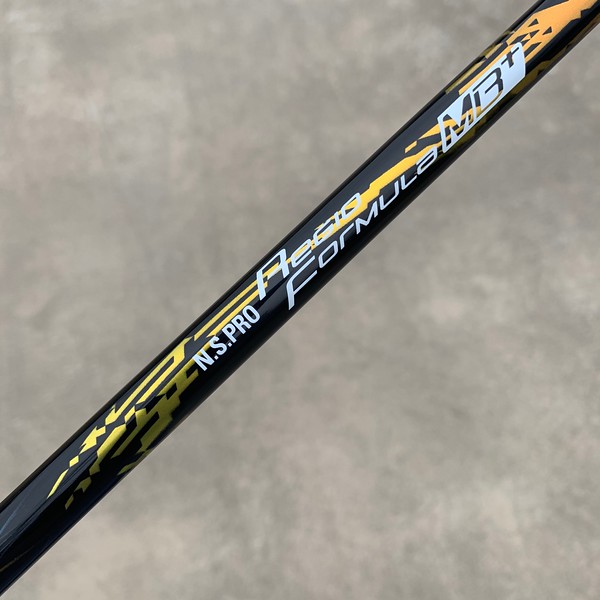 Seeing as the Regio MB+ is a mid-kick point design, I expected a more mid launch, and that is precisely what I was seeing. With the 9.5° head, my average launch angle on the Foresight was coming in at 11.3°. In the bigger picture, spin numbers leveled out at 2,276 RPM's, and ball speed average was 158.8 with a high speed of 162 MPH. I bring all this up because this is one shaft that in review exceeded my expectations not just with data that was good, but because the entire performance package stood out. No matter how hard I turned after or babied the MB+ there was nothing but a feeling that it would respond no matter what.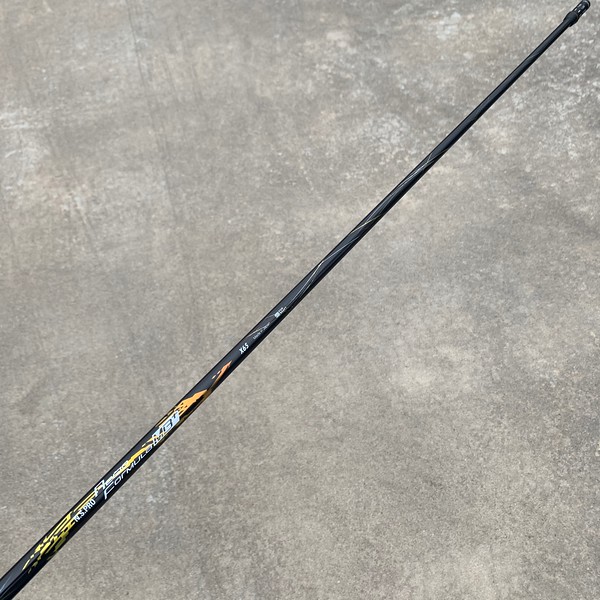 All that said, it should be kept in mind that we all have unique golf swings and fit will always be king, but if you can track one of these down somewhere to try out, it should definitely be on your "try" list. The MB+ is available in four weight ranges with various flexes (45 – R/S, 55 – R/S/X, 65 – SR, S, X, 75 – S, X) that should mean there is a viable option for everyone.
For more information check out the feature page at www.NipponShaft.com.