PING is known for a lot of things, their legacy is obviously first and foremost, but in recent years they have been in a seemingly endless groove of positive feedback and success when it comes to their irons and metalwoods. Somewhere in the middle of all that, however, is the Crossover, a club that PING has continued to evolve in order to try and carve out a niche within the utility iron segment.
Have they succeeded? Well, we at THP were able to get the new G425 Crossover in-hand to work out and attempt to answer just that.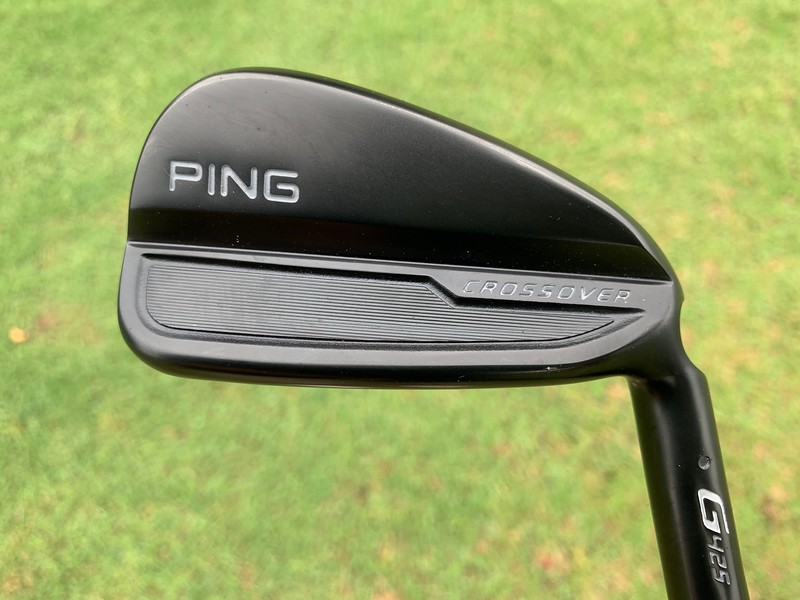 Quick Take
The most visually appealing PING Crossover (utility) yet, though still one-hundred percent PING in its appearance. Easy to elevate, good ball speeds, but a feel that lands on the firm/sharp end of the spectrum, particularly on misses. Those comfortable with its predecessors will find a lot to like in this one as well.
PING G425 Crossover
For this review I was able to work with the PING G425 Crossover in a 4-iron model which is a 22.5° club intent on being a direct 4-iron replacement. That is the big key to the Crossover for PING from a design standpoint, they have stopped trying to create a distance monster, and instead turned back to their heritage story of focusing on playability.
The G425 Crossover uses an obvious lower center of gravity with more mass towards the sole of the club in order to increase the launch compared to a standard iron. Similarly, they are utilizing tungsten weighting both visibly in the toe with a screw as well as internally in the hosel to stretch the perimeter weighting even more and increase the MOI which should mean more stability on misses. Additionally, it is a hollow body design combined with a miraging steel face that is thinner than past versions to try and up the ball speeds while still gapping well into the standard irons in terms of spin and distance.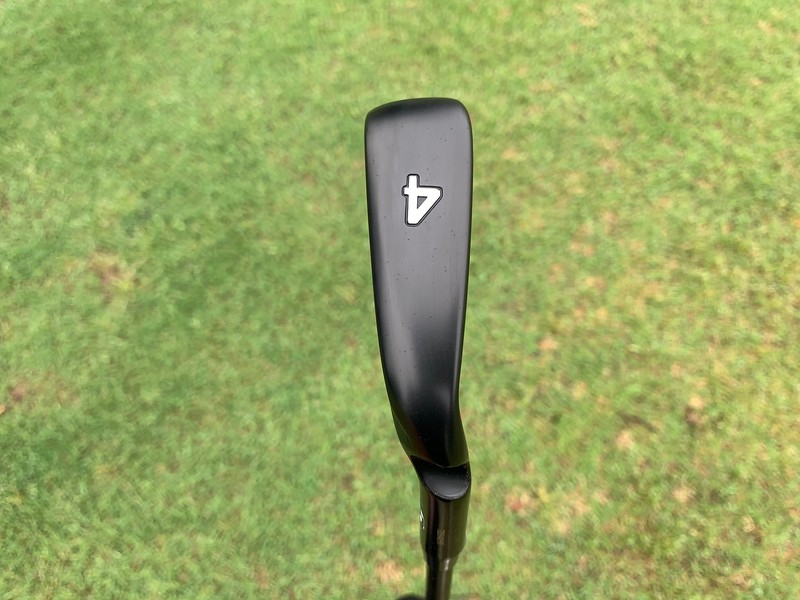 In-hand, it's the best-looking version we have seen yet from PING, in my opinion. The decision to go black in finish was a wise one as naturally it has that "slimming" effect. The whole package is still very "PING" from a visual standpoint, particularly in the shaping of the toe as well as the amount and general flow of the offset. One thing PING did well here is that although it is longer heel-to-toe, you can't see the sole from address like you can some others, and the topline is moderate enough that it won't be an issue for most so long as they are comfortable with the overall PING profile.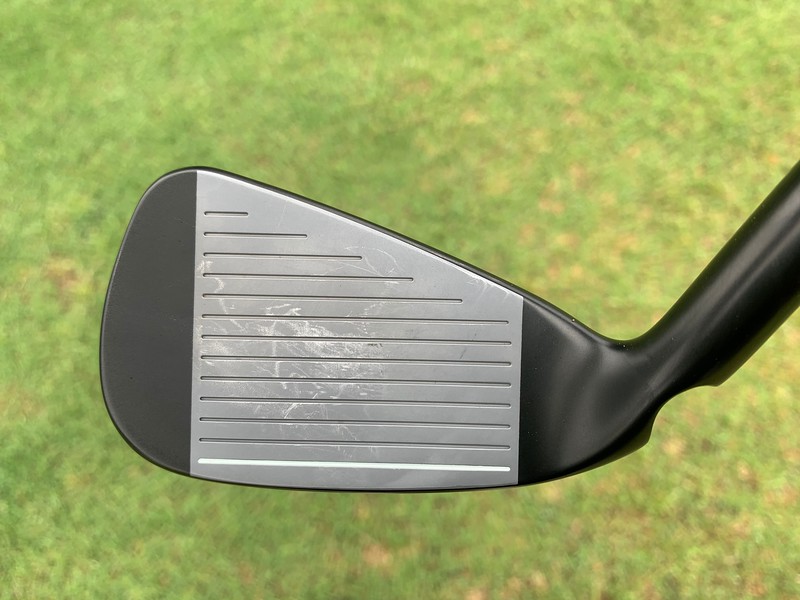 As is customary here at THP, the PING G425 Crossover was put through its paces both on the course as well as on a Foresight GC2 launch monitor. I worked with the 4-Crossover paired with a Graphite Design Tour AD IZ shaft which provided a better overall fit for me. What I saw was an interesting mixture of things. Performance wise it was solid, but there were some surprising feedback aspects.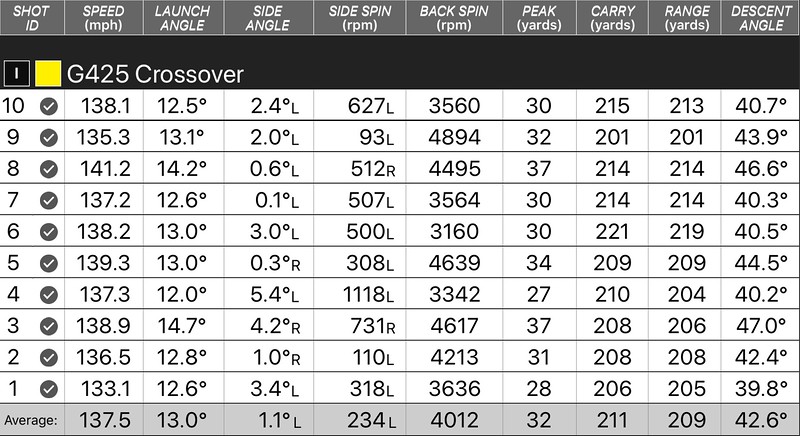 Looking at the data above, the Crossover did much of what I expected it to, even with where my swing is at coming from the off-season. Overall, the ball flight was working within that 30-yard peak average which I like to see, and with that the descent angles were pretty playable for a 4-iron replacement overall. Speeds were also good, higher than I see out of a standard 4-iron but not so much so that another gap is being created, thus it accomplished its goal set out by PING. You will notice that on some shots where misses occurred there was a spin drop which created a carry jump. The performance from tee and turf was consistent and playable, though it is worth keeping in mind that ability will matter when it comes to getting the most out of any utility as compared to a hybrid.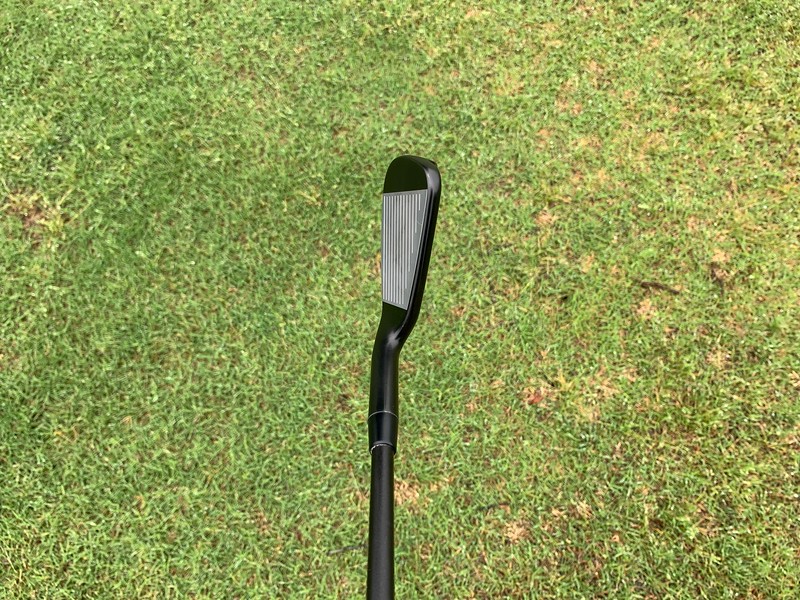 With how the G425 Crossover has weight manipulated and placed in the head combined with the hollow body, the forgiveness aspect was definitely more than a standard iron for me. That said, I did come away surprised at how sharp the feedback was not just on misses, but also on solid strikes. PING has long been a company on the forefront of vibration dampening and the role that it plays in their irons when it comes to feedback and feel. Here however, the Crossover was much harsher than I anticipated, overall, it had a very firm/hard feedback to it. While some won't mind and instead will focus on the playability alone, which the club does well at, it is a piece of the puzzle for a lot of golfers and remains surprising to me.
If you have hit the G425 Crossover or just have some general thoughts on it from experience or even this article, jump into the discussion below as well as on the THP Community with thousands of other golfers!
The Details
Price: $229.00
Options: 2 (18°), 3 (20°), and 4 (22.5°)
Stock Shaft: PING Alta CB70, PING Tour 85, Aldila Rogue Black 95, Mitsubishi Tensei CK Pro 80 Orange