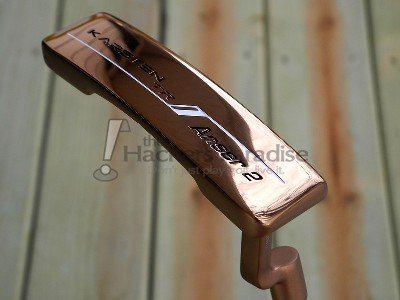 As a new take on a proven platform, the Karsten TR series of putters delivers high technology and looks from yesterday that are blended with modern styling.
Karsten TR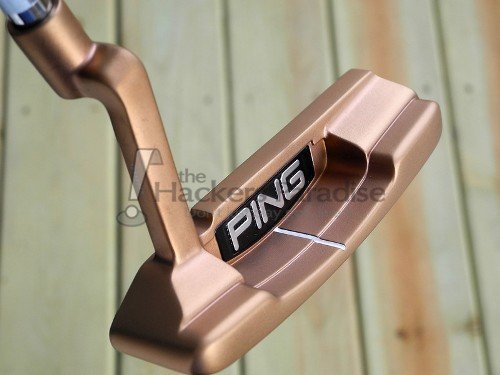 Five of PING's most popular and tour-proven head designs are showcased in the Karsten TR (True Roll) putters. Variable-depth grooves improve ball-speed consistency for unmatched distance control and more putts made. The elastomer back-cavity insert significantly improves feel and sound for valuable auditory feedback. An optional adjustable-length shaft allows you to optimize the fit, and the rich copper PVD finish provides a distinctive look.
Features and Key Technology
True Roll Technology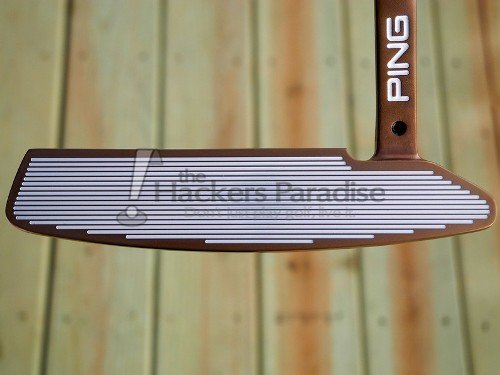 Variable-depth grooves are milled directly into the face, providing unmatched distance control. Grooves are deepest in the center and shallower toward the perimeter for greatly improved ball-speed consistency and distance control, leading to more putts made and fewer three-putts. PING studies show an increase in ball-speed consistency of nearly 50% compared to a non-grooved face when measured at nine points across the face.
Many consumers are familiar with TR technology, as it debuted last year in the Scottsdale TR line. The difference in the Karsten TR series is that rather than an insert, the variable depth grooves are actually milled into the face and then paint-filled white. This does serve to please the players that prefer a milled face, but want the benefits that the TR insert offered.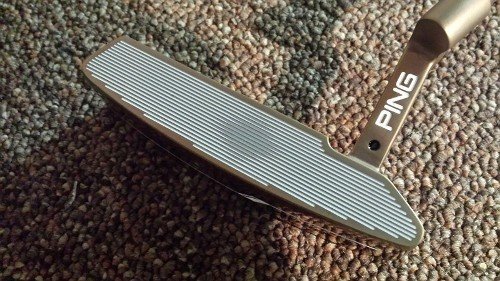 With the right angle, the difference in groove depth is visible to the naked eye as a slightly darker circular portion of the face over the sweet spot.
More information on TR technology can be found in this video on PING's website.
Elastomer Cavity Insert
An elastomer back-cavity insert enhances sound and feel for valuable auditory feedback.
Discussed in more detail below, it appears this feature contributes greatly to what was determined to be a very attractive sound at impact.
Adjustable Length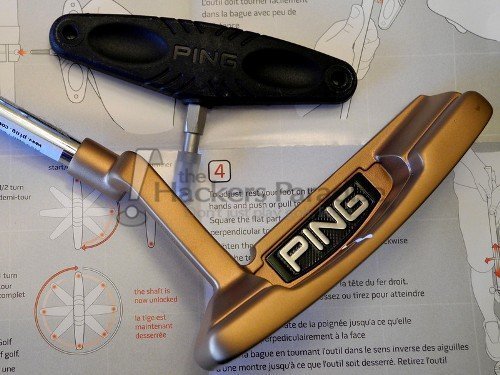 Available in a fixed-length shaft (35″ is standard) or an adjustable version that can be modified between 31″ and 38″ to optimize fitting accuracy prior to a round.
Length adjustments are quickly handled via a threaded wrench and detailed instructions that PING provides with the Karsten TR. Though THP questions the need to make multiple adjustments on the individual level, this technology certainly makes in-store fitting easier and also allows for the home user to dial in a preferred length.
Specifications and Options
The Karsten TR series comes in five classic PING head shapes.
| | | | | | |
| --- | --- | --- | --- | --- | --- |
| Model | Putter Type | Std Length | Adj Length | Head Wgt | Stroke Type |
| Anser 2 | Conventional | 35" | 31" to 38" | 345g | Slight Arc |
| Anser 5 | Conventional | 35" | 31" to 38" | 365g | Straight |
| B60 | Conventional | 35" | 31" to 38" | 345g | Slight Arc |
| Pal | Conventional | 35" | 31" to 38" | 360g | Slight Arc |
| Zing | Conventional | 35" | 31" to 38" | 350g | Strong Arc |
All available in both LH and RH.

PP58 Midsize Grip

MSRP:  162.50 fixed length/$197.50 adjustable
Aesthetics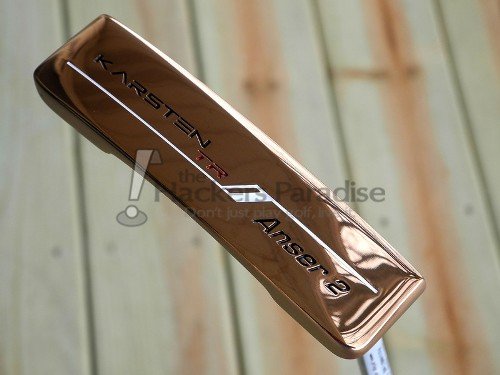 Finished in a dazzling Copper PVD finish, the Karsten TR is sure to grab the attention of just about anybody that runs across it. While the sole features a mirror-like polish, the rest of the body of the putter is duller to avoid glare issues. Besides being eye-catching, the Copper PVD brings back memories of PING's past, which ties in nicely with the classic designs offered in the series.
As noted earlier, the TR technology is face milled on the Karsten, though the white paintfill does give it a uniquely 'insert-ish look'. The version tested by THP included the adjustable length adapter, which is somewhat awkward looking, but easy to ignore during use. Impossible to ignore was a general feeling that the putter was heavier than many others on the market. While still well balanced, the Anser 2 provided a great deal of heft that was eventually enjoyed quite a bit. The slightly oversize stock grip also contributed to the substantial feeling of the putter in-hand.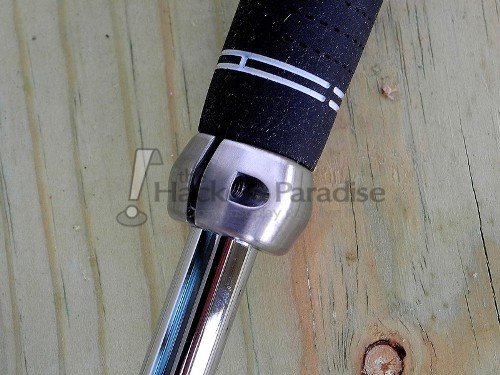 The Anser 2 head shape is as classic as they come. So classic that we have collectively come to use the name "Anser" as a descriptor for most plumber neck blades. With a stepped down flange and single sight line, the putter should set up perfectly for those players that prefer the particular design. The classic design is still left decidedly modern in ways thanks to the industrial looking badge in the cavity and fresh design elements on the sole, which may or may not appeal on the individual level.
At impact, the Karsten TR delivers a remarkably muted sound that in ways almost reminds the user of an insert putter. The Elastomer cavity insert appears to do a great job (in concert with the grooves) in imparting a soft, pleasing feel.  Contact on the toe side of the face was recognizable to the ears, but still decent – certainly more enjoyable than many other milled offerings.
Performance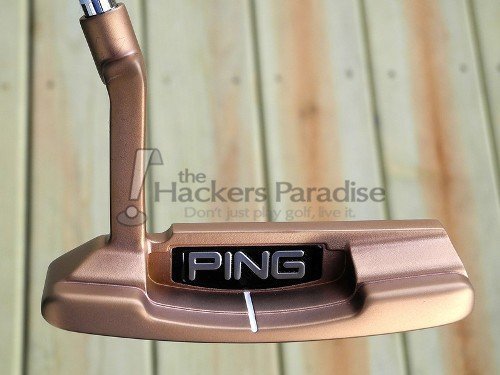 As noted, the Anser 2 model was tested for this review, both on the golf course and at multiple indoor locations.
Though the natural skeptics may scoff at TR technology and PING's claims surrounding it, there did appear to be some (completely unscientific) results during testing to back them up. After placing a ball at the same location on a grass green, putts that impacted both in the center of the face and towards the toe stopped rolling at virtually the same spot. In addition, both held their lines very well.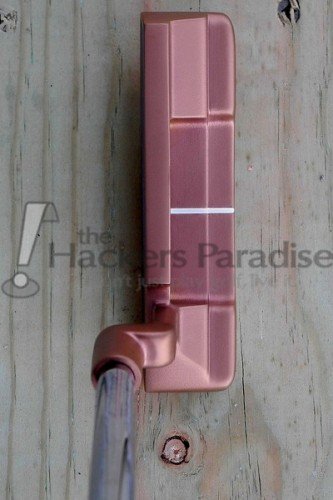 Some comments have surfaced about a 'hot' face on the TR series, but this wasn't noticed during testing. Distance control was easy to maintain on a number of surfaces and grades. Regardless, the classic shape and soft feel at impact lent themselves nicely to a confident putting stroke, which will always produce results. The Karsten TR quickly became a personal favorite of the tester for a number of reasons, including the TR technology.
Final Thoughts
As a masterful blend of classic looks and ultra-modern technology, the Karsten TR series is one that should be extremely popular with those that try it out. At around $160 it is a decent value as well, putting it on the lower end of price ranges for OEM putters. Those consumers unsure of which model fits them best can find resources on PING's website or by using their iPing cradle and app. More information on the series can be found at www.ping.com.