The new R1 continues TaylorMade's mastery of adjustable drivers by offering the greatest range of adjustability of any driver in the brand's history. R1 gives the golfer 12 loft-sleeve settings and 7 face-angle positions, as well as two movable shot-shape weights. R1 also allows loft and face angle to be adjusted independently of each other – a critical benefit. The R1's three adjustability technologies allow it to be tuned 168 different ways to specifically fit a player's swing to optimize distance and accuracy.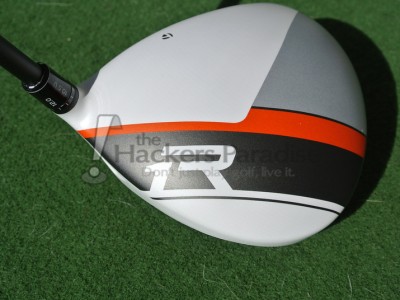 Unlike most drivers, R1 lacks a loft number stamped on the head, because its "Loft-Sleeve Technology" offers a 12-loft sleeve settings to deliver a 4°-range of lofts, meaning the golfer can play anywhere from a 8° to 12° driver.
"Offering a wide range of loft settings is imperative, because our research indicates that 80 percent of golfers are playing the wrong loft, which costs them distance," said Dr. Benoit Vincent, chief technical officer. "The R1 offers 12 positions to help golfers find the loft that delivers the launch conditions that deliver maximum distance."
Why are so many golfers playing the wrong loft?
1) Golfers typically choose the wrong loft when they buy off the rack, usually opting for too little loft because of a long-held belief that a lower-lofted driver will promote long distance. In fact, a low-lofted driver typically costs the average player carry and distance by promoting a too-low launch angle.
2) Changes to driver design during in recent years to promote lower spin (such as moving the CG location lower and forward) has made it possible for many players to switch to a higher loft that promotes more carry and distance by achieving a better combination of high launch/low spin launch conditions.
R1's wide range of lofts and face angles, along with its movable shot-shape weights, allow this single driver model to be tuned to fit the widest range of players, from Tour pros to high handicaps.
The R1 features TaylorMade's famous white, glare-reducing crown color, and also has an eye-catching new orange, black and gray crown graphic that offers two important performance advantages:
1) R1's crown graphic design helps the golfer to square the face to the ball accurately at address. That's important because golfers can still use the contrast of white crown and black face to align the clubface, but TaylorMade studies indicate that golfers benefit from the linear reference cues of our new crown graphic to help align the face accurately.
2) The "V" shape of the preserved white space behind the leading edge provides a frame to position the ball against, helping to heighten focus.
R1 is equipped with Aldila RIP Phenom 55-gram shaft, which is ultra-light to promote faster clubhead speed, yet strategically weighted to deliver the feel of a heavier, 65-gram shaft. The shaft also features Aldila's Hyberbolic Flex Technology™ to promote optimal launch conditions, ball speed and feel.
The R1 will be available at retail 2/1 for $399. For more information please visit taylormadegolf.com
Tech Talk
Loft-Sleeve Technology Offers 12 Settings Between 8° and 12°
R1 offers 12 loft-settings to choose from between 8° and 12° (7 settings at standard lie angle, 5 settings at upright lie angle), giving golfers a wide range of choices from which to achieve their optimum launch angle.
7 Face-Angle Settings
R1 offers seven face-angle settings to help golfers get the precise, confidence-building look at address: neutral/square, slightly open, more open, maximum open, slightly closed, more closed and maximum closed. Face angle can be easily changed without affecting the loft, an adjustability benefit offered only by TaylorMade.
Shot-Shape Technology
TaylorMade's movable shot-shape weights allow the golfer to easily shift the clubhead's CG location by 5 millimeters to promote either a draw or a neutral/straight trajectory, helping golfers hit the ball longer and place it more accurately.
Thick-thin Crown Technology
Varying the thickness of the crown allowed TaylorMade engineers to save critical weight that's strategically repositioned to move the CG lower and farther forward. Lowering the CG promotes a higher launch angle, while moving it forward promotes faster ball speed.
Inverted Cone Technology
TaylorMade's famous Inverted Cone Technology significantly expands the area of the clubface that delivers high ball speed, promoting increased distance on off-center hits.
White Crown with New Graphic
R1's white matte finish eliminates glare on the crown and works with the black face to make alignment easy. The new crown graphic acts as an additional alignment aid, while the preserved white space creates a frame to position the ball against and promotes improved focus.
Aldila RIP Phenom 55 Shaft
R1's ultra-light Aldila RIP Phenom 55 is faster clubhead speed, yet is strategically weighted to deliver the feel of a heavier, 65-gram shaft. The RIP Phenom 55 also features Aldila's Hyberbolic Flex Technology™ that incorporates a stiff tip section to promote optimal launch and spin control, a very firm butt section for incredibly stable feel, and a softer center section that promotes an added "kick" through impact for maximum ball speed.
Click here to see more in hand pictures of the R1 from TaylorMade Golf