With each iteration that comes to market, Titleist is creating new ways to explore performance while staying with in their boundaries of iron style. The Titleist 718 lineup consists of a larger than ever family of irons each designed for a specific golfer. Hitting stores towards the end of September, the company will begin rolling out fitting carts for their Titleist Thursday fitting events that will take place in the next few weeks at green grass facilities all over the country.
The breakdown of irons is better left for the THP TV videos featured below, but here is a look at the full lineup.
Titleist 718 AP1:
Steel: MAP $125 per club ($999/set of 8)
Graphite: MAP $140 per club ($1,199/set of 8)
Titleist 718 AP2, AP3, CB, MB:
Steel: MAP $162.50 per club ($1,299/set of 8)
Graphite: MAP $187.50 per club ($1,499/set of 8)
Titleist 718 T-MB:
Steel: MAP $249 per club ($1,999/set of 8)
Graphite: MAP $275 per club ($2,199/set of 8)
Kicking things off are the most popular sets from Titleist and that is the AP Family of Irons, complete with new addition in the AP3. THP TV sat down with Josh Talge, VP of Marketing for Titleist Golf Clubs at TPI in Oceanside, CA for a complete rundown of the entire group.

Shot in 4k so THP recommends full screen viewing
Next up are what we call the heritage part of the new 718 lineup, and those are the CB and MB lineup. Here Josh Talge breaks down a couple of irons that do not change much from iteration to iteration, but are what their user base is looking.

Shot in 4k so THP recommends full screen viewing
Finally, in the first video the new AP3 irons are previewed, but them being a brand new part of the family means THPers deserve more information and Titleist was happy to sit down and continue to talk about this new creation inspired by both tour players and amateur golfers.

Shot in 4k so THP recommends full screen viewing
Shafts
From the company
718's high-performance stock shaft matrix includes all-new premium aftermarket options, including three new True Temper AMT shafts with tour-proven ascending mass technology. The new AMT Red (AP1), AMT Black (AP3) and AMT Tour White (AP2) models provide lighter long iron shafts for increased launch and speed and heavier short iron shafts for control in specific weight ranges matched to the target players for AP1, AP3 and AP2. "We were the first to use an Ascending Mass Technology shaft with 716 AP2 and our robot testing, player testing and tour feedback has been outstanding," Talge said. The new Mitsubishi Tensei Pro Red AMC (Ascending Mass Concept) graphite shaft with ascending mass technology is also available as a stock option for AP1.
True Temper Project X PXi (T-MB), Project X LZ (CB) and Project X (MB) round out 718's premium stock options. In addition, Titleist offers an industry-leading number of custom shaft choices, many at no upcharge.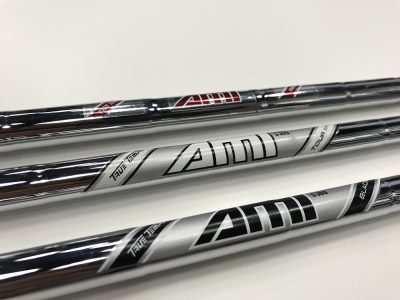 Stay tuned for some exciting news from THP on how you can get fit and get your hands on a set of new irons at the THP Event coming up later this year.
Don't forget that you can purchase these any product from Budget Golf at a discount by using the coupon on the right hand side of this page (scroll up and turn off ad blocker). 15% off, just for being a THPer, on almost any item they have.