What is the first word that pops into your heads when you read the word, Titleist?
I'm willing to bet the most common answer will be something to do with Tradition, or ProV1.
Let's be real, those are exactly the things that should come to mind. Titleist has cemented itself in golf tradition, and the biggest reason for that is the ProV1 and ProV1x. Those two entities have dominated sales for decades now, and that can't be contested. However, the golf ball market has changed and fitting the broader spectrum has become the name of the game. While once upon a time the story from Titleist was always heavily tilted to the ProV1 and ProV1x being able to cover the gamut of golfers needs, the game has evolved, and we are seeing Titleist evolve with it.
While the release of the AVX turned heads in a big way by being a golf ball for the slimmest of the bell curve, now comes something aimed at the bulk of it, and I honestly never saw it coming.
Today Titleist is introducing the new Tour Speed golf ball, a design aimed at speed through the bag and spin in the short game. More than that though, this is a urethane ball from Titleist, coming to market at $39.99. You read that right.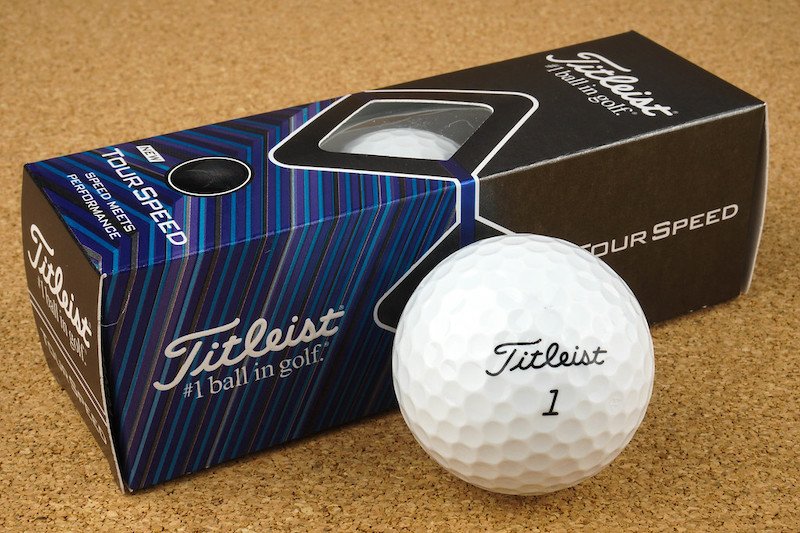 Quick Take
A fourth urethane ball from Titleist, and at a lower price point is something most of us never thought would actually happen but given the direction of the golf ball market we shouldn't be all that surprised. The Tour Speed checks the boxes for the majority of amateurs offering speed while finding balanced spin and precision where it is needed throughout the bag, at a much more eye-catching price to boot.
Titleist Tour Speed – Where Does it Fit?
If you would have told me that Titleist would be releasing a $39.99 golf ball this year, it wouldn't have shocked me. However, if you told me it would be a urethane design at that price point, I would have called you a liar.
Now, understand, this isn't a slight on Titleist, and more options are always good, but this is a company that for years essentially told us if you are looking for a urethane design then you need look no further than the ProV1 or ProV1x. Since then, we got the AVX which fits a decidedly specific portion of golfers, but still at that top tier price. For Titleist to come in with a $39.99 urethane golf ball and pull no punches saying it is aimed to compete directly with the Chrome Soft's, Q-Star Tour's and Tour B RX's of the industry, that is in my opinion a potential paradigm shift. Why is that exactly? Well, not only is this seemingly the sweet spot for a lot of golfers, but it's the price realm that has become highly competitive in recent years.
The design itself makes it equally as interesting as the price though, as this one is clearly aimed at the average golfer. With that in mind, one can't help but wonder if this is a somewhat reactionary release that could actually pull away golfers from their other premium offerings, or perhaps it's just them truly evolving with the times in grasping that having a broader spectrum of urethane offerings only serves to further solidify their presence? Well, I'll leave that discussion point up to you all.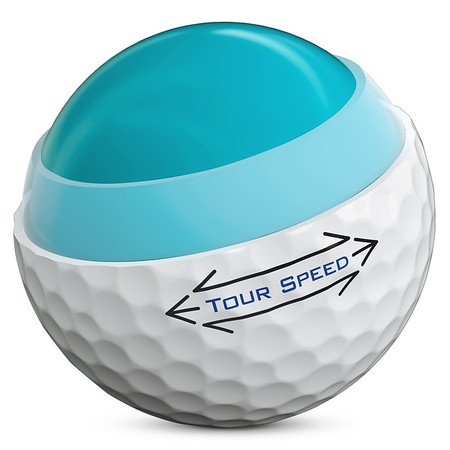 As for the golf ball, the Tour Speed is a three-piece design focused on what Titleist describes as "a unique combination of exceptional distance in the long game and precise short game scoring control". The design utilizes a unique high-speed core combined with Titleist's fastest ionomer casing layer to generate significant speed in the long game, enough that their testing showed it to be longer than some big-name designs. The Tour Speed is finished off with a proprietary TPU (thermoplastic urethane) cover to offer short game control that they have never accomplished in this segment before. With 346 quadrilateral dipyramid dimples done and the first-class quality and design control that only Titleist can offer, this is essentially a ball for all.
Titleist Tour Speed – Performance
Release information is always a fun time, but the real story comes with putting the product through its paces. For this release, I was lucky enough to get a dozen Tour Speed golf balls in to work with and see just what was going on. Rather than comparing them to other designs in the segment, out of the gates I wanted to see instead just how the Tour Speed stood on its own.
First off, I have to mention that it's always amazing to me how much cleaner Titleist's tour golf balls look in hand. For example, to my eye, the legendary Titleist script in non-urethane releases has always looked a little thicker and less sharp. Here with the Tour Speed though, this is the same clean precision I see in the ProV1's and AVX. I will say however, and you will see it in the pictures, the alignment aid design on this one is really out there for Titleist. The multi-arrow look with bright blue "Tour Speed" text worked well for me on the greens, but I do believe it's going to potentially be too busy some, though it does help set it apart from the ProV's.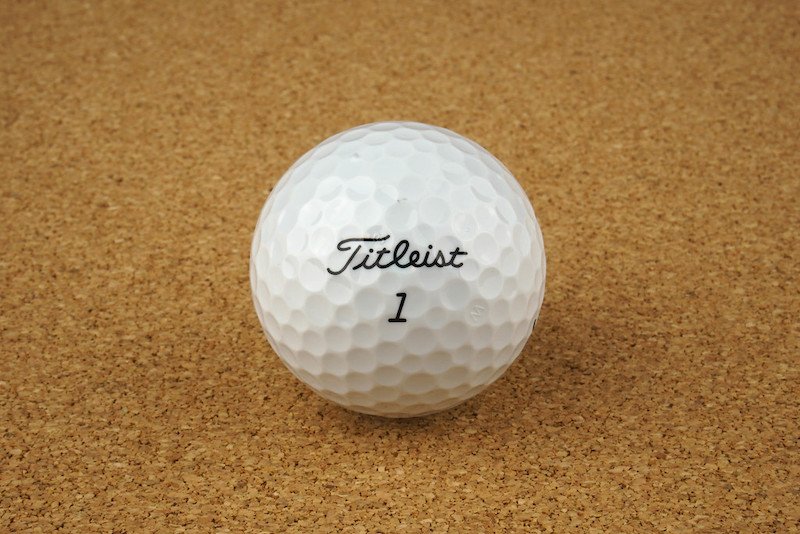 I decided to take a unique direction with the Tour Speed for this review. As is standard, I used the Foresight GC2 to record data for this article, however, being that the marketing focus on this one is low spin and speed in the longer clubs and more spin and control in the scoring portion of the bag, I steered away from the usual show people a driver and lob wedge methodology. Instead, I thought a better picture of what is going on could be seen by focusing on long, mid, and short irons. Specifically, I worked with the 5i, 7i, and 9i.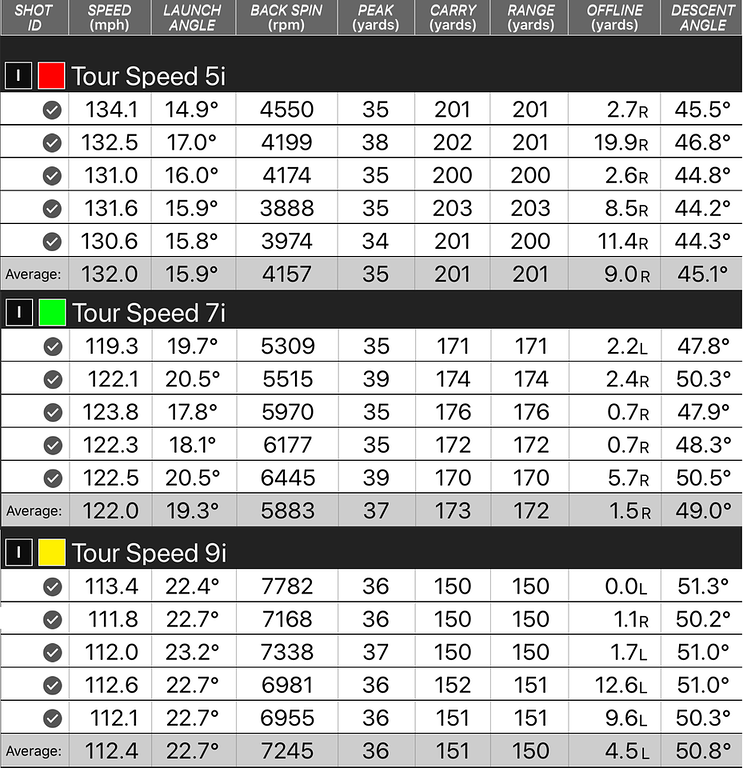 Right into it, as you will see in the data above, there was a lot to like about the Tour Speed for me and my swing during testing. What stood out most was what felt like the ease of launch while not sacrificing speed/distance for spin. Hitting 35, 37, and 36-yard average peak heights respectively is something that as a mid-ball hitter I enjoyed seeing. Bigger though, the spin numbers in the 9i were higher than I anticipated as a historically lower spin player, and they tapered off into the lower numbers I expected given the product description in the 5i indicating, for me at least, that it's doing what they claim.
I do want to mention that I did get some quick numbers for my swing on not just the ProV1 and ProV1x, but also the Tour Soft non urethane design and the Tour Speed sat right in the middle for me. In the 5i, the numbers were spot on with the low spin distance I saw from the ionomer Tour Soft, but in the 9i they were about 500 RPM higher, but still lower than the ProV1x. Clearly, everyone's mileage may vary here, but I saw enough to feel comfortable with how Titleist is marketing this ball and to what segment it is aimed. Personally, I need a slightly higher spin ball, but I'm also a bit outside the biggest portion of the bell curve of golfers.
What does it all mean? Well, for me I walk away from this believing that Titleist is serious about establishing a foothold in this $39.99 price real and potentially taking some share from the competitors which are already there. The big question for me is not performance, as I think we all knew that Titleist wouldn't bring something like this out if it didn't live up to the name, rather I think it is how the masses will respond to a middle tier priced urethane Titleist golf ball which is a contrast to what we have come to expect from them basically forever.
What do you think about the new Tour Speed golf ball? Feel free to jump into the conversation both here as well as on The Hackers Paradise forums and let us know!
The Details
Available: 9/7/2020
Price: $39.99
Construction: 3-Piece with TPU Cover