To understand Sacks Parente Golf, we must first give a little backstory. Their resumes are storied. Rich Parente was the co-founder of Callaway Golf. Steve Sacks co-founded Goldwin Golf. "Playing on rival teams" for years, there was a level of mutual respect in design.
Sacks Parente doesn't make putters. They make putting instruments. The company was born in 2018 with a simple, but demanding premise. Have no barriers in the way of creating equipment that will allow every golfer to have more fun.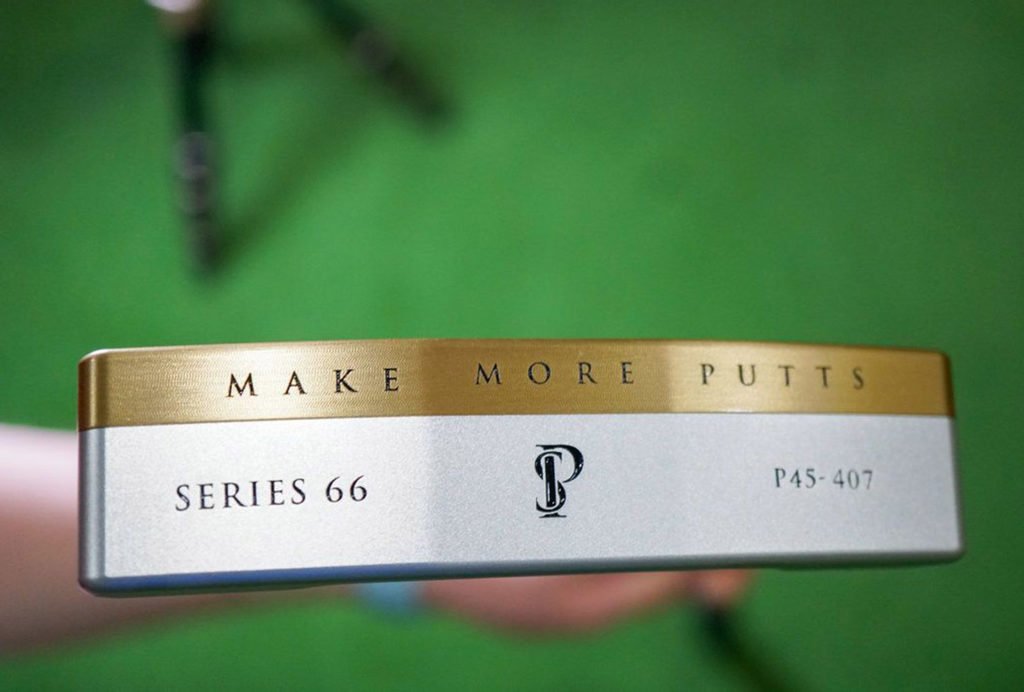 Being unique for the sake of being unique is not new in the golf industry. From bright colors and odd shapes, it is not hard to find something that is "different". Being unique with a purpose, one that identifies a brand and makes a difference, is what Sacks Parente is all about.
The redistribution of weight in putters putting instruments is something they are passionate about and have some unique designs that we will dive into shortly. The lineup consists of a number of shapes, and they are more than just a head, but rather an entire package re-imagined with that same goal we outlined earlier. The goal is no barriers to create something that will allow golfers to have more fun.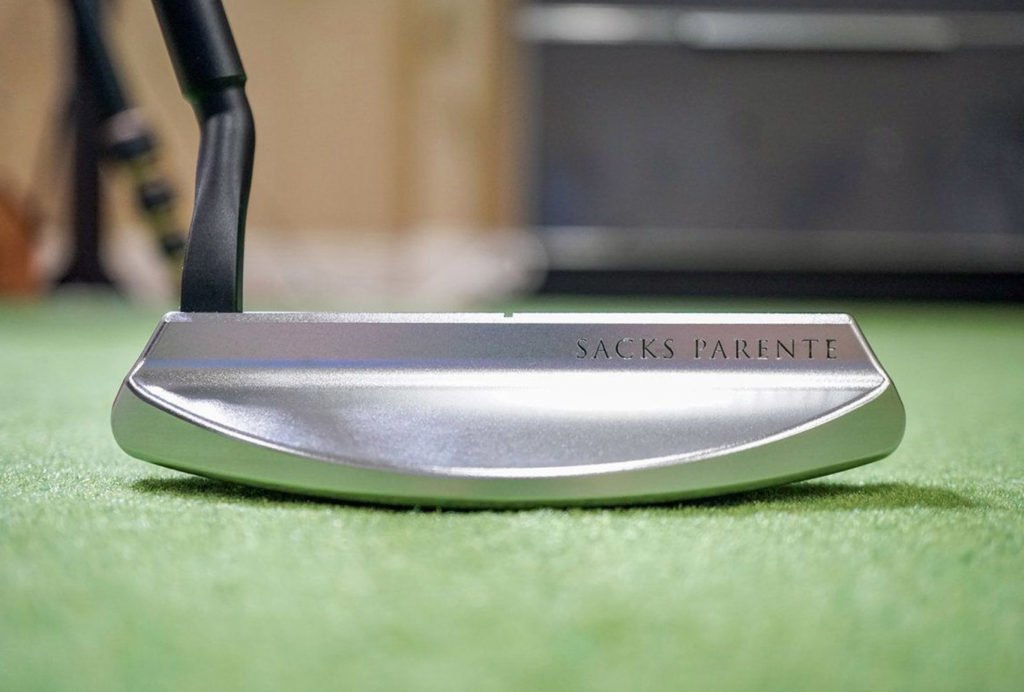 Before getting into the designs, it would be prudent to discuss Ultra Low Balance Point, or ULBP as Sacks Parente labels it. The best way to explain it is to pick up one of their putting instruments by the head and feel virtually nothing. ULBP is proven. It works, and their designs have taken it a step further due to the components that make up the entire package.
ULBP creates a natural release without the need to steer the head back towards your intended line. Think of anchoring a putter, but without any anchor at all. A pendulum if you will, and it's natural flow of movement.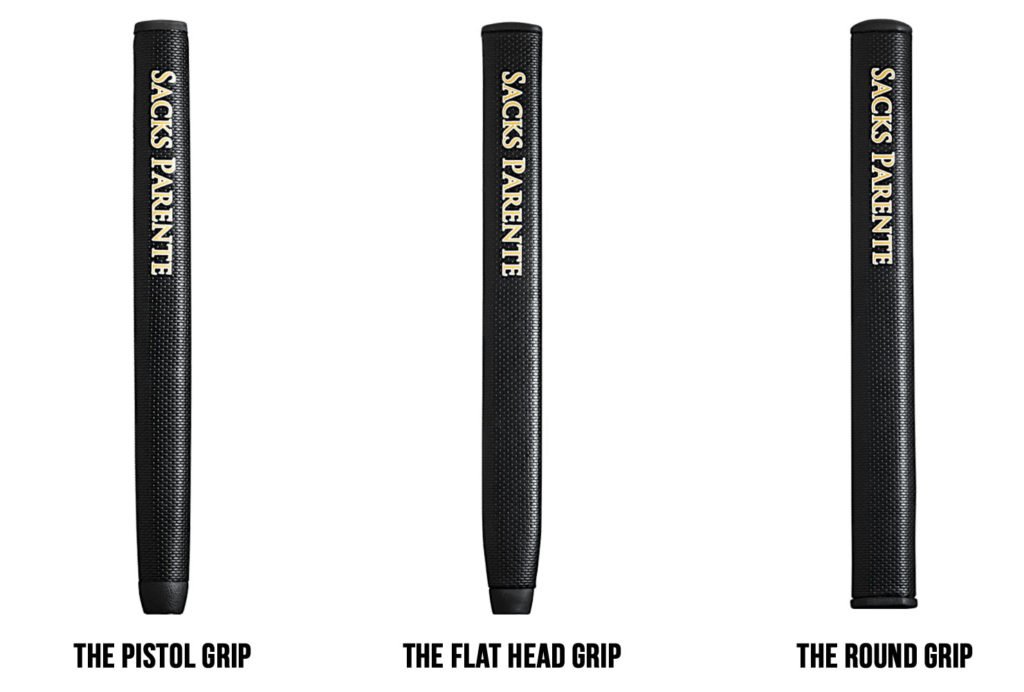 Because of the design of the Sacks Parente family, we will start from the top down with their grips. They're different. Ranging from 30-35 grams, the weight is less than what is typically found on the market. ULBP all starts here, and they have 3 models to choose from.
The shafts…Oh the shafts. This will be the first thing you notice when you pick up a Sacks Parente. If you haven't noticed already, the word to describe them would be unique. A departure from what you are used to in weight and balance, ULBP is most noticeable in the shafts.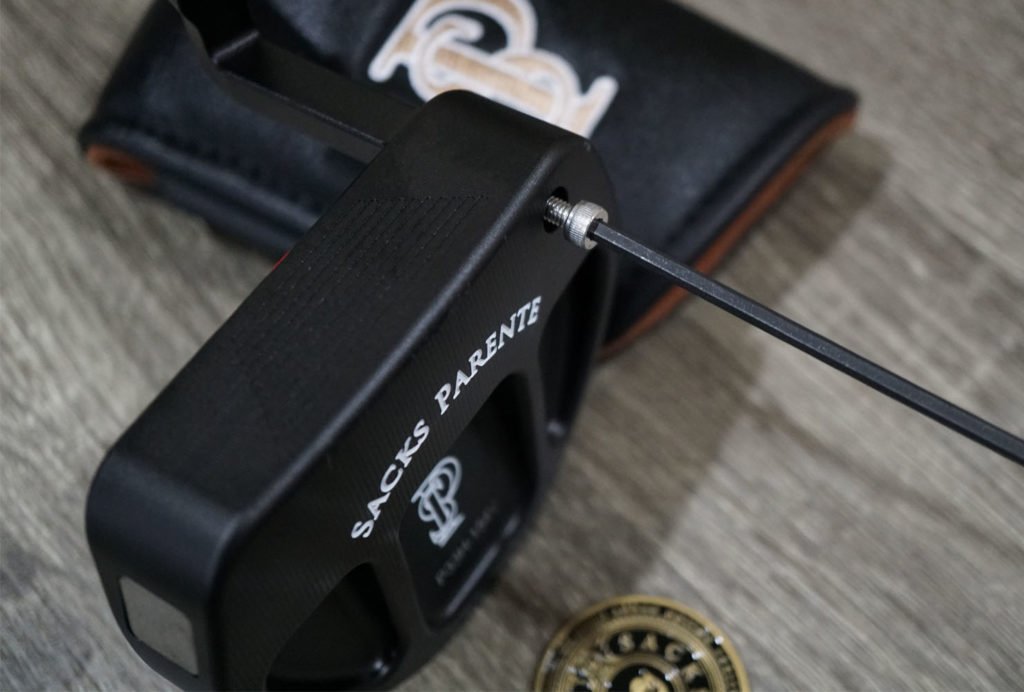 Before getting into the shafts, it is important to note that they can be changed. Similar to a number of adjustable drivers on the market, some of the Sacks Parente putting instruments can be swapped out through a screw from the bottom.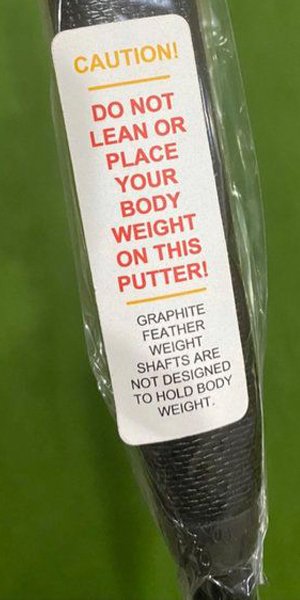 Currently they offer three shafts, or as they describe them, three Amazing Shafts. A fourth is coming, but not available currently. Not unlike the grips, the shaft story funnels directly back to ULBP. Starting with what they call Graphite, which is their standard option, although very little about this shaft is standard.
When you unwrap one of their putting instruments, a big sticker stands out and catches you a little off guard. I found myself asking the question in my head over and over again, "Do I do this?" and the answer is yes.
Simple reminder gave way to getting used to not using it as a walking stick throughout the round or balancing myself on it as I scooped the ball from the hole. No issues, no breakage, but wanted to mention it, as it sets the tone for the shaft information.
We tested all three shafts with the putters, including the coming soon Tour GS shaft, and will get to each one, but first let's go back to the standard option, Graphite.
Their most popular shaft option, the Graphite comes in at a weight of approximately 1 gram per inch. Yes, you read that right, 1 gram per inch. While you might be used to something more than 4 times this weight, it all comes back to what Sacks Parente is trying to accomplish (and did) with ULBP. With grip and hosel, our shaft weighed in at barely over 80 grams. For your comparison purposes, we took apart a Honma Beres putter with standard steel shaft and with a lightweight Super Stroke grip on it (with no hosel) and you can see below the nearly 2.5x difference in weight.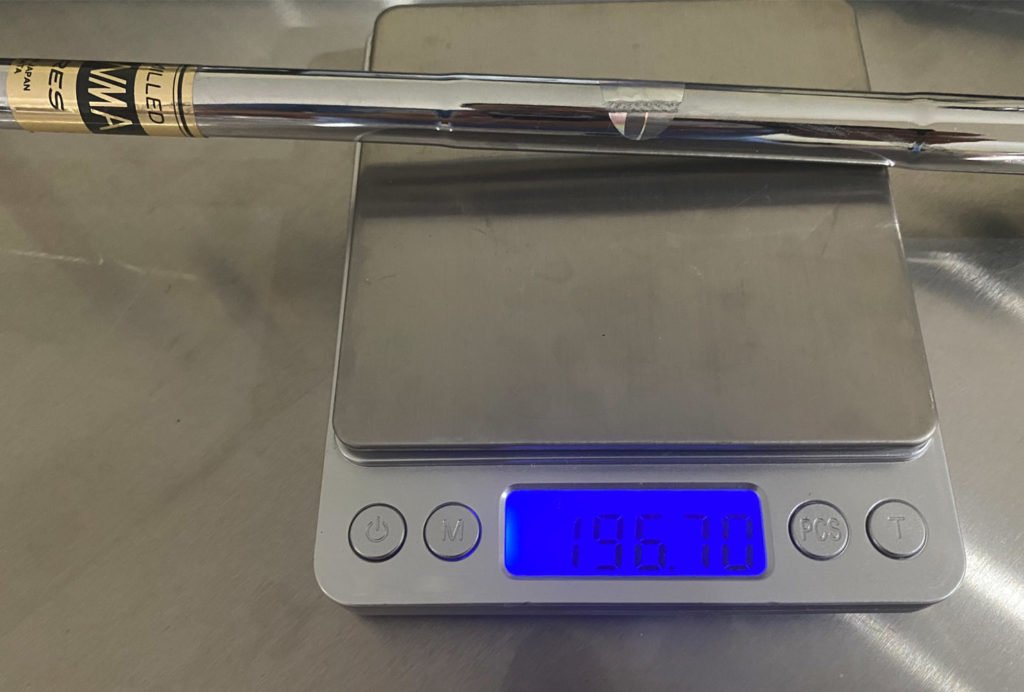 By design, composite materials handle vibration better than steel. Perhaps different is a better word than better. Dampening occurs, but not deadening. Which leads to a precise impact feedback, which defies the phrase "feel is sound" in a complete sense.
It is maddening trying to describe what is going on at impact with the Sacks Parente putting instruments' feel, but going back to the original thoughts in this article…UNIQUE. The feel is pointed, directed, and maybe sharp, but it happens quickly.
Why is this happening? Lots of reasons, but a large portion of that is because of the Graphite Shaft.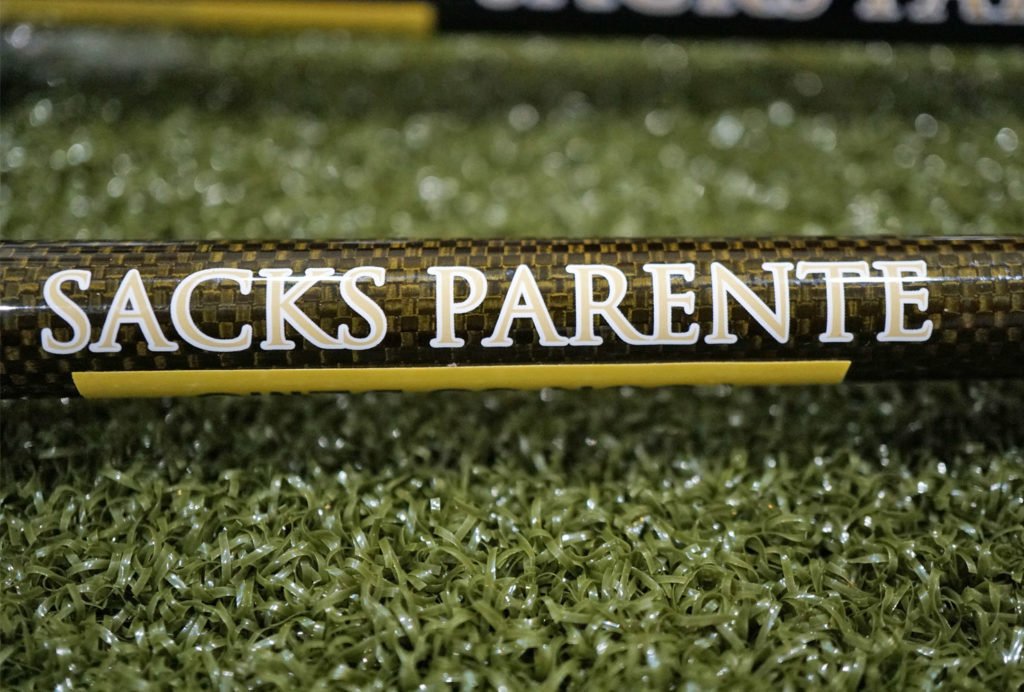 The four shafts offered are the standard Graphite, which we discussed above. This is included in the price of the putter as you find it on their website.
The Tour CS Shaft, which is their most popular shaft for touring pros. It comes with an upcharge of $300. Made from Toray 1100G, which is a high strength and high modulus composite material. Used in a few premium metal woods shafts, such as UST Mamiya LIN-Q Gunmetal that gets rave reviews on the THP Forum, the material is not inexpensive and has the strength and durability to hold up to the standards necessary on tour.
The Tour CSX is what Sacks Parente calls the F1 of putter shafts, and with the $500 upcharge it needs to be. Manufactured using the tightest of tolerances in Japan by the Olympic Co. LTD, the CSX is a unique (there is that word again) beast. Using two exotic Toray fivers, tensile strength increases by about 30% with no loss in modulus. What does this mean to you? Strength and durability with no sacrifice in increasing weight.
Finally, the coming soon Tour GS Shaft. This is the coming soon shaft that we got a chance to spend some time with and we will be revisiting it upon release.
Each of these shafts will come in at nearly 1 gram per inch, and as you move towards the Tour level, the weight restrictions of resting on them are not in place.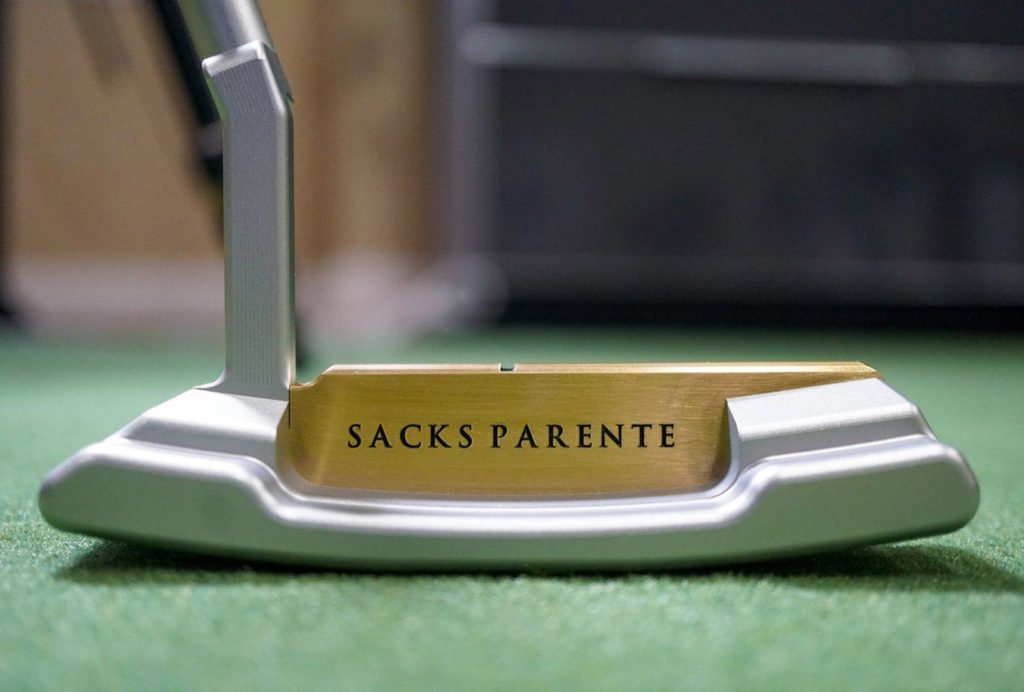 Continuing down the putting instrument, if you have made it this far, you are ready to hear about the heads. We have been spending time with three different models, but will limit the discussion to blade and mallet because the technology story is largely the same.
Center of Gravity (CG) stories have been around golf equipment for a while, but are fairly new to the putter world. Between Moment of Inertia (MOI) and CG, it is a lot to take in, but suffice it to say that with most putters there seems to be two schools of thought. One is back weight to reduce head twisting. The other is weight forward to reduce side spin from gear effect. Sacks Parente putting instruments have a face-forward Center of Gravity (CG).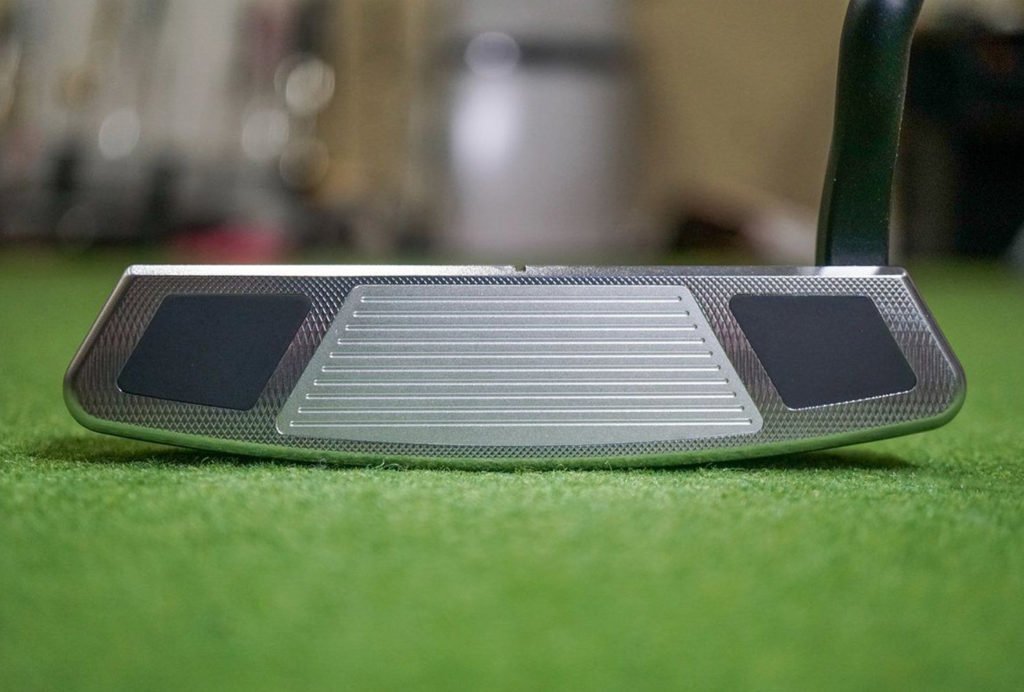 The company tested this with robots and discovered that weight placed too far away from the face, resulted in gear effect. They are not the only putter on the market to move the weight, the Frontline lineup from Cleveland Golf did testing as well and came to the same conclusion, that weight forward will help more golfers make putts.
Sacks Parente has redistributed much of the weight in the head to create a pure roll, and it is pure. A large portion of the weight in their heads is up front, using high density tungsten keeping the CG closer to the shaft axis. In turn, this leads to less twisting, and according to the company, less side spin. The pictures above and below show the Tungsten placement extremely well.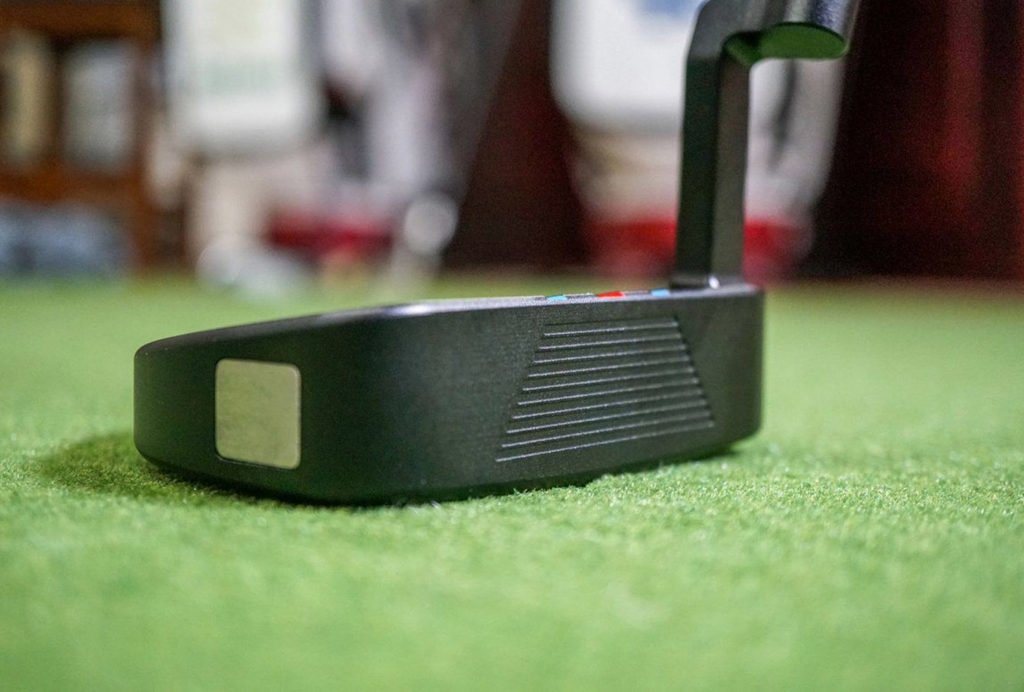 Sacks Parente blends materials seamlessly to create their putting instruments using everything from stainless steel to brass, and everything in between to create what they feel are the highest quality tools one can putt with.
The Series 66 pictured below, is a blend of 7070 aluminum, AS370 brass, tungsten, and 6061 aircraft aluminum, and the finished package looks incredible. This is one of their models that does not offer shaft switching, but the plumber's neck shape and style is familiar to fit many golfers' eyes.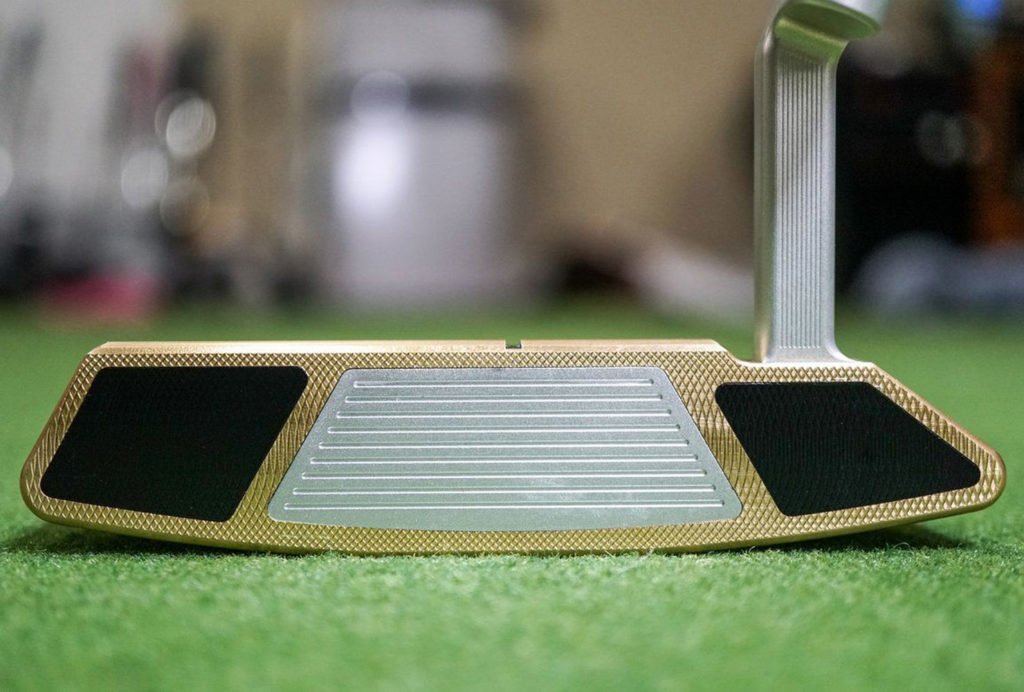 Switching gears to the other blade we tested, the Series 18 is incredibly unique (there is that word again). Made of 303 stainless steel, it is an iconic style that is made more playable with what Sacks Parente has done here. Between the black inserts on the heel and toe of the face, to the cavity (pictured below) the putter shows off the weight redistributed up front better than most illustrations.
We mentioned earlier that it was maddening trying to describe the feel at impact of the Sacks Parente putting instruments. It might be the hardest part of this rather lengthy article, but deserves the attention.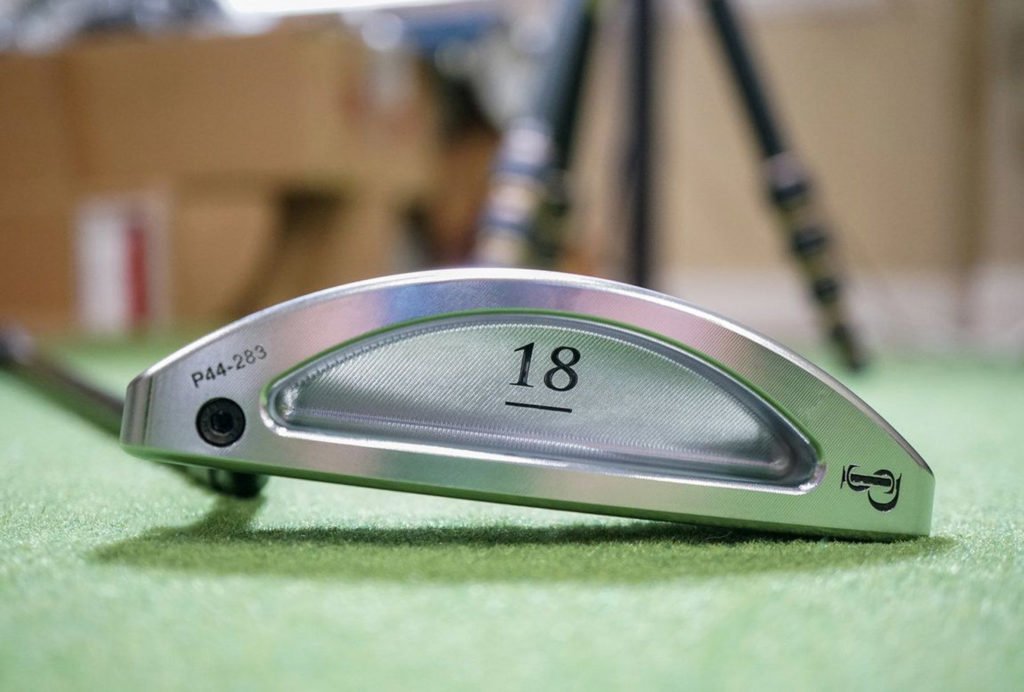 At impact, the sensation is quick with no lingering in the hands. It is slightly higher pitched than many other putters we have tested and that you have probably rolled. Not a "ting" or unpleasant sound mind you. The feeling is incredibly full and dense, just not as deep a tone as you might be used to, and definitely not a click.
The response is intoxicating. Maybe addicting is a better word. While none of these shapes are what I am accustomed to normally have in my bag, I found myself reaching for them to putt in the office nearly every day.
The roll on the ball is exceptional, and the feeling is unlike anything else on the market today.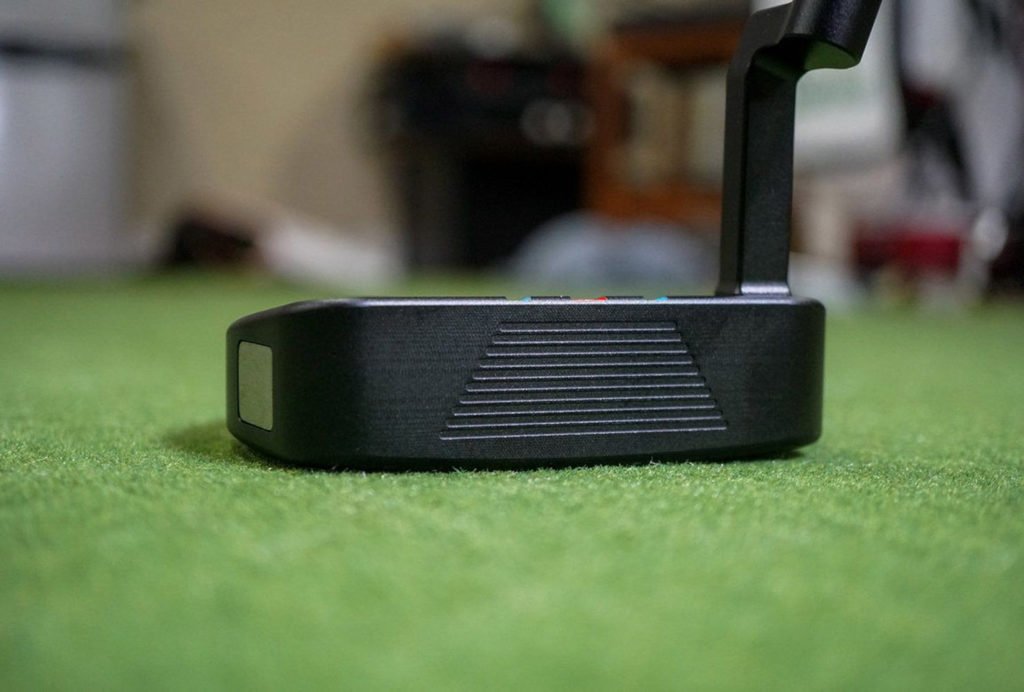 Choosing a mallet is a different animal altogether. Currently, Sacks Parente offers the Series 54 Putting Instrument. From there, it gets pretty wild.
Mid Size or Large
Center Shaft or Heel Shaft
Standard Stripe or VA Three Stripe
You can get any combination of the above (seen below), but immediately if you have been paying attention to putters, you will notice what looks like a similar alignment story to another brand that features it on golf balls and putters.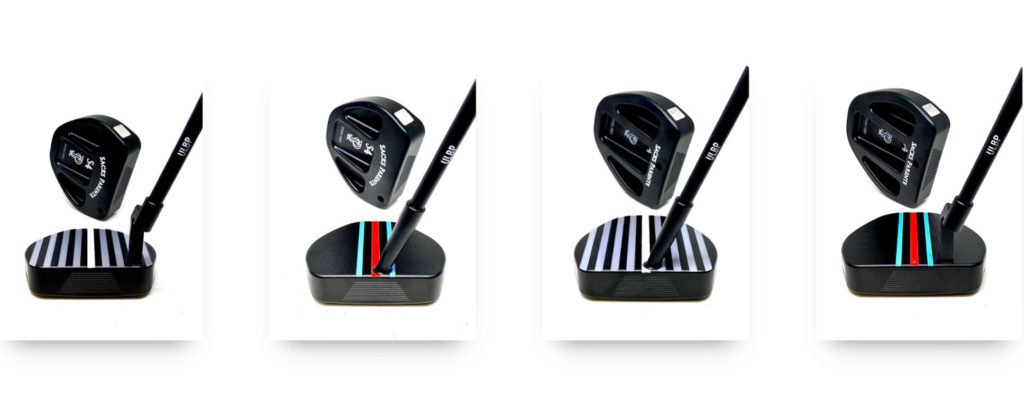 Vernier Acuity is not new, nor was it developed in the world of golf. It may look like some simple lines, but there is more to it than meets the eye. The space between the lines matter. The thickness of the lines matter. The colors used matter.
Vernier Acuity is the ability of the brain to process subtle differences in alignment through the eyes. Similar technology is used to land planes on aircraft carriers and sights for guns to name a couple.
Who came up with the idea for golf is anybody's guess. Callaway and Odyssey have had it in place since the ERC golf ball in 2018. Sacks Parente introduced it in a putter around the same time.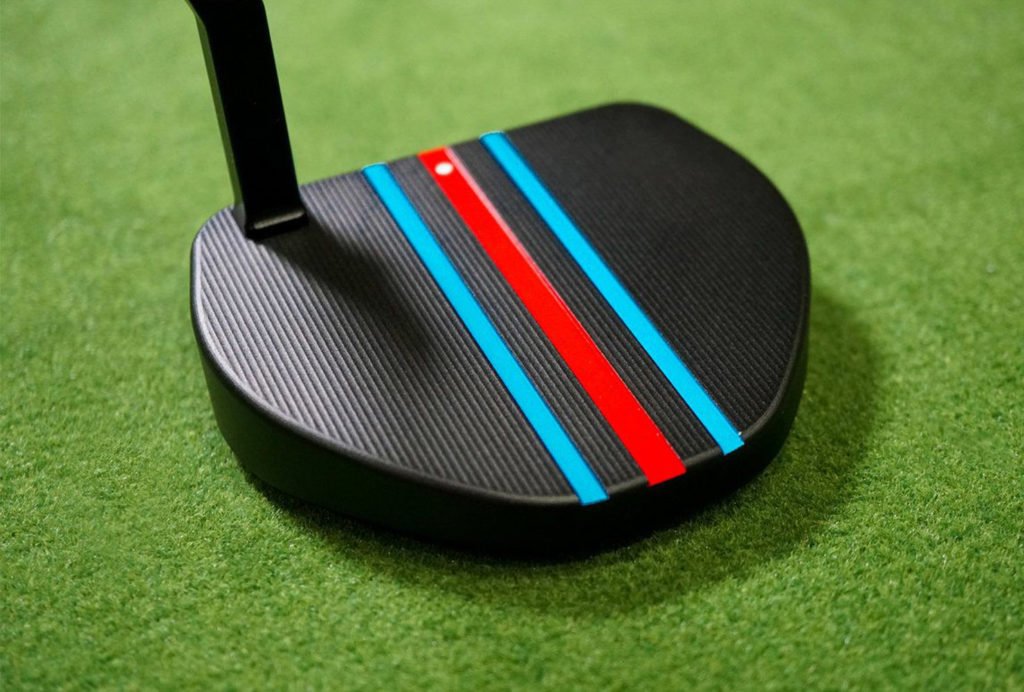 A properly designed mallet is more forgiving on mishits, and the Series 54 is made of 6061 aluminum with high density tungsten on the heel and toe. Despite the size, the weight still comes in at 365 grams including the hosel and follows their ULBP theory just as the blades did.
The black frame is striking and the red and blue VA lines accent it extremely well. The model we tested (heel shafted) also featured a white sight dot, and from a personal experience, I think it takes away a bit from the VA in causing the eyes to focus on the dot. Personal preference of course.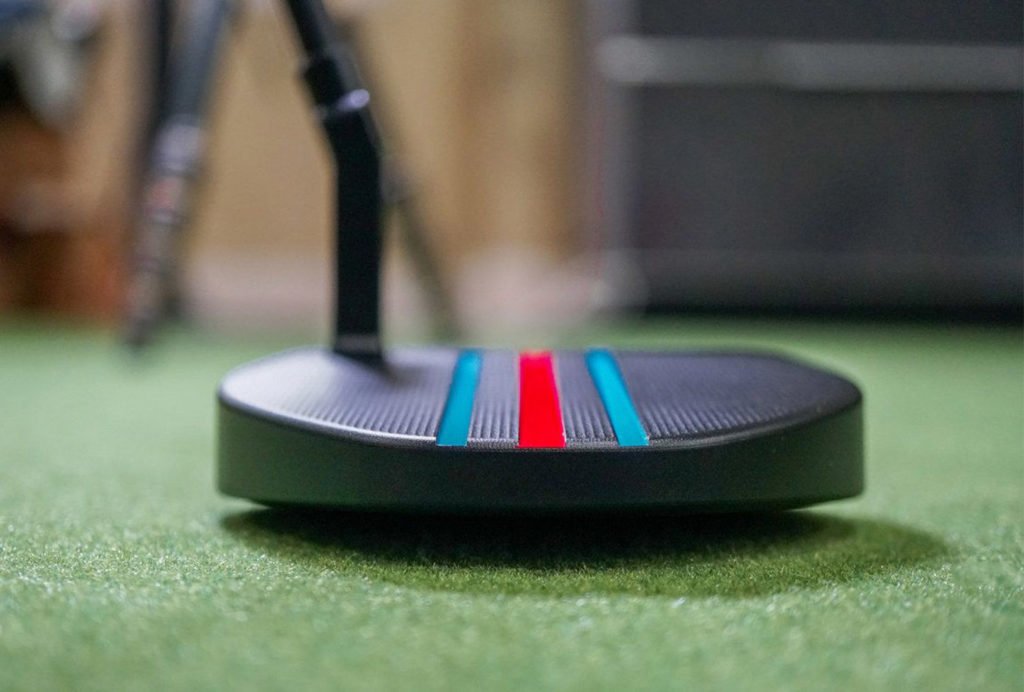 The sound of the Series 54 is a bit different than the blades above. It is a bit more full sounding, with a deeper impact note, but a similar satisfaction. As you move across the face a bit, you get subtle note changes that are still pointed, but you can tell where impact was made.
Sacks Parente may not be a name you are completely familiar with, although that may change rather quickly with the quality putters putting instruments they have created. You are not going to find one in the bargain bin any time soon, but the craftsmanship makes you appreciate and understand a bit about the premium price tag.
Currently, the company is having a pretty big sale for the remainder of 2020. The mallet with Graphite Shaft we tested is discounted from $599 to $399. The blade models we tested are currently discounted from $599 to $479.
For more details check out their website at www.sacksparente.com.