Putters are one of the hardest segments in the golf industry for a company to break into at any level, let alone higher end milled putters, but Toulon Design is on a mission to do just that. Since the PGA show earlier this year the momentum which the company has gained is impressive and as the company has come into full operating capacity with standard models as well as their custom shop, the Toulon Garage, it doesn't look to be tapering off any time soon.
THP was able to get one of the company's new models in for a full work-up. For this review THP received a Toulon Garage edition Madison putter with standard weighted sole plate playing at 352g and 34" paired with a SuperStroke Pistol GT Tour grip.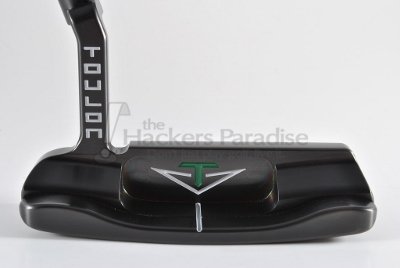 About Toulon Design and founder Sean Toulon:
Toulon Design is dedicated to creating putters as finely tuned instruments, possessing both rare beauty and exacting precision. Design that captures the essence of timeless sophistication, and skilled craftsmanship that is second to none.
Toulon Design is owned by Sean Toulon. Sean is widely known throughout the golf industry as one of its most innovative and creative thinkers, he has been responsible for the development of some of the most groundbreaking and important golf clubs ever designed. As Executive Vice President of Product Creation for TaylorMade Golf for over 16 years he holds over 80 patents and he inspired leading-edge Design and Product Creation teams that developed virtually every TaylorMade product launched from 2000 through 2015. 
Our mission is to create the best performing and most beautiful putters in the world by combining cutting-edge technology, exceptional quality, and elegant design.
Head Shape and Aesthetics:
From the beginning, Toulon Design has been emphatic that they were not on a mission to create putters for the sake of doing so, rather, they wanted to take a design and make it their own through different tweaks and technological implementations. The "Madison" headshape received for review is a classically shaped blade putter which has a 45° toe-hang when paired with the H1 hosel option (Standard Plumbers Neck) with a full-shaft of offset.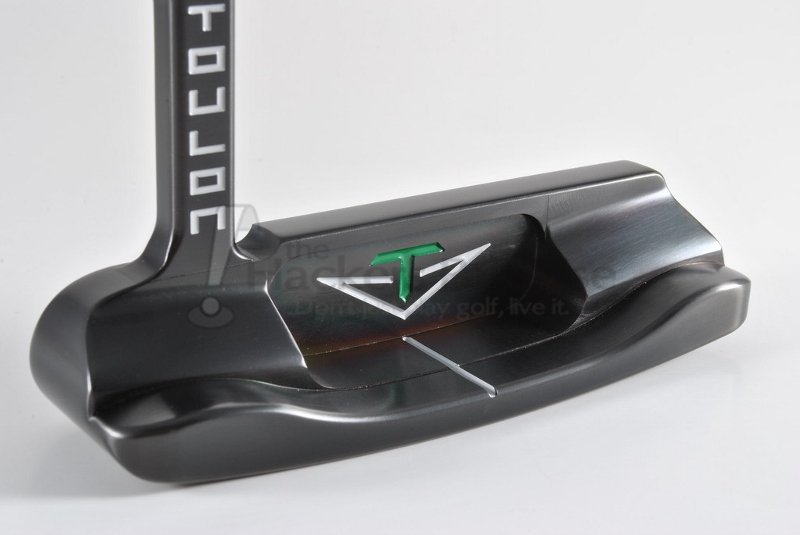 The lines of the Madison are clean and flowing.  Toulon has done an excellent job of keeping things smooth as opposed to excessive hard edges which tend to make designs look overly industrial. Because the Madison received for review is a Garage version, it features their "Black Pearl" finish opposed to the standard "Tour Satin" and it definitely adds to the overall sleekness of the design. Additionally, it is a durable finish that is intended to last through extended use and not wear as some other dark finishes do. After an incredible amount of time on the course and putting green with the Garage Madison, the Black Pearl is still immaculate from top to bottom.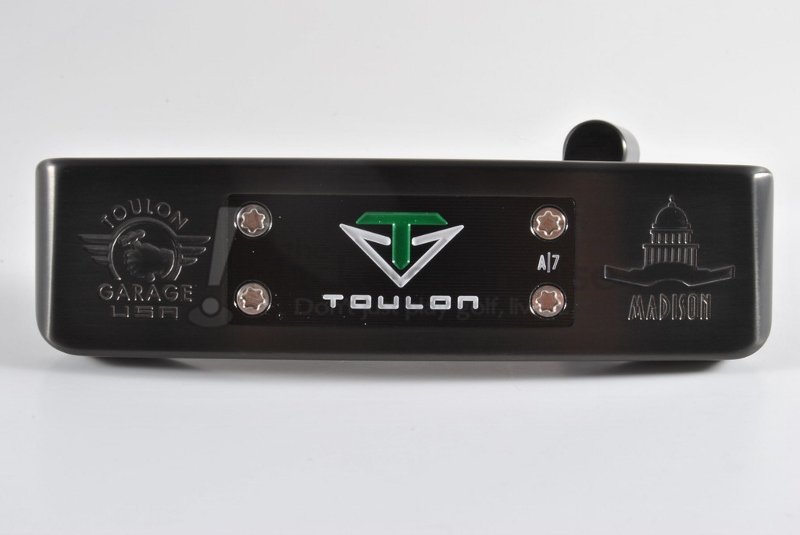 The blend of the aforementioned classic looks and finish of the Madison is rounded out through the clean branding and sleek technology melded into the design. The Toulon logo featured in the cavity as well as the face and sole weight is unique and easily identifiable (not to mention they have done some very cool paint-fill in them for customers) while the remainder of the engraving on the sole with the model and Garage designation is clean yet eye catching, particularly with the Black Pearl finish. On the technology side, the use of vacuum brazing and variable sole plates allows for maximum versatility and personalization. Additionally, the "Deep Diamond Mill" face is one of the most unique looks we have seen on any high end milled putter released to date.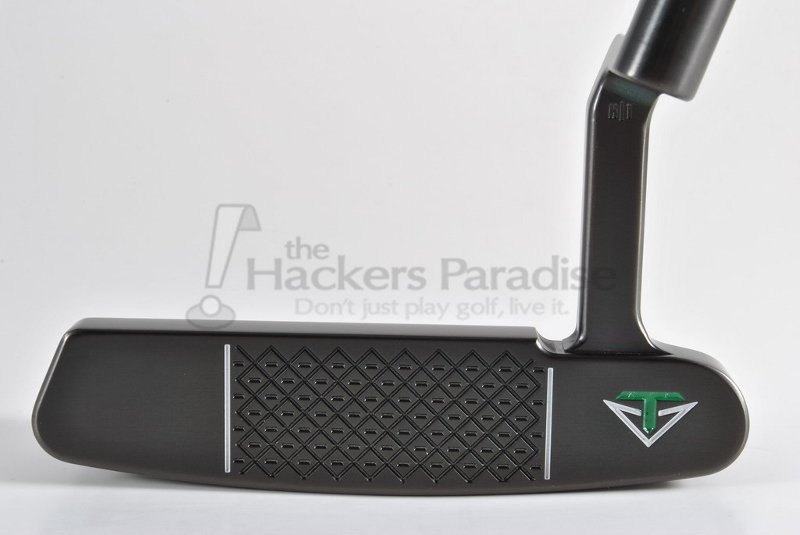 Rounding out the package and worthy of some focus are the grip and headcovers for Toulon. For this review the Garage Madison was paired with the SuperStroke Pistol GT Tour which like their other options is done with Toulon's colors and branding. On the headcover front, they are up there with other high end putter makers in terms of materials, build and stitching. Not only is the quality there though, so too are the options as Toulon has shown they are going all in with their different Garage designs as well as a release for each of the years majors. The overall package here visually screams quality and care to a staggering degree.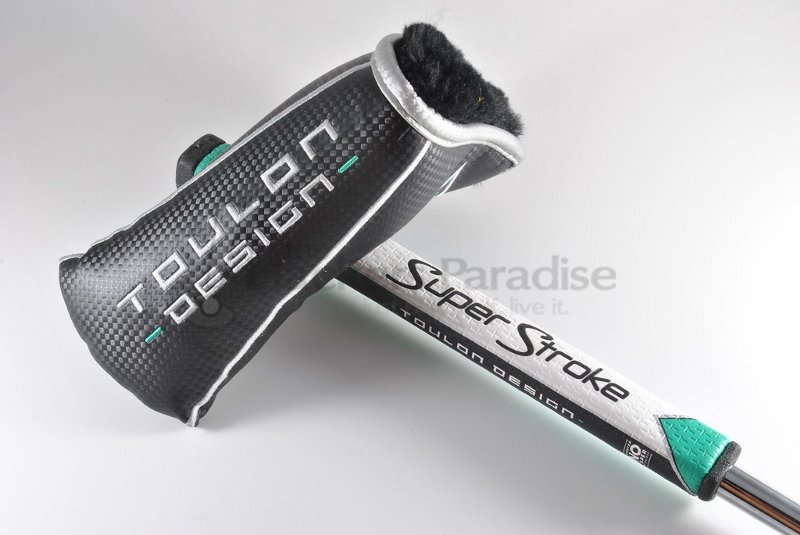 Alignment and Balance:
The Madison is a very straight forward blade as far as alignment goes, and not just in the sense of the single flange alignment aid version in for this review. Rather, the flange width as well as the lines of the bumpers and the topline square the golf ball and give a very clean method of addressing the intended target line. Something worth mentioning since the model reviewed is a Garage version is that with these custom models Toulon can implement just about every topline and flange alignment setup one could think of in order to truly create what best fits the personal preference of the individual.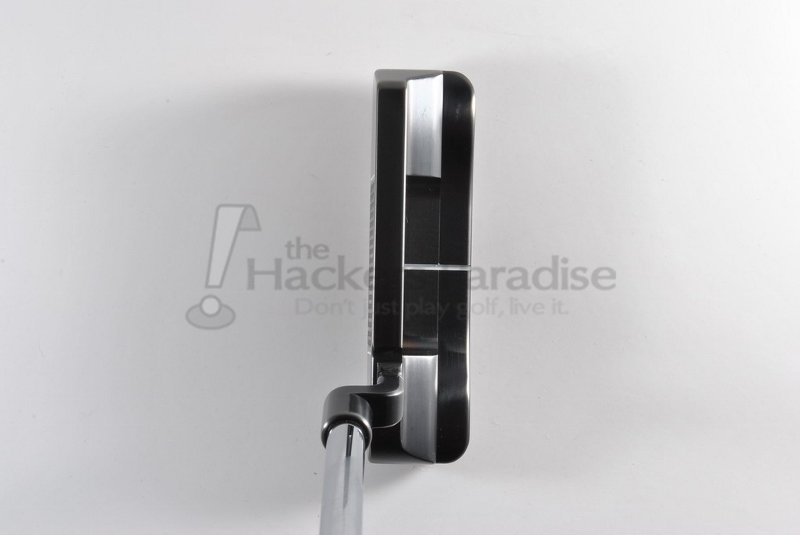 Throughout the stroke, the Madison kept ample balance on both center strikes as well as those missed laterally on the Diamond Mill groove pattern. The H1 neck provides pretty much everything those fans of a traditional plumbers neck could ask for in terms of offset at setup along with toe-hang and flow through the stroke. Additionally, the use of the three different adjustable sole plates (Aluminum – 7g, Stainless Steel – 20g, Tungsten – 40g) lets Toulon create essentially every balance, length, and head-weight configuration a user could want. Though the Madison came only with the standard 7g Aluminum sole plate, Toulon has made the other weights available for individual purchase on their website.  A very savvy move on their part which should please many customers.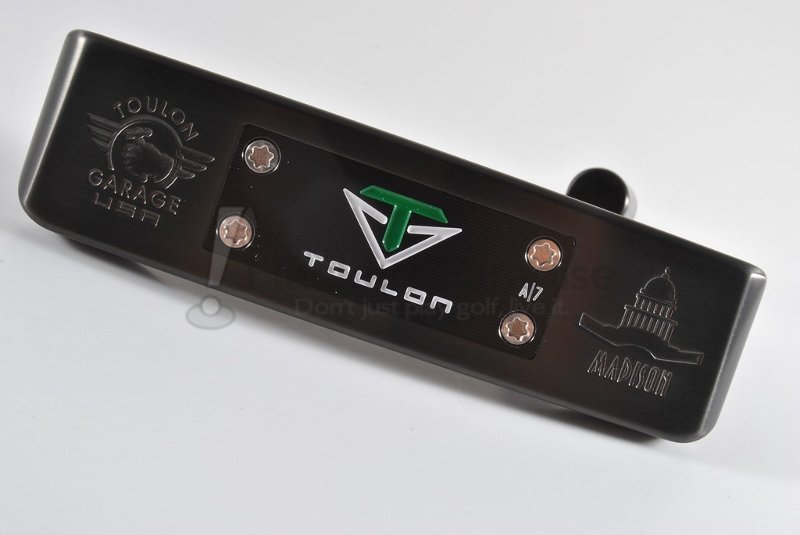 Sound/Feel:
Toulon, more-so than most high end putter companies, puts a lot of emphasis on the correlation of sound and feel, looking for unique ways to fine-tune that correlation. Because the company doesn't mill their heads and necks as one single piece, they put heavy emphasis on how they were going to meld the necks to the heads and not only maintain, but improve feel. What they landed on was using "Vacuum Brazing" where the head and neck are joined back into one piece with liquid nickel in the hosel bore and then being heated to 1900° for 4-hours. Not only did Toulon find that it joins the head and hosel seamlessly with no need for welding and polishing, but it also annealed the metal leading to the 303SS having a softer feel. For those curious, "Annealing" is the process of heating metal and then letting it come back to standing temperature very slowly which alters its internal makeup increasing its ductility and leading to a somewhat softer end product, Metallurgy for the win.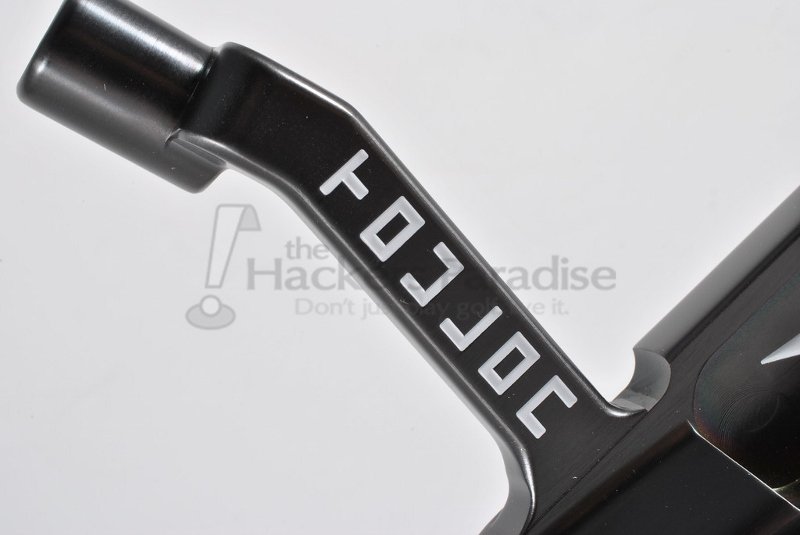 Having tested and owned putters from all over the spectrum in terms of design, metal, and even price point this reviewer can unequivocally say that the sound/feel of the Toulon Madison is totally unique. Being that the material in play is 303SS there was a preconceived expectation of a more firm/sharper feel/sound at impact as is pretty typical of most stainless putters. Instead the sound/feel here is like a blend of the most high end carbon and stainless heads this reviewer has rolled. There is a firm sensation to the hands at impact while the impact "click" is muted to the point of creating what can best be described as a soft-firm feel. While the two at first glance seem to contradict each-other, this description has been verified by both individuals who tried out the review putter as well as many THP members on the forum. Toulon put forth a lot of effort to create the sound/feel of these putters, and through the brazing and diamond milling process they have nailed it in a very unique way.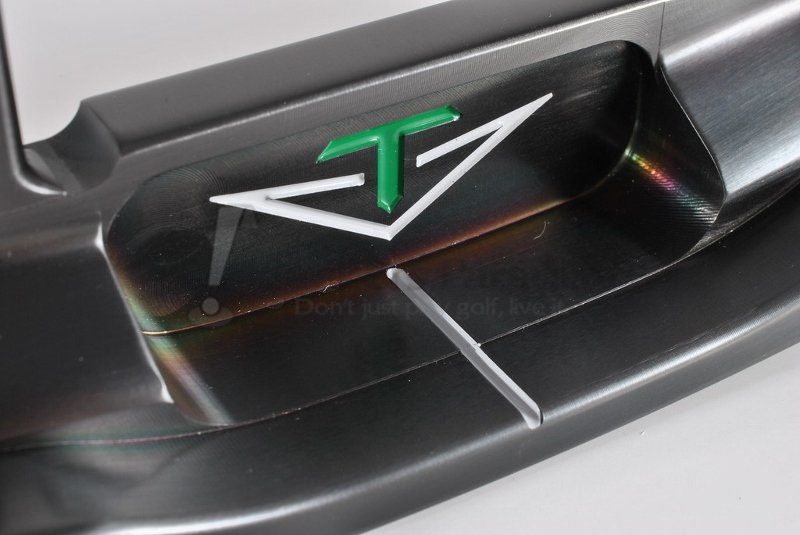 Distance-Control and Dispersion:
During testing, the Toulon Madison really shined when it came to the ability to put a true roll on the golf ball. Though as aforementioned the "Deep Diamond Milling" by design plays a pertinent role in the sound/feel of the putter, its ability to help impart a quick roll was just as calculated. By now we know that face grooves on putters definitely have an impact, but not all are created equal in their ability not just to create a quick/tight roll, but to maintain distance and direction on misses. That area happens to be where the Madison shined the most during review. Extensive testing comparing center, toe-side, and heel-side impact positions using a putter gate to ensure the contact point showed repeatedly that the retention of distance and line laterally on the Deep Diamond Mill was just as effective as even the best high MOI mallets this reviewer has worked with. That fact is higher praise than some might realize, but it comes back to the fact that company founder Sean Toulon has said repeatedly that they didn't want to make putters just to make putters, they had to be different and effective, something they have accomplished in a lot of ways.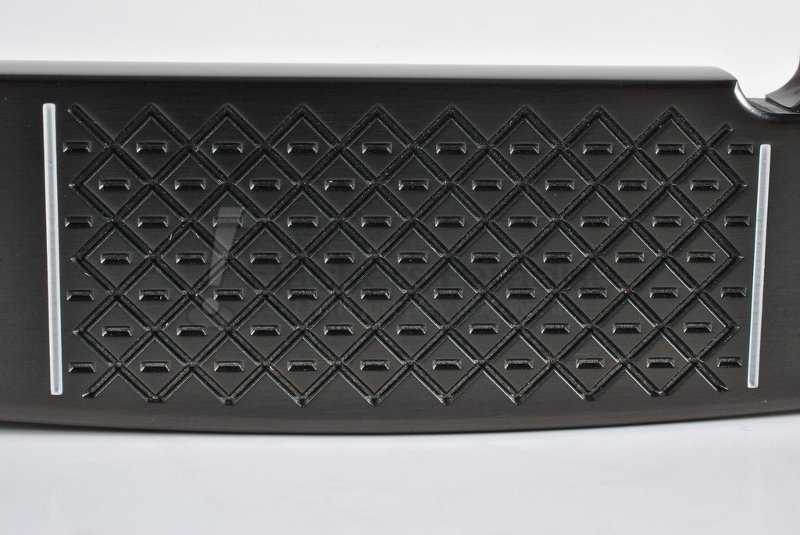 Parting Thoughts:
The high-end putter market is a fickle one, there are a few "names" who tend to demand the lions-share of attention based on that name alone, and beyond those companies is a wave of others with similar shapes and similar ideas. Toulon Design however is intent on creating and maintaining a platform for themselves based on innovation, technology, and of course a name of their own which is well known within the industry for his long legacy at TaylorMade in Sean Toulon. It is the opinion of this reviewer after working with the Garage version of the Madison headshape they have indeed created something different and effective. Time will tell just how well the company can establish a foothold within the market, but the performance is certainly there for it to be done.
Toulon putters start at $399.00 and go up as different options are selected.  More information on the company and their entire lineup of offerings can be found on their website, www.ToulonDesign.com.