If you are looking for quick yardage confirmations, slope adjustments for a "plays like" distance, and green slope information for your approach shot into a green, you typically need to either pay a good caddie or slow things down and use a laser rangefinder with slope and reference a green book (if you can find one).  Of course, neither of these options is all that feasible for most of us amateurs, but the Voice Caddie G1 GPS watch is an intriguing solution that provides  yardages, slope adjustments, and green undulation maps at a glance.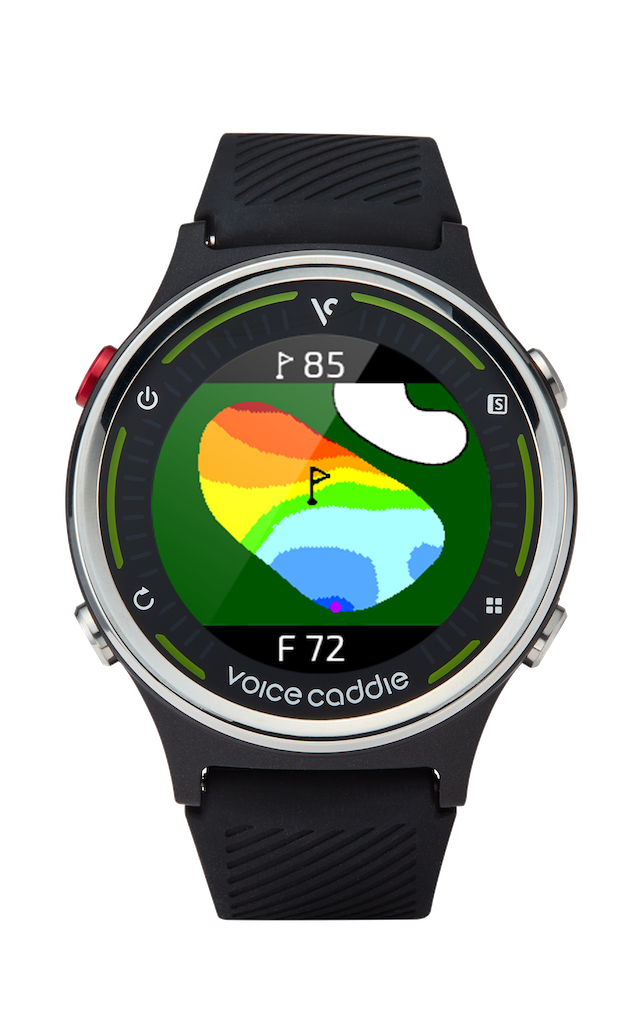 Voice Caddie G1 is Feature Rich
Certain features are expected with any GPS watch, including accurate front/middle/back yardages and an easy to read display for all conditions. Voice Caddie's G1 checks these boxes and puts plenty of unique features up your sleeve too.
The G1 gives you the choice between displaying yardages with no adjustment (like most watches) or yardages to the center of the green with slope adjustment. In my testing, I found the adjusted yardages to be accurate within a yard or two of a lasered slope yardage, which is a bit of a game changer because I didn't have to continually go to the rangefinder to get the information that the G1 provided at a quick glance. When tournament time comes around, you can turn the feature on and off easily in the settings menu.
Another awesome feature is the Course View screen, which is the default screen for a hole. The Course View screen shows you a bird's eye view of the entire hole and lets you quickly get your bearings on a new hole and its design and lets you develop a strategy on the tee. By moving your finger around the screen, the G1 will display distances to bunkers, water, or your ideal landing spot. After your tee shot, the Course View shows you were you are on the hole and it will display how far you are from where it last detected a swing, which is helpful for determining your yardages but also for the occasional lost ball search. If the Course View screen isn't what you are looking for, a quick swipe to the right brings up the front/middle/back yardages we just discussed. A swipe to the left takes you to the Green View and gives you even more information.
The Green View display is another huge differentiator from other GPS watches on the market. The Green View shows a heat map of the green that shows the slopes of the greens, the severity of the slopes, and the location of high points and false fronts. From the Green View Screen, you can move the pin location around to see a more accurate distance to the current location of the pin (assuming you place it correctly) or a precise yardage to a spot that will give you an uphill putt. The Green View heat map can also be a great confirmation of break directions if you are unsure or just on unfamiliar greens.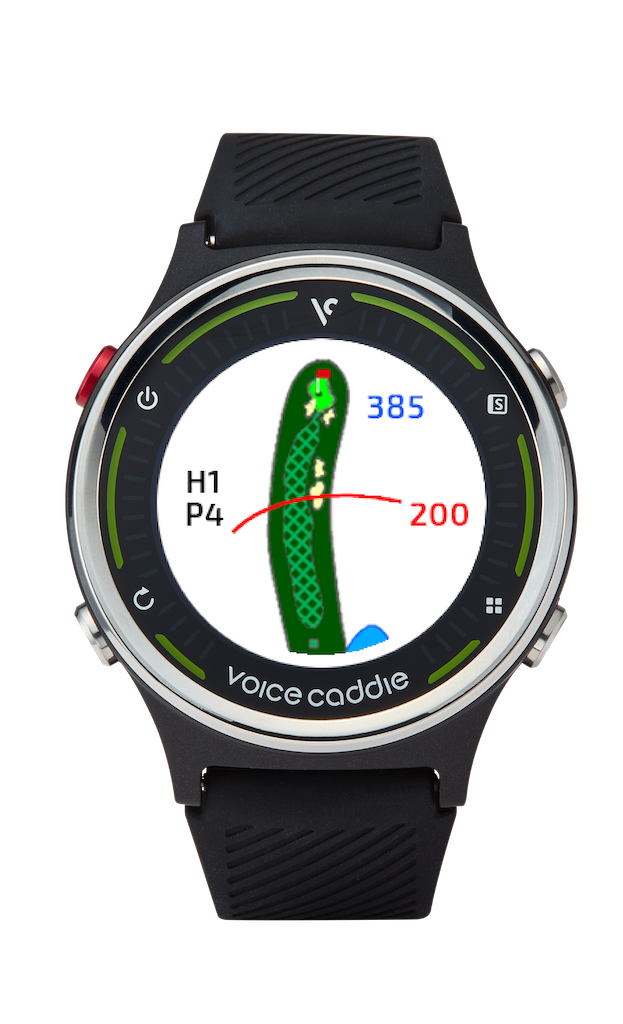 The Implementation and Navigation are Top of the Line
All of these features are packed into a pretty darn stylish and incredibly functional watch. The color touch screen is bright enough to see in direct sunlight and is responsive with no detectable lag or processing delay. As a result of the responsiveness, the G1 is one of the easiest GPS watches to navigate and use on course because it keeps up with you when you are moving without throwing you into random menus or screens you did not want to see. It also has physical buttons that help you navigate settings and lists of options, including a dedicated back button that can help you navigate quickly if you get lost in the options. Unlike several GPS watches that I have reviewed over the years, the G1 has almost no learning curve and everything seems accessible in a swipe/button click or two. The G1 also connects to its companion phone app via Bluetooth to review your round history and search for additional Green Views for courses.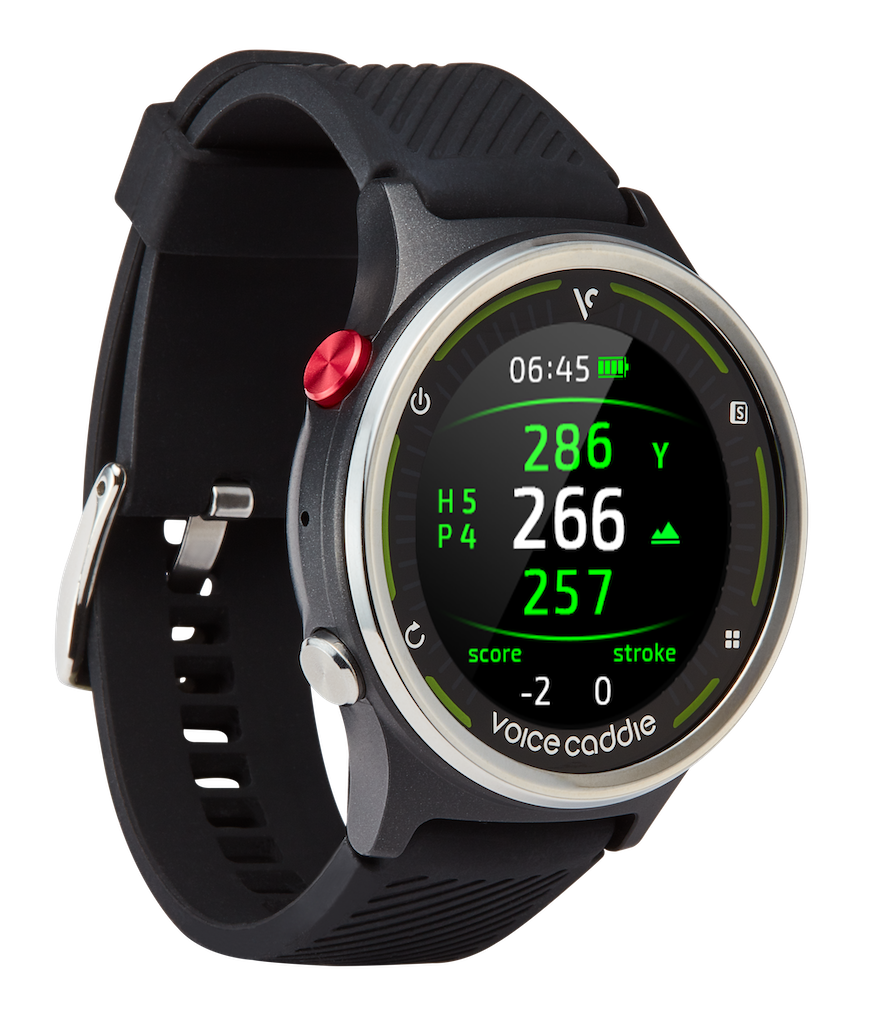 As with any technology, Voice Caddie's G1 certainly isn't perfect but it is among the best GPS watches that I have tested. But it is important to note that the areas where G1 isn't perfect don't detract from the total package (unless maybe if you are buying solely for the Green View). For example, the Green View undulation feature isn't available at every course but Voice Caddie says that it is continuously expanding the database of available courses. And where the green undulation feature is not available, the pin placement feature also does not appear, which is a bit of a double whammy. In my opinion, the lack of pin placement movement is unlikely to be a deal breaker for most golfers because pin placement is a nice feature if you know the course well but eyeballing the precise location of the pin from 175 yards away can be quite difficult. And if you need the yardage to that level of precision, Voice Caddie offers the GL1 hybrid laser rangefinder that can get it for you and may be more suited to your needs. I also had difficulty getting the automatic scoring feature to work correctly and I could not solve the problem with anything in the Voice Caddie documentation that was provided, but your milage may vary. Despite these minor issues, it is my opinion that the G1 is one of the better GPS watches on the market that has helpful bells and whistles that you can use or not, depending on your preferences.
Lastly, the Voice Caddie G1 is free from any recurring membership costs or other fees that seem to be creeping into the GPS watch market. You can learn more about the Voice Caddie G1 on their website www.voicecaaddie.com or you can check out reviews of the other Voice Caddie products here.
The Details:
Price: $299.99
Available Now