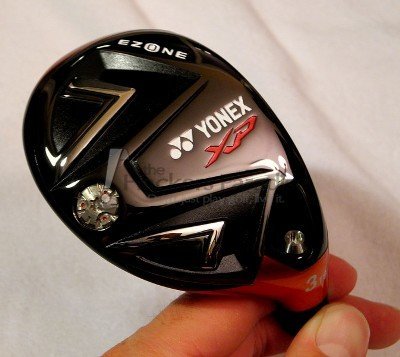 Many of our readers have had the fortune to sample a variety of clubs from Yonex Golf thanks to THP Demo Days, and the feedback is often very positive. The company has a long-standing history in the game of golf and their EZONE hybrid was particularly popular, as evidenced in this 2011 thread on the THP Forum where six average golfers were able to test the club.
The new XP line of hybrids attempts to build on that success while incorporating new technology.
XP Hybrid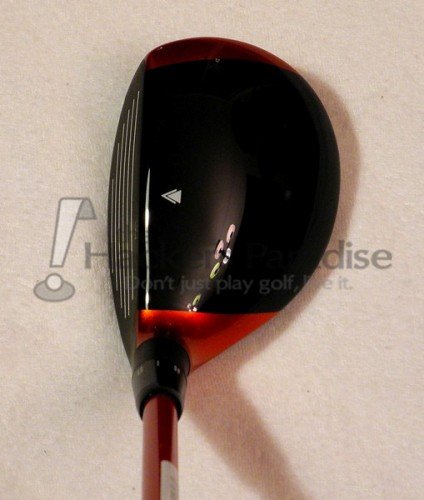 Revolutionary Dual Tungsten Power [DTP] System delivers ultimate power output.
The EZONE XP range features the YONEX Dual Tungsten Power [DTP] System – an innovative engineering breakthrough that produces maximum power and distance. The newly designed DTP System, featuring Tungsten in both the grip and club head, works in conjunction with the Lightweight Shaft.
The result is a swing that delivers an explosive power breakthrough with the same effort, adding more yards to your game.
Key Technology
Carbon Composite Crown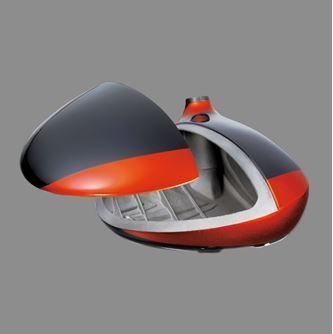 The Carbon Composite Crown is ultra-light to enable both an 8g Tungsten screw and additional 8g weight to be positioned deeper in the club head. The centre of gravity has been suitably altered to promote a high launch trajectory and extra forgiveness for greater driving distance.
Tungsten Grip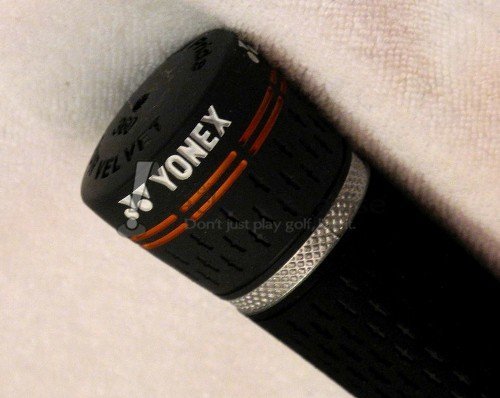 The composite 20g Tungsten Powder at the grip end works in conjunction with the Tungsten screw in the club head to produce an explosive power breakthrough. The Dual Tungsten Power [DTP] System and Lightweight Shaft counterbalances to retain a D2 swing balance, making it just as easy to hit as a conventional driver but with more power.
EX300 Lightweight Shaft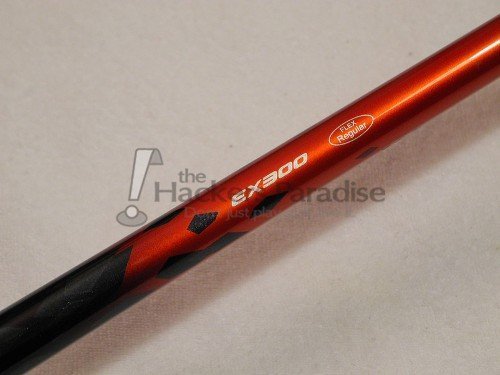 The Lightweight and counterbalanced shaft works in conjunction with the Dual Tungsten Power [DTP] System and has been engineered to generate higher swing speeds for added power off the tee.
Quick Adjust System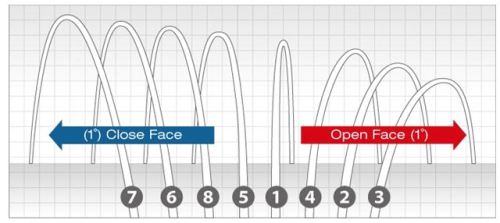 Custom tune your clubs through the YONEX Quick Adjust System. Easy and intuitive to use, the Quick Adjust System allows you to refine launch trajectory and club face angle through 8 settings, allowing you to conquer even the most demanding tee shot.
Specifications
| | | | | | | |
| --- | --- | --- | --- | --- | --- | --- |
| Club | Flex | Loft* | Lie* | Head Weight | Length | Swing Weight |
| #3 | R/S/SL | 19° | 58.5° | 236.5g | 40.5″ | D0 |
| #4 | R/S/SL | 22° | 59° | 242g | 40″ | D0 |
| #5 | R/S/SL | 25° | 59.5° | 247.5g | 39.5″ | D0 |
*Loft, lie and face angle are independently adjustable.
L/H available in #3 R/S/SL and #4 R/S/SL.
Aesthetics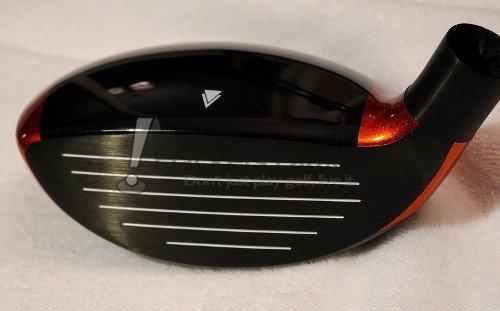 Like the other two other metalwoods bearing the same name, the XP hybrid features a two-toned burnt orange and black color scheme that will be instantly identifiable. Along with the dual-arrow alignment aid, the crown's design allows the user to easily frame the ball. While many companies claim to offer enhanced alignment features, the XP series does it better than most.
The XP's head is closer to what many will identify as a 'mini fairway wood' rather than the iron-like profile that some hybrids possess. It is on the larger side, especially back to front. Some will find confidence in the size, while others may find it a bit ungainly for their wants.
Like the fairway woods, the backweighted grip on the XP hybrid provides a subtle feeling in hand that while noticeable, isn't as pronounced as other 'heavy' clubs. This should be well-liked by those players that are interested in counterbalancing, but are not willing to play a club that feels substantially heavier than what they are used to.
At impact, the XP produces a slightly higher pitched tone, though it's mostly void of a hollow-sound. As such, the feel on well struck shots is powerful, with the shaft imparting a very smooth sensation through the entire swing.
Performance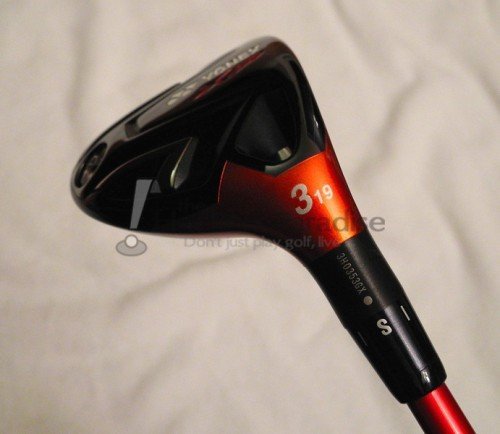 The Yonex XP Hybrid was tested with the EX300 R flex shaft both outdoors and using a Vector X launch monitor.
Playability and Forgiveness
While the XP hybrid's head is on the larger size, it was still quite easy to work with. As a game improvement hybrid, this quality is imperative and the XP didn't disappoint. Shots off the turf and from a tee were both easy to execute, and the rounded off sole helped the club perform decently from longer grass.
Off center shots were moderately punished in distance and dispersion. While not the most forgiving hybrid, the XP offers a very acceptable level of performance on mis-hits.
Distance and Trajectory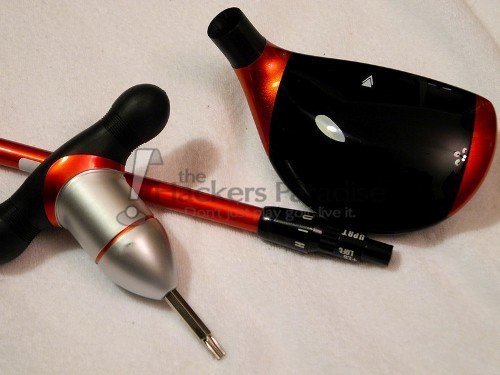 Both the XP hybrid and fairway wood produced an unanticipated set of launch conditions, but the hybrid was probably the most surprising. While launch angles were typical of similarly lofted hybrids, spin rates were the lowest seen among all other 2013 offerings, even those with low/forward CG locations like the TaylorMade SLDR. We have no explanation as to why this was the case, but it repeated itself over and over during extended testing.
The end-results of this lower than normal spin was a flatter trajectory and lower overall ball height than normally seen from a hybrid. Carry distances were still on par with other hybrids for the most part, but the lower trajectory did result in some additional roll. Judging by this, those players looking to reduce spin may consider demoing the XP series, though players with naturally low spin rates may struggle to hit the ball high enough to reasonably hold a green.
Final Thoughts
The Yonex XP hybrid offers a combination of aggressive styling and modern technologies that can compete with any other brand in the industry. Fitting plays a role here, and it appears those players that naturally produce higher spin rates may find much to like about this club. However, the ability to alter both the loft and lie angle means that a large segment of golfers should find something they can work with. The XP series a big departure from the EZONE series, but the same high quality that many of THP's readers have enjoyed persists. The XP hybrid retails for $199.99 and can be found using Yonex's retailer search tool on their website, www.yonexusa.com.