What piece of equipment, outside of the golf ball or tees of course, would you say golfers go through more than any other? If you said the glove, then you're right on the mark.
I know I'm one who has historically hesitated to spend the money on the upper tier gloves because with my death grip I can wear through the heel pad section of a palm at a breakneck pace. Besides, even if you don't wear it out, odds are most of us will sweat through it. How do you solve those problems? For years its been to just buy a cheaper glove you don't mind essentially ruining in a short time. Well, CaddyDaddy believes they have come up with a solution, and after working with their "Claw" glove design, I have a hard time arguing that.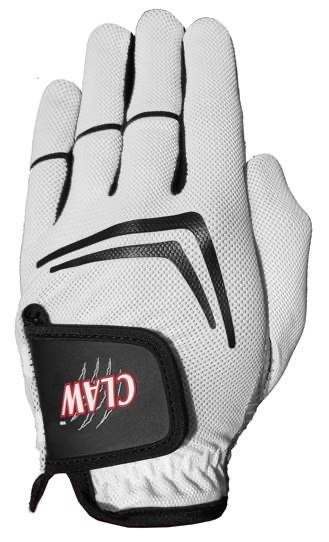 Quick Take
A golf glove that takes durability to an incomparable level while offering all the grip performance one expects only from leather. It's an outside the box design that is well worth a closer look. The aesthetics may not be for everyone, but the performance is sure to win over the hesitant.
The Claw Design
CaddyDaddy isn't new to the golf accessory realm, in fact I reviewed their original glove, the Talon, way back in 2015 for THP here. If you take a look at that design as well as the "Claw" here, you notice the company isn't just here to offer another generic leather glove like everyone else, instead there is legitimate innovation going on here. 
The name of the game here was finding a way to blend maximum breathability with unsacrificed tack through the swing. The breathability solution is obvious, a perforated cloth-based material is always going to offer the most and be a blessing to those with sweaty hands, but it offers no grip. CaddyDaddy had the foresight to think outside the box and closer to the realm of what football does by implementing a silicone material onto the palms of receiver gloves which offer mind-blowing tackiness. Here though, a full palm coating was too much sacrifice of that breathability the company wanted, so instead multiple lines/beads of silicon have been applied across the palm and fingers. 
So, what you have is a design with some serious thought going into it. But, as always, what you want to know most is how it performs. Well, lets get to it then!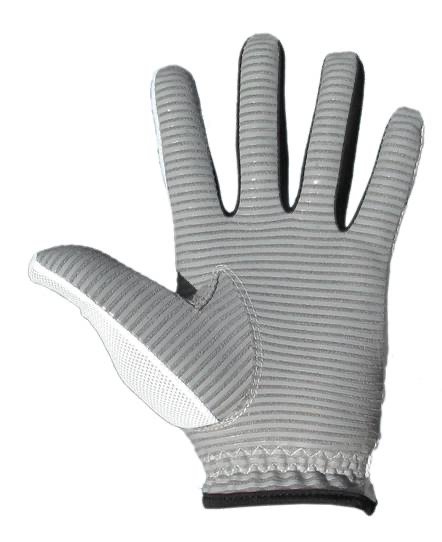 Form, Fit, and Function
At first, there is a lot going on with the Claw glove and when you take it out of the package it is so different in weight, feel, and look that it is a little odd at first. The branding on the glove is a little aggressive, but this latest redesign based predominantly on THP community feedback has led to a much more palatable look overall. If clean and classic is what you want though, you probably aren't one who's willing to try something new and creative like this anyhow, so the aesthetic isn't your concern. To those stepping out on that ledge and giving them a go, the performance will smooth over any qualms you may have over the look very quickly.
The base material here being all about breathability means it is just as stretchy as it looks. In fact, when putting it on for the first time it reminded me a lot of those knit gloves you used to wear as a child, you know, the ones you are always shocked at how much they will stretch. Because of that, CaddyDaddy does recommend sizing down, for me, I usually wear a large and went medium here instead and it was spot on. Even then, there might be some issues finding that "right" size for you which is why the company offers free size exchanges to put minds at ease. Sizes offered for those wondering range from Cadet Medium all the way up to XL, so there should be something in there for everyone.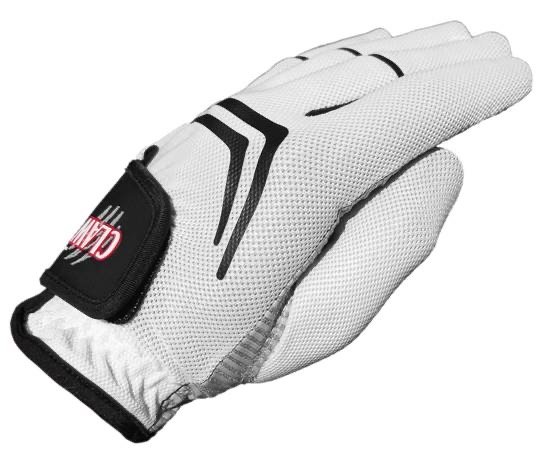 With that stretch, my immediate concern was the stitching keeping everything together, and in the end that is what took my glove out of play…more than SEVENTY rounds later. So, with that, my mind is well at ease with the seam durability. When it comes to the material, it is worth mentioning that the back of the hand being a white cloth it will show more dirt than a leather glove as it sort-of clings to it. But, you can actually machine wash these, which I did and with some oxy in the wash it came out as bright white as ever.
As I mentioned, my one glove put on 70+ rounds before meeting its demise, during that time I washed it twice, played in the rain, humidity, cold, all of it. The best part of that? Even to the end, the palm remained as tacky as ever. The beads/lines of silicone are so vastly different from anything else we see in gloves, but it works. Even in a downpour it did its job, not to mention I never had to swap out gloves because of sweat issues. While it may be a little too outside the box for the die-hard traditionalists out there, a $21.95 golf glove that last 3-5 times longer than most other gloves is something that should appeal to many. This is one I have no problem saying is well worth giving it a try.
The Details
Availability: Now
Where: www.caddydaddygolf.com
Price: $21.95
Dexterity: RH and LH
Sizing: Cadet M, Cadet L, S, M, L, XL