One of the most widely used descriptors for putter head designs is "Classic". That very fact is why it is incredibly fitting for Cleveland Golf to produce the "Classic" line of putters. Just like last year they have taken some of the most notable putter designs ever created and brought them forward in a single lineup with something that will almost certainly fit everyone's eye.
General Information about the Cleveland Classic HB Putter Line:
Four different tour-proven designs with enhanced feel give any player an edge on the green. Now available in a sleek Black Pearl finish, these models suit everyone from beginners to the most discerning experts
Tour Proven Design – Now available in a sleek Black Pearl finish to inspire confidence among players of all abilities.

Heel-Toe Weighting – Maximizes Moment of Inertia for minimal distance loss on off-center hits.

Enhanced Feel – New and improved Winn grip offers soft texture and responsive feedback. A slightly deeper CNC milling pattern on the face promotes a softer feel at impact for more control.
The Rundown
Putters are frankly the most overlooked portion of Cleveland Golf's lineup year in and year out. However, one thing that has rung true each year is that when someone actually takes the time to give them a chance and a roll, they come away surprised time and again. In 2013-2014 Cleveland golf is again bringing back its lineup of "Classic" putters featuring well known head designs, and just as in the past, it's all about just giving them a roll.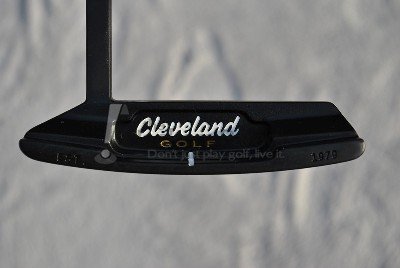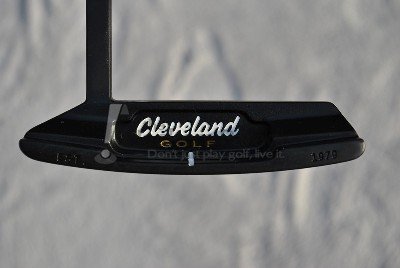 For the purpose of this review Cleveland Golf sent out the HB-4.5 (slant-neck blade) and the HB-6 (double-bend mid-mallet) for THP to spend some quality time with. General specs on the putters are as follows:
The HB-4.5 is available in 33, 34, 35 inches and has a headweight of 340g

The HB-6 is available in 33, 34, 35 inches and has a headweight of 350g
Headcover/Grip
Often one of the most overlooked parts of the aesthetic package on a putter, the headcover and stock grip choice serve as a way to tie it all together. With the newest version of the Classic putter line Cleveland has put forth a very clean and simple Velcro headcover made from a sturdy material with heavy-duty stitching. For the grip they have gone with a new Winn grip featuring the Cleveland Golf logo and a black/white overall scheme. In typical Winn fashion the grip is well textured, providing a somewhat soft yet tacky feel. Though everyone has their own personal preference when it comes to grips, the stock selection will suit many.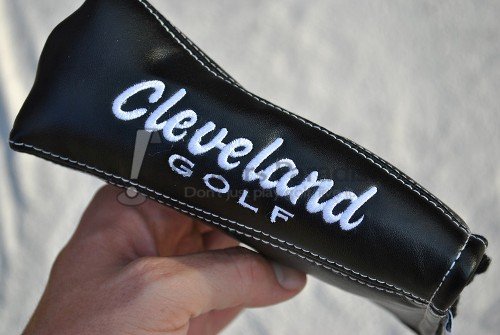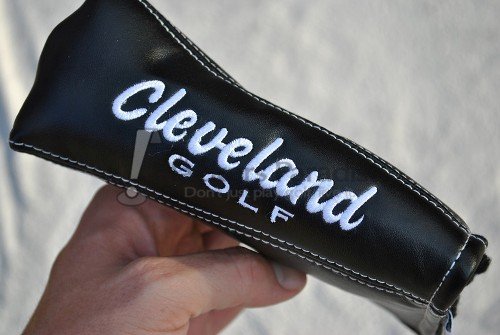 Headshape/Alignment: HB-4.5
The HB-4.5 is essentially a traditional Anser style head design but rather than a standard plumbers neck it features a slant neck. The slant neck provides the putter with a decent amount of toe-hang that will benefit a stroke with a bit more arc in it. The slant also gives around 3/4 offset to aid in keeping the users hands in front of the ball.  From an alignment standpoint, the blade's pocket cavity and flange combined with the single siteline provide for a simple setup at address that is effective in squaring the ball to the target. It is really just a very classic design and very fitting to be part of the "Classic" lineup of putters.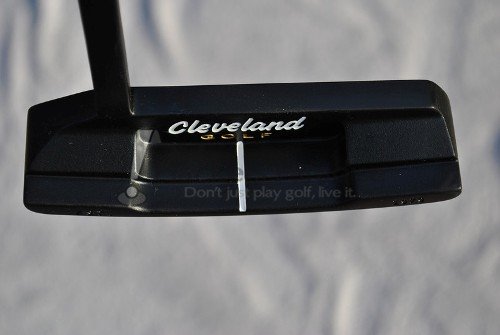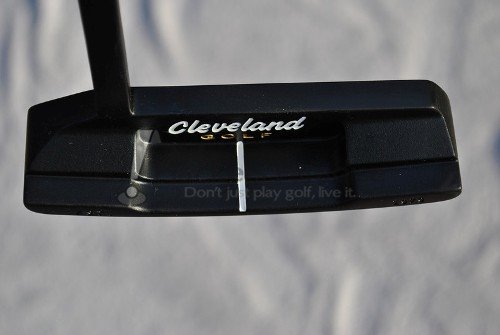 Looks/Alignment: HB-6
The HB-6 is the mid-mallet design in this year's line of Classic putters from Cleveland. This one features a double bend shaft, which allows for a full shaft of offset to keep the hands of the user well forward in the stroke. Additionally, the HB-6 is fully face balanced, which will lend itself to a large variety of strokes. The head shape itself is an incredibly popular design in which the rounded overall body and the longer flange section and three levels of step downs frame the ball like few other designs can. The HB-6 features a longer single site line in the flange that helps give a concise target line when at address. Much like the HB-4.5, the HB-6 is also a design well deserving of being part of the "Classic" name that Cleveland has utilized.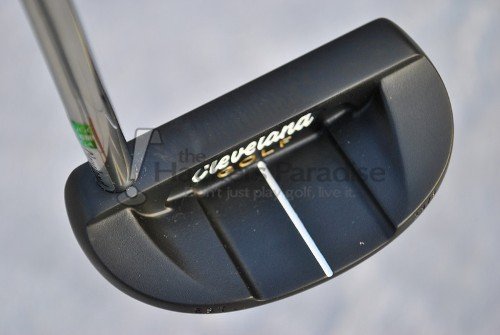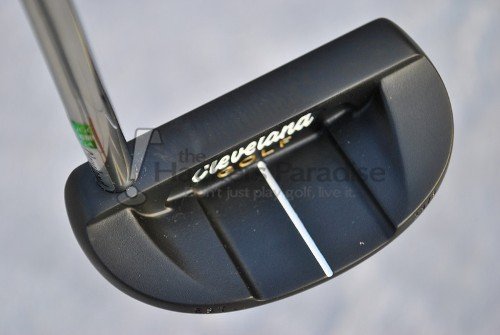 Finish/Engraving
Last year's line of Classic putters from Cleveland featured a platinum finish, but this year they elected to go with Black Pearl and it was a very good decision. The finish itself is matte on the vast majority of the heads, with polished accents only on the soles of the putters. One of the best things about this finish is that it is plated and therefore is a maintenance free finish, as opposed to many of the black finishes on putters out there. The Black Pearl also ensures that glare is never an issue while at address and also lends itself well to accentuating the natural lines of the designs themselves – clean, simple, and literally "Classic".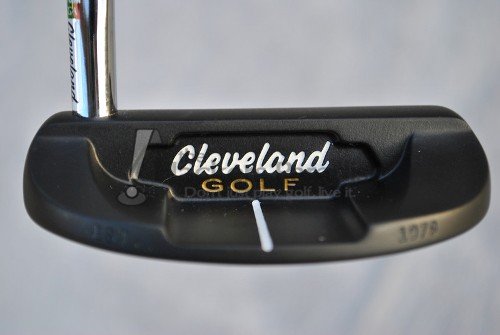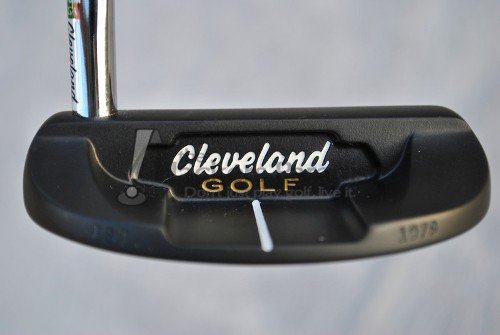 The engraving on the putters is quite an interesting area. On the bumpers and cavities of both designs the simple "Cleveland Golf" and "Est. 1979" script is finished in white/gold/black paintfill and is one of the cleanest looks from any OEM today. Add into the mix that the sole of the Classic putter line is very reminiscent of some of the more recent Never Compromise putters and features the same white/gold/black paintfill as the rest of the putter. The sole is astoundingly well done, with a solid mixture of fonts, sizes, and information (loft, lie, weight) that steers clear of being too boring or too busy. However, one area of indifference comes with the face of the putter, Cleveland face mills these head designs, and as such they wanted to indicate that with engraving. The "Face Milled" engraving feels almost out of place, both in size and font, on such an incredibly well done putter.  From an aesthetic standpoint, the face engraving on the putters just stands out on its own, and not in the most flattering of ways. However, you admittedly don't see the face at address and outside of that small area Cleveland has nailed it on these putters aesthetically.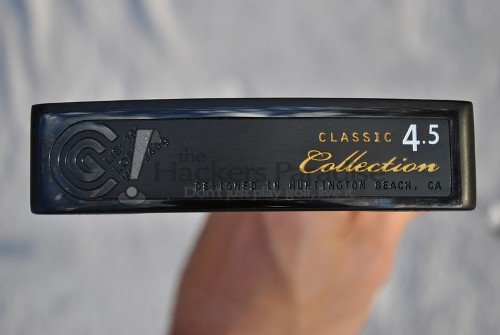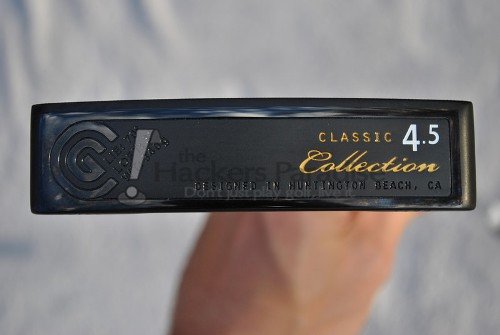 Sound/Feel
This is where the Classic lineup of putters from Cleveland has always shined, and frankly this year is no different. The HB-4.5 and HB-6 putters possess qualities from a sound and feel standpoint that many golfers would associate with only the high-end price point putters of the golf world, but at a fraction of the cost. This year Cleveland slightly increased the depth of the CNC milling on the faces of the lineup and it is much more evident than one would initially believe when rolling them on the green. The deeper milling has reduced the amount of surface area that comes into contact with the golf ball at impact and because of that it puts of a very deep and slightly muted click. This deeper sound makes the putter feel just as soft as almost any fully milled putter on the market, including its higher priced OEM competitors. Frankly put, if you were to roll the putter without knowing anything about it there is no way you would guess that it is a CNC face milled putter, and this is a major compliment.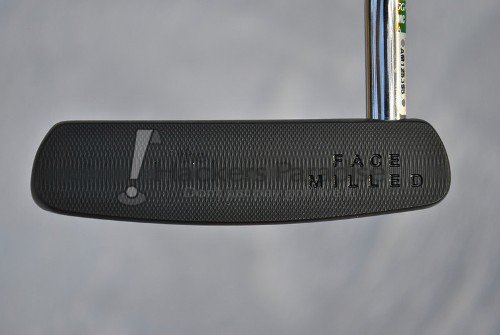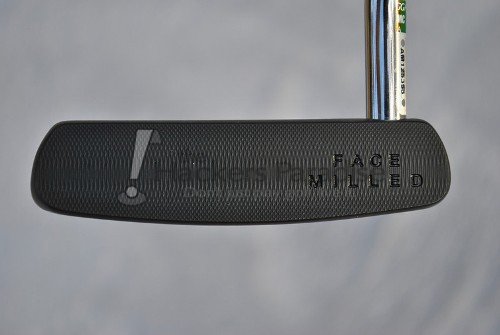 Overall Performance
On the putting green and on the course the HB-4.5 and HB-6 perform just like they look, clean and effective. Each design has its own particular set of unique traits as far as framing the golf ball for alignment based on general head design, but no matter that, they are incredibly well rounded putters. Each headshape is incredibly well balanced throughout the stroke and maintains stability without any twisting at all through impact. Additionally, even with the softer sound/feel they still provide ample feedback through the stroke, allowing the user to know where they are at on the face upon impact. These two putters are truly "Classic" designs that perform just as they have since their initial design, simple and effective.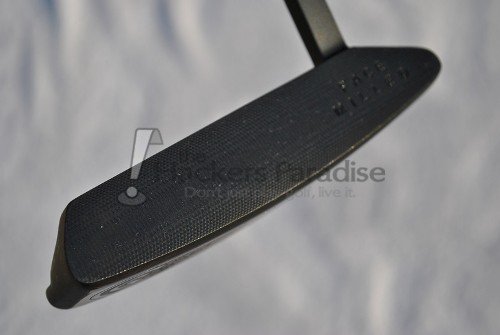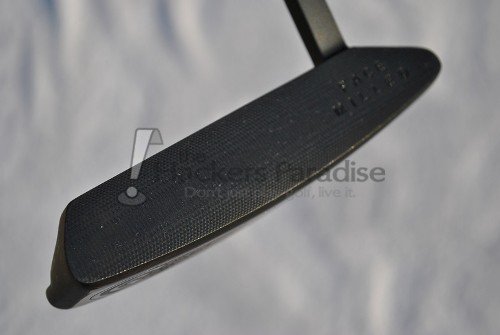 Parting Thoughts
Like it or not, putters tend to be a price driven piece of equipment for golfers. Too high and they are seen as exorbitant and unnecessary, but too low and we automatically look past them because they must be inferior designs. The newest iteration of the Classic line of putters from Cleveland features an MSRP of $99.00, but they should not be pigeon-holed by that. Just like their predecessors, this is a lineup of putters that are simple, clean, and just as effective as any other putter out there. Simply put, if people will step up and give these a roll, they will most certainly come away impressed.
For more information on the Classic line, be sure to check out Cleveland's website at www.clevelandgolf.com.