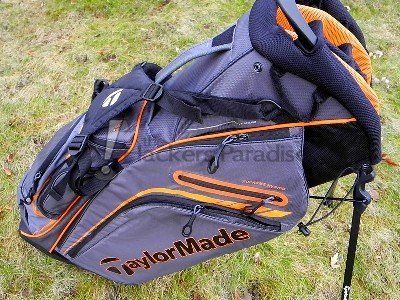 Aiming to please golfers that want the best of both worlds, the TaylorMade Supreme Hybrid Carry bag is designed to balance storage and organizational needs with light weight and portability.
Information and Specifications from TaylorMade
Play each round in comfort, whether walking or riding, with the Supreme Hybrid Stand Bag. A 14-way top with 4 full-length dividers and 2 slots designed to accommodate oversized putters allows for complete club organization. 10 total pockets, including a velour-lined valuables pocket and oversized garment pocket, provide plenty of gear storage. A cart-compatible base equips the TaylorMade® Supreme Hybrid Stand Bag with remarkable versatility.
14-way top (10"x8.5")with 4 full-length dividers for club separation and protection

Grab handle integrated into the top cuff allows for easy and convenient transportation

2 slots designed to accommodate putters with oversized grips for maximum versatility

Crush resistant body construction provides complete protection for equipment and contents

10 total pockets provide plenty of storage options for accessories and other course essentials

Pockets include a velour-lined valuables pocket, oversized garment pocket, and 3 accessory pockets

4-point padded shoulder strap with air mesh lessens pressure points for increased carrying comfort

EVA ergonomically molded hip pad provides added lower back comfort while carrying the bag

Anti-split stand system with non-slip foot pads for a secure stance on a variety of terrain

Cart compatible base allows bag to securely fix to either a riding or push golf cart

Matching rainhood for club protection during inclement weather

Bag weighs approximately 5.3 lbs.

$219.99
Features and Performance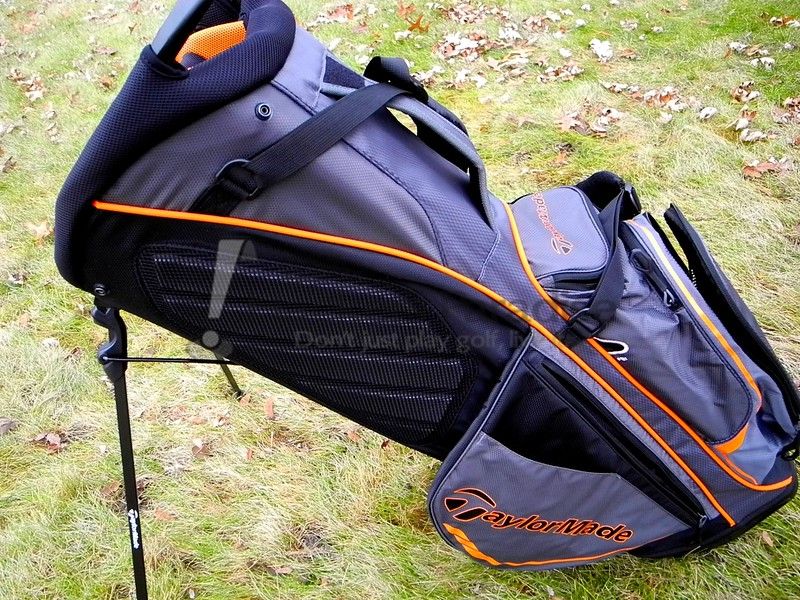 A relatively new category of golf bags, a hybrid stand bag isn't defined as easily as some others, but surveying other so-named offerings on the market seems to indicate a few common themes:
14-way top with dividers like we see in many cart bags.

Lots of pockets.

Relatively light weight (5-7lbs)

A base that will fit well on a cart.
There are a number of other features that one or more competing bags offer, but those are the basics. This class of bags seems to attract the golfer that enjoys the storage benefits of a larger bag, yet enjoys the convenience of a stand apparatus and wants to be able to carry their clubs without being bogged down by a heavy load.
The 2015 version of the Supreme Hybrid does offer some improvements over its predecessor, with the most notable being more pockets, an additional oversize slot, and almost 1lb less weight. At 5.3 lbs, it's not the lightest on the market, but it's very, very close and 10 pockets put it near the top of the class there.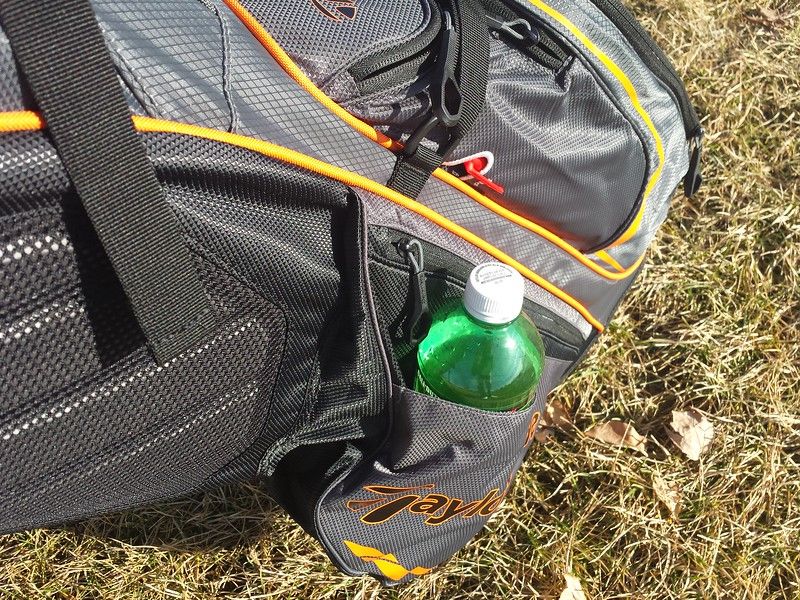 Pockets are great, but the true measure of their value always comes with their accessibility and their utility. Taylormade seems to have figured that out, as every pocket on the bag is both useful and easy to access. Almost all the pockets that are most often used while walking are within reach and not blocked off, with the scorecard pocket being the one exception. It sits hidden on the side of the bag farthest from the body, making it difficult to get to unless the bag is dismounted.  Still though, in terms of the measures listed above that is a minor complaint – it's hard to write while you're walking anyway.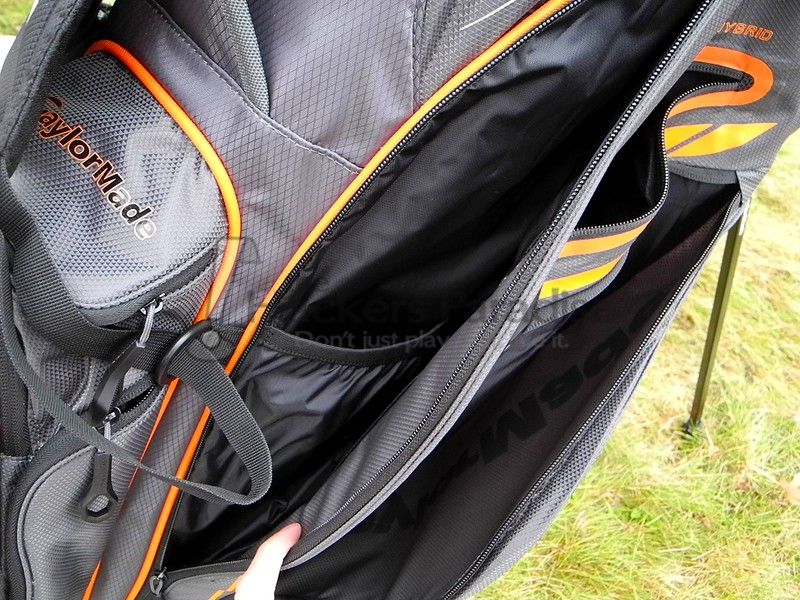 There is ample room for just about any accessory or piece of apparel a person is willing to lug around the golf course in the Supreme's pockets. In fact, were one to completely fill them up it would likely be too heavy to be a viable carry bag. The most appreciated and well placed pocket of them all is the dedicated range finder slot that sits on the front of the bag above the large ball/accessory area and underneath the spot where tees are normally stored. This perfectly placed pocket makes it easy to access the range finder at just about any time and most importantly, it eliminates rummaging around in search of it every time it's needed.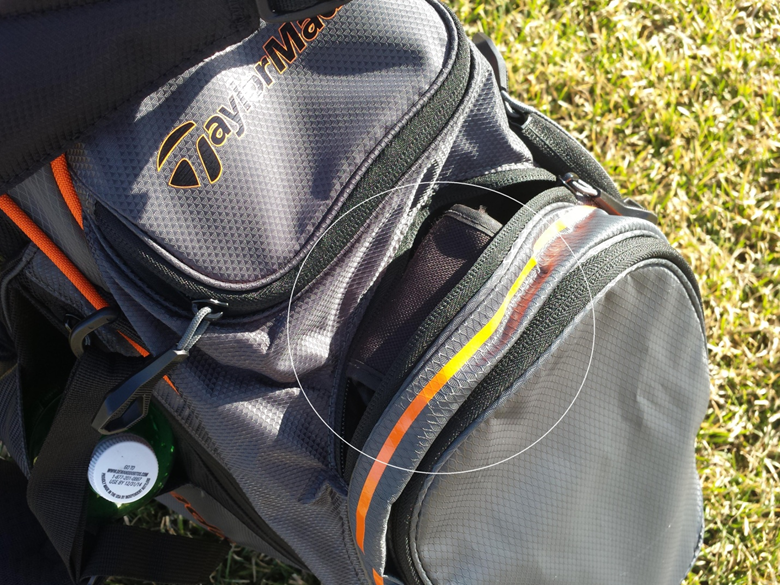 Initially a point of concern, the 14-way top proved to function extremely well in all scenarios presented to it, enough so that it may have a converted a former detractor in this reviewer. The combination of 14 slots and four full-length dividers came together to offer top-notch club organization and extremely limited bag chatter with almost no instances of clubs jamming or sticking in the bag. In fact, it was possible (while the stand apparatus was extended even) to stick a club in the slot and let it slid into place with a gentle push. The oversized slots were mightily enjoyed for their ability to accommodate jumbo putter grips and the fact that they sit on opposing ends of the bag means that users have two different configuration options available to them. In addition, two clubs can be put into one of the oversize slots, freeing up an extra space for things like alignment sticks or a weighted club.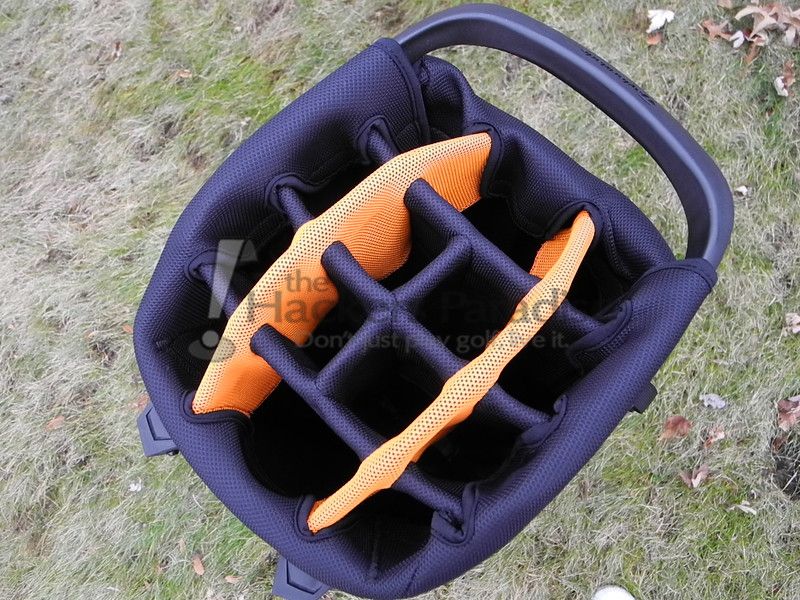 The Supreme Hybrid's stand apparatus performed flawlessly during testing. The legs are unique in that they are triangular in shape and their metal construction gives them the appearance of better than average durability. Some effort was needed to engage the stand in a lightly loaded bag at first, but nothing more than a small push. The wide foot plates proved very useful in soggy winter conditions.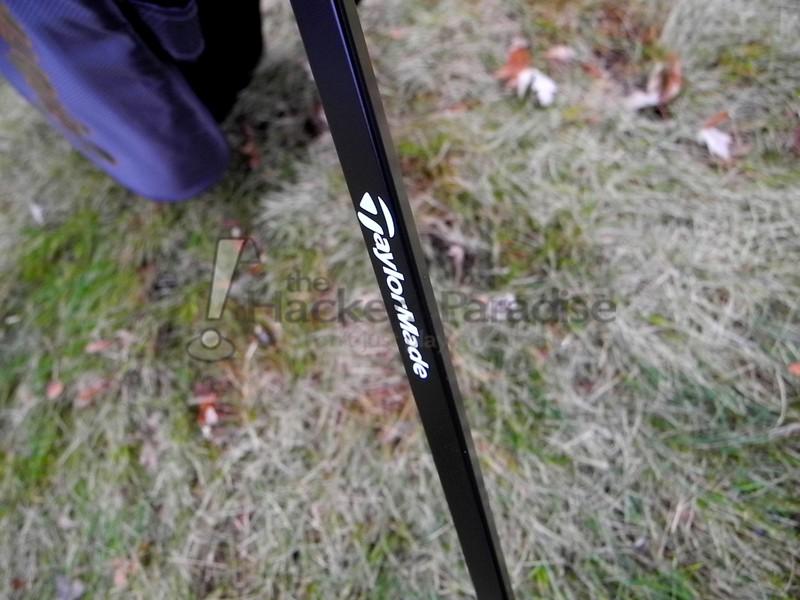 Though lacking some of the bells and whistles related to converting to a cart bag (Nike's quick-click removable straps being a perfect example), the Supreme functioned well enough to be a respectable competitor. The base sat well in a riding cart and the bag was easy to strap in securely. With the previously mentioned dual-oversize slots, it is possible to situate the putter either up front or at the back of the bag. Admittedly, testing of the cart function was limited to strapping the bag in (due to weather related issues), but in appearance it seemed the Supreme Hybrid was an improvement over the standard carry bag.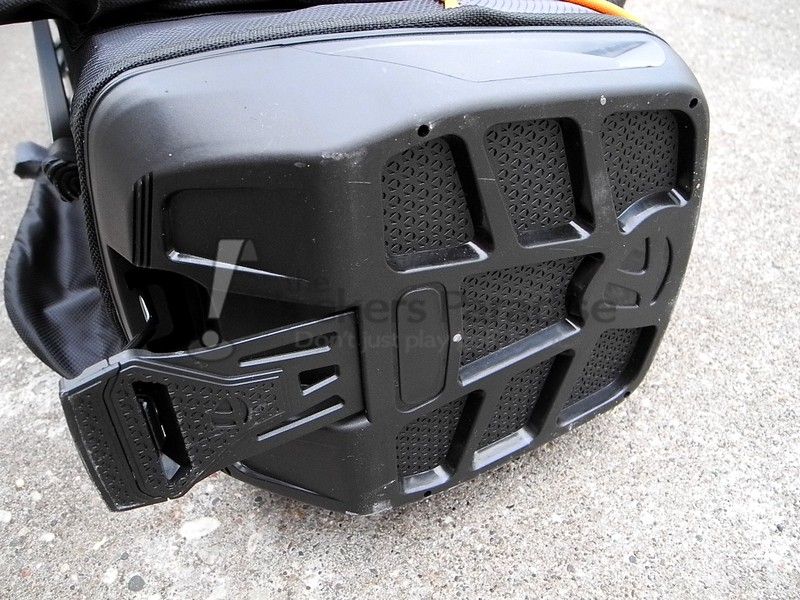 All the convenience in the world can't cover up an uncomfortable or heavy carry bag though. Little will send a walking golfer scurrying away faster than a bag that causes pain or undue fatigue. Fortunately, the Supreme Hybrid performed exceedingly well in this regard during a number of walking rounds. The straps have a wide range of adjustability for varying body types and though they aren't the most padded straps ever made, they were more than sufficient for pain-free carrying. The lightly padded area on one side of the bag, what TaylorMade is calling the "EVA ergonomically molded hip pad", was hard to notice, which is probably a good thing. It seemed to do the job of keeping any pointy ends from jabbing into the body.
In short, the 2015 version of the Supreme Hybrid Stand Bag passed just about every test thrown at it during testing. It worked well for carrying, on a cart, or for a practice session. The organizational features were plentiful and appreciated, yet they didn't seem to have any negative effects on the most important features for a carry bag – weight, convenience, and comfort. In addition, at $219.99 the Supreme Hybrid is priced in range with other similar bags. More information on the Supreme Hybrid Stand Bag can be found at TaylorMade's website, www.taylormadegolf.com.