The game of golf has continually evolved throughout the years from a technology and equipment standpoint, but it has also evolved just as much when it comes to fitness. Being an athlete and then coach for most of my life, I fully understand that fitness doesn't simply mean strength and conditioning. It also means treatment and prevention of athletic injuries. One popular method of treatment and prevention is through soft tissue therapy, which is also referred to as myofascial release. The intent and purpose of soft tissue therapy is to increase recovery and muscle stamina through increased blood flow and circulation via a compression source. A company named Trigger Point Performance has actually taken the principles of myofascial release to a much more specialized yet accessible level with the development of training aids like their "Cold Roller" and "GRID Mini".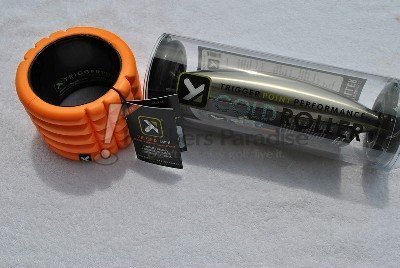 Triggerpoint GRID Mini Foam Roller
At 5″ tall by 5.5″ diameter, The GRID™ Mini is the most travel friendly foam roller on the market.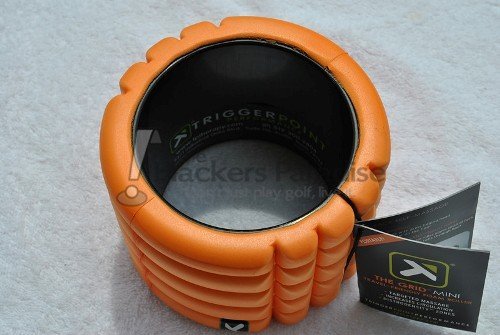 Features
Matrix Technology

Distrodensity™ Zones

It won't break down or lose its sharp

Perfect for traveling

Attaches to your gym bag or backpack

Fits in standard sized suitcases

Perfect for pre or post workout
Matrix Technolgy and Distrodensity™ Zones
Unique design allows for targeted massage

Tubular – like the fingers

High & Firm – like the fingertips
The Channeling
Allows for blood and oxygen flow

Helps maintain flexibility

Compliments recovery process
Overall Thoughts
The GRID Mini Foam Roller by Trigger Point is almost 1/3 the size of the original and intended as both an effective tool for treatment and prevention as well as a true "travel size" option. The GRID Mini is shockingly lightweight in hand, which really did take me aback because of how sturdy it still is. The Mini is well built and it is always nice to see a well put together product where corners were clearly not cut. Additionally, the overall dimensions and weight would certainly make it easy to take anywhere without taking up a lot of space, whether it is in the suitcase or travel bag.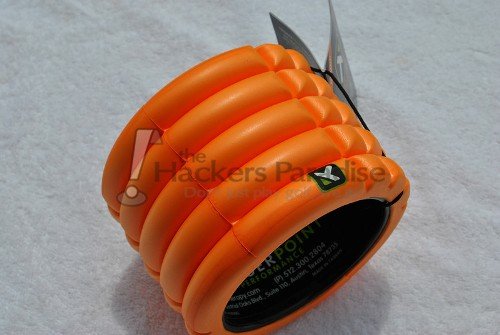 For me the GRID Mini excels at rolling out the legs from the arches to the calves and all the way up the quads. It was incredibly easy and convenient to use on my feet and calves after getting home from walking the course and was actually quite enjoyable to roll out my arches when watching TV or working on the computer. However, I have no doubt that are a lot more uses for the GRID Mini for those who have more flexibility than I do. There are certainly a lot of possibilities here.
TriggerPoint Cold Roller
The Cold Roller™ is the most advanced and effective recovery product on the market.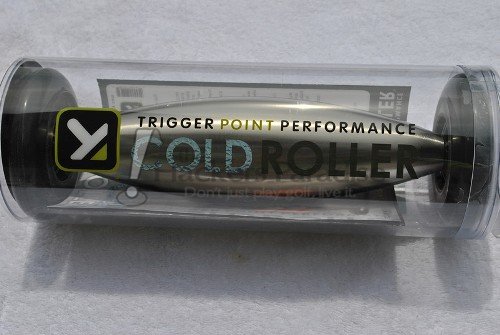 Myofascial Release and Cold Compression
Best, most effective recovery process

Targets only muscles with cold compression maximizing recovery

Speeds recovery and results

Reduces rolling time with greatest rate of return
Cold Roller™ is a game changer
Maintains cold effectiveness for up to 3 hours

Compact, travel friendly

Patent Pending Design

Patent Pending Gel Core

Stainless Steel roller resists scratching and breakdown

Polyurethane Wheels for easy rolling and durability
Overall Thoughts
The Cold Roller could be called the hybrid in the Trigger Point lineup. It basically takes their Quadballer roller that provides basic muscle massage/compression and combines it with the most effective thing out there for treatment and prevention of injuries – ice. The Cold Roller is made up heavy duty multi-surface wheels (very much like rollerblade wheels), a great looking stainless steel base, and it is filled with a freezable gel core. It is worth pointing out that everyone who I showed the Cold Roller to actually agreed that it just screams quality. The Cold Roller is clearly a heavy duty training aid that is meant to withstand a lot of use.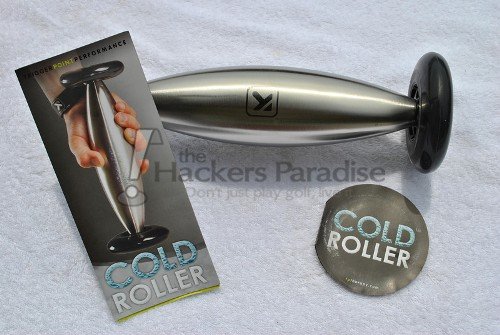 Using the Cold Roller is simple. First, it goes into the freezer for at least two hours, then take it out, wipe it down with a towel, and put it to use. The roller can be used on a multitude of muscle regions. Basically if you can bend that way, you can roll that muscle out. For me,the focus here was on the feet and calves again, as my legs tend to suffer a lot thanks to years of abuse. I really enjoyed the Cold Roller on my achy feet. After the initial adjustment (or flat out shock) to the cold temperature it felt incredibly rejuvenating. The combination of ice with massage from rolling the muscles did wonders on my aches and pains and would definitely be useful for a lot of people out there.
Parting Thoughts
Taking care of your body is essential, not just for us golfers or athletes, but also in everyday life. Clearly Trigger Point understands and is very focused on that with their products.  All told, both the GRID Mini Roller and the Cold Roller are extremely well thought out and built products that accomplish their purpose of providing convenient and effective methods of treating or preventing any muscle woes that someone may be experiencing. The GRID Mini roller has an MSRP of 24.99 and the Cold Roller has an MSRP of 99.99. For more information please be sure to check out Trigger Point's website at www.tptherapy.com.