It could be argued that no sector of the golf industry advances at as dynamic a pace as golf shafts. Sure, on the club side of the industry we see constantly shifting center of gravity, cutting slots, adjusting size, increasing MOI, and adding new paint, but even they may not be as impressive as what we see with the techniques being developed in shaft production. While it may seem as an incredibly lofty claim, in my opinion you need look no further than graphite iron shafts and the evolution we are seeing unfold before our eyes. One such example is the new Recoil Prototype iron shafts from UST Mamiya.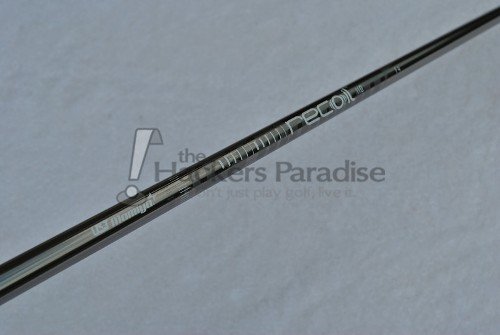 Information from UST Mamiya on the Recoil Prototype's
Finally, a revolutionary technology that will change how you think about iron shafts. UST Mamiya's new recoil iron shafts are a game changer. In the past, heavy weight graphite iron shafts felt dead and stiff. With UST Mamiya's exclusive recoil™ technology, we have brought feel back into the shaft, while allowing players to hit a wide range of shots that result in better distance control and pin seeking accuracy.
By positioning over 19 different layers within the shaft, we were able to create a design that outperforms the best steel shafts in the market. The recoil™ Prototype shafts are constant weight designs, with balance points adjusted so there will be no drop off in swing weight when re-shafting your steel shafted irons.
Better players looking for great feel and the ability to work the ball

Lower balance, higher flex point

Heavier weights with firmer tip for lower flight
Recoil Prototype Options
The Rundown
I will openly admit to having a long standing personal policy of avoiding graphite iron shafts based primarily on the traditional stigmas that are attached to them. Things we have heard like being for older golfers (good on the joints), weaker flex in the lighter versions, and the in the heavier versions just a total lack of feel.  I know as well as anyone that having preconceived notions about something without trying it for yourself is a terrible thing, but that is where I was at until getting to hear about these shafts directly from UST Mamiya at the 2013 PGA Show. Hearing from the company that they had created a graphite iron shaft with all the traditional dampening effects graphite shafts are known for, but thanks to a new layering technology they felt and performed like steel, set my mind in motion. Clearly I wanted to know more.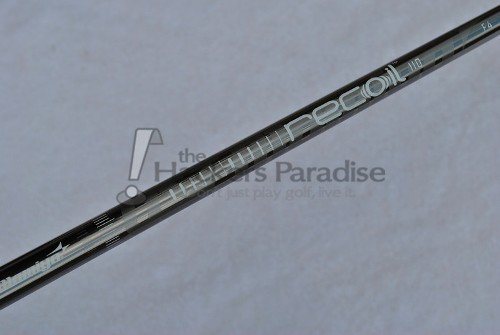 I was fortunate enough to get a set of the UST Mamiya Recoil Protptype iron shafts and put them through their paces first hand. UST Mamiya is offering the shafts in three different weights ranges of 95, 110, and 125 grams with available flexes of R, S, and X. For this review, a 4-PW set of 110's in the F4 stiff flex were put into play.
Looks
We are visual creatures by nature, so when a company's goal is to create a graphite shaft that plays like steel, then the finish on the shafts is a great place to start. Personally, one of the big turn-offs of graphite iron shafts has been that they are often accompanied by busy graphics and bright colors. However, UST Mamiya has taken a different approach by creating a graphite iron shaft that looks incredibly similar to steel. The Recoil line possesses a very clean look with minimal graphics on one side of the shaft and a beautiful glossy/mirrored grey finish.  In fact, when they are installed label down as most iron shafts are, you have to look very closely to realize they are a graphite shaft. Aesthetically speaking, UST Mamiya nailed it here. They created a look that breaks any automatic mental stigma that golfers may have with graphite iron shafts – a very smart move indeed.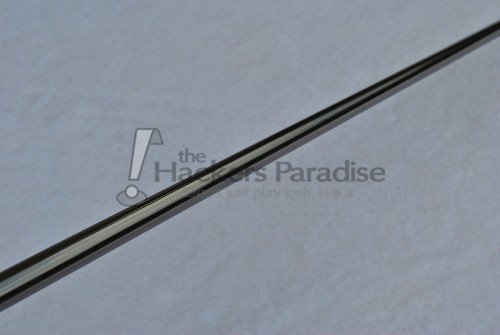 Feel
When it comes to golf equipment, shafts are one of the most subjective and personal things discussed. Since no two swings are alike, no two people will get the same things out of a shaft, especially when discussing feel. With that in mind, the best path to take this discussion down is to break it into multiple sections.
The goal of UST Mamiya with the Recoil Proto's was to build a heavier shaft that was more in line with the current 90 to 130 gram steel iron shafts we are seeing and also to break the traditional status of heavy graphite iron shafts lacking feel through the swing. In my time with the 110 Prototypes not only did I hit a lot of golf balls on the course, range, and head to head with steel, but I also had a lot of other people hit them as well. Every single person that swung the setup came to the same conclusion that I did. If you were not told that these were graphite iron shafts then it would likely never cross your mind. Personally and as discussed with many others at the THP Demo Day, throughout the swing you get the same sensations as steel, swing after swing.
Often when talking about full swings with graphite iron shafts to non graphite users you hear a few different complaints. Typically with lightweight shafts it is that the shaft feels like it is overpowered, the head is struggling to keep up through the swing, and they just launch too high. On the heavier end of the spectrum it is usually that there is a no feel/flex at all in the swing and not being able to track where the head is throughout. After spending a lot of time hitting golf balls with the shafts it is clear that the new layering technology and weight balancing through the set has placed the Recoil's right in the middle of the two traditional graphite iron shafts. On a full swing you most certainly feel the head keep up with the shaft, yet still get an incredibly smooth feel through transitions and a subtle kick through impact. The most direct way to say it is that they feel like steel on a full swing.
As far as feel is concerned, partial swings are interesting with the Recoil Proto's. One of the immediate things I noticed in swings that were ¾ or less is it really felt like the shafts were more active in this area. At no point does it feel like the head lags behind the shaft. Everything simply feels much livelier down and through the impact zone. This could very well be due to a sharper transition into the downswing that can occur in less than full swings, but it was there nonetheless. Now, that does not mean that it is a bad thing, it is simply different and in my case certainly caught me off guard initially.
Performance
As touched on earlier, the goal of UST Mamiya with the Recoil Prototypes was to create a graphite iron shaft that combined all of the benefits of graphite with the consistency and performance of steel. Those are clearly lofty goals, but with an incredible amount of R&D they were clearly achievable. Time and time again with these shafts I, as well as the others that got to try them, continued to come back to the conclusion that these play just like steel, but with all the benefits of graphite.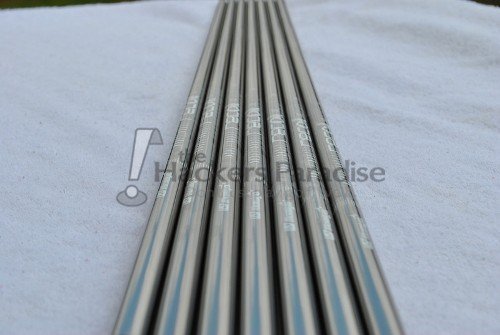 The 110's that I played for this review are classified by UST Mamiya as having a low-medium launch angle, but I was consistently seeing more of a medium range launch and flight. Getting the ball up into the air with the short and long irons was not an issue at any time, but as with most things that will vary swing to swing. Having hit a LOT of the "popular" steel shaft options that are out there, these really seem to fit right in between them all as far as launch/flight is concerned. Not true low bullets like some with an extremely stiff tip section, but at the same time not as high as traditional graphite shafts with their extremely active tip sections. This launch angle control can be credited directly toward the layering method used in the shafts, particularly with blending a heavier weight with a less active of a tip than seen traditionally in graphite.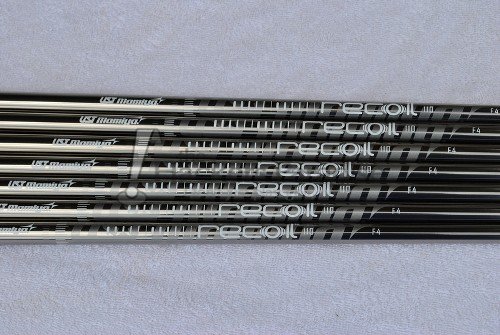 Another area that stood out was dispersion. I will admit that coming into this review my biggest fear with switching from steel to graphite was about how much dispersion I might lose. After all, this is among the common arguments by many stronger players using graphite in the irons. I can say without any doubt that I lost zero dispersion with the Recoil Proto's. In fact, I saw as penetrating a flight as I ever have with steel. Even in the crazy Oklahoma winds the ball held its trajectory. Additionally there were no issues flighting the ball or working it left/right around the course.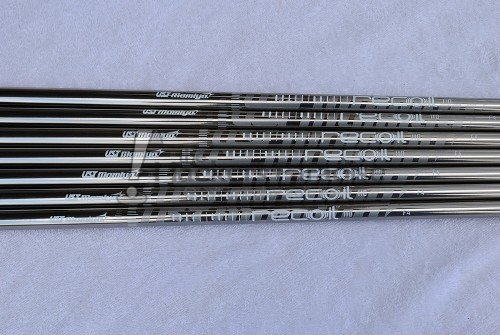 As impressive as the above performance characteristics are, one of the best features is not that UST Mamiya managed to produce steel characteristics in a graphite shaft. It is that even with the increased weight and new layering technique they managed to keep the vibration dampening effects of graphite. I have a quick/aggressive move from the top and while heavier shafts have always been good for me from a performance standpoint, they have also force my joints to take a beating. Aches and pains have always been a post round normality for me, particularly should I choose to play more than 18 holes in a day, but with the Recoil Prototype shafts that was not the case. In fact, these shafts got the ultimate test in this area at the THP Ultimate Weekend of Golf where day after day multiple rounds were played. With all of that golf, even though I was exhausted it was never an issue with joint pain despite all the swings. For me personally, this is where the Recoil's shine the most.
Parting Thoughts
We often see and hear companies getting excited about a line or piece of equipment that they have coming, but do not always see the claims they make come to fruition. In the case of the UST Mamiya Recoil Prototype iron shafts however, I genuinely believe the claims are spot on. The Recoil Proto's deliver an iron shaft that has the benefits of graphite combined with the traditional performance and consistency of steel. I have said it before in this review – if you did not know you were swinging graphite before hitting golf balls then you would never guess it. However, I do believe that while steel players will really enjoy what they see from these shafts, the players of "traditional" graphite that are used to the lightweight/high-launch features may not. The Recoil Proto's are a different world than what we are accustomed to out of graphite iron shafts – lower launching, more solid feeling, but without the wear and tear on the body you can get from steel. There is a definite demographic out there for these shafts. The only issues might be the added cost of graphite as well as simply finding them to try, however, if golfers can find them they will open some eyes.
The UST Mamiya Recoil Prototype iron shafts are available through all UST SPX dealers and more information on locating a dealer as well as the shafts themselves can be found at www.ustmamiya.com.