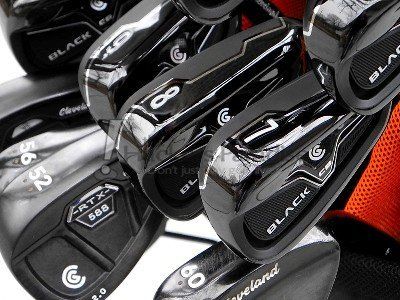 2014 and 2015 seemed to mark a change in direction for Cleveland Golf. With the reemergence of their sister brand Srixon into the North American market, many theories on the company's future were tossed around the internet. Late last year, THP had a chance to speak with Adam Sheldon at Cleveland Golf, who was able to clarify this issue a bit. At that time, he noted their continued commitment to Tour-inspired wedges, putter innovation, and (with irons and metalwoods) a product line geared towards slower swing speeds. This roughly coincided with the launch of the 2015 CG Black line, which was originally introduced in 2011 as a premium alternative for those looking to add or regain speed and distance. Recently, Cleveland added one final piece to the line, the CG Black CB irons – a set that focuses on speed, but also on looks, shot making, and premium components.
Information and Technology from Cleveland Golf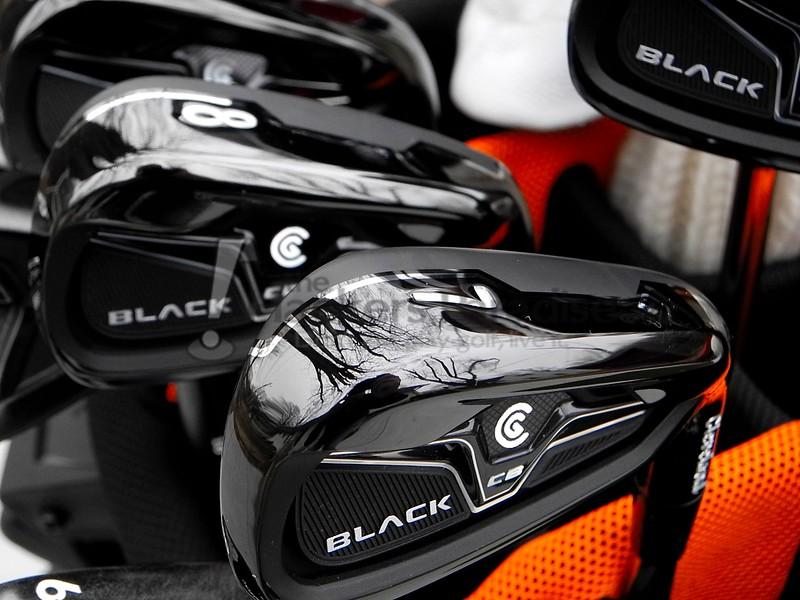 The new CG Black CB irons were designed for better amateur golfers with swing speeds ranging from 85 mph to 105 mph.  The CG Black CB irons were developed for players who prefer to work the ball toward the flag stick, but still want plenty of forgiveness.  The CG Black CB's long and mid irons also utilize a high strength HT 1770 steel face material for improved COR and increased consistency, forgiveness and distance throughout the club face.  Designed with a premium black finish, the CG Black CB irons are offered with the choice of two high end shafts, Nippon® NS Pro 1050 GH steel shaft or a UST® Recoil 660/670 graphite shaft.
IMPROVED COR (FACE DESIGN)
Making CG Black irons longer wouldn't mean much if they weren't more accurate and consistent too. The thin, high-strength steel face creates a larger area of maximum ball speed, plus allows for more perimeter weighting for more accuracy and consistency.??
FACTORS FOR IMPROVING HIGH COR AREA:?High strength steel (HT 1770) is used as face material and can achieve a thinner face compared to that of the 588 MT.
COMPARISON OF HIGH COR AREA
The 20% larger High COR Area allows for more consistency throughout the club face which helps make this not only longer but more accurate than other clubs tested.??
MAX COR: + 0.2 UP?HIGH COR AREA: 20% UP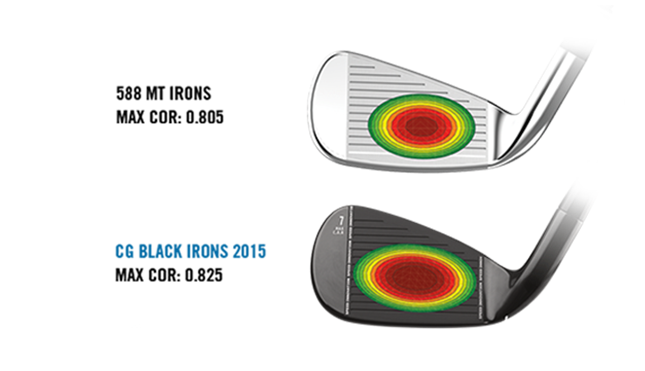 Specifications
| | | | | | | | |
| --- | --- | --- | --- | --- | --- | --- | --- |
| MODEL | LOFT ANGLE | BOUNCE | LIE | STEEL LENGTH | GRAPHITE LENGTH | STEEL SW | GRAPHITE SW |
| 4 | 22° | 1° | 60.5° | 39.5 in | 39.5 in | D3 | D1 |
| 5 | 24° | 2° | 61° | 38.75 in | 38.75 in | D3 | D1 |
| 6 | 27° | 2° | 61.5° | 38 in | 38 in | D3 | D1 |
| 7 | 30° | 3° | 62° | 37.25 in | 37.25 in | D3 | D1 |
| 8 | 34° | 4° | 62.5° | 36.75 in | 36.75 in | D3 | D1 |
| 9 | 39° | 5° | 63° | 36.25 in | 36.25 in | D3 | D1 |
| PW | 44° | 6° | 63.5° | 35.75 in | 35.75 in | D3 | D1 |
| DW | 50° | 8° | 63.5° | 35.5 in | 35.5 in | D4 | D2 |
| SW | 56° | 12° | 63.5° | 35.25 in | 35.25 in | D4 | D2 |
Shaft Offering: Graphite – UST Recoil 660/670 available in A, R, S flex. Steel – Nippon NS Pro 1050 GH available in R, S flex.

All models available in RH and LH.

MSRP (4-PW): $899/Steel or $999/Graphite
 Aesthetics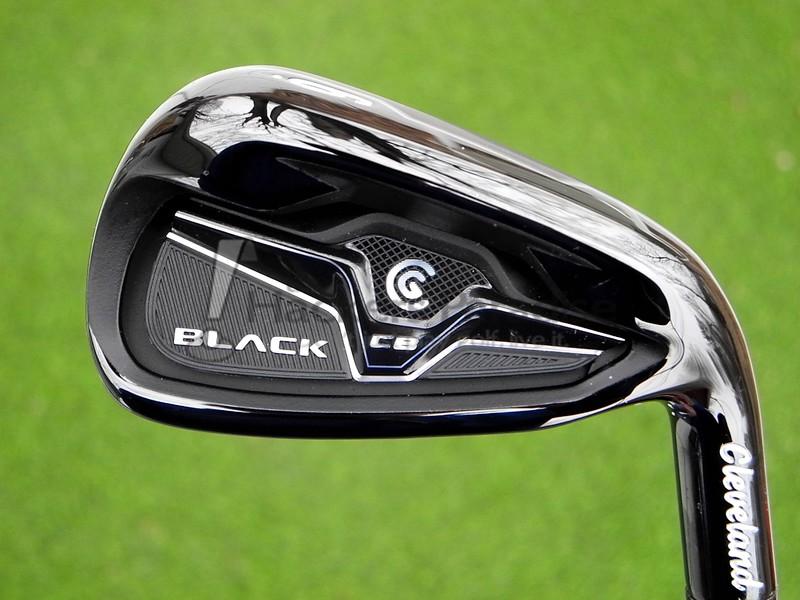 The CB's present a welcome alternative in the CG Black line that will appeal not only to the earlier mentioned target consumer, but also to a wide variety of demographics and player types. Rather than the typical ideal of what a slower swing speed player would be attracted to (large offset values, ultra light weight, thicker lines, and a combination of irons and hybrids), the CB's are more in line with a standard game improvement iron. If forced to compare to recent Cleveland iron offerings, the most logical choice would be the 588 TT set, though this would be more in a theoretical sense, as there are enough visual and technological differences that the two are really nothing alike at all.
True to their name, the CB's are stealthily finished in a glossy (mostly) black finish and have a sharp, modern looking badge gracing the cavity. The finish is unique among black irons in that the leading edge portion of the sole is matte (along with the face), which helped reduce the wear that is often a source of complaint among consumers. The reality of black finishes is that none are impervious to noticeable wear, especially in areas that have sandy soil, but the matte area functioned very well to mitigate the issue.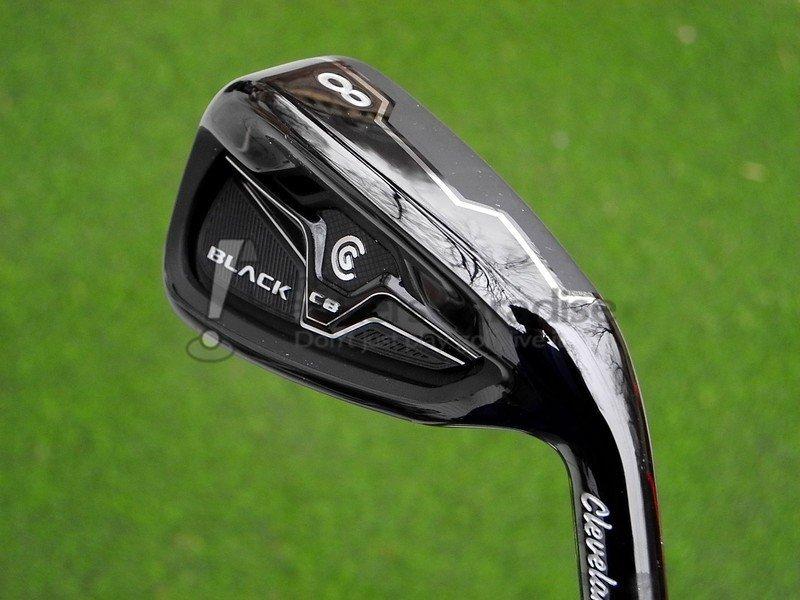 The CB's have a rounder profile than the very squared-off 588 CB's and 588 TT's of the past, which gives the clubs a bit more face-surface area without dramatically altering their size at address. This, combined with modest offset (compared to many game improvement irons) and a thinner topline, sets the Black CB's apart from any iron Cleveland has released in recent times. They have a shape and size that anybody comfortable with game improvement irons will be comfortable with, along with the added bonus of arguably the baddest looking finish on the market.
Along with the matte finish, the CB's utilize similar framing that the RTX 2.0 wedges have, with the words 'Speed Innovation' running down the sides of the grooved portion of the face. In addition, the irons' number is displayed on the high-toe area, along with the term "MAX C.O.R" on the long and mid irons. Neither were noticeable at address unless they were specifically looked for.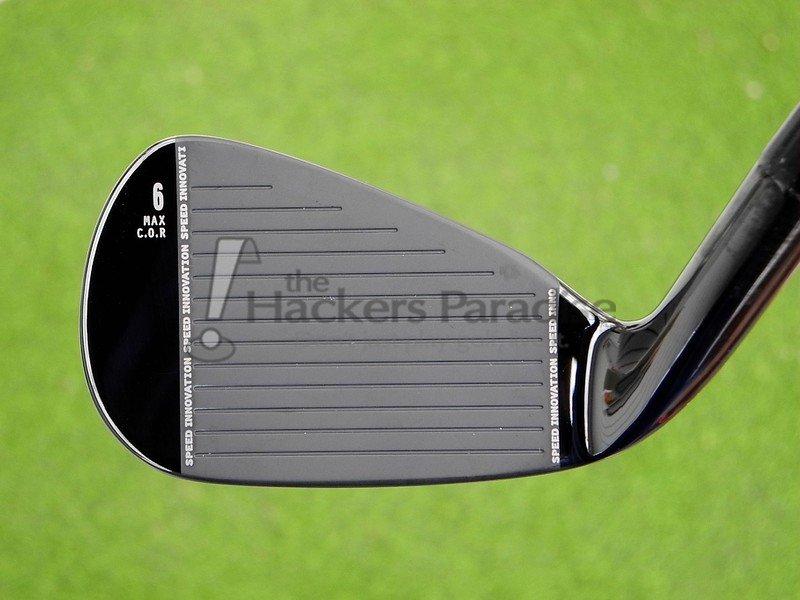 Sole widths are generous in the scoring irons and taper down a bit into the mid and long irons, which is typical. The full, undercut cavity is masked well thanks to the design of the badge, but a closer look does reveal it, giving an indication that the Black CB's offer plenty of forgiveness on off-center impacts.
A move that should be appreciated and commended is Cleveland's decision to offer two premium shaft options in the CB's. The Nippon 1050 GH is a slightly lower weight steel shaft that offers a mid-launch design and complements the irons nicely. It's not so lightweight and limber that it will turn off the stronger player, but still will perform well for average swings in the right flex. UST's Recoil is probably the hottest graphite iron shaft on the market at the moment, illustrating that Cleveland is listening to the consumer.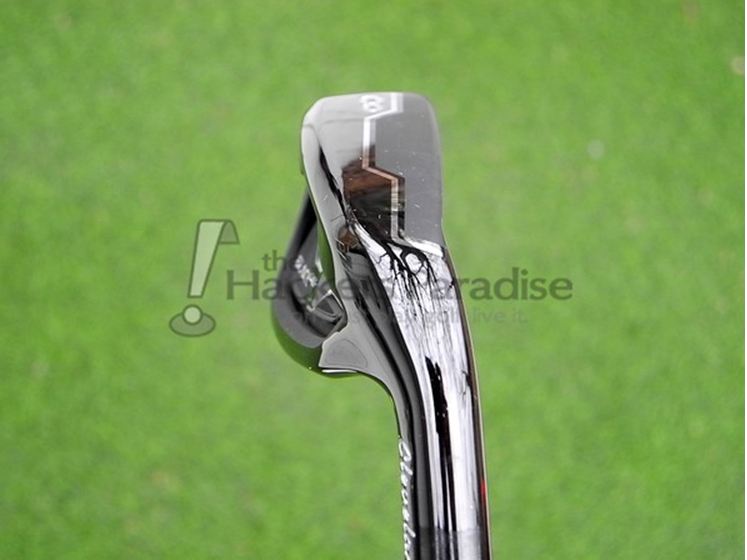 Though they are using a high-strength steel in the Black CB's, Cleveland managed to produce an iron that delivers a nicely muted or soft feeling at impact. Much of that is likely related to the design of the badge in the cavity, since they often reduce vibration and improve sound. Either way, the sound on center shots rivals anything on the market in terms of being pleasant and enjoyable.
Performance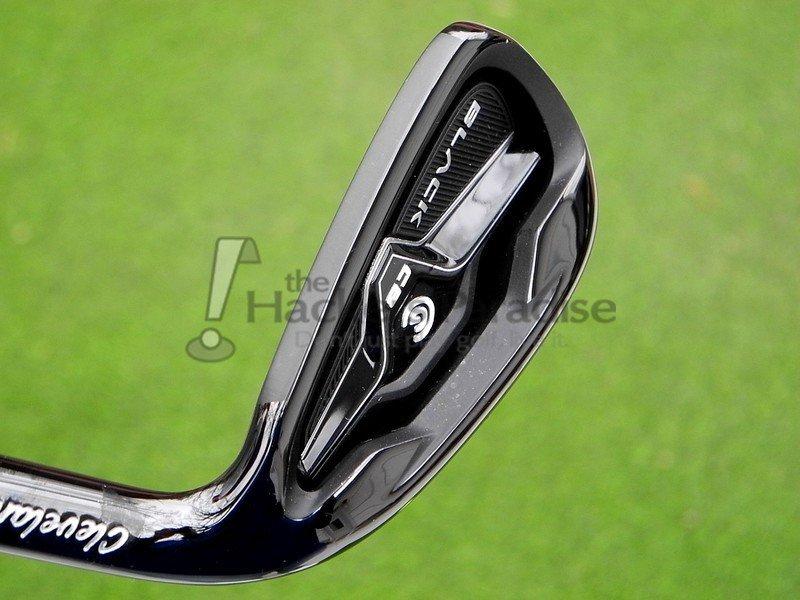 The CG Black CB's were tested with the Nippon NS Pro 1050 GH shafts in stiff flex both outdoors during multiple rounds of golf and indoors on a launch monitor.  
Based on comments online, the Black CB's were a bit of an enigma when first introduced. After previous experience with the CG Black line, many thought they were going to be ultra light and only for slower swing speeds. Conversely, from reading the company's marketing material, some felt that they were Cleveland's attempt at a 'players' style iron under the Black name. In reality, testing and observation showed that neither of these statements were reality. Rather, the Black CB's are very much a modern, game improvement design very much intended for what most would consider the 'average' player. They provide ample distance and forgiveness, without the larger lines of the original CG Black set. While some may find them more workable, it would be hard to characterize them as a true 'shot-maker' iron, but in the context of the CG Black line there is some credence to the statement.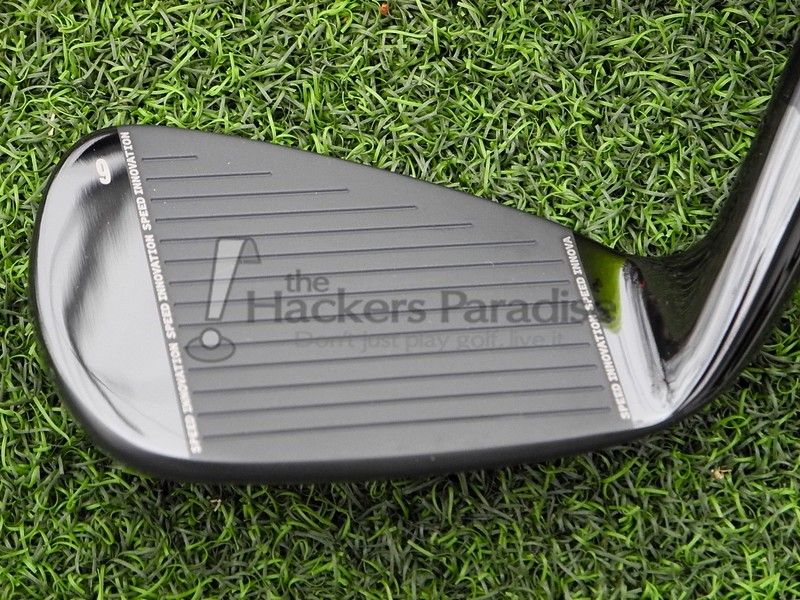 Distance recorded on the launch monitor showed that Black CB's produced ball speed and yardages right in line with the upper tier of distance irons on the market today. It's rare to find a truly longer iron on center impacts, so being in the same range is often a benchmark of success and the CB's certainly accomplished that. Off center shots showed again that they truly do belong in the game improvement category, as ball speed retention was well above average, as was ball height on misses low on the face. The longer irons were quite easy to work with compared to some, which helped with the inevitable bunching up of gaps that occurs with those less proficient using them.
Center impacts produced launch angles on the high end of the spectrum with moderate spin rates, producing excellent carry numbers and steep landing angles. Much of this is player dependent, but those that aren't absolutely struggling with trajectory should have little problem finding plenty of height at their disposal, especially with the right shaft option in the right flex.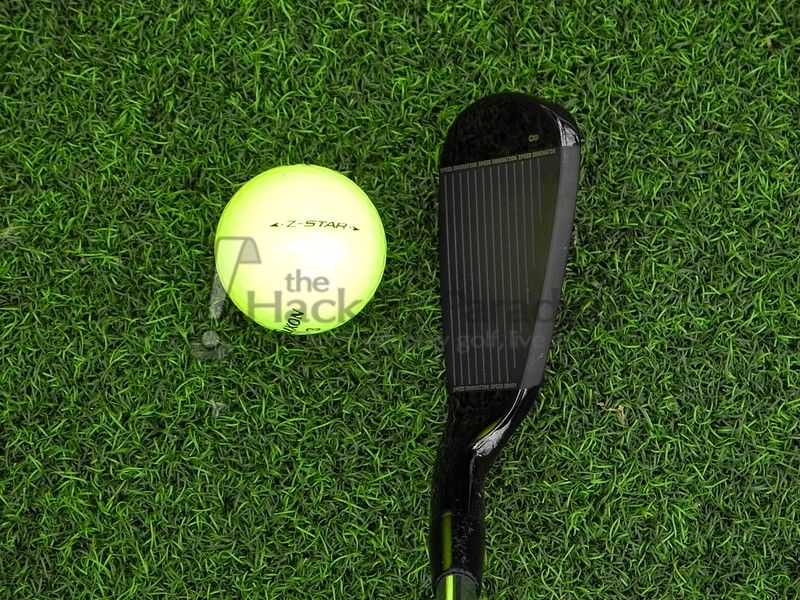 In a market where performance attributes are admittedly similar in many ways, the Black CB's didn't stand out in any glaring way, but that's not exactly the expectation if we look at things logically. The standout traits of the set come from things like the high-end components and aesthetic value. For a company that some had written off as on their way out the door, Cleveland managed to produce an iron set that surpasses expectations in a number of very pleasing ways.
The two stock shaft options are as good as anything offered in the category today. The feel at impact is arguably better than the majority of similar iron sets, though that is a personal feeling rather than a stone-cold fact. Finally, unless you are completely against black finishes, it would be hard to say any current set on the market is much better looking. And of course, this omits all the technology the Black CB's offer that enable them to produce distance on good shots and bad, all the while maintaining a respectable appearance at address. It's a set a company can be and should be proud of and certainly worth trying for anybody currently in the market.
More information on the Cleveland CG Black CB irons can be found on the company's website, www.clevelandgolf.com.