As one of the major players in the steel iron shaft category, KBS has continued to really evolve and expand their offerings in recent years to offer something for everyone. This year we are seeing them finally make the foray into a different shaft design with the KBS Tour FLT which they believe will fit the needs of a significantly large segment of golfers.
THP was able to spend time with the new Tour FLT shafts in three different flexes (S, S+, X) for this review in order to more thoroughly see their traits in a real-world setting.


KBS on their new Tour FLT Shafts:
Advanced shaft technology is a result of countless progressions in development and its applications. KBS Golf Shafts is committed to these practices and testing, while utilizing feedback from Master Club Fitters and conducting extensive rounds of testing with Players of all skill levels. KBS is proud to introduce the newest member of the KBS Golf Shaft Family; the KBS TOUR FLT. The KBS TOUR FLT is a Tour influenced shaft to fit the broadest range of players, from the Amateur Golfer, to a Tour Professional. 
Offering a lower ball flight for the 8 Iron and down clubs, and a higher ball flight for the 6 Iron and up, it accomplishes this while being longer and providing more spin, with the consistency and efficiency of more control. KBS TOUR FLT will also features the standard to which KBS is known, providing maximum energy transfer to ensure a smooth, stronger feel through impact and are proven to produce a more piercing trajectory, tighter dispersion and increased ball control. Ranging from amateur players to professional players, everyone that is ready to "Fly" the ball better, KBS welcomes you to the future with KBS TOUR FLT – The Evolution of Performance.

Specifications
| | | | |
| --- | --- | --- | --- |
| Flex |   | Tip Dia. | Raw Length |
| Regular | 110g | .355″ | 37.5″-40.5″ |
| Regular+ | 115g | .355″ | 37.5″-40.5″ |
| Stiff | 120g | .355″ | 37.5″-40.5″ |
| Stiff+ | 125g | .355″ | 37.5″-40.5″ |
| X-Stiff | 130g | .355″ | 37.5″-40.5″ |
What does FLT Mean?
What exactly is a FLT shaft? The fact is, most golfers tend to struggle with elevating their longer irons to the point that they may not be feasible choices to hit into, and hold, greens. Additionally, those same golfers often tend to hit their scoring irons bordering on too high which can at times lead to diminishing returns. As we well know both of those things are swing related and there are a plethora of swing traits which can lead to such issues. With that said though, something can definitely still be done through shaft design, and that is what the FLT setup aims to do. Simply put, higher in the long irons (6i and up) and lower/flatter in the scoring irons (8i and down).


Performance Breakdown
Right out of the gates, the decision to create the FLT shaft design based around the KBS Tour profile proved performance wise to be a very smart decision. First off, KBS is the company that showed the shaft industry that feel can-be/is a very real thing in steel shafts just as it is with graphite, and the KBS feel is completely present with these shafts. Through the swing there is a very familiar feeling for those who have spent some time with the original KBS Tour's.  In terms of stability there was no accentuated kick in the long irons which one might expect when you hear "higher launching" and at the same time the "lower" (flatter) flying short irons also do not give any feeling of over-rigidity. Although they perform different than the standard Tour shafts, people should not be concerned about the feel being different.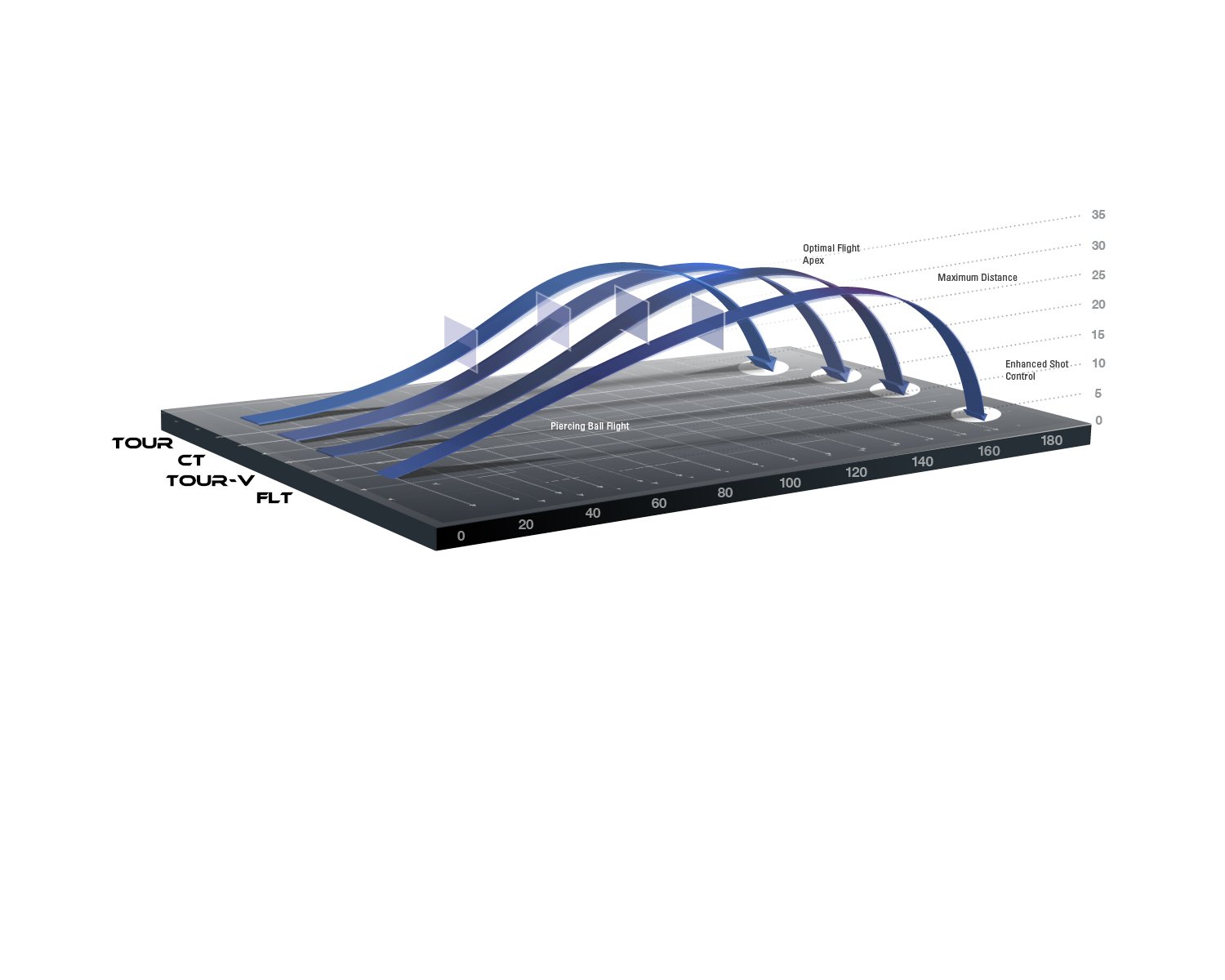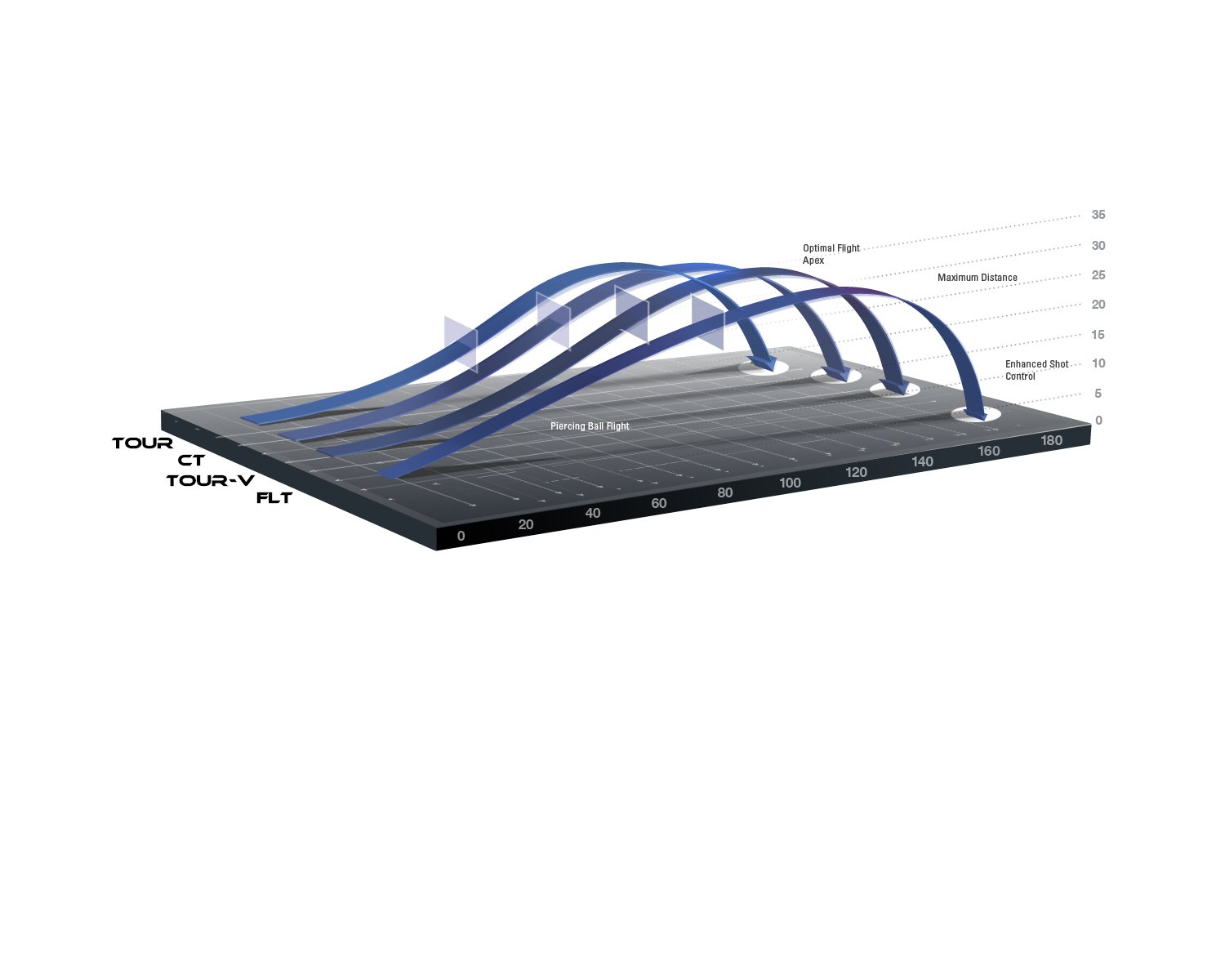 When it comes to speaking on distance and spin that is clearly a tough topic with iron shafts (and shafts of any type) because it is extremely subjective to not only the users swing but also the head in which the shaft has been installed. For this review the KBS Tour FLT shafts were installed in what definitely qualify as "lower spinning" heads and the performance matched up right in line with what the company claims. Compared to non FLT options in the same heads the flight was increased in the longer irons in both launch and peak height which resulted in added distance for this reviewer but also the added ability to hold greens, and in the shorter irons the flight was much flatter and more easily manipulated. As a player who tends to need what FLT designs offer, it was really nice to see it all come to fruition, particularly in a shaft of this weight class.
Parting Thoughts
In all, these are something that KBS needed to really help round out their offerings, although upon their initial announcement one couldn't help but wonder where they fit in the lineup. The truth of it all is that with a more mid spin profile and variable launch design, they literally fit right in the middle and could definitely be a very viable performer for a massive segment of golfers.
The shafts will be available through a variety of KBS dealers with a price of $31.95 per shaft. For more information on the KBS Tour FLT and all of the company's other offering, be sure to check out their website at www.KBSshafts.com.