People love a disruptor in any industry, mainly because we usually benefit from it. Well, in the golf distance measurement realm, TecTecTec is quickly becoming that disruptor. Already having had their rangefinders reviewed favorably overall by THP (here and here), and being a top seller on Amazon for them, the addition of a GPS watch, the ULT-G, definitely caught our eye.

Quick Take
Bang for your buck and then some. Form factor, functionality, and battery life are all here and in a nice $119.00 package. Only question becomes, is there still a market for GPS watches in golf with the advent of the smart watch?
'Watch' Closely
The GPS watch market in golf is an interesting one. Once a significant makeup of sales for distance measurement focused companies, the contagious diffusion of the Smart Watch and its app enabled nature seems to have made them an afterthought. But, if the price is right, and the package is appealing, then I believe there is still a market. At $119.0, TecTecTec definitely got the first part of the equation correct.
As for the rest? Given the price I was honestly expecting something clunky, a bit industrial maybe, and even on the heavy side. All wrong. What I instead got was a huge feeling of de ja vu, aesthetically, I had seen something crazy similar to this in the past. After digging through the drawers in my workshop, I found it, the shape, profile, and button locations are all spot on with the Bushnell Neo XS that I reviewed almost four years ago. This is a huge compliment, and one tremendous shape to base things around.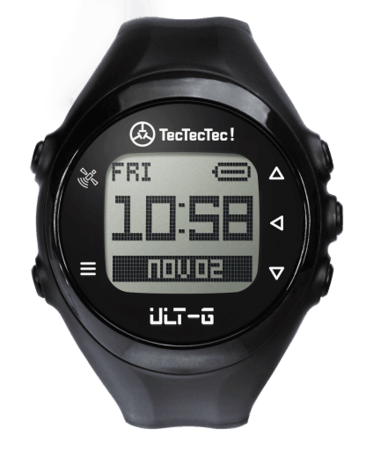 The nice round face and comfortable rubber strap are pleasing to the eye, but the ULT-G is also as comfortable as it looks. The size is just right for a GPS watch, it's actually spot on that of a standard athletic watch weight and all. Though some simply cannot golf with anything on their wrists, there is nothing about this that will be off putting to those who can. It is the ideal shape, weight, and form fit, I am incredibly impressed.
Proof is in the Performance
Looks are always the first step, but performance is the meat and potatoes of any GPS device. The TecTecTec ULT-G doesn't come up short there either. Pre-programmed to 38,000 different courses, not requiring a subscription, and actually being Bluetooth enabled to update in coordination with an app you can install on your Smart Phone, this may be affordable, but it's not skimpy.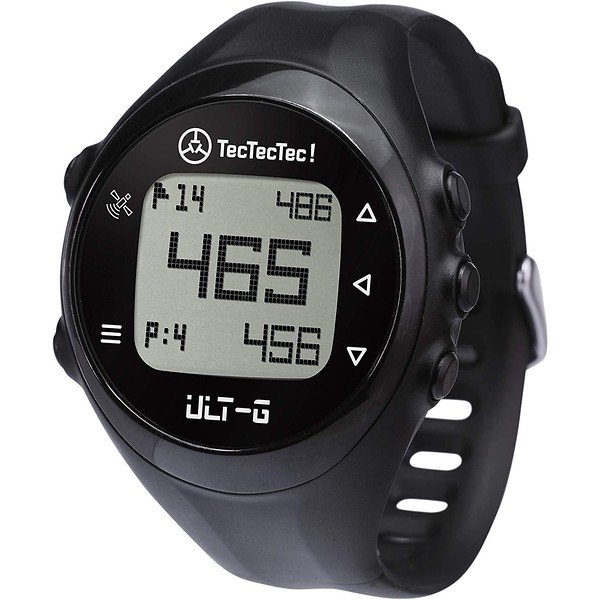 On the course I put it to work to the best of my ability playing multiple rounds on the same days and on three different courses over the length of the review. Battery wise, I came away pleasantly surprised as I was able to put two full rounds on the watch during back to back four and a half hour rounds with battery to spare. Where the distance accuracy is concerned, I did check it against my laser at times, but the real test was against two Bushnell counterparts where I constantly found the distances (front, middle, back) and hazards to be either spot on or within at most 1 to 2 yards. More than acceptable in my opinion.
Bigger yet though, it picks up the satellite signal fairly quickly, and the overall navigation of the watch after just lightly messing around with it became easy and intuitive since there are only four buttons. Also, the automatic hole progression worked just as well as my other GPS units, only having to be manually advanced in the same places of my most played courses that the other units also have to. Throw into all of this a 1-year warranty which can be extended to 2-years with online registration, and there is a lot to think about here for those still in the GPS Watch camp. TecTecTec really did do well here.
The Details
Available: Now
Where: us.tectectec.com or Amazon
Price: $119.00