The team at PUMA Golf have been busy lately with these "joined forces" collections. Last month the PUMA x Arnold Palmer Collection and today they have joined forces with DJ, songwriter and producer KYGO to drop the PUMA Golf x PTC Collection.
For those not familiar, Palm Tree Crew (PTC) is a lifestyle brand founded by KYGO and his manager Myles Shear that is all about the tropical vibes. The backstory to this collaboration is rather simple. Rickie Fowler is not only a fan of this brand (and PTC member), but also a friend of KYGO, who is himself an avid golfer. It was time to bring the golden palm tree logo to golf and the birth of the PUMA Golf x PTC Collection.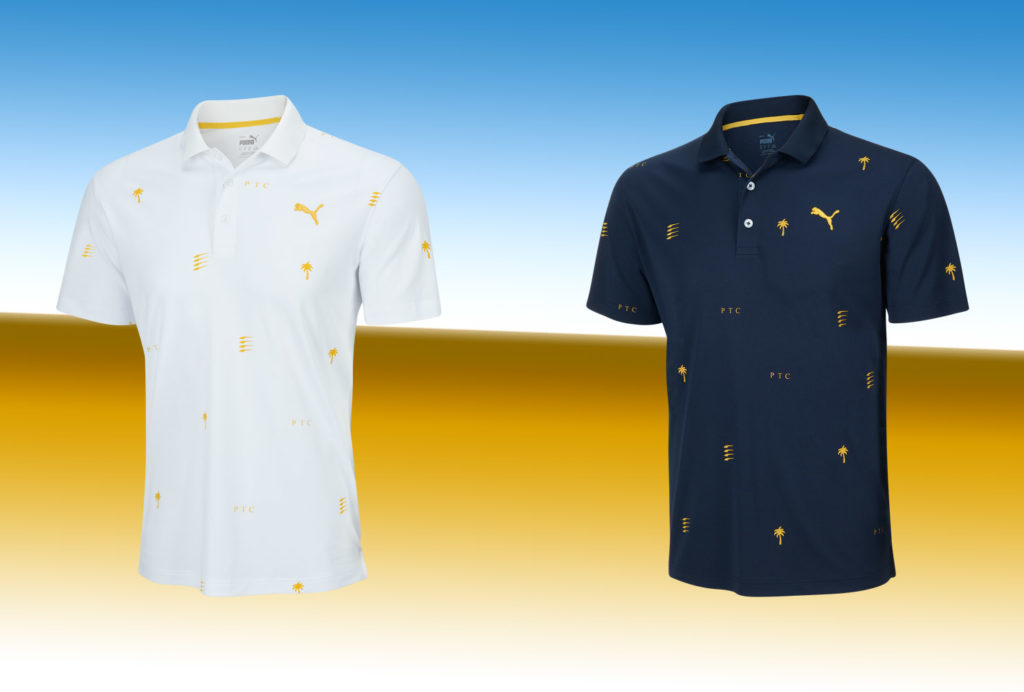 "Golf is one of my favorite hobbies when I'm not touring or making music. Rickie and I had wanted to team up with our brands and make something special that not only we could enjoy but our fans and supporters as well. I couldn't be happier with how the collection turned out and can't wait to see Rickie out there on the course decked out in Palm Tree Crew x Puma gear!" – KYGO
"I've known KYGO and Myles and have been part of the Palm Tree Crew for a while now. PUMA Golf and I have been together since the beginning. I worked with both teams to help create a cool collection that will make golfers feel like they're a part of the Crew. This collab brings two of my worlds together. I couldn't be happier – we nailed it," said Fowler.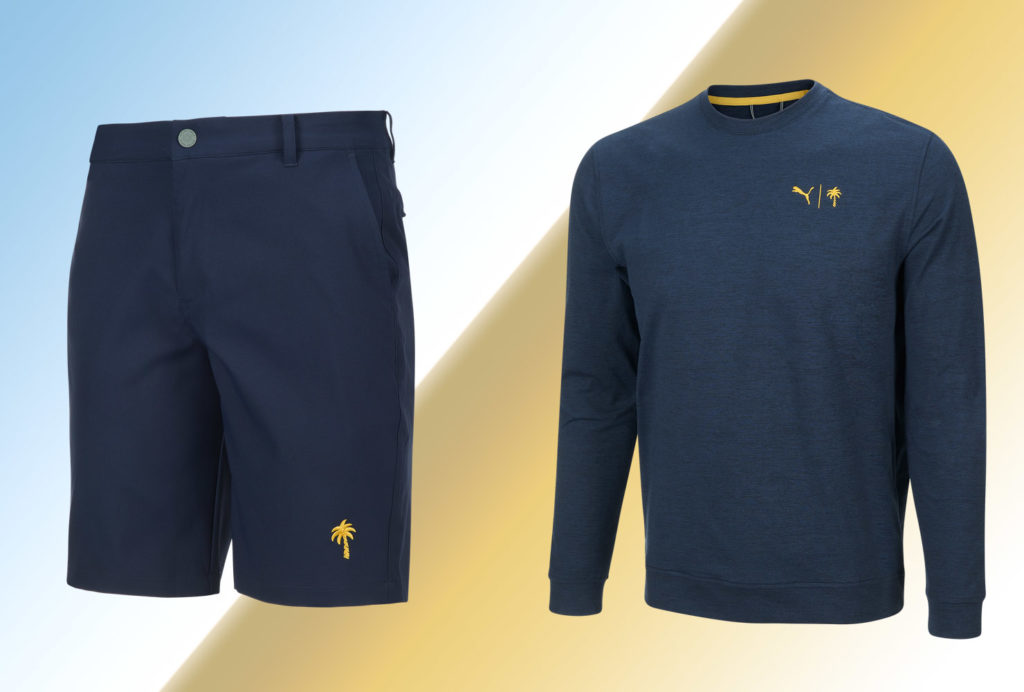 You will notice a theme throughout the pieces available with the deep navy colorway and bright gold. Combine that with every piece featuring the PUMA cat as well as the PTC logo in a blend of golf and laid-back lifestyle kind of vibe.
When designing this collection, we looked beyond the expected to create something fresh and modern with a more fashion-forward feel. The PUMA Golf x PTC collection perfectly fuses sport and lifestyle fashion and can be dressed up or down to fit seamlessly into any wardrobe," said Grant Knudson, Head of Product Creation, PUMA Golf.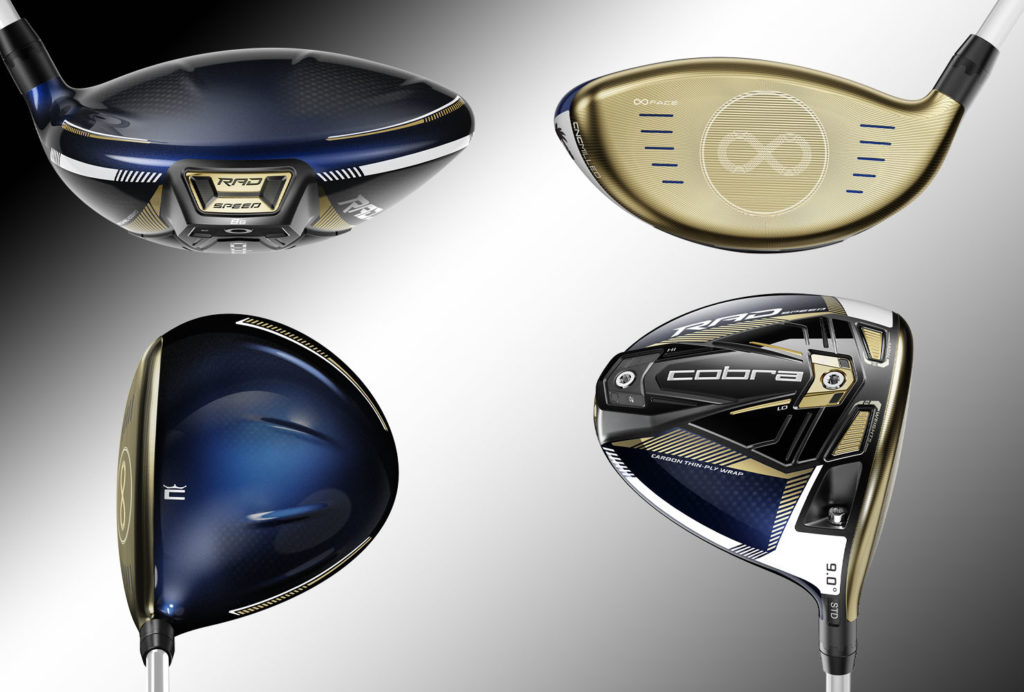 The collaboration doesn't end with apparel and footwear though. There is a new COBRA RADSPEED PTC driver as well. Same technology and performance found in the newly released RADSPEED, but featuring a limited edition navy and gold look and premium Fujikura Speeder shaft.
Fowler will be debuting the pieces from this collection at the Players Championship this week.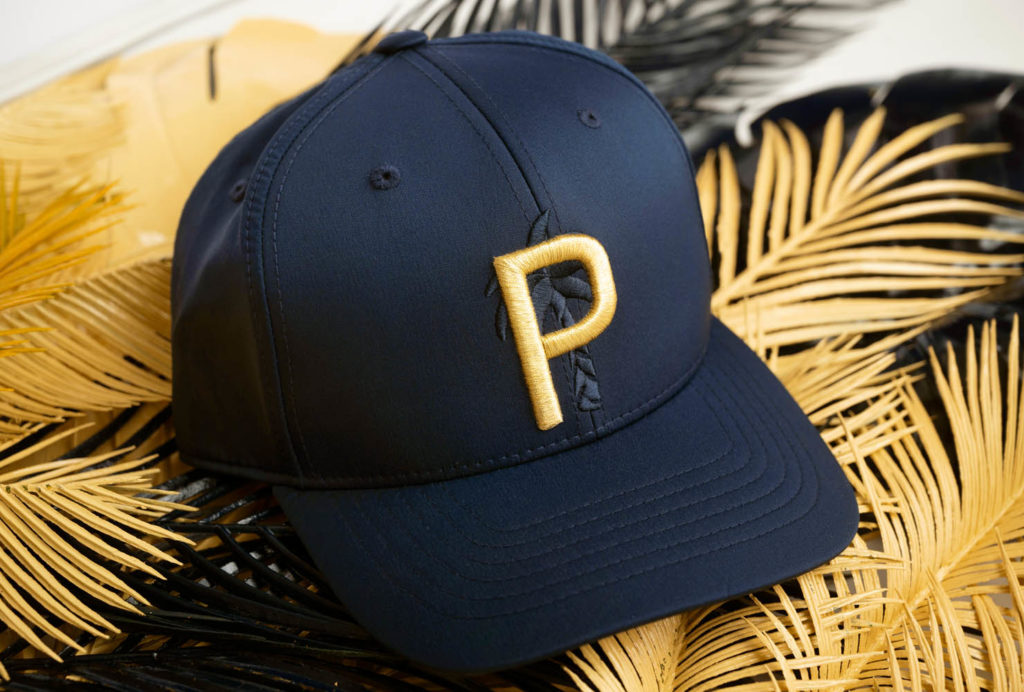 In the Collection
The PUMA x PTC Money Bags Shorts ($80) – featuring a gold PTC logo and interior details along with a printed $100 bill pattern on the pocket bags.
PUMA x PTC Edition Polo ($85) – featuring a PTC-inspired gold print. A performance-ready golf polo with understand yet refined style. Available in two colorways.
PUMA x PTC CLOUDSPUN Golden Crew ($95) – utilizing CLOUDSPUN, PUMA's ultra-soft fabric with unique gold embroidery logos and detailing throughout.
PUMA x PTC Rope Snapback Cap ($35) – a cool, retro snapback style designed featuring a gold palm tree logo, rope detailing and PUMA cat on the back.
PUMA x PTC P 110 Snapback Cap ($35) –featuring a bold, gold P with tonal palm tree design.
PUMA x PTC Ultralight Stretch Belt ($32) –featuring an all-over PTC inspired print and PUMA cat buckle.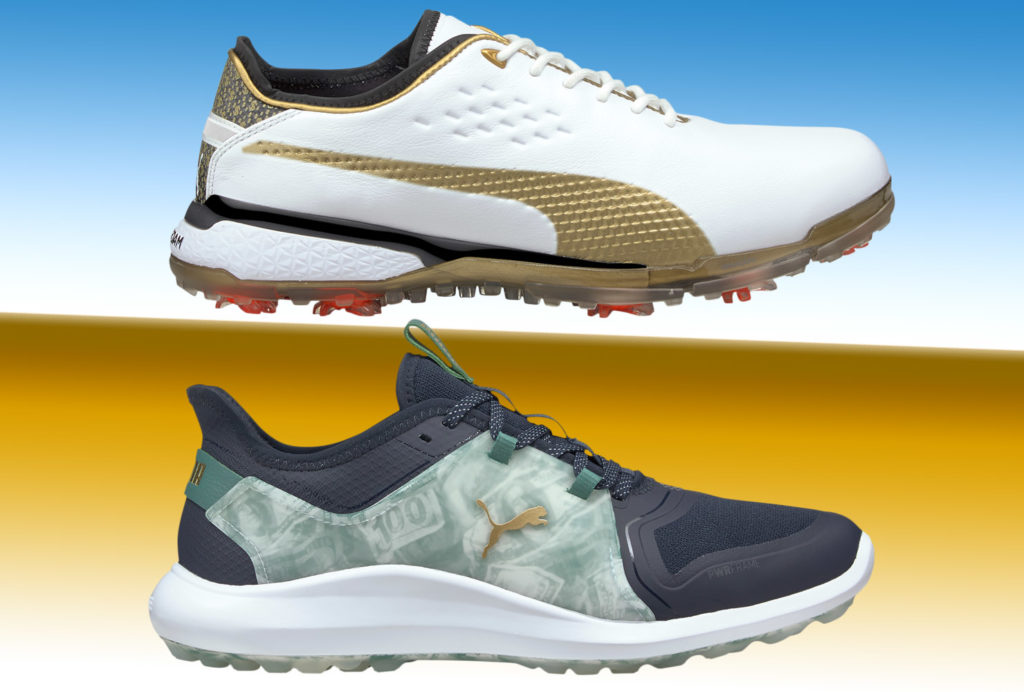 PUMA x PTC PROADAPT GOLD ($220) – a Limited Edition of Rickie Fowler's new Tour shoe (launching later in March), the PROADAPT Delta Gold features eye-catching gold highlights on the formstripe and outsole, setting the gold standard in style and performance footwear. **These shoes will be available Mid-April 
PUMA x PTC IGNITE FASTEN8 MONEY BAGS ($140) – designed with a custom $100 bill print on the PWRCAGE and outsole, delivering all the style and support you need to IGNITE your shoe game.
The PUMA x PTC Pop-Top Mini ($50) – comes in a cool navy colorway with the Palm Tree Crew gold logo, this speaker features Bluetooth streaming technology, dual pairing capabilities and comes in a sleek, pocket-friendly design, with a built-in bottle opener.
The collection will be available starting today, at on pumagolf.com as well as palmtreecrew.com and at select retailers. The driver will be available at cobragolf.com.